Hawks Baseball: Hawks Travel Baseball
Tuesday, July 29
Hawks info 516-492-5119
Monday, December 8
2014 Nassau County Fall League Champion Hawks Receive their Trophies
Champs Get their trophies at Firemens Field: Front Row: Tyler Van Etten, Justin De Las Cuevas, Anthony Ulrich, Nicholas Inzerillo. 2nd Row: Pete Taliercio, Alex Calderon, Luke Cleary, Moises Doncell, Sam Kelstein, Brian Hart.
Back Row: Coach Bob Inzerillo, Mayor Ed Fare, Coach Ben Hart. Missing from photo: Jayden Mendoza.
Saturday, November 8
Hawks win fall 2014 Championship in NCYBL
Congratulations to the Hawks: Back Row: Anthony Ulrich, Nicholas Inzerillo, Pete Taliercio, Jayden Mendoza, Tyler Van Etten, Alex Calderon Front Row: Moises Doncell, Brian Hart, Justin De Las Cuevas, Luke Cleary, Sam Kelstein
Coaches: Bob Inzerillo, Ben Hart, John Doncell.

Championship Game November 8, 2014 at Mitchell Field 1.
Final Score: VSBL Hawks 11, East Williston Wildcats 2.
Starting pitcher Nicholas Inzerillo pitched into the fifth inning striking out 10 batters including the first 6 batters of the game in a row. He also had 2 doubles at bat, going 2 for 3 with 4 rbi. Pete Taliercio finished the game striking out 4 in the 5th and 6th innings. Pete also had a 2 rbi hit in the Hawks big 7- run 3rd inning.
Lead-off hitter Jayden Mendoza was 2 for 3 with 2 doubles and a sacrifice fly. He started the game off with a double to right in the championship game, igniting the Hawks offense. Catcher Anthony Ulrich was outstanding at catcher and threw out another runner trying to steal 2nd in the 3rd inning. Great job Hawks!
Thursday, October 10
Hawks Baseball since 2002
Directors - Bob Inzerillo 516 492 5119 and Armando Hernandez 857-364-7425 / email VSBL43@optimum.net
VSBL President Bob Inzerillo began Valley Stream Hawks Baseball as an independent Club back in 2002. The original Hawks team which he coached until 2007, won 14 championships, including Triple Crown (3x), Babe Ruth, Perfect Game, World Wood Bat, Blue Chip Prospects, Connie Mack (Koufax 14u), NY Metro, FABL, VS Mail League (3x).
Over the years other Hawks teams formed and were coached by Ron Frazier (former Pro w yankees), Frank Alessia (VS Central current coach), Al Dern, Al Bilello, John Kehoe, Chris LoPiccolo, Jamie Dolecki, Mike Rick - and many more .
Currently, Armando Hernandez (who now co-directs VSBL travel baseball with Bob Inzerillo), Brian Cohen, Mauricio DeLasCuevas, and Bob Inzerillo run Hawks Teams.
Joe Abruzzino's team, which was active through 2013 and featured many of todays current VS High schools starters, was the longest running Hawks team - other than Coach Inzerillo who is still coaching Hawks 13 years later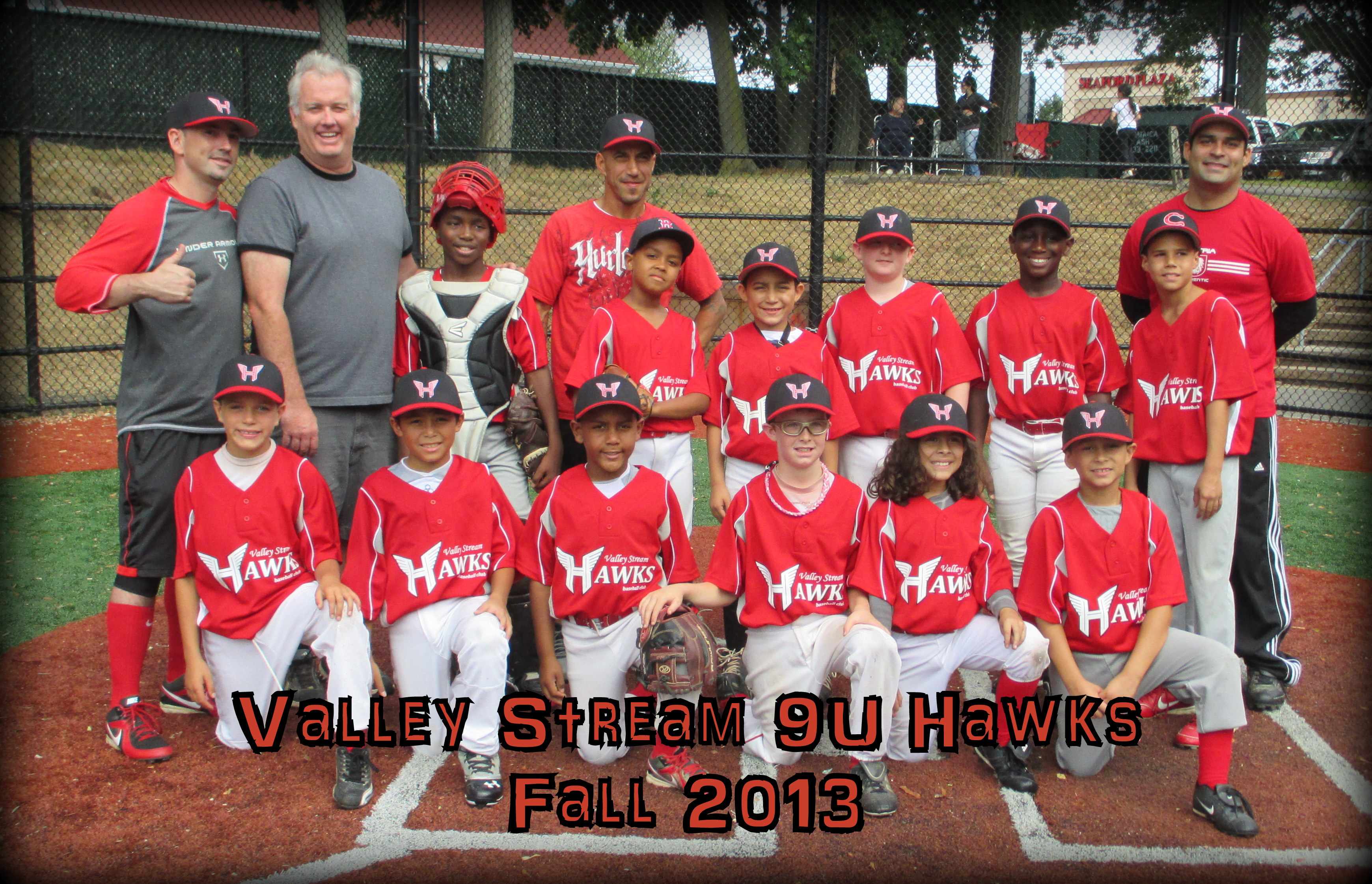 9u Hawks in 2013
Sunday, July 15
Hawks Baseball in 14th Season
The 2015 season is the 14th year of the Valley Stream Hawks.
Bob Inzerillo started the Hawks in 2002 taking the name of the team his dad, Joseph Inzerillo, played for as a kid growing up in Corona Queens - the Corona Hawks. Inzerillo drew the "H" logo in 2002 inspired by the "W" logo of Paul McCartney's band Wings. (Paul has not asked for royalties as of yet).

Hawks teams playing in 2015 include Armando Hernandez' 15u Hawks, Bob Inzerillo's 12u Hawks, and Frank Francese's 9u Hawks.
Monday, September 2
2013 Hawks in NY Travel Baseball Labor Day Tournament
Our 10u Hawks team Managed by Brian Cohen finished 7-5 in their first outing in NY Travel Baseball. NY Travel plays most of their games at Ft Tilden, Kings Bay Park, and St A'S in Brooklyn. The Brooklyn Bonnies and Youth Services (top baseball organizations) play in this league. In the Tournament the Hawks won 2 games, behind the excellent pitching of Henry Renelus, Luke Sibblies, Marcello Arrigo, Brian Hart. Brian Hart had 2 doubles and a triple.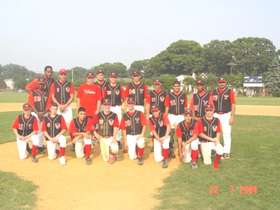 Hawks At Firemens Field in 2004
The Original VS HAWKS
2006 Hawks FABL Wood Bat Champs
Thursday, March 19
Cooperstown Pins 2007