Virginia District 15 Little League: Welcome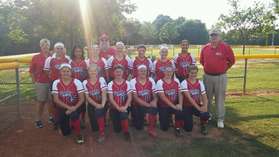 2016 Virginia State Junior League Softball Champions - Richmond County LL
Welcome to the Virginia District 15 Website and home to the 2016 Virginia Junior League Softball State Champions, Richmond County Little League.
Leagues are reminded to ensure 2017 By-Laws and Local Rules are approved by the Local Board at least 30 days prior to the first scheduled game - normally Opening Day - and made available to the membership.
District 15 is looking for a league to host the Virginia State 9-11 Softball Tournament and the District Tournaments. This will be a major topic for discussion at our next District Meeting.


Thank you to all of the Leagues and Boards of Directors that hosted District Tournaments last season. These games and these tournaments would not have been possible without your support and dedication and the contributions of your Volunteers. Thank you!
The Motto of our Virginia District XV Little League, Inc.
"Our Kids, Our Future"

Please sign our guestbook, tell us what you think and want to see on our website. I'm new to etamz website management, so please be patient.
If you want to contact us, please do:
Jim Roberts - Virginia 15 DA
Email: mailto:Virginia15DA@va.metrocast.net
2016 ASAP SAFETY PLANS NEWS
VIRGINIA DISTRICT 15 SAFETY PLAN 2016 GOAL = 100%
CURRENT STATUS 2016 = 100%
ALL LEAGUE SAFETY PLANS WERE SUBMITTED AND APPROVED BY MARCH 11, 2016
CONGRATULATIONS DISTRICT 15 FOR RECEIVING THE "DISTRICT AWARD"
AND ALL LEAGUES RECEIVED THE "LEAGUE" INCENTIVE
As of March 11, 2016, all District 15 League Safety Plans are approved.
CAROLINE COUNTY- APPROVED KING GEORGE COUNTY- APPROVED KING WILLIAM COUNTY- APPROVED RICHMOND COUNTY- APPROVED
MIDDLESEX COUNTY- APPROVED MATHEWS COUNTY- APPROVED LANCASTER COUNTY- APPROVED ESSEX COUNTY- APPROVED SPOTSYLVANIA COUNTY- APPROVED NORTHUMBERLAND COUNTY- APPROVED WESTMORELAND COUNTY- APPROVED
Virginia District 15 is leading the pack. Thank you and well done!

A SAFETY AWARENESS PROGRAM
2016 VIRGINIA STATE INTERMEDIATE (50-70) BASEBALL ALL STAR TOURNAMENT
Welcome to the 2016 Virginia State Intermediate (50-70) All Star Tournament being hosted Caroline County Little League and Virginia District 15. All events are scheduled to take place at the Caroline County Little League Complex, 15496 Paige Road, Bowling Green, VA 22427; in case of inclement weather on Thursday, the alternate site for the picnic and meeting will be the Bowling Green Town Hall, 117 Butler Road, Bowling Green, VA 22427.
We have eight (8) teams competing to be the 2016 Virginia State Intermediate Baseball Champion and reprepsent our state at the Southeast Region Tournament in Apopka, Florida starting on July 21st. The teams are expected to report on Thursday, 7 July between noon and 4 pm, after which managers, coaches, umpires, and tournament officials will inspect the fields. Teams are requested to line up outside of the fence along right field at 5:15 pm with the Opening Ceremony starting at 5:30 pm. The Opening Picnic will follow the Ceremony and the Pre-Tournament Meeting for Managers, Coaches, Umpires, and Tournament Officials will be at 7:30 pm. The first game is scheduled to be played at 10 am on Friday, July 8th.
The tournament bracket is posted and will be updated daily. Please use the link below to view and/or print the tournament bracket. To the extent possible, we will ty to minimize double headers; however, weather and field conditions could drive changes to the schedule. We will keep you informed as schedules change. Game results and urgent announcements will be posted here as well as Facbook (vadistrict15) and Twitter (@Virginia15LL). Please travel safely and good luck in the tournament.
2016 Virginia State Intermediate (50-70) Teams
District 2 Halifax County Little League
District 3 Broadway Community Little League
District 4 Arlington American Little League
District 5 Atlee Little League
District 7 Phoebus Little League
District 9 Fort Hunt Little League
District 15 Caroline County Little League
District 16 Greater Fauquier Little League
2016 Virginia State Intermediate (50-70) Tournament Bracket:
Click here to be directed to the District 15 Facebook Page