Virginia District 1 Little League: Welcome
Welcome To Virginia
District 1 Little League
District Administrator: Rick Compton
Sunday, February 9
Southeastern Region Blog
This Blog covers a wide range of topics that will benefit the management of local leagues and districts. The purpose of this blog is to provide the information to assist you in gaining knowledge so that your league can continue or become more successful...
Thursday, February 27
District Meeting
There will be a District 1 meeting at the Washington County Little League facility on Sunday, March 2nd at 2:00PM. Every league should have a representative present.
Monday, February 10
PSA
Sunday, February 9
Southeastern Region Awards Program
Click here to submit your nomination!
Beginning this year, the Southeastern Region has launched it's own awards program, which will help honor leagues and individuals within the region.
There are 8 award catagories available, including national award catagories and region-specific awards. Awards are now open for nominations and are accepted until May 15th. Nominations can be submitted in many ways and include an essay (or video for Field of Excellence) explaining the nomination/nominee.
Sunday, December 29
Little League School Enrollment Form
In an effort to accommodate Little Leaguers playing with their classmates, and ease the burden of parents and guardians, Little League recently ammended it's residency requirements to allow children to play in the local league whose boundaries lie within the school they attend. In order to make this change, Little League has created an official Little League school enrollment form.
Tuesday, December 17
2014 Rule Changes
Click Above For Rule Changes
<-------- Important rule changes for the 2014 Little League season!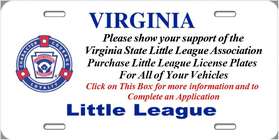 Click to apply for your Little League tags!!
Friday, May 24
Apply For Your Little League Tags Today!
Thursday, November 14
How important is the league constitution?
<--------Click for tutorial!!