Rocky Mountain Youth Football League (Formerly UYIFL): Welcome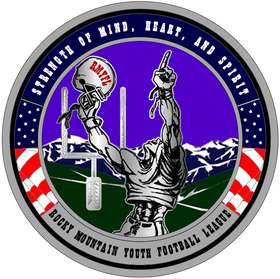 RMYFL(formerly the UYIFL)
Saturday, November 2
WELCOME TO THE ROCKY MOUNTAIN YOUTH FOOTBALL LEAGUE (formerly called the UYIFL)
The RMYFL (formerly the UYIFL for 7 years) is excited to bring FULL CONTACT youth football outdoors and indoors each Spring! The RMYFL brings our youth inside and outside this year to further develop and enhance their outdoor football skills! We play on a 60 yrd field, for our younger players and a 100 yrd field for our Bantam and Junior players, but to keep it consistent for the players, we play 11 on 11 with the same rules as High School football rules (with a few minor adjustments for field size)! Teams get 6 to 7 regular season games, then if they make the playoffs and championship game they could play a total of 9 games!!
Coaches and parents of our Spring RMYFL(former UYIFL) players have noticed greatly enhanced skills, better conditioning, and more enthusiasm going into their Fall programs! The RMYFL is for the young football player that LOVES football!! We hope his goal is to play high school and college football!
Our games are played at the beautiful Spence Eccles Fieldhouse (UofU indoor practice facility, home of the runnin' Utes football!) at 650 South Guardsman Way (1580 East) in Salt Lake City. Also new for this 2014 season we will be playing games outside as well at local astro turf high school football fields! Pleasant Grove High School, Clearfield High School and Weber State.
Our league costs are at least 50% higher than outdoor fall programs, we pay high indoor and high school field rental rates, football equipment rental, our directors, our registration assistants, our data entry assistants, our arbiter and his officials, our game day assistants etc. However your cost is about the same as fall outdoor football programs that are volunteer programs. We are also almost half the cost of all university summer one week football programs.
Join our "RMYFL" (former "UYIFL" Facebook page for information and more photos!
Friday, April 25
Game times have changed!
We have changed times for two Bantam games for May 3rd. Please check the schedule because I still don't have all contact information for coaches, Therefore, if you have not had any contact with Gary, please email your email and phone numbers. We have most, just picking up the pieces since Michael is having health issues. Thank you for making it a good year for the players! Let's keep it up!
Monday, March 31
Schedule is Online
The rest of 2014 schedule is now on here! Playoff times will be adjusted according to field availability!
More News to Come!
Wednesday, March 19
GARY ACTON IS OR NEW GAME DAY OPPERATIONS MANAGER!
CONGRATULATIONS TO GARY ACTON (LONG TIME SUPPORTER AND STAFF MEMBER OF THE RMYFL) AS HE HAS JUST BEEN PROMOTED TO THE GAME DAY OPPERATIONS MANAGER OF THE SPENCE ECCLES FIELD HOUSE RMYFL LEAGUE GAMES!
COACHES PLEASE TURN IN ANY REGISTRATIONS, PLAYERS FEES, TEAM AND LEAGUE PAPER WORK TO GARY ACTON ON SATURDAYS AT THE SPENCE ECCLES FIELD HOUSE. HE WILL THEN PASS ON ALL FORMS FEES AND INFO.TO THE COMMISSIONER OF THE LEAGUE. HE WILL BE AT THE LEAGUE TABLE.
Tuesday, March 18
2014 RMYFL Schedule, The First Two Weeks! UPDATE 3-18
SCHEDULE HAS BEEN UPDATED AS OF 18 MARCH 2014. PLEASE REVIEW THE CHANGES AND GET THE INFORMATION OUT TO YOUR PLAYERS AND COACHES. THE CHANGES ARE HIGHLIGHTED IN RED.
THE 2014 RMYFL SCHEDULE, THE FIRST TWO WEEKS, THE REMAINDER TO FOLLOW SHORTLY.
3/22/2014:
TIME: LOCATION: VISITING TEAM (EAST) HOME TEAM (WEST) DIVISION
5:15PM U OF U FISHER LITTLE GREMLIN
5:15PM U OF U VORHEES MARTUCCI GREMLIN
6:15PM U OF U CARLSON MEDINA MIDGET
6:15PM U OF U INFERNO SELU GREMLIN
7:15PM U OF U HILL PEREZ MITEY MITE
7:15PM U OF U SAVAGE SWARM PEEWEE
8:15PM U OF U MAXFIELD BRENNAN PEEWEE
8:15PM U OF U BEES MORRIS MITEYMITE
9:15PM U OF U WILLIAMS NELSON MITEYMITE
12:15PM COTTONWOOD H.S. JOHNSON MIDGET XTREME MIDGET

1:15PM COTTONWOOD H.S. PARKER EAST LEOPARDS BANTAM
2:15PM COTTONWOOD H.S. JONHNSON BANTAM SYRACUSE BANTAM
3:15PM COTTONWOOD H.S. REGULATORS JANN BANTAM
3/29/2014:
5:15PM U OF U MARTUCCI FISHER GREMLINS
5:15PM U OF U INFERNO LITTLE GREMLINS
6:15PM U OF U SELU VORHEES GREMLINS
6:15PM U OF U SAVAGE MAXFIELD PEEWEE
7:15PM U OF U SWARM BRENNAN PEEWEE
7:15PM U OF U NELSON BEES MITEY MITE
8:15PM U OF U HILL MORRIS MITEY MITE
8:15PM U OF U PEREZ WILLIAMS MITEY MITE
MIDGET DIVISION HAS A BYE---------------------------------------------------------------------------------
12:15PM VIEWMONT H. S. SYRACUSE REGULATORS BANTAM
1:15PM VIEWMONT H. S. EAST LEOPARDS JOHNSON BANTAM BANTAM
2:15PM VIEWMONT H. S. PARKER JANN BANTAM
Saturday, February 22
EQUIPMENT PICKUP SAT. MARCH 1ST!!
PARENTS AND COACHES, OUR FIRST EQUIPMENT PICKUP WILL BE SATURDAY MARCH 1ST FROM 9AM TO 11AM AT PARK SPORTSMAN IN OREM, UTAH. THE ADDRESS IS: 644 NORTH STATE ST. IN OREM, UTAH.
PLAYER'S WILL NOT BE ALLOWED TO PICK UP EQUIPMENT UNLESS THEY HAVE PAID THEIR 2014 RMYFL REGISTRATION FEE. YOU CAN BRING YOUR FEES TO THE EQUIPMENT PICK UP, BUT WE CAN ONLY EXCEPT CASH AT THE PICK UP TIME.
OUR LAST EQUIPMENT PICK UP WILL BE SATURDAY MARCH THE 8TH FROM 9AM TO 11PM AGAIN AT PARK SPORTSMAN.
Monday, February 10
OUR LAST IN-PERSON REGISTRATION WILL BE HELD SAT. FEB. 15TH
OUR LAST IN-PERSON REGISTRATION WILL BE HELD SAT. FEB. 15TH 2014 AT THE MURRAY PARK RECREATION CENTER IN THE LOBBY FROM 10AM TO 1PM. CASH OR CHECKS CAN ONLY BE ACCEPTED AT THE IN-PERSON REGISTRATION. PLEASE BRING A COPY OF YOUR PLAYER'S BIRTH CERTIFICATE.
Sunday, January 26
OUR NEXT IN-PERSON REGISTRATION WILL BE HELD SAT. FEB. 1ST 2014
OUR NEXT IN-PERSON PLAYER REGISTRATION WILL BE HELD SAT. FEB. 1ST 2014 FROM 10AM TO 2 PM AT THE MURRAY PARK RECREATION CENTER IN THE FRONT LOBBY. PLEASE BRING A COPY OF YOUR BIRTH CERTIFICATE.

WE CAN ONLY TAKE CASH AND CHECKS AT OUR IN-PERSON REGISTRATIONS. TO PAY BY A CREDIT OR DEBIT CARD YOU CAN REGISTER HERE ONLINE ON OUR WEBSITE.
DON'T WAIT! TEAMS ARE FILLING UP FAST!!
Thursday, January 16
2O14 Team Practice, Equipment, Etc. Info.
2014 SEASON PRATICES, EQUIPMENT HAND OUT, ETC INFO.
HELLO PARENTS THIS INFO CAN BE FOUND ON OTHER PAGES OF OUR WEBSITE:
1.TEAM PRACTICES WILL BE HELD AS CLOSE TO YOUR HOMES AND YOUR HEAD COACH'S HOME AS POSSIBLE. THAT PLACE WILL BE DETERMINDED BY THE HEAD COACH.
2. YOUR HEAD COACH WILL CONTACT YOU BY THE WEEK OF FEB. THE 23RD 2014.
3. EQUIPMENT HAND OUT WILL BE MARCH THE 1ST AT PARK SPORTSMAN.
4. YOUR FIRST GAME WILL BE PLAYED ON MARCH 22ND 2014.
Saturday, January 18
OUR NEXT 2014 IN-PERSON REGISTRATIONS!!
OUR NEXT IN-PERSON REGISTRATIONS WILL BE HELD ON SAT. JAN. 25TH 2014. WE WILL BE HOLDING 2 REGISTRATION TIMES THIS DAY. OUR FIRST ONE WILL BE HELD FROM 9:30 AM TO 12:30 PM AT THE MURRAY PARK RECREATION CENTER (JUST LOOK FOR OUR TABLES IN THE LOBBY).
THE NEXT REGISTRATION THAT DAY WILL BE HELD FROM 2 PM TO 5 PM IN THE ARMORY GYM, 625 E. 5300 SO. IN THE SO.OGDEN AREA, USE THE WESTSIDE DOOR THAT OPENS UP DIRECTLY INTO THE GYM.WE WILL HAVE SIGNS ON THE DOOR THAT YOU SHOULD GO THROUGH.
Wednesday, December 18
2014 SEASON IN-PERSON REGISTRATION WILL BE HELD ON JAN. 11TH 2014!!
OUR 2014 SEASON IN-PERSON REGISTRATION WILL BE HELD ON SAT. JAN.11TH 2014 AT THE MURRAY RECREATION CENTER FROM 10 AM TO 2 PM!!

PLAYER'S REGISTRATION FEE IS $250. IF YOUR CHILD HAS THEIR OWN EQUIPMENT (IE. HELMET, SHOULDER PADS & GAME PANTS AND PADS) YOU WILL RECEIVE A $35 DISCOUNT OFF YOUR REGISTRATION FEE. YOUR TOTAL WILL THEN BE $215.
WE CAN ONLY EXCEPT CASH OR CHECKS AT OUR IN-PERSON REGISTRATION. IF YOU NEED TO USE A CREDIT OR DEBIT CARD YOU CAN REGISTER ONLINE.


PARENTS DON'T FORGET TO BRING A COPY OF YOUR CHILDREN'S BIRTH CERTIFICATE!
Sunday, November 10
OUR NEW SEASON IS NOW OFFICIALLY OPEN! THIS IS OUR 7TH YEAR!
OUR 2014 SEASON IS OFFICIALLY OPEN!
THIS IS OUR 7TH YEAR AND GROWING STRONG!
LAST YEAR WAS OUR LARGEST ENROLEMENT YET! THIS YEAR WE WILL HAVE GAMES INDOORS AND OUTDOORS! WE WILL BE PLAYING GAMES AT THE U OF U AND AT TWO TO THREE HIGH SCHOOL LOCATIONS. WE WILL BE PLAYING GAMES AT THE PLEASANT GROVE HIGH SCHOOL AGAIN AND WE WILL BE PLAYING AT A HIGH SCHOOL FIELD UP NORTH IN THE DAVIS COUNTY AREA! WE ARE ALSO WORKING ON ONE MORE HIGH SCHOOL FIELD IN THE SALT LAKE CITY AREA AS WELL! ALL THESE FIELDS WILL BE ARTIFICIAL TURF!
OUR SEASON HAS JUST OPENED AND WE HAVE 8 NEW TEAMS REGISTERING ALREADY THAT HAVE NEVER PLAYED IN OUR LEAGUE BEFORE!! WE ARE EXPECTING ANOTHER 50% GROWTH RATE IN TEAMS REGISTERING FOR OUR 2014 SEASON!
DON'T WAIT!! SIGN UP NOW!! AND TAKE ADVANTAGE OF OUR EARLY REGISTRATION DISCOUNTED PLAYER'S FEE!!
TO REGISTER NOW CLICK ON THE BLUE REGISTER NOW BUTTON AT THE TOP OF THIS PAGE!!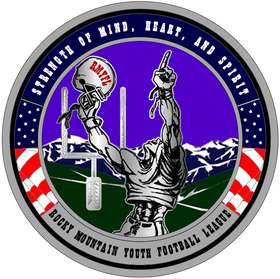 Rocky Mountain Youth Football League
Friday, November 15
EARLY 2014 REGISTRATION STARTS NOW!!
SAVE $40.00 OFF OUR REGULAR 2014 SEASON REGISTRATION FEES UNTIL NOV.30TH 2013. REGISTER NOW UNTIL NOV.30TH AND YOUR 2014 REGISTRATION FEES WILL ONLY BE $210.00!!
CLICK ON THE NEW UYIFL LOGO ABOVE OR THE BLUE REGISTER BUTTON TO REGISTER AND SAVE $40.00!!
THIS OFFER IS ONLY GOOD UNTIL NOV. 30th 2014!!
THEN DEC. 1ST WILL BE THE START OF OUR REGULAR 2014 REGISTRATION FEES WHICH WILL BE $250.
Sunday, May 19
CONGRATULATIONS TO ALL THE 2013 UYIFL CHAMPIONS
CONGRATULATIONS TO ALL OF THE UYIFL TEAMS THAT WON THEIR 2013 UYIFL CHAMPIONSHIP GAMES THIS PAST SATURDAY!
YOUR SCORES ARE AT THE BOTTOM OF OUR WEB PAGE!
SEE YOU NEXT YEAR FOR OUR 7TH YEAR!
HAVE A GREAT SUMMER! AND GOOD LUCK THIS FALL IN YOUR FOOTBALL PROGRAMS!
Sunday, May 12
UYIFL 2013 CHAMPIONSHIP GAMES!
THE UYIFL 2013 CHAMPIONSHIP GAMES WILL BE HELD ON MAY 18TH 2013 AT THE SPENCE ECCLES FIELD HOUSE FOR DIVSIONS, GREMLINS TO BANTAMS.
THE JUNIOR DIVISION WILL HOLD IT'S CHAMPIONSHIP ON THE SAME DATE BUT IT WILL BE HELD AT THE PLEASANT GROVE HIGH SCHOOL.STARTING AT 12:00 NOON!
COACHES AND PARENTS: PLEASE CHECK AT THE BOTTOM OF THE FRONT PAGE FOR GAME TIMES!
Sunday, April 21
Mitey Mite Division Has A Bye Week On 4/27/2013!!
THE MITEY MITE DIVISION WILL HAVE A BYE WEEK ON SAT.4/27/2013!
THE MITEY MITES WILL HAVE THEIR NEXT GAMES ON SAT. 5/4/2013 AND THEIR PLAYOFFS ON 5/11/2013 AS THERE ARE ONLY 4 TEAMS IN THE MITEY MITE DIVISION. ALL 4 TEAMS WILL GO INTO THE PLAYOFFS!!
Monday, April 15
This Saturday's Schedule will be posted Wednesday Evening!
PARENTS AND COACHES! OUR SATURDAY'S SCHEDULE WILL BE POSTED WEDNESDAY EVENING!
OUR SCHEDUELS HAVE BEEN CHANGED BECAUSE OF THE U OF U's FOOTBALL TEAM DEMANDS ON MORE PRACTICE TIME SATURDAY MORNINGS, THAT IS WHY WE HAVE HAD LATER GAMES THAN USUAL THE LAST COUPLE OF WEEKS.
WE NOW HAVE OUR ISSUES WORKED OUT WITH THEM AND WE WILL BE BACK TO OUR REGULAR SCHEDUELS THAT WE HAD IN THE BEGINNING OF OUR SEASON.
THANK YOU FOR YOUR UNDERSTANDING AND PATIENCE!
Saturday, March 23
GREMLINS THRU BANTAMS HAVE MARCH THE 30TH OFF
THE GREMLINS, PEE WEES, MITEY MITES, MIDGETS AND THE BANTAMS HAVE SAT. MARCH THE 30TH OFF, NO GAMES WILL BE PLAYED FOR THOSE AGE DIVISIONS. WE WILL SEE THESE AGES DIVISONS BACK ON APRIL THE 6TH. THE FULL SCHEDULE WILL BE POSTED THE EVENING OF MARCH THE 25TH.

PARK'S SPORTSMAN 801-225-0227
Thursday, December 13
PARK'S SPORTSMAN A BIG SUPPORTER OF THE UYIFL FOR 6 YEARS NOW!
PARK'S SPORTSMAN HAS BEEN A BIG SUPPORTER OF THE UYIFL FOR 6 YEARS NOW! PARENTS PLEASE HELP SHOW YOUR APPRECIATION BY SHOPPING AT THEIR STORE FOR ALL YOUR SPORTING GOOD NEEDS! DON'T FORGET TO ASK FOR THE PARK'S UYIFL 20% DISCOUNT! MAKE SURE YOU TELL THEM THAT YOUR SON PLAYS IN THE UYIFL!
PARK'S SPORTSMAN'S HOURS ARE MON - FRI. 10AM TO 9PM AND SAT. 9:30 AM TO 6PM.
PARK'S SPORTSMAN 644 NO. STATE ST. OREM UT. 84057
PHONE: 801-225-0227

$400,000 Brand new turf!! at the field house.
Thursday, December 8
EXCITING CHANGES FOR BANTAM AND JUNIOR AGE GROUPS! ALSO BRAND NEW $400,000 DOLLAR TURF!!
The UYIFL is excited to announce we will play our Bantam and Junior age Divisions on a FULL FIELD!! We are lifting the curtain at the Field House so our older players can play on a full 100 yard field! The University of Utah just put in Brand NEW $400,000 dollar Turf in the Spence Eccles Field house!! You will be playing on the finest Turf in the Rocky Mountain Area!!
BANTAM and JUNIOR COACHES~ThESE age divisions are filling fast! We only have a few time slots for full field, so get your teams together and register early!
Friday, December 9
NEW UYIFL CONTACT EMAILS
With the expansion of our staff, we have incorporated new UYIFL emails.
Parents: Your first point of contact will always be your coach. Once you have been assigned to a team, please go through him for questions and concerns. If your issue is not resolved, email the staff member below.
Coaches: Contact your Region Director or Commissioner / Michael Curran
UYIFL contacts:
Commissioner Michael Curran: commissioner@uyifl.com
North Region Director Monte Markos: northdirector@uyifl.com
Salt Lake Region Director (tba) (SL County): saltlakedirector@uyifl.com
Utah County Director, Michael Curran: utahcountydirector@uyifl.com
Registration or other questions: admin@uyifl.com
If there is any coach that is interested in becoming our Salt Lake Director or our Utah County Director please contact Commissioner Michael Curran ASAP.
Sunday, November 18
Age Divisions / X Man Weights
New X Man Weights UPDATED for our 2013 Season!!
We organize our divisions by age rather than neighborhoods. We want to keep players as close to their neighborhood as possible, however. Please note that you may travel to a nearby city to practice if there aren't enough players near you. Encourage your friends to register!
AGE (as of Sept. 1, 2012)
Gremlins 8-9 X Man 100 Z Down 70
Pee Wee 10 X Man 120 Z Down 90
Mitey Mites 11 X Man 130 Z Down 100
Midget 12 X Man 145 Z Down 115
Bantam 13-14 X Man 165 Z Down 135
Junior 15-16 No Weights / Play like High School
Z-down rule: The UYIFL allows 3 players to Z-down (OBL in WFFL) per team. This is to prevent teams from stacking older players in younger teams.
Can a player play up? Only if it allows him to remove an X in the older division.
The players will play in the same age division as their outdoor Fall Season 2012. They will move up to the next division in their outdoor Fall Season 2013.
Friday, November 19
Coaches~Families~Friends: IMPORTANT GAME DAY INFO
A couple of IMPORTANT things to note:
1. Please click on "My Site News" on the left menu and read the Fieldhouse rules entirely. These are rules set forth by the UofU that we are required to enforce and abide by in order to keep our privilege to lease the facility. We know they are strict, but it is necessary to maintain the field for the UofU football team and other organizations who use the facility. It is expensive and difficult to maintain the turf. Failure to abide by these rules can bring warnings, fines, and eviction to individuals and/or the league.
Please park on the street and across the street at the north end of the Salt Lake Sports Complex, NOT IN THE LOWER WEST PARKING LOT! This is for UYIFL staff and handicapped parking only. Many cars have parked in the fire lane, and will be subject to towing. Coaches may load and unload, but must move out of this area. PLEASE DO NOT BLOCK ANY DOORS OR FIRE LANES. There is limited space for emergency vehicles on the west side. Warnings will be placed on vehicles parked in the west area.
2. Parents, please direct ALL issues/concerns to your coach. It is impossible for our small staff to answer every phone call or email from parents. He is your point of contact, and will then direct issues to UYIFL personnel. Even on game day we have a very small staff, and have many things going on to keep the day flowing. We appreciate your understanding and cooperation with this.
3. Our scheduled time at the Fieldhouse is 30 min. prior to first scheduled game. NO ONE IS TO ENTER PRIOR TO THIS TIME! Other organizations also rent the facility, and their time ends just as ours begins. Please wait and warm-up outside.
THANK YOU FOR ALL YOU DO FOR YOUR PLAYERS!
Friday, October 3
Q&A's
For answers to Frequently Asked Questions...please click on the FAQ's link on the left menu. We will update these periodically. Still have questions? Contact us via email at admin@uyifl.com!
THANK YOU!

Swarm 2010 Bantam Champs!
Tuesday, December 31
RMYFL Mission Statement
Our mission in the ROCKY MOUNTAIN YOUTH FOOTBALL LEAGUE. (Utah Non-Profit) is to allow youth an opportunity to participate in the game of football on an outdoor or indoor field, teaching them the fundamentals of the game and further developing their skills with an emphasis on sportsmanship, teamwork, discipline, respect and interaction with youth their age while being coached/mentored by adults who emulate these standards. Every youth who has the wish and desire to play, regardless of experience, skill or ethnicity, will be afforded that opportunity in the RMYFL.
The RMYFL recognizes that the youth of today are the future leaders of our country and world, and they will build strength, success, and confidence while participating in our league in order to reach their great potential. Winning does not make a winner, and losing does not make a loser...its how you play the game, on and off the field!