Utah Sports Lodge: Private GYM & Boot Camp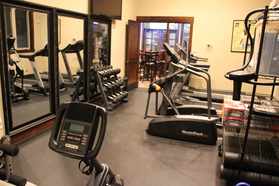 Beat the crowds in our private gym
Work-Out GYM
-Want your own private gym? It's not big but it will do the job with our treadmills, eliptical, free weights, and universal gym sytem, not to mention our oversized big screen to watch/record your favorite show to work out to.
-Want something a little different? Try our USL Boot Camp out in the dome! This unique training program in a more natural setting is sure to get you fit, and keep you there! This class will generally be held between 6:00 AM - 10:00 AM with classes starting every 70-90 min. Note: Sessions will not begin until we have 4+ participants per class, so pre-register today!
What's the best part about all of this...? It's very affordable, why not try it today!
Our hours for the events in the dome listed on this page are:
M-F 6:00 AM - 3:00 PM
Sat. 6:00 AM - 7:00 AM
Club House Gym is open Mon - Sat 6:00 AM - 11:30 PM
-Private gym $5 per day, $30 per month, or $300 per year unlimited!
-USL Boot Camp $50 per month