Utah Sports Lodge: Field Rental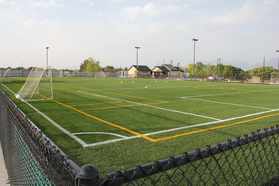 USL Turf Field
Field/Facility Rental (Summer Rates April 16 - October 15, Winter Rates October 16 - April 15)
Make this field your home field for the Spring and Fall outdoor playing season!
This field is perfect for U9, U10, U11 Competitive Soccer Games
$200 per season or $25 per game!

If you would like to see available times for field rental please click on the PDF file below
*Winter Rental
Station 1 Futsal Size $110/hour
Station 2 Futsal Size $110/hour
Station 3 Futsal Size $110/hour
Half Field 40x40 yards $160/hour
Full Field 80x40 yards $250/hour

Summer Rental
Full Turf Field 80x40 yards $60/hour
Grass Field 40x30 yards $40/hour
Beach Soccer Field $25/hour
Club House $40/hour
All Rentals are final once they have been reserved and paid for, no refunds however rental time may be transferred and or resold.
Please email your request:
info@utahsportslodge.com

Updated 8/22/14

USL Winter Rental Available Times
-Anytime booked from Oct 18 – April 14 between the hours of 6:00am – 3:00pm is 50% off
(excludes Saturday 8:00am – 11:30pm, closed Sunday's)
-4:00pm-11:30pm is regular winter rates
Full Field $250, 1/2 Field $160, 1/3 Field $110
This reflects prime time's only between the hours of 4:00pm-11:30pm
-Full Field = full field, ½ field or stations 1, 2, 3 are open for rental, you can choose!


In other words "Full Field" does not mean you need to rent the full field but it is available.
Blocks of times have been represented but you can book by the hour.
Handout:
USL Field Rental Available Times