Utah Sports Lodge: Field Rental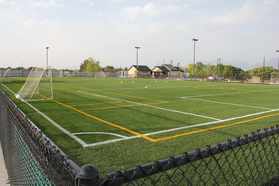 USL Turf Field
Field/Facility Rental (Summer Rates April 16 - October 15, Winter Rates October 16 - April 15)
If you haven't checked the weather, Winter is back!
We have time to rent in March, click on the link on the home page!
Rental times and Payments options are all online, registrtion cc proccessing fee has been eliminated!
Make this field your home field for the Spring and Fall outdoor playing season!
This field is perfect for U9, U10, U11 Competitive Soccer Games
$200 per year or $25 per game!


Winter Rental
Station 1 Futsal Size $110/hour
Station 2 Futsal Size $110/hour
Station 3 Futsal Size $110/hour
Half Field 40x40 yards $165/hour
Full Field 80x40 yards $330/hour
Summer Rental
Full Turf field 80x40 yards $75/hour
1/2 Turf Field training 40x40 yards $40/hour
1/3 Turf Field or Grass Field 40x30 yards $25/hour
Beach Soccer Field $25/hour
U9,U10,U11 teams that play 8v8, make this your home field for just $25/game
All Rentals are final once they have been reserved and paid for, no refunds however rental time may be transferred and or resold.
Please email questions to:
info@utahsportslodge.com