US Utah Comp Soccer, LLC: Welcome
2018 Ice Breaker Soccer Tournament Feb. 17th & 19th
IB Hoodies Available at the Sullivan Sports Complex
WELCOME TO USUCS.COM
2018 IB Click the link to see your schedules!
Ice Breaker St. George Area Winter Soccer Tournament
Feb. 17th & 19th
U11-U18 cc payment option
Put your team name in the "company" field
U8-U10 cc payment option
Put your team name in the "company" field
Important note on Sanctioning...United States Soccer is governed by USSF that is part of CONCACAF the North American Branch of FIFA. Affiliate members of USSF are: Professional- MLS, NWSL, NASL, USL Adult-USASA, Youth- USYSA, AYSA, US Club Soccer, SAY, NSCAA, USPSA, USSF, USFF, USSSA, USA Deaf Soccer, Armed Forces & American Amputee Associations. The Ice Breaker Soccer Tournament is a Sanctioned Tournament under USSSA which enjoys the same standard, protection, and quality of other affilate member sanctioned tournaments. Affilate members of CONCACAF and the USSF are under strict bylaws not to hinder, harm, disparage or prevent members from other affilate associations and programs from joining or participating in other programs or tournaments. Regardless of your affiliation, you have the right to attend and participate in the Ice Breaker Soccer Tournament! If you've been told or led to believe otherwise you are encouraged to email: icebreakersoccer@gmail.com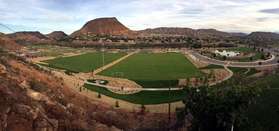 Sullivan Soccer Complex!