Upper Perkiomen Wrestling: Upper Perk Takedown Club Wall of Fame
Upper Perk Takedown Club Wall of Fame Criteria
• No more than 3 inductees into the Wall of Fame each year. Preferably only two.
• Individual must be nominated, discussed and ultimately voted upon by the UPTC Board.
• No more than 1 non-wrestler shall be inducted every three years.
• Anyone in the Upper Perkiomen community is welcome to nominate someone for induction into the Wall of Fame.
• Wrestlers must have completed their wrestling career (high school and collegiate) in order to be nominated.
• In order to be considered, a completed nomination form must be submitted before the November board meeting.
• Nominees that are not selected will be reconsidered in subsequent years. There is no need to re-submit a nomination.
• Wall of Fame selections will be made at the November board meeting and inductees will be notified of their selection and invited to the match which has been selected to honor the inductees.
• Information that will be put on the Wall of Fame plaque shall be presented to and approved by the person who nominated the inductee.
• The Wall of Fame plaque will be presented to the inductee at the designated match for inductions and then promptly placed on the wall in the wrestling room.
---
2015 UPTC Wall of Fame Inductee
2015 Inductee
TOM HONTZ
Upper Perkiomen High School Head Coach 1990-2014
Career Record 359-166-1
2006 PIAA AAA Team Dual Champion 72 Section 2 AAA Champions
6 District 1 Team Dual Championships 29 District 1 AAA Champions
10 Pioneer Athletic Conference League Championships 18 SE Regional AAA Champions
9 Section 2 AAA Team Championships 23 PIAA AAA State Medalists
5 District 1 AAA Team Championships 4 PIAA AAA State Champions
5 SE Regional AAA Team Championships 2006 PIAA AAA Coach of the Year
2014 District 1 Hall of Fame Inductee
---
2013 Inductees
ZACK KEMMERER
Upper Perkiomen High School 2003-2007
Career Record 199-18
2006 & 2007 PIAA AAA State Champion
2006 & 2007 Asics High School All-American
2006 Reno Tournament of Champions, Beast of the East, & Iron Man Tournament Champion
2014 District 1 Hall of Fame Inductee
University of Pennsylvania 2007-2012
Career Record 117-43
2011 NCAA Division 1 All-American 8th
CHRIS SHEETZ
Upper Perkiomen High School 2003-2007
Career Record 189-23
2005 PIAA AAA State Champion
2007 Asics High School All-American
2014 District 1 Hall of Fame Inductee
Delaware Valley College 2007-2009
Career Record 75-15
2008 & 2009 NCAA Division 3 All-American
Kutztown University 2009-2012
Career Record 21-8
BRENT FIORITO
Upper Perkiomen High School 2002-2006
Career Record 176-31
2006 PIAA AAA State Champion
2006 Asics High School All-American
3X PIAA AAA SE Regional Champion
2014 District 1 Hall of Fame Inductee
University of Virginia 2006-2011
Career Record 30-18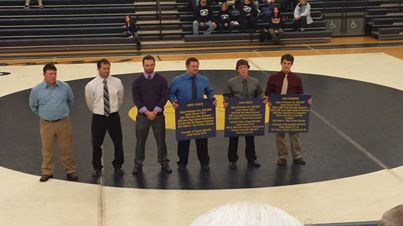 2013 Induction Ceremony, 12/18/13
---
2012 Inductees
MARK SMITH
Upper Perkiomen High School 1998-2002
Career Record 161-19
3X PIAA AAA State Medal Winner
2002 PIAA State Record 124 Career Pins
3X PIAA AAA SE Regional Champion
2012 District 1 Hall of Fame Inductee
East Stroudsburg University 2002-2006
Career Record 99-42
2006 ESU School Record 60 Career Pins
DARREN KERN
Upper Perkiomen High School 2000-2004
Career Record 154-26
2004 PIAA AAA State Championships 2nd
2004 Asics High School All-American
2013 District 1 Hall of Fame Inductee
Bloomsburg University 2005-2009
Career Record 53-36
2008 NCAA Division 1 Qualifier
2012 Eastern Wrestling League Hall of Fame Inductee
JIM NYCE
Founding Member of the Upper Perkiomen Takedown Club
and Upper Perkiomen Braves Youth Wrestling Program
A Generous Lifetime Fan and Supporter of Upper Perkiomen Wrestling
---
2011 Inductees
BRADLEY ROZANSKI
Upper Perkiomen High School 1987-1990
Career Record 136-11-1
1990 PIAA AAA State Champion
1990 Asics High School All-American
1995 District 1 Hall of Fame Inductee
Bloomsburg University 1991-1995
Career Record 80-25-1
1992 NCAA Division 1 All-American 8th
2004 Eastern Wrestling League Hall of Fame Inductee
DEREK ZINCK
Upper Perkiomen High School 1997-2001
Career Record 158-15
2001 PIAA AAA State Championships 2nd
2001 Asics High School All-American
2006 District 1 Hall of Fame Inductee
Lehigh University 2001-2006
Career Record 92-23
2003 NCAA Division 1 All-American 8th
2006 NCAA Division 1 All-American 5th
Pictures
Click here for pictures of the 2013 - 2014 Wall of Fame Induction
Click here for pictures of the 2012 - 2103 Wall of Fame Induction