Oak Forest Warriors: Welcome
Oak Forest Warriors Wrestling
WE MOVED. CHECK US OUT AT OUR NEW WEBSITE:
WWW.OAKFORESTWARRIORS.ORG
OVER 40 YEARS AND STILL BUILIDING CHAMPIONS!
The Warriors are proud to say they are entering their 42nd year as the oldest club registered under the IKWF as we begin the 2012/2013 season.
Wrestling builds strength, stamina, balance, control, endurance, and perserverance. Wrestling is 90% mental and only 10% physical. We train wrestlers with respect, intensity, discipline and without favortism. We stress the basics and admire hard work and effort.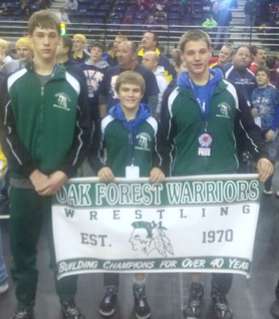 2013 State Qualifiers