Gateway Gunners: Welcome
Register For October HoopFest Now!

October HoopFest

Friday, October 26, 2012 5:30 PM
to Sunday, October 28, 2012 6:59 PM
St. Louis, Missouri
2064 Vineyard Ln
St. Louis , MO
Click here to register now!

Brief Description:
$175.00 ... register by October 19 ... 3 game minimum, most will play 4+ ... organized and professionally run ... Awards for 1st/2nd place ...patched refs ... great gyms ... online schedules, text updates
Fees:
175.00
Online Reg. Closes:
October 22, 2012 10:00 AM Pacific Time



Register For October HoopFest Now!

---

Register For Parkway Opener Now!

Parkway Opener

Friday, November 16, 2012 3:59 PM
to Sunday, November 18, 2012 4:59 PM
St. Louis, Missouri
2064 Vineyard Ln
St. Louis , MO
Click here to register now!

Brief Description:
SCHOOL AND RECREATIONAL TEAMS ONLY ...$175.00 ... register by November 9 ... Boys and Girls ... 3 game minimum, most will play 4+ ... organized and professionally run ... Awards for 1st/2nd place ...patched refs ... great gyms ... online schedules, text updates
Fees:
175.00
Online Reg. Closes:
November 12, 2012 10:00 AM Pacific Time



Register For Parkway Opener Now!

---

Register For GatewayTip-Off Now!

GatewayTip-Off

Friday, December 7, 2012 7:59 PM
to Sunday, December 9, 2012 4:59 PM
St. Louis, Missouri
2064 Vineyard Ln
St. Louis , MO
Click here to register now!

Brief Description:
Select and School/Rec Divisions ... 107 teams last year ... $175 ... register by November 30 ... Boys and Girls ... 3 game minimum, most will play 4+ ... organized and professionally run ... Awards for 1st/2nd place ...patched refs ... great gyms ... online schedules, text updates
Fees:
175.00
Online Reg. Closes:
November 23, 2012 04:00 PM Pacific Time



Register For GatewayTip-Off Now!

---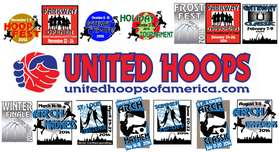 United Hoops Basketball Tournaments
Welcome to another year of United Hoops Basketball Tournaments in St. Louis.
We would like to thank all coaches, teams and families who have made our events so successful over the years. We look forward to another great year of basketball and look forward to you being a big part of our success.
Tournament Highlights
3 and 4 Game Guarantees

Pool and Bracket Play

Professionally Managed...on time, all the time, schedules 1 week in advance
Instant Communication - Game Results and Brackets will be instantaneously updated online and at TOURNEY MACHINE... instant Text updates for all game results in your division/bracket postings
Great St. Louis Tournament Facilities- Parkway High Schools, Whitfield, Ladue,etc ...Full-Size Courts (no side by side)

High School Patched Refs

Team and Individual Awards for First and Second Place

Winners of our tournaments earn a FREE ($75 Ref Fee) spot in our August 2-4 Arch Championships

All Registrations MUST be completed online... you may pay with credit card at the time of registration -or- mail payment (registration will not be confirmed until receipt of payment)
See bottom of page for Hotel Information
TOURNAMENT INFORMATION
March 14-16
UHA ARCH MADNESS


Schedule are NOW available






April 25-27
ARCH CHALLENGE
Canceled

NCAA Certified for Boys High School Divisons

165 teams last year from Iowa, Illinois, Kansas,

Arkansas, Indiana, Kentucy, Texas Oklahoma, Missouri and Tennessee

4 Game Minimum... most teams will play 5 or 6
16 minute stop-clock halves

$375 per team... $350 for multiple teams
3rd-8th Grade Boys and 3rd-11th Girls


$250 per team

May 16-18
UHA ARCH MAYHEM
Register Online
NCAA Certification pending
June 20-22
UHA SUMMER TIP-OFF
Register Online
July 17-20
ST LOUIS ARCH CLASSIC
Register Online
NCAA Certification pending
August 1-3
UHA ARCH CHAMPIONSHIPS
Register Online
Previous Tournament Champions play for ONLY $75
For more tournament information, call or email us any time !
Rick Klohmann
Tournament Director
rickunitedhoops@gmail.com
314 610 2727
United Hoops
2064 Vineyard Ln
Chesterfield, MO 63017
Preferred Hotels and Rates
Doubletree

Hotel & Conference Center

- Chesterfield
$89 - $109 (rates with and with out breakfast)


16625 Swingley Ridge Road




Chesterfield

,MO 63017




doubletree1.hilton.com

Indoor and outdoor pool, Basketball Courts, Fitness Room, Jogging Track, Ping Pong and Pool Tables, Racquetball and Tennis Courts, Full Service Restaurant and Bar

Minutes from Chesterfield Valley – Over 100 stores and 30 restaurantsContact Patti Miller for Rates/Reservations 314-212-2150 or Patti.Miller@swphotels.com

Sheraton

Westport Plaza Tower

$79 - $99 (rates with and with out breakfast)

900 Westport Plaza Dr.




St. Louis

, MO 63146


www.

sheratonwestport.com

Indoor pool

Complimentary Shuttle to the Airport and Hollywood Casino

The Sheratons are the Only two hotels in Westport Plaza (Westport Plaza is a 42 acre entertainment complex featuring 10 restaurants, funny bone comedy club, live music and nightly entertainment http://www.westportstl.com/) Contact Patti Miller for Rates/Reservations 314-212-2150 or Patti.Miller@swphotels.com



Sheraton Westport Lakeside Chalet
$79 - $99 (rates with and with out breakfast)
191 Westport Plaza Dr.
St. Louis, MO 63146
www.sheratonwestport.comOutdoor poolComplimentary Shuttle to the Airport and Hollywood CasinoThe Sheratons are the Only two hotels in Westport Plaza (Westport Plaza is a 42 acre entertainment complex featuring 10 restaurants, funny bone comedy club, live music and nightly entertainment http://www.westportstl.com/) Contact Patti Miller for Rates/Reservations 314-212-2150 or Patti.Miller@swphotels.com

DoubleTree St. Louis at Westport
$79 - $99 (rates with and with out breakfast)
1973 Craigshire Road
St. Louis, MO 63146
www. <