UNITED FORCE: Welcome
A "FORCE" TO BE RECKONED WITH BECAUSE "UNITED" WE STAND!!!
WELCOME TO UNITED FORCE!
UNITED FORCE WAS BORN OUT OF A DESIRE FOR A BASKETBALL TEAM THAT WOULD FOCUS ON INCREASING SKILLS, CONFIDENCE, POSITIVE ATTITUDES, DESIRE AND DETERMINATION IN YOUNG PLAYERS.
OUR GOAL IS TO GIVE "ALL PLAYERS" AN OPPORTUNITY TO EXPERIENCE COMPETITIVE PLAY REGARDLESS OF "SKILL LEVEL".
UNITED FORCE STRIVES TO CREATE A SENSE OF "UNITY" AMONG PLAYERS, PARENTS, MANAGEMENT AND THE COACHING STAFF. IT IS OUR BELIEF THAT A STRONG SENSE OF "UNITY AND FAMILY" WILL ALLOW OUR PLAYERS TO BE MORE FOCUSED AND PRODUCTIVE BOTH ON AND OFF THE COURT!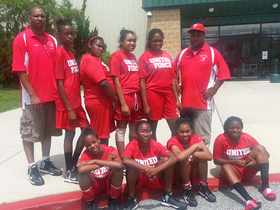 OCEAN CITY TOURNAMENT
Tuesday, March 24
UNITED FORCE GIRLS & BOYS TEAM TRYOUTS & PARENT MEETING
UNITED FORCE 1ST TEAM TRYOUTS & PARENT INFORMATION SESSION FOR 2015
ON FRIDAY MARCH 27, 2015 FROM 6P-8P AT LTA GYM-LEADERSHIP THRU ATHLETICS
2900 HAMMONDS FERRY ROAD LANSDOWNE MD 21227
FOR BOYS & GIRLS GRADES 8TH THRU 10TH
WE ARE LOOKING FOR PLAYERS ALREADY SKILLED, DISCIPLINED & DEDICATED IN SPORTS & SPECIFICALLY BASKETBALL. PLEASE COME DRESSED IN PROPER ATTIRE TO PRACTICE & HAVE TOWELS, WATER & GATORADES WITH YOU. BE PREPARED TO GO THRU DIFFERENT DRILLS, SKILLS EVALUATION, 1 ON 1 COMPETITION & A SCRIMMAGE GAME. WE WANT YOU TO BRING YOUR TOTAL PACKAGE & GIVE IT ALL YOU GOT TO SHOW THE COACHES & THE MANAGERS YOU HAVE WHAT IT TAKES TO MAKE THE TEAM.
WE NEED AT LEAST 1 ADULT PRESENT FOR EACH PLAYER TO ATTEND THE BRIEF INFORMATION SESSION. IF ANY FURTHER INFORMATION NEEDED PLEASE CONTACT TEAM MANAGER DEE DUNLAP @ 410-800-6669 or THE1STLADYDEE@YAHOO.COM OR COACH SHAWN JONES SR @ 410-905-3780 or sag2791@gmail.com
HOPE TO SEE YOU THERE!!
Monday, January 13
UNITED FORCE HIGH SCHOOL FRESHMEN PLAYERS MAKE THEIR HS VARSITY TEAMS
UNITED FORCE GIRLS BASKETBALL IS PROUD TO ANNOUNCE THAT ALL OF OUR GIRLS MADE THEIR 8TH & 9TH GRADE SCHOOL BASKETBALL TEAMS. WE'RE ELATED TO MENTION THAT 3 OF OUR GIRLS ARE NEW HIGH SCHOOL FRESHMEN & ALL 3 MADE THEIR HIGH SCHOOL VARSITY TEAMS!! WHAT AN AWESOME ACCOMPLISHMENT & WE ARE VERY PROUD OF THEM. CONGRATULATIONS DESHAYE JONES OF CRISTO REY JESUIT SCHOOL, ALIYAH JACKSON OF CARVER ARTS & TECHNOLOGY & KRISHAUNA DAVENPORT OF PARKVILLE HS!!!!