Union City Little League: Welcome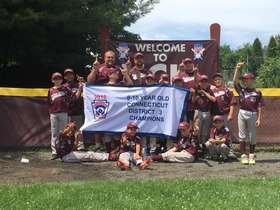 Connecticut, District 3, 9-10 Champions!
Friday, September 2
Union City Little League Naugatuck, Home of the District 3 2016 11U Softball and 9U Baseball Champions
Connecticut, District 3, 11U Champions/State Runner Up
Fall Ball Season
Games will begin September 10, 2016
See the major, minor, and Coach Pitch baseball schedules at the bottom of the page.
What is Fall Ball?
Fall Baseball and Softball is an instructional season that is held each September and October. It is administarted by the Connecticut District 3 Little Leagues (UCLL, Peter J. Foley, Prospect, Beacon Falls, Seymour, Ansonia, Derby, Oxford, Shelton American and Shelton National Little Leagues). There is intra as well as inter league play. So this means there will be games at many varied locations in the district that may include any of the participating towns.Teams will practice one night a week and play most of their games on Saturdays and Sundays. There may be an occasional night game during the week at the few facilities that have lights (Peter J, Shelton American, and Beacon Falls).
The focus of Fall Ball is instruction and skills development not winning championships. This allows kids the time to try new positions and to challenge themselves as ball players. Kids that play Fall Ball build confidence that will help them to succeed in the sport of baseball or softball throughout the entire year.
Questions about UCLL?
Please contact: Player Agent Chris Sheedy, csheedy13@gmail.com
League President Dennis Sigetti, dennis71@sbcglobal.net
Sponsors Are Still Needed!
If you or any organization that you are affiliated with would like to become sponsors of Union City Little League Baseball please contact our fundraising chairman, Coach Mark Nofri (203-233-8333) ( nofrim@sacredheart.edu) . You may also go to our "Handouts" Page to print out a sponsorship form and mail it in.
Questions about UCLL?
Please contact:
Player Agent Chris Sheedy, csheedy13@gmail.com
League President Dennis Sigetti, dennis71@sbcglobal.net
Handout:
Fall Ball 2016