Union County Soccer League: Welcome
Friday, October 9
Thank you Honey's Tire Center!!!!
A special thank you to Honey's Tire Center of Ullin, Illinois, managed by Jim Honey for their donation of 150 water bottles and 150 soccer balls to the Union County Soccer League! The equipment will benefit more than 300 Union County soccer players in the Spring Season!
Representing Honey's Tire Center are Stacey Crain and sons Blake and Ethan Klett. Accepting on behalf of the Union County Soccer League are League President Jason Hall, Coach Rodney Henry, and UCSL player Juan Agustin Vaca Diaz.
You can visit Honey's Tire Center and Jim and say "thank you" at the business located at 211 S. Locust Street in Ullin, IL 62992 or by calling (618) 845-3610.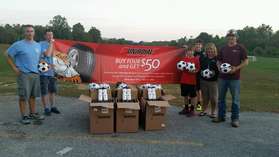 Honey's Tire Center Donation to UCSL