Union County Soccer League: Welcome
Sunday, August 30
Fall 2015 Schedules
Games are scheduled the Saturday of Labor Day Weekend, but are not scheduled on Labor Day - September 7. Coaches please work with each other for game cancellations and make-ups, keeping the Division Representative notified. If changes are made to the schedule (date and/or time) please ensure Kevin Hess is informed so arrangements can be made for referees and Karen and/or Bobby Stone for concession stand. Thank you all.
Handout:
Fall 2015 Schedules
Saturday, August 22
Fall 2015 Season is here!
Our Fall 2015 Registration was a huge success with 218 players signing up! Each division continues to grow each season and without the parents and coaches who volunteer each season, it would not be possible. Thanks for all you do!
Continue to check this website for additional updates, game schedules, and other notices throughout the season.
Saturday, August 22
Who is coaching who?
Open the attached document to see what coaches are in your division, team colors, sponsors, and contact information for each.
Handout:
Who is Coaching Who?
Saturday, August 1
THANK YOU GLENN BEANLAND - WE HAVE WATER!!!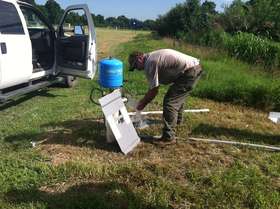 Glenn Beanland Finalizing the Water Well
Glenn Beanland of Beanland & Son Drilling, LLC, recently completed the final hookup for the water well at the Brady Mill Soccer Complex. The Union County Soccer League is so thankful to Glenn and his son Logan for their extraordinary support of the Union County Soccer League and the AJ-Cobden Wildcat Soccer programs. Without their donation of labor and materials totaling more than $15,000, irrigating the soccer complex would not have been possible. With the new well, the High School field and the fields for the UCSL youth will be maintained through the dry and hot seasons and will offer a first class playing surface to all athletes in teh years to come.
Thank you Beanland and Sons Drilling! Your generosity and support to your community is greatly appreciated!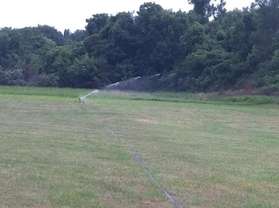 Water Reel in Operation