WBSC U13 Braves Soccer Team: Welcome
Saturday, March 1
Braves Team 2014
Welcome to the Braves team site:
There is no "I" in Team.....
<><><><><><><><><><><><><><><><><><><><><>

"I am a member of a team...
I rely on the team, I defer to it and sacrifice for it,
because the team, not the individual,
is the ultimate champion"

- Mia Hamm
<><><><><><><><><><><><><><><><><><><><>
Thursday, September 30
NNFC Soccer Classic Tournament - Williamsburg, VA - August 28 & 29, 2010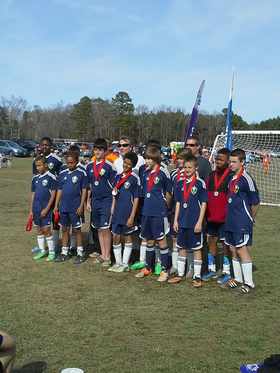 Boys You Rock!
Saturday, March 1
Braves Finalists - Kickin It for Cancer Tournament - Gold Division
This tournament found all the teams to be so evenly matched that I have ever encountered. It was a battle every match from beginning to end. The Braves dug in and played some AWESOME futbol and we are so proud of these guy's! One thing we learned in this tournament was to be ready on the kick-off. If your not you can quickly pay the price. We played some great stingy defense and attacked when the opportunity was there, because there wasn't many times available. It was a tough and exciting experience and we discovered how much we have grown as a team and individually. We had to constantly be on our toes and alert every second. When the last match was over and on the way to the awards ceremony, one comment was made that summed it up from one of our teammates. "My mind was so tired I couldn't think in the last half of the match." Benjamin, you couldn't have described it any better! You left it all on the field boy's and there is no other way to compete. We love you guy's! GO BRAVES!
Match Soores:
Braves 1 vs. ODS Sagres 0
Braves 1 vs. Yorktown FC Siege 1
Braves 1 vs. SSC United 1
Final Results 1-0-2

GREAT TEAMWORK BRAVES!
Sunday, October 30
BRAVES WIN 2011 FALL REGULAR SEASON 6-0-1!

GO BRAVES! SUN CUP CHAMPIONS!
Thursday, June 9
BRAVES ARE 2011 RICHMOND SUN CUP CHAMPIONS!
The Braves went to the Richmond Sun Cup and finished as Champions last weekend. They played well and had a terrific time. We are very proud of them! 10 goals scored and "0" scored against them.

CHAMPIONS!
Sunday, May 8
2011 SPRING TASL TOURNAMENT CHAMPIONS! 4-0

GO BRAVES! YOUR #1

BRAVES WIN REGULAR SEASON 6-0!
Sunday, May 8
BRAVES 2011 SPRING TASL CHAMPIONS! 6-0
Sunday, November 7
BRAVE'S ARE #1 WIN FALL TASL CHAMPIONSHIP 4-0

Why do we watch?
Monday, February 16
"The only thing at stake is the tissue-thin difference between a thing done well and a thing done ill." "John Updike"
The one way in which we can be the same, or at least strive to, is in that pursuit of the tissue-thin difference. The thing that makes the best of them different is the thing that offers us, too, the potential to earn that difference -- the effort beyond mere effort, the desire beyond standard-issue desire, the pride so strong that it becomes the definition of pride.
Why do we watch?
We watch for those moments. They may be fleeting; they may come and go so quickly we're not even certain, for an instant, that we actually saw them.
But they're real, and they can be ours. We wait for them.
Tuesday, November 20
Without skill, you cannot play.
Without fitness, you cannot last.
Without mental toughness, you cannot WIN!

Win The Ball. Win Possesson!
Sunday, September 10
"The Quality of a person's Life is in direct proportion to his commitment to Excellence" V.Lombardi
Sunday, July 19
BRAVES ARE THE 2009 NNFC 7's TOURNAMENT CHAMPIONS!