WBSC U11 Braves Soccer Team: Braves History

Keepers Demand Respect !
"Quiters Never Win and Winners Never Quit"
Tuesday, October 20
U19 VSLI CHAMPIONS FALL 2009
Monday, November 9
Sunday, July 19
2009 CHAMPIONS NNFC SUMMER 7's 4-0
Friday, November 6
U9 TASL CHAMPIONS FALL 2009
Thursday, June 5
2008 SPRING U16 TASL CHAMPIONS 6-0-2
Wednesday, November 5
2007 FALL NNFC U16 SEASON CHAMPIONS 6-0-2

Self-Confidence is the KEY to SUCCESS !
"The Mind is the Limit, Envision it, Believe it, Then DO IT"
Monday, November 5
2007 CHESAPEAKE CUP CHAMPIONS 4-0

Spring u19 Finalists
Tuesday, May 8
2007 Spring Finalists u19 TSAL League 10-2

Braves at the William & Mary Camp
Wednesday, November 29
2006 Fall 2nd Place U17 VSLI League
Tuesday, November 29
2005 Fall u16 2nd Place VSLI League

AYSO REGIONAL CHAMPIONS
Monday, June 6
2005 Spring AYSO Regional U16 Tournament Champions 4-0-0

2004 Fall U15-A Champions & ZZZ Tournament CHAMPIONS
Saturday, January 8
2004 Fall U15-A SEVYSA / Select Champions 9-0-1 & ZZZ Tournament U16 CHAMPIONS!

2004 U14 Spring Select/Travel Champions!
Friday, September 17
2004 Spring U15-B SEVYSA Champions 8-0

BE A STAR ! BE A BRAVE !
THE STARS !

Fall 2003 HRCL Finilists & Williamsburg Cup Champions !
Wednesday, November 12
2003 Fall HRCL Finilist 11-1-0!
HRCL Tournament Results:
Braves 5 Chesapeake Freedom 0
Braves 2 Beach FC Flames 0
Braves 3 Chesapeake Mutiny 0
Braves 0 Churchland Flames 1 (Finals)
GREAT SOCCER BRAVES!
Monday, September 1
2003 Fall Williamsburg Cup CHAMPIONS !
BRAVES ARE THE 2003 WILLIAMSBURG CUP CHAMPIONS!
The Braves finished the Williamsburg Cup tournament this weekend shooting 102 shots on goal for 14 goals in four matches. The Braves only allowed 14 shots against with Joel Dominic(KEEPER) finishing with 3 shutouts! You would have to have seen the guy's play to be able to fathom the dominance of their skills and knowledge of the way they played as a team. They were absolutely impressive! I had not realized the scope of the whole weekend until I sat down last night and went over the stats,but with 14 goals scored were 14 assist's. Looking at this stat by itself gives some insight on the type of teamwork played in this tournament and demonstrates how tight this team has become. There were some awesome plays that shocked the boots right off my feet. Beautiful ball control and shielding to allow time to do the right thing with the ball. A fake free kick that the pros couldn't have done any better! We are just so proud of you Braves! Winning is exciting guy's but I was most excited about your overall teamwork and your individual skills on the pitch. When you guy's put it all together like you did this weekend how could you do anything else but win. You played like Champions! That's why you are the Champions! The coach's really enjoyed being by your side this weekend guy's and we are very proud of you! It was a great weekend of soccer! YOU ROCK BRAVES!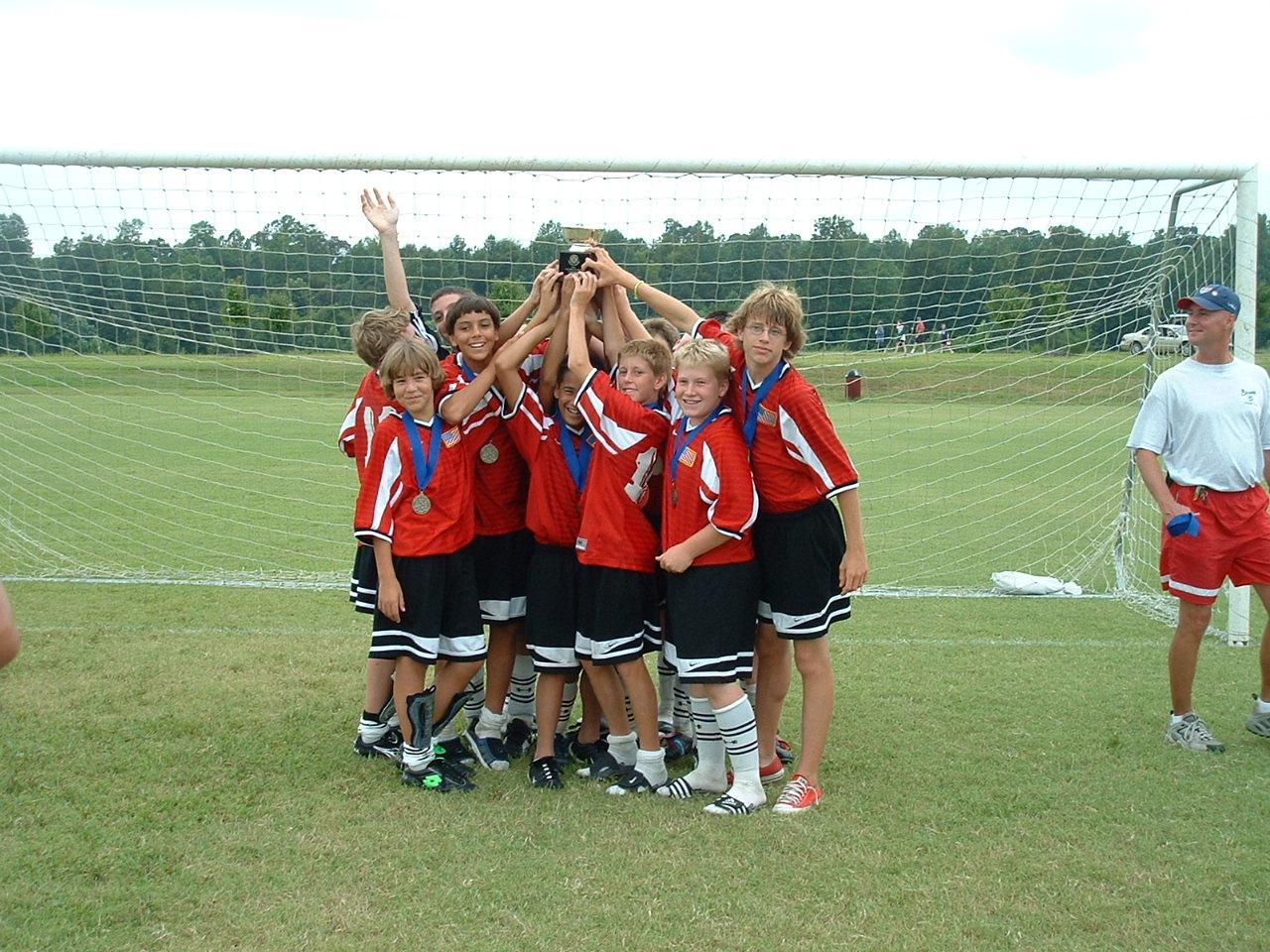 Hoisting the CUP !
Thursday, June 26
2003 JUNE FIESTA CHAMPIONS 4-0-0

2001 FALL HRCL CHAMPIONS 12-1-0
Friday, June 27
BRAVES HISTORY cont'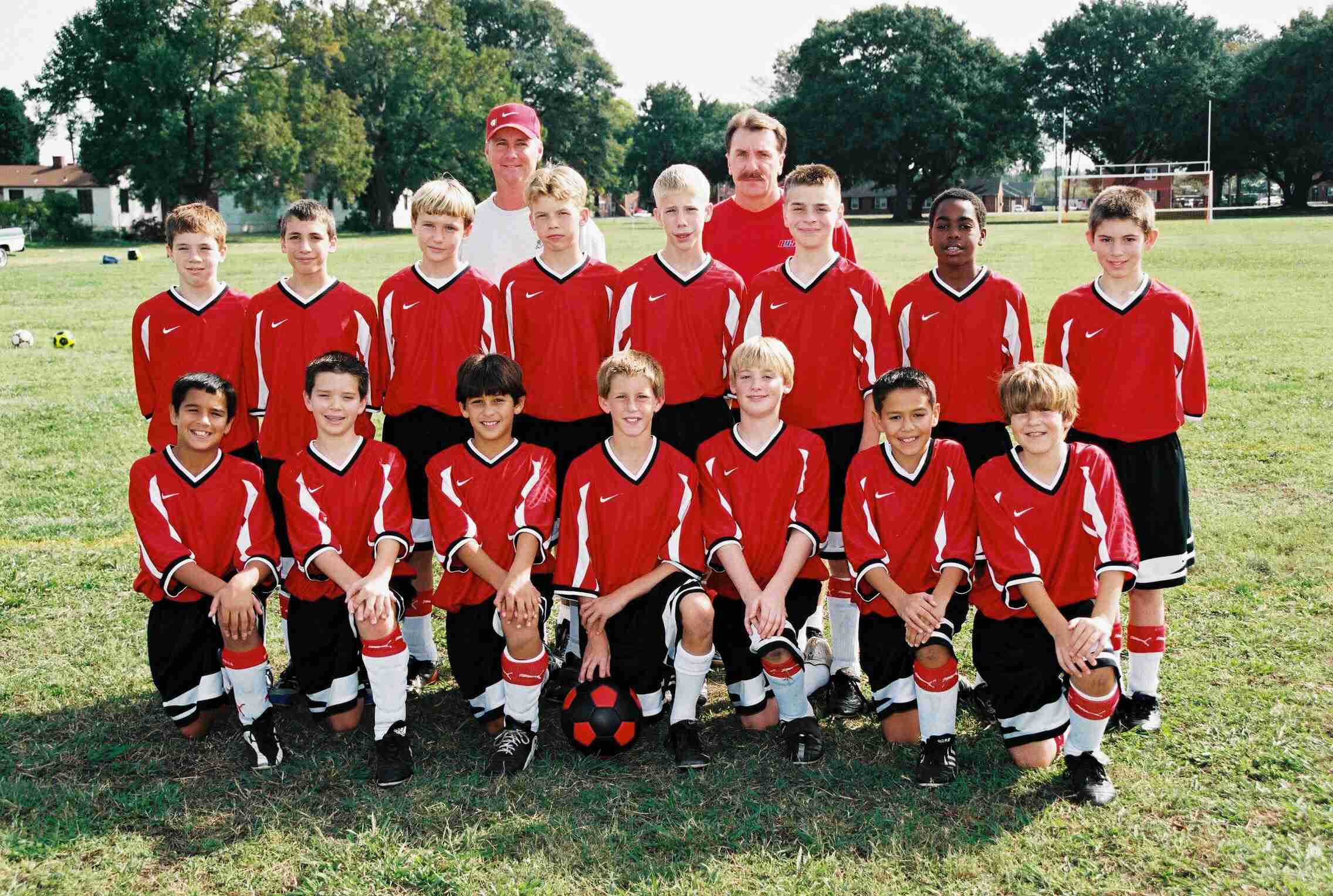 2002 FALL HRCL CHAMPIONS 9-2-0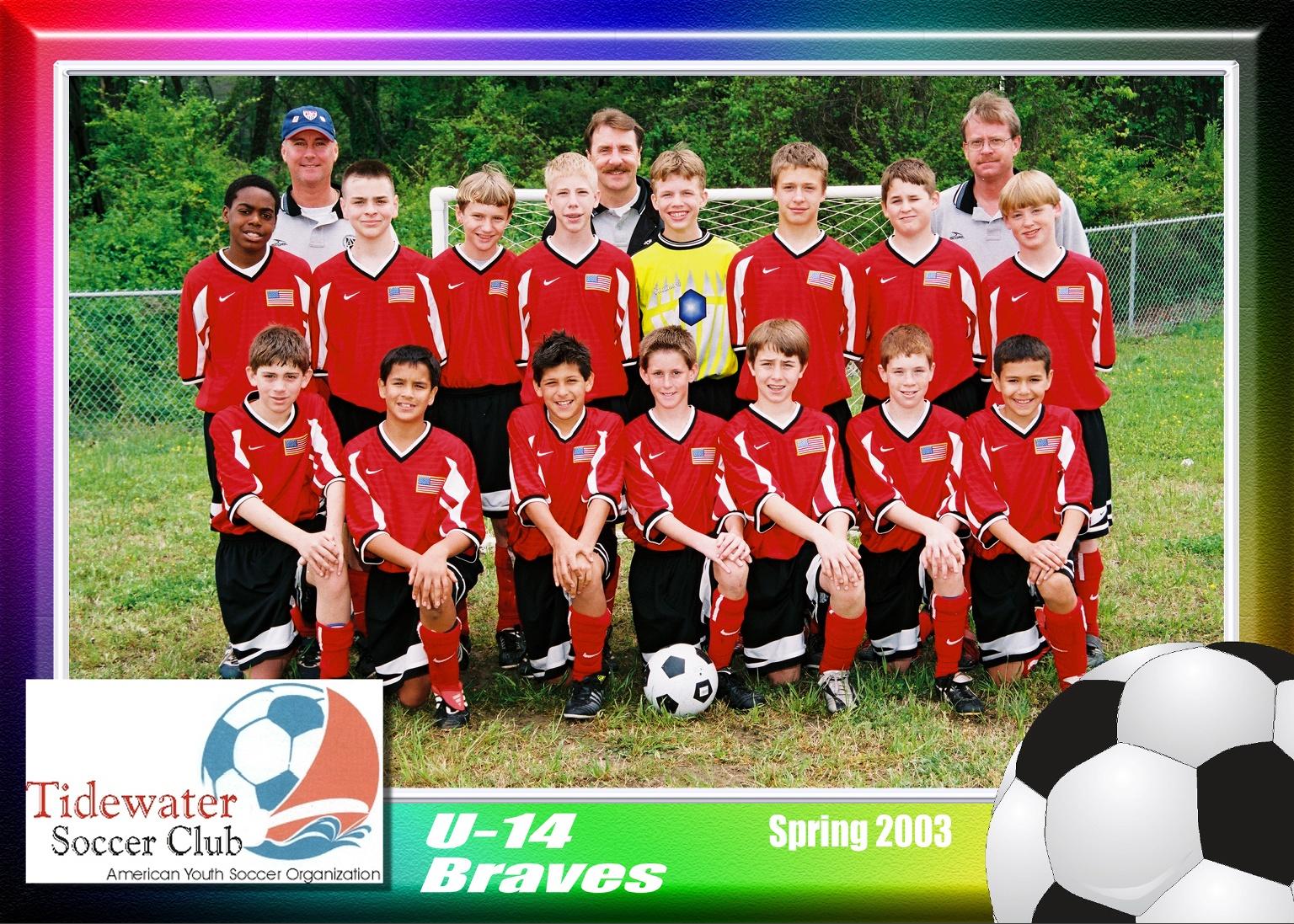 2003 Spring Finalists

2000 FALL HRCL CHAMPIONS 12 -0-0
Friday, June 27
BRAVES HISTORY
2001 SPRING HRCL CHAMPIONS 12 -0-0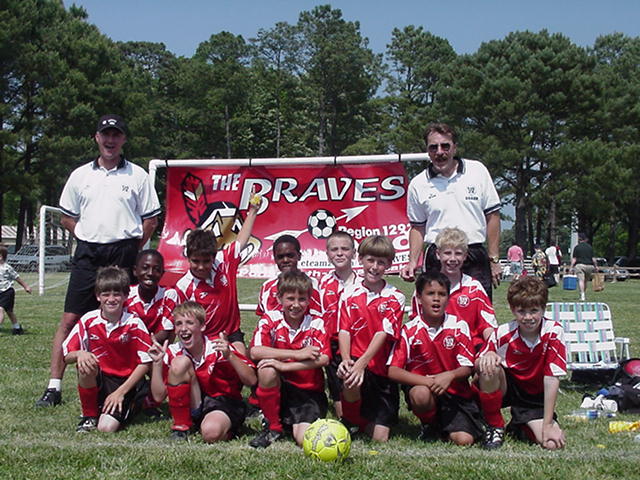 2001 SPRING HRCL CHAMPIONS 12-0-0

2002 FALL CHAMPIONS !
2002 FALL HRCL CHAMPIONS !