Tulpy 6th Grade Girls: Welcome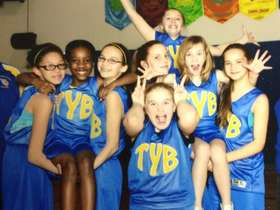 League Champs 2014
Tulpy 6th Grade Girls- LEAGUE CHAMPIONS 2014!!
CONGRATULATIONS TO ALL OF YOU FOR ALL YOUR HARD WORK AND SWEAT TO MAKE THIS AN INCREDIBLE YEAR!!  YOU GIRLS ARE TOP NOTCH IN EVERY AREA!!
RACHEL HOWE, NATALIE JONAS, KATHERINE TRAVIS, EMILY ELLIS, CHEYANNE RUSSELL, JENNA PHILIPPE, CCARMELLA HORNE, MOLLY YATCHYCHYN, REAGAN BOWER!!
GREAT JOB THIS YEAR!! YOU WILL BE A HARD ACT TO FOLLOW!!