Tucker Football League (TFL): Cheerleading
Saturday, June 20
What About Cheerleading

What a wonderful season we have had thus far. The conditioning and tumbling classes have been a great success and our cheerleaders have learned and enhanced their skills each week. As we close out our conditioning practices we will move into our regular cheer season.


REGULAR SEASON BEGINS on Tuesday, July 26th


As we prepare for the opening of our football and cheer season we will begin practices next Tuesday, July 26, 2011. Team announcements for cheerleaders will be held and cheerleaders will meet their coaches during this time. We will have a brief parent meeting to discuss upcoming events as well. Please note most girls will start practicing Tuesday, July 26th. Tumbling classes will move to Wednesdays starting in August.

TFL CHEER CAMP- All Cheerleaders

Our cheer camp will be held: AUG 2nd – 5th from 6pm-8pm

Ø Cheerleader Check-In will be at the top field, behind the restrooms. All cheerleaders "MUST" check-in before moving to the cheer areas, so please arrive 5-10 minutes early. If we do not have your child's birth certificate please bring a copy with you at check-in.


Ø Please have your cheerleader dressed in black, green, or blue shorts, white t-shirts and comfortable sneakers. The girls will also need water and sunscreen.


Ø We are asking 10 families to donate cases of water. If you can please email me at aleflore@bellsouth.net.


Clean-up day Saturday, July 23rd

We are asking all parents and coaches to come out and volunteer for two hours to help us cleanup our park for the season. Volunteers will be at the park from 9am- 2pm. This is a huge park effort so we need everyone's support and participation. We also want to make sure that bathrooms are clean, if you have extra cleaning supplies; rubber gloves, disinfectant etc. please bring them with you.

If you have any questions or concerns please let us know.
Please see attached flyer for more detail!



April LeFlore

Cheer Director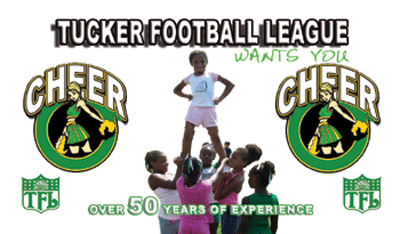 You can also contact the TFL Cheer Staff at the places below
Facebook:Tucker tflCheerleading (Profile Name)
Twitter: http://twitter.com/TFLCheerleaders
What About Cheerleading?
The TFL has a deep and proud tradition in cheerleading. Our Lions' teams are always competitive and learn the spirited, gymnastic type cheers seen on ESPN cheerleading competitions. Our cheerleading program is divided into two areas: Intra-league and Inter-league. The Intra-league program includes the girls cheering for our instructional and prep teams. These girls cheer every game, all game and have their own cheerleading competition each year in October. At this competition, teamwork and team spirit are promoted with each participant being provided a medal and cheerleading sweatshirt. The Inter-league program is comprised of the D1 Lions and Metro teams. These teams will follow their teams and cheer every game, all game and have their own cheerleading competition each year in October. These competitions feature some of the top youth cheerleading in the nation. Most girls who compete at this level are very successful in high school cheerleading programs. Our girls program is headed up by April LeFlore (404) 429-9903.
Cheerleading Contacts

April Leflore
aleflore@bellsouth.net
770-469-2673
Cheerleading and Football Registration Form with Fees
Here is the football and cheerleading registration form that includes a schedule of fees for cheering.