TrueVision Sports: Welcome
$75 until August 6th, $85 after that.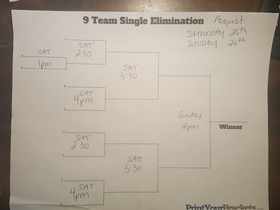 2018 Summer Bracket
Thursday, August 16
REGISTRATION FOR FALL 2018 SEASON IS NOW OPEN!
The season will be from Sept.9 - November 4. Playoffs will be weekend of November 11.
FEE IS $75.00 UNTIL AUGUST 6. $85.00 THEREAFTER.
NEXT GAMES SUNDAY AUGUST 19
PLAYOFFS/CHAMPIONSHIP WILL BE WEEKEND OF AUGUST 25, 26.
---
Our website is continually updated, visit regularly for game information, league news, fundraising activities and more.

---
Got Questions?? Send your question to truevisionsports@gmail.com
Enrich your life, come play with us!™
---
Handout:
Files