TOMS RIVER LITTLE LEAGUE: Fundraising Info
Friday, February 16
TRLL 2018 Dicks Sporting Goods Coupons
It's not too early to start gearing up for the Spring 2018 baseball season with TRLL discount coupons from Dicks Sporting Goods! TRLL Opening Day is less than two months away--April 7, 2018.
AAA 9-10yr Division and Majors 11-12yr Division teams are forming now. All other Little League division teams will begin forming in early March. Your assigned coach will be contacting you as soon as rosters are formed and distributed.
Click Here for the "Spring 2018 Dicks Coupon.pdf" link for in-store purchase coupons at Dicks Sporting Goods on Route 70 in Brick, one of Toms River Little League's biggest sponsors! Save on gloves, cleats, new 2018 Little League Certified bats and more! Discount coupons also apply to other team sports gear (e.g., lacrosse, soccer, basketball).
Friday, February 16
Toms River Little League Gear!
TRLL ONLINE STORE NOW OPEN!
Exciting news TRLL families! We have created a new custom ONLINE store full of great TRLL spirit wear and other gear from leading brands, such as Under Armor, Champion, Badger, and Sport-Tek. Go to https://teamlocker.squadlocker.com/#/lockers/toms-river-little-league to take a look.
Most items can be customized with player name and/or number (for an additional small fee). Order exAll purchases are shipped directly to you in less than two weeks.
And, right now, take advantage of a 10% discount on all items. Use code: RIVERLL10
Thank you for supporting TRLL!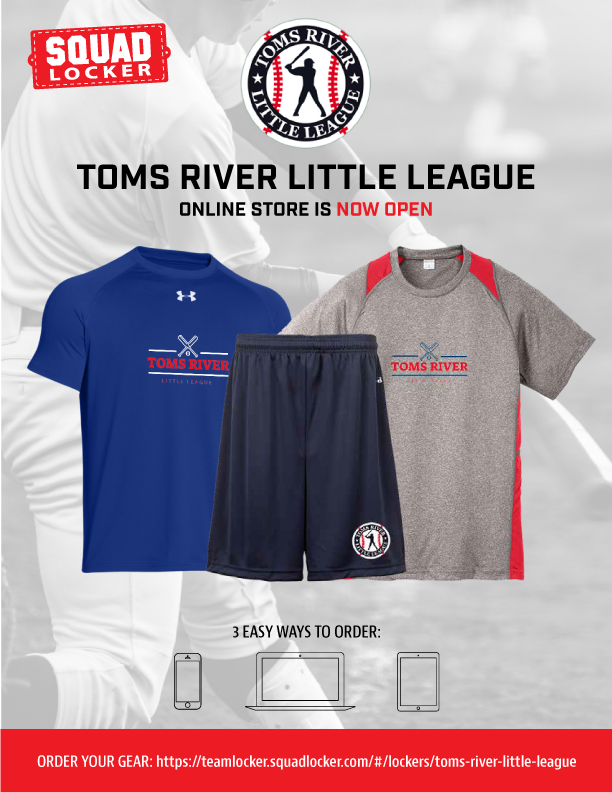 https://teamlocker.squadlocker.com/#/lockers/toms-river-little-league