Tri-Cities Little League: News!
Friday, March 1
JACOBS GOLDEN EAGLES Spring Baseball Camp
Jacobs High School will be hosting a Spring Baseball Camp on Sundays March 2nd and March 9th. This two-day camp will focus on teaching the fundamentals of baseball!
Experience the passion for the game while working together to build fundamentals.

When: March 2nd and March 9th ~ 1:00pm-3:00pm
Grades: 5th-8th grades
Cost: $50 includes a tee-shirt/walk-ins are welcomed.
Where: Jacobs High School- Competition Gym
What to bring: baseball pants, glove, a bat, helmet, catching gear, gym shoes, and water.
Areas that will be covered: Throwing/Catching, hitting, base-running, pitching, and infield/outfield
Make checks payable to Jacobs High School Baseball and send to:
Coach Jamie Murray
Jacobs High School
2601 Bunker Hill Drive
Algonquin, IL 60102
Questions: Contact Coach Murray
(Cell) 203-559-6713
(Jacobs) 847-532-6218
Email: Robert.Murray@d300.org
Handout:
Camps
Friday, March 1
DUNDEE CROWN Spring Baseball Camp
Dundee-Crown Baseball will be hosting a Spring Baseball Camp on Sundays March 3rd and March 10th. This two-day camp will focus on teaching the fundamentals of baseball!
Baseball season is right around the corner, so come refine your skills with our fundamentals camp for ages 8 to 14.
Ages 8 to 11
Sunday, March 3rd and Sunday March 10th
11am-1pm

Ages 12 to 14 (up through 8th grade)
Sunday, March 3rd and Sunday, March 10th
1:30pm-3:30pm

Fees:
Ages 8-11: $45
Ages 12-14: $45 -if you would like a written evaluation (hitting, throwing, pitching, base running) done by our coaching staff = $65

Location: Dundee-Crown Fieldhouse
Payment: Make Checks Payable to Dundee-Crown Baseball and send to Jon Anderson or drop them off at Dundee-Crown. Walk-ups are welcome! (Shirts Limited)

This is a great opportunity to work on your skills with our current Varsity players and entire coaching staff before the season begins. Get a head start on other players by learning the fundamentals of throwing, pitching, hitting, catching, outfield, base running, and athletic
development exercises.
Handout:
Camps
Friday, March 1
ACCELERATE YOUR GAME Combat Sports Injuries
Accelerated Rehabilitation Centers Present...
Coaches, Parents and Players are invitied to attend an informational seminar at Jacobs High School: Injury Prevention, Conditioning, and Dietary Concerns for your Baseball Player.

TUESDAY, MARCH 12, 2013
7:00 P.M.
Auditorium at Jacobs High School
2601 Bunker Hill Rd.
Algonquin, IL 60102

William D. Cox, Jr., MD
McHenry County Orthopedics

Meg Burnham, MS, RD, CSSD, LDN
Registered Dietician
Centegra Health Bridge Fitness Center
Lecture will be followed by a question and answer session.

RSVP to Lisa Nold at lnold@acceleratedrehab.com
Tuesday, August 7
10U Gold Win the Section 4 Championship & Finish 2nd in State!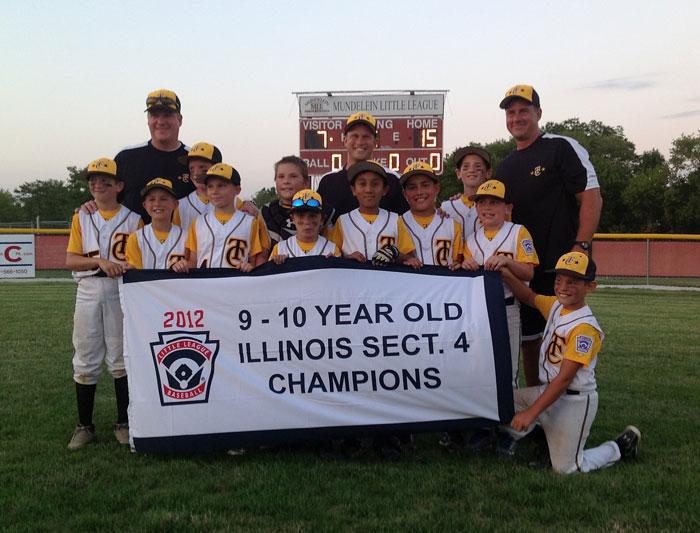 ---
Tuesday, August 7
11U All-Stars Win Section 4 Title!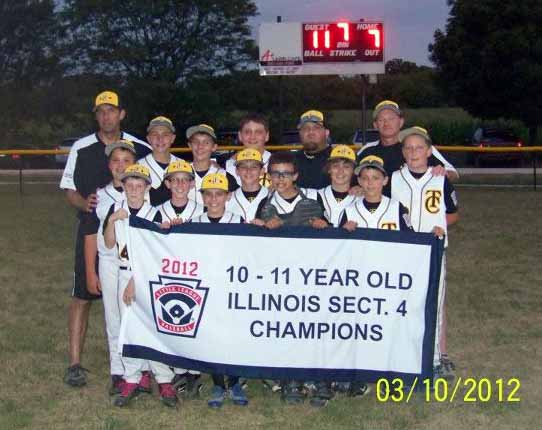 Thursday, July 26
2012 10U Win District Championship!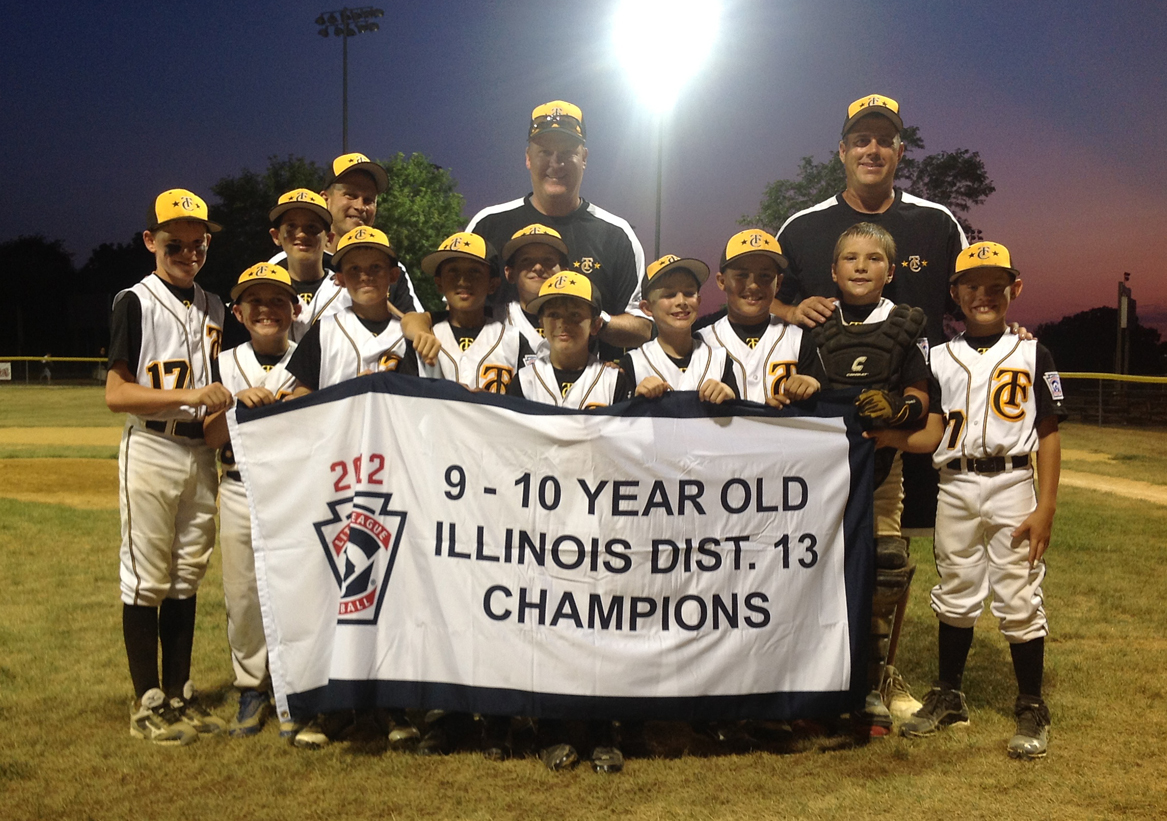 Thursday, July 26
2012 9U Slug Fest Champions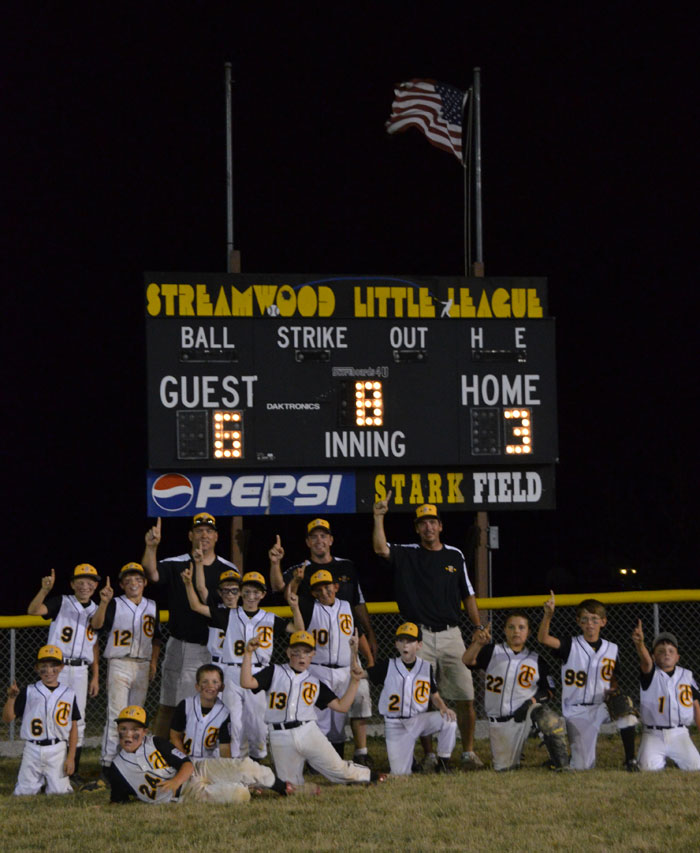 Wednesday, July 25
2012 District 13 Champion 11 year olds!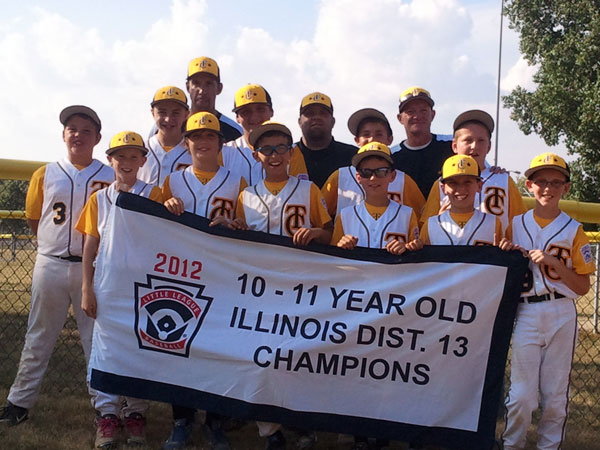 Friday, July 13
Tri-Cities to Add New 50/70 Division
VERY IMPORTANT
- starting THIS FALL. 13 year olds will be allowed to choose between playing 50/70 division baseball OR moving up into Juniors division baseball. This is a personal choice for each family to make together. Here are some points to consider:
• 50 ft pitching mound vs. 60 ft (high school size) pitching mound.
• 70 ft base running vs. 90 ft base running
• For those who are ready, 60/90 may start preparing players for stepping up to high school level ball.
•
TRI-CITIES WILL HAVE a 50/70 division next spring
that WILL BE
INCLUSIVE OF 13 year olds
. Players 11-13 will be allowed to play in this division.
• Little League International will be sponsoring a 50/70 World Series NEXT SUMMER!
• 10 year olds WILL NOT be allowed to play up into 50/70 division.
• TRI-CITIES IS considering also having our regular MAJORS division (46/60) next spring. Majors has always been designed for 11-12 year olds with the option for 10 year olds to play up IF they score high enough in spring evaluations.
Respect the Game!
Friday, July 20
Huntley Futures Summer Classic CHAMPS.
8U - All-Stars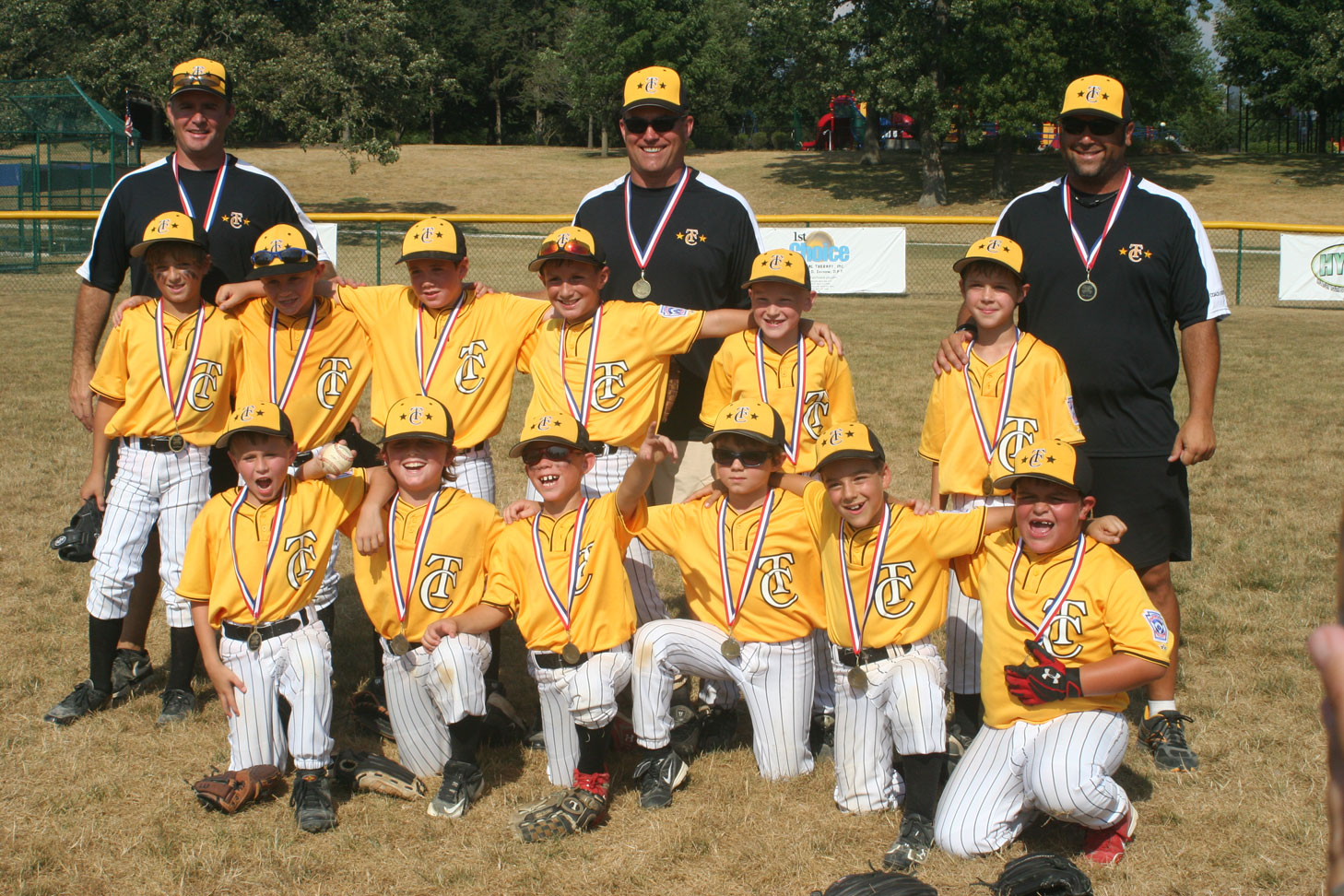 Saturday, July 14
TCLL takes 2nd in Diamond Star Tournament
9U - All-Stars
Click on Tournaments for details.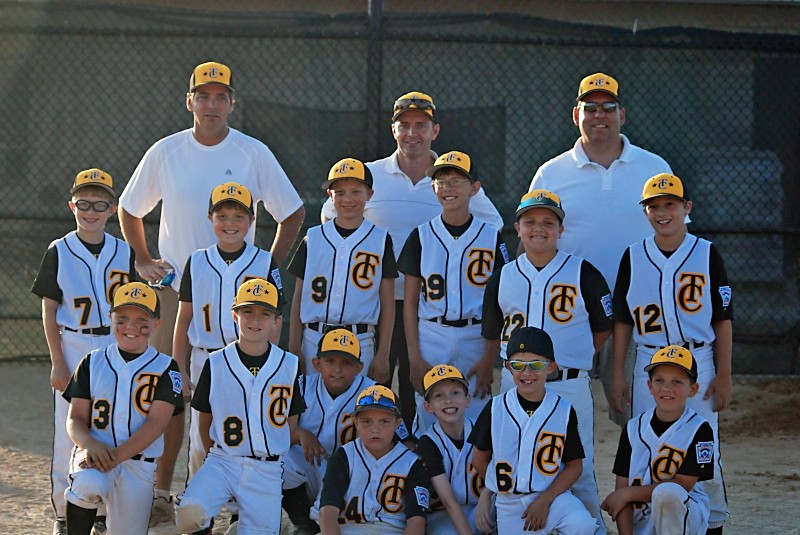 View more photos here!
Complements of Dionne Mamrot.
Saturday, July 14
TCLL Juniors Softball Takes District Title!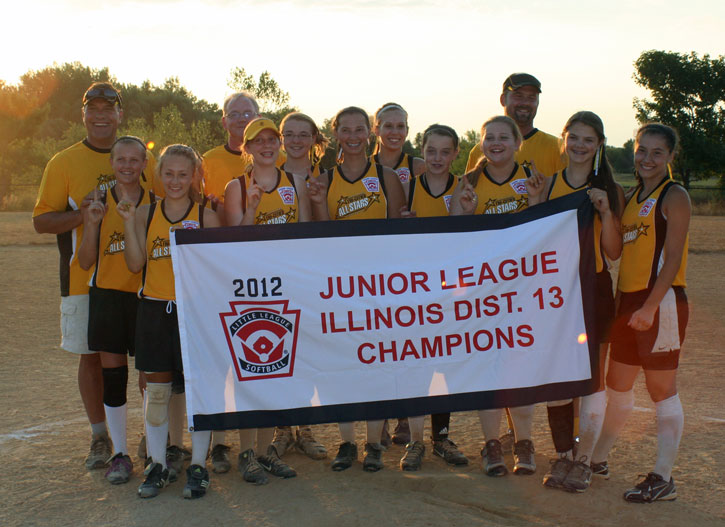 Wednesday, June 20
T-Ball Skills
2012 T-Ball SUMMER SKILL CAMPS
WHO: T-Ball players currently registered for Tri-Cities wanting to play more baseball throughout the summer.
WHAT: Players wanting to play more baseball can have the opportunity to improve their skill level, meet more kids, and have more competitive fun. PLAYERS: WEAR YOUR CURRENT TRI-CITIES UNIFORM TO CAMP!
When: July 23rd, 25th, 30th, August 1st, 6th, 8th, 13th, 15th
Where: Randall Oaks from 5:00 – 6:30 pm
Why: The season isn't long enough for some of our players who want more organized baseball and Tri-Cities can provide it.
What: Players will advance their skills in fielding, throwing, hitting, running, pitching, catching, and decision making in a game-like situations.
Cost: There is no registration cost. The only fee that is asked for is $10 cash for field maintenance and equipment.
How: Email Derek Fivelson at dfivelson@d211.org to informally sign up. Current Tri-Cities coaches are welcome to assist. Please email your interest. Coach Derek is currently the manager of the Florida Gators T-Ball team. Besides email, he can be contacted at (847) 767-4198.
Wednesday, May 9
In-house and Metro tournament Updates!
IN-HOUSE CHAMPS!
MAJORS:
Royals take advantage in 3rd head-to-head meet-up with the Giants to win the Majors Championship 6-4!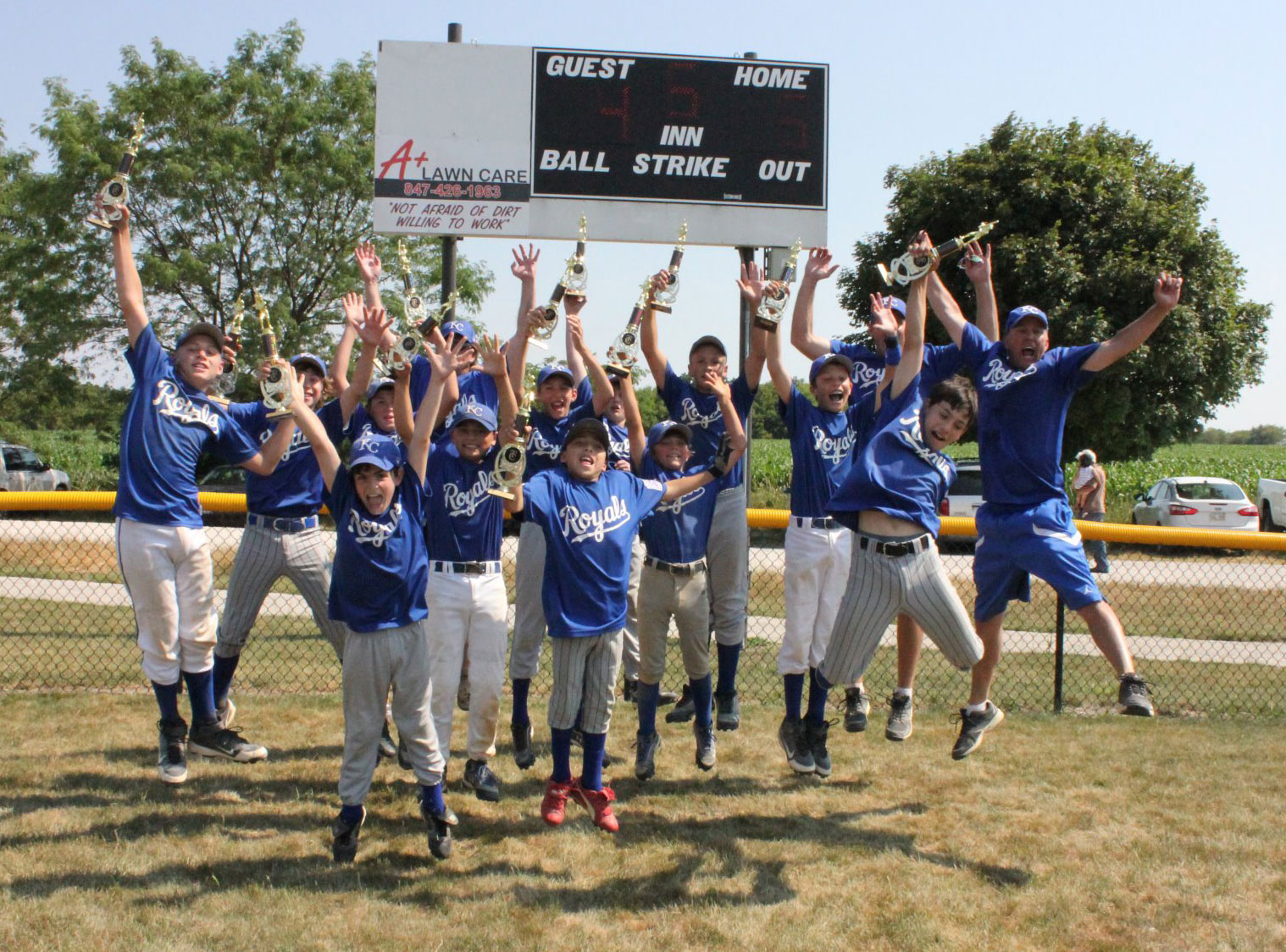 MINORS:
Bats spoil the Bulls and bring it in extra innings!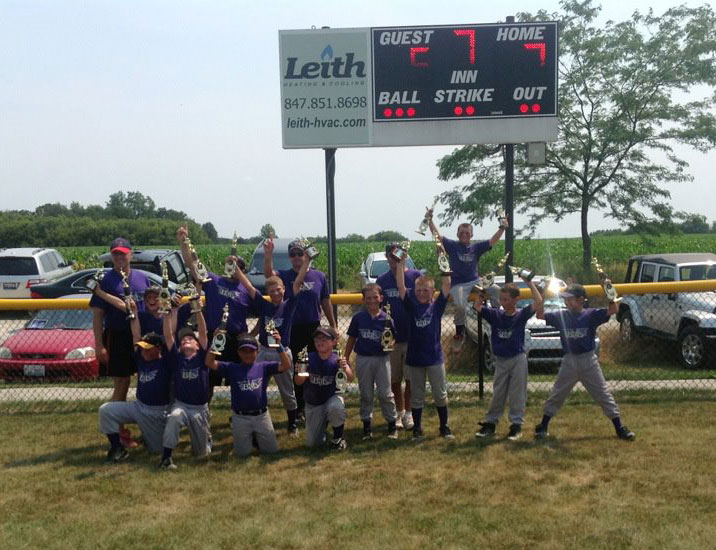 INSTRUCTIONAL
:
Wolverines fight on to beat the Hurricanes.
---
LET'S HEAR IT FOR THE GIRLS! TCLL Storm Wins Junior Metro IL Dist. 13 Championship

In a TCLL showdown for the title, the TCLL Storm brought it and synched the win. Great job to the Renegades as well, who battled through the lower bracket to take the 2nd place position. PROUD OF ALL OUR TCLL GIRLS!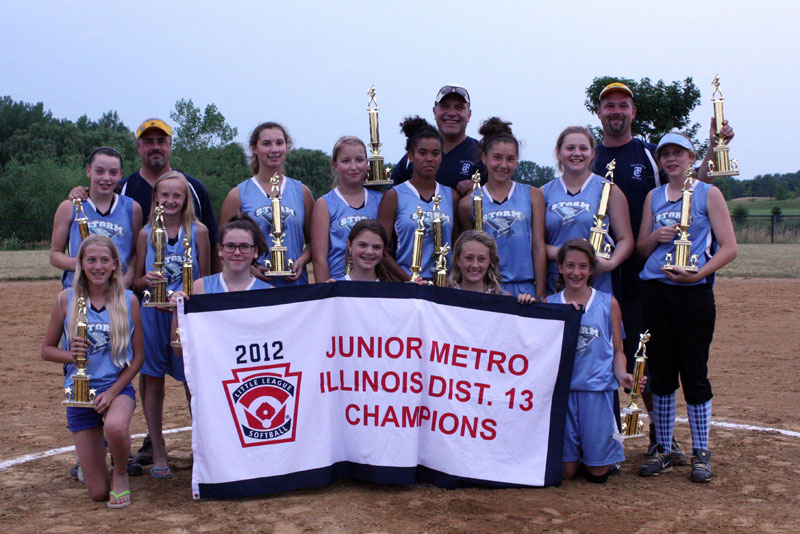 Wednesday, January 18
Bulletin: Significant Policy, Rule, and Regulation Changes for 2012
A downloadable PDF version of these changes is available as well:
2012 Rule Changes
Little League International today announced the full list of significant changes that will go into effect on Jan. 1, 2012, to the policies, rules and regulations of the program.
In order to give timely information to parents and leagues, some of the changes were announced several weeks ago. One change, in the bat regulations, has been further updated since the first announcement. The update clarifies the penalty for using an illegal bat.
A list of all the significant changes, along with a summary and explanation of the changes, can be seen here:
Monday, December 19
NEW BAT RULES for 2012
Little League International Announces Bat Rules Changes for 2012 Season
In an effort to provide timely information on bat rules, Little League International today announced the bat specifications and standards for the 2012 season.Here are the highlights, followed by the actual text of the 2012 baseball bat rules: Read More...

Sunday, July 31
Here is what happened in 2011!
7/01/11 - 11 year old All-Stars win "Stars and Stripes" Early Bird tournament.
7/03/11 - 11/12 year old Girls Softball claims 2nd in District tournament.
7/13/11 - 12 Year Old All-Stars Win District 13 Championship! GO TCLL!
7/14/11 - 9 Year Olds WIN SlugFest Championship!
7/17/11 - 11 Year Olds claim 2nd in District 13 Finals.
7/19/11 - 9/10 Year Old Softball All-Stars WIN District 13 Championship!
7/19/11 - 12 Year Old All-Stars finish 2nd in Section 4 tournament.
7/19/11 - 10 Year Old All-Stars take the District 13 Champs Title!
7/20/11 - 8 Year Olds WIN the Summer Classic Tournament!
7/21/11 - 9 Year Olds WIN the Diamond Star Tournament! Way to Go Boys!
7/25/11 - 9/10 Softball All-Stars finish 2nd in Section 3 Tournament.
7/26/11 - 10 Year Olds WIN SECTION 4 CHAMPIONSHIP and move on to the STATE tournament.
---
2011 10 Year Old SECTION 4 CHAMPIONS!

---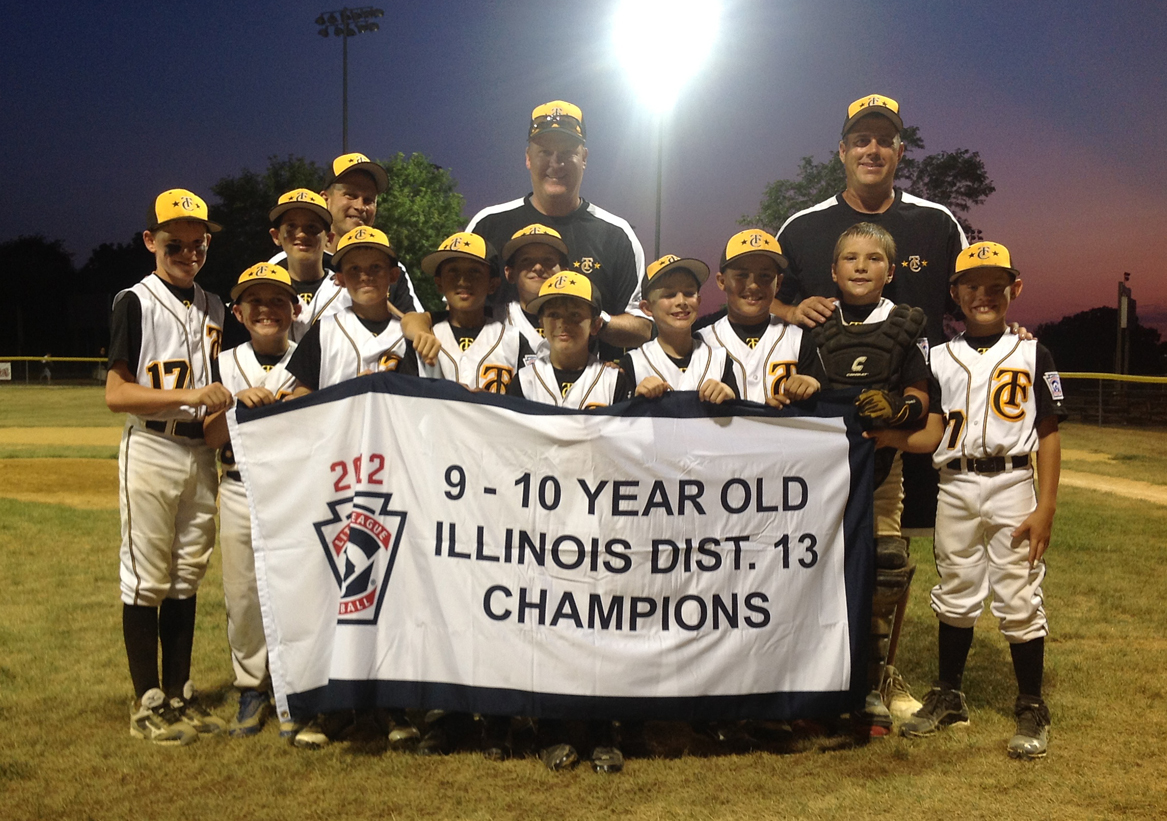 ---
2011 9 Year Old Diamond Star Champs!

---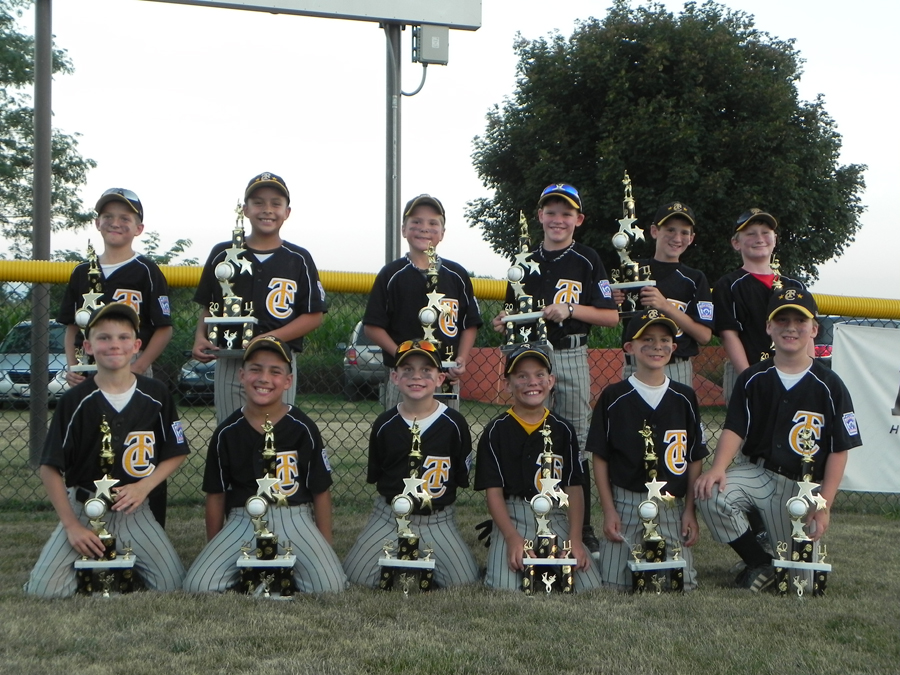 ---
2011 8 Year Old Summer Classic Winners!

---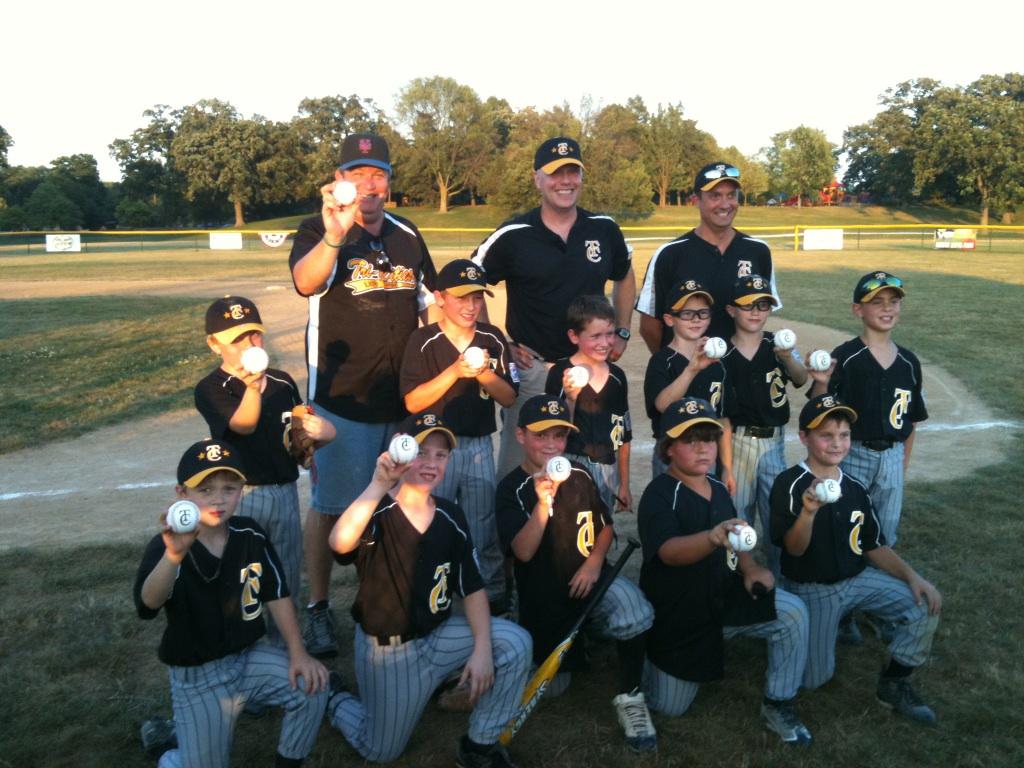 ---
2011 9/10-Year Old Softball District Champs!

---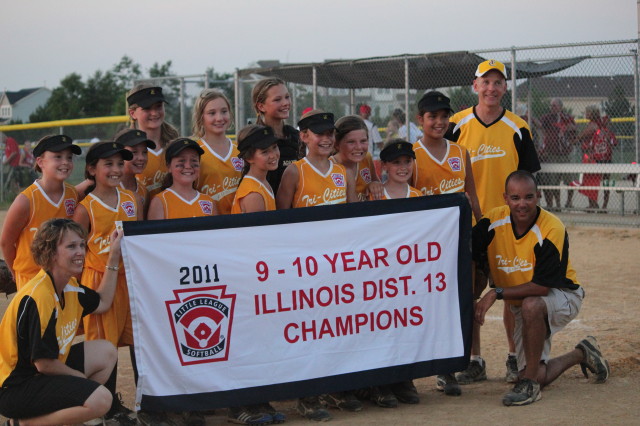 ---
2011 10-Year Old District 13 Champions!

---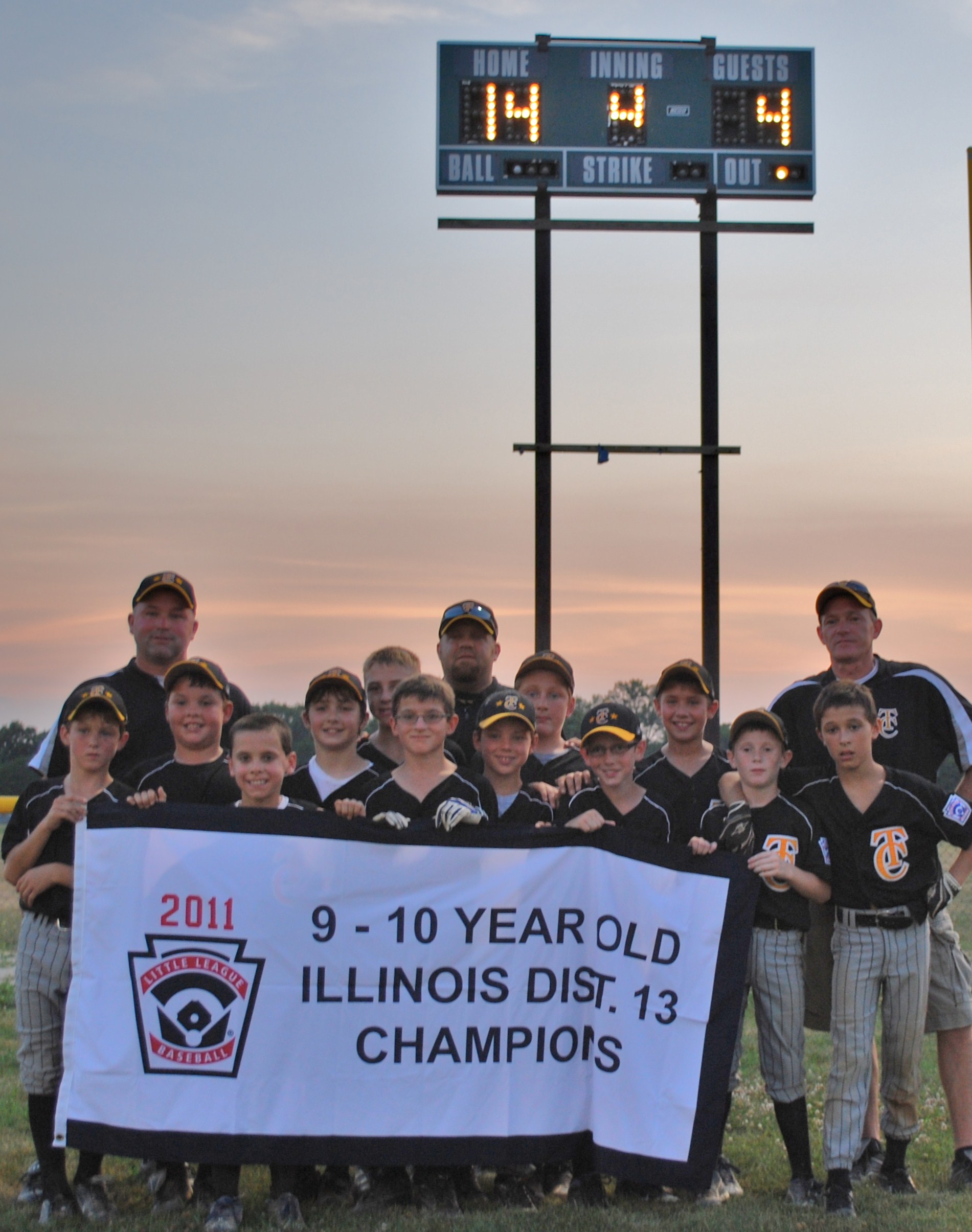 ---
2011 12-Year Old District Champions!

---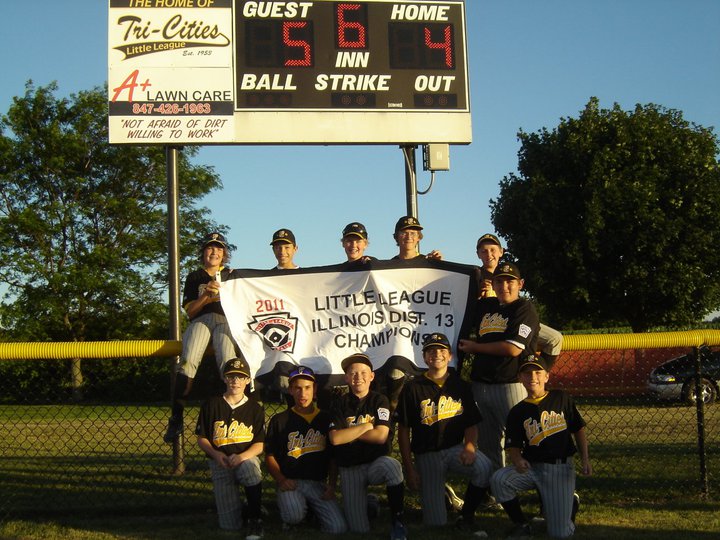 ---
2011 9-Year Old SlugFest Winners!

---