Tri-Cities Little League: Welcome
2013 12U Section 4 Champs! Junior SB Section 3 Champs! 11U, 12U and Junior SB District 13 Champions!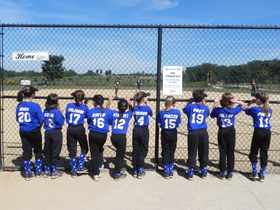 Our Future World Series Team??



WEATHER: Game On! Fall Ball it is up to each individual Manager!

2014 Tri-Cities Board Positions!

Ever thought things could be better? Consider becoming a part of the Tri-Cities Board and helping to make it that way. Many open positions for the 2014 season that need to be filled. Check the Tri-Cities Board page for all of the openings.

Contact Tim Mahoney, President or Jerry Ahler, VP of Baseball Operations for more information!

---

Little League Challenger Division has a new website!

Check it out by going to the Little League Website!

---




MISSION STATEMENT

Tri-Cities Little League is a volunteer organization serving the youth of our community. We strive to provide a safe and healthy environment in which children can develop a passion for the sport of baseball or softball and:

• Have fun learning and playing the game.
• Feel like an important part of the team, regardless of performance.
• Learn life lessons that have value beyond the playing field.
• Learn the skills, tactics and strategies of the game and improve as a player.
We do not apologize for competitive success, and we are committed to creating a positive culture in which coaches, parents, fans, umpires and athletes work together to achieve our mission. GAME ON!


---

GOOD GAME

ORIOLES VS. WHITE SOX ~ CHALLENGER DIVISION

Please view our own Pat Ehman's Picassa site for more Photos of Challenger Opening day and see if you can find your player in her other albums for Tri-Cities as well!

GO NOW!

---


IMPORTANT BAT INFORMATION FROM LITTLE LEAGUE INTERNATIONAL!


Latest Baseball Bat Information
Little League has compiled this information to our constituents with background information and detail on the types of baseball bats approved for use in Little League play.



Residency Does Matter!


All players with Tri-Cities will need to provide three (3) forms of residency verification. This is a strictly enforced Little League rule. The three forms of ID must be dated during and/or valid through the following dates: October 1, 2013 - February 1, 2014. Anything dated prior to October 1, 2013 will not qualify! Start collecting and saving this information NOW! For a complete list of accepted residency forms please click here.

Visit the Illinois Little League District 13 Metro League Website.