Trenholm Baseball: Welcome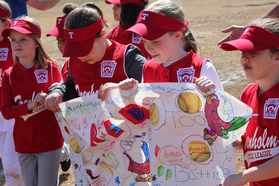 Parading with banner on Opening Day Ceremony, March 8, 2014.
Welcome to Trenholm Little League!


Trenholm Little League Would Like to Thank
University of South Carolina Hall of Famer Todd Ellis,
Forest Acres Mayor Frank Brunson,
Columbia City Councilman Brian Newman,
Assistant Deputy Attorney General Sonny Jones and
Little League District Administrator Glenn Landry
for Participating in our Fantastic Opening Day Ceremony!

Trenholm Little League Play Starts Monday, March 10!
.
Follow us now on Twitter at @TrenholmLL
---
Sign Up With RainedOut.com!
We encourage you to sign up for RainedOut.com. Once you are at RainedOut.com, search for Trenholm Little League. Enter your phone number or email address and you will receive instant notifications when we have game/practice cancellations.