Northern Trailblazers: Welcome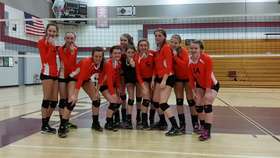 Trailblazers 16 Orange
ABOUT OUR TEAM…
We are the 16 Orange Northern Trailblazers Volleyball team. The Northern Trailblazers Volleyball Club is located in Antigo and was established in 2009. The Trailblazers VBC has a proud tradition of developing youth volleyball skills, as well as fielding competitive teams that enjoy success locally and regionally. We are a non-profit organization that develops athletes through competitive participation in the sport of volleyball.
In June we will be traveling to Orlando, FL to compete in the AAU National Volleyball Championships. Participating in the tournament will give us a chance to compete against new and challenging opponents in a large scale, national venue. We believe this could be the experience of a lifetime and look forward to working hard to get ready for it! In order to make this exciting opportunity a reality, we are reaching out to businesses, family, and friends asking them to become a team sponsor. Any sponsorship you provide will be truly appreciated. All sponsorships will be acknowledged with a personal thank you letter from the team as well as a thank you ad in the newspaper.
For tax-reporting purposes, all checks must be made payable to the Northern Trailblazers VBC (NTVBC). All sponsors will receive a sponsorship receipt for tax-reporting and deduction purposes.
Please mail all sponsorships to:
Northern Trailblazers VBC c/o 16-Orange Nationals PO Box 102 Anitgo, WI
THANK YOU TO THE FOLLOWING SPONSORS:
Guenther Farms Inc., Antigo Eye Care Center, Heinzen Plumbing, Solin Bros, Todd & Tracey Novak, Dixie Lunch/5th Avenue Lounge, TDS Service and Repair, Robin & David Gigl, Julia & Otto Bergman, Margie & Jack Burkam, Cousineau Auto Inc, Fontier-Servco FS, Brad Krueger Family, Pirates of the Northwoods, Langlade Ford, Elizabeth Shew & George Adkins, Roger Merkle, James & Patricia Zilke, CJ's Pest Control, CoVantage Credit Union, Banner Banks, Barb Voytovich, Kevin & Lisette Huber, Adam & Debbie Resch, Kevin & Cheryl Belott, Tom & Karen Novak, Michael Marks, Todd & Julie Bartels, Raphael & Maxine Geiger, Stacy Behrens, Sartori, Sheldon's Inc, Evergreen Terrace, Charlie Brett, Anna & Jeff Lund, Judy & Larry Boyle, Susie Schroeder, Bart & Tiffany Kneeland, Karen Voytovich, Marilyn Frisch, Langlade County Tavern League, Quinn's Pub, Hanke's Sentry Foods-Wittenberg, Scott & Cindy Erickson, Jesse & Michelle Knetter, Mike & Diane Cichy, Antigo Junior Women's Club, Mountain Business Association, Tom & Mary Kubeny, Rev. Charles & Janet Kramer, Marty's Shell, Rick & Kay Deak, Gary & Penne Krueger, Courtney & Jason Salter, Dede Cromer, Top Brass Inc., Carl & Sarah Meidl, Margaret Novak,
Handout:
AAU Nationals Sponsor/Donation Letter