Tracy High Wrestling: Welcome
Tuesday, November 15
2016-17 WRESTLING SCHEDULE REVISED 11-14-16
The wrestling schedule was revised on Monday November 14th.
Here is the latest schedule.
Monday, February 1
PHOTOS FROM WEST VS TRACY MATCH
View
this link
for all the photos that are uploading
Thursday, January 14
LODI DEFEATS TRACY IN TCAL MATCH
Tracy Press and Photos HERE.
Lodi won the team match 60-22 on Wednesday, January 13th at Tracy High.
Seniors Francisco Gonzales, Angel Carranza, and Alex Lopez all won their matches.
Sophomore Sammo Blackwell won his match with a pin in the first round.
Friday, December 11
A FEW PHOTOS FROM THE DUAL MEET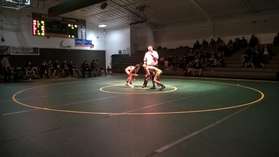 Photo Courtesy of Jonathan Blackwell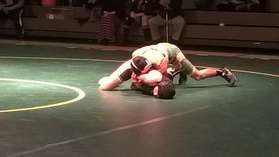 Photo Courtesy of Jonathan Blackwell
Saturday, December 5
2015-16 WRESTLING HANDBOOK
The wrestling handbook can be downloaded
HERE
Tuesday, December 1
DECEMBER 1 UPDATE
Many of our wrestlers have expressed an interest in custom dye-sublimated singlets. The vendor we used for our current varsity singlets is able to produce custom singlets with the name of the wrestler emblazoned across the back. You would be able to wear these at any high school sanctioned wrestling event and for those that would be wrestling in the off-season club, you could continue to wear these as they would be yours to keep. The cost for these would be $60 each but with a minimum production order quantity of 20. If there are at least 20 wrestlers that can commit to paying for a custom singlet, we can make this happen. Production time is about 5 weeks out so we would need to order quickly to get them in time for league competition. They can do both boys and girls cuts in all sizes. Parents and/or wrestlers, if you think you would be able to commit to buying a singlet, please let me know (please give me the wrestler's name in reply email with your confirmation). If we can get to 20, I will move forward with order forms and money collection. I know this time of year is tight. Also, the school has singlets so purchasing these certainly is not a requirement. If you want to see what they look like, I have attached a mock up image in this email.
Coach Jonno
Monday, November 30
WRESTLER OF THE WEEK - NOV 30TH AND OTHER UPDATES
The wrestler of the week is Cassidy Denoyer Cassidy a junior is a first year wrestler of the THS Girls wrestling team. She went undefeated with 2 wins by fall in her first competition of her wrestling career.
---
NOVICE TOURNAMENT This past Saturday, our wrestlers took to the mats in Lodi for the first competition of the season. After only three weeks of training, our wrestlers did their best to show what they had learned. As I have told all of the wrestlers before. All of our tournaments are an extension of practice. Win or Lose, we are always learning. I want each wrestler to know that I am proud of how hard they worked over the last few weeks and how they gave their best effort on Saturday. That said, there were certainly areas that need improvement. The coaches were taking notes and we will be addressing those areas. Here are the results from Saturday: Boys: Jesus: 2-2 Andrew C: 0-2 John: 0-2 Anthony: 1-2 Austin: 2-1 Elijah: 1-2 Isaac: 2-2 Andrew M: 1-2 Amadeus: 3-1 Chase: 2-2 Jace: 1-2 Justin: 3-1 Tirath: 0-2 Israel: 0-2 Place winners were Austin Green with 2nd, Amadeus Martinez with 3rd, and Justin Rodriguez with 3rd. Girls: Courtni: 0-2 Cassidy: 2-0 Gisel: 0-2 Emily: 0-2 Simone: 2-1 Place winners were Cassidy Denoyer with 1st and Simone Steward with 2nd. I am proud of all the kids – none gave up in any wrestling match that I witnessed. We have a long season ahead of us and we are still in the beginning. Over the years I have seen many kids make huge improvements in their skill and in their overall strength of mind and body. I hope all of our wrestlers feel good about their effort and are anxious to continue their training.
---
HYDRATION TESTS If you need to retake your hydration test because you did not pass the last one or if you have yet to take your hydration test, the following dates, times and locations are available for test. The assessor collects $10 for each test/retest. Please let me know if you will be going to one of these tests so that I can tell the assessor to be expecting you. Monday, November 30- 2:00 to 3:30 in Escalon Wednesday, December 2- 4:00 Modesto High School Thursday, December 3- 4:30 Delta Charter High School (Tracy Area) GROUPME We will once again this year subscribe wrestlers to the GroupMe messaging system. This is for wrestlers and coaches only due to the group size limit. With it, coaches can disseminate last minute information out quickly. I ask that wrestlers receive only from it and not to send messages to the group as all participants would receive any responses. Last year I had to shut it down due to abuse. I am hoping I won't have to do that this year. I will be adding wrestlers to the system over this coming week with the mobile number we have on record for them.
---
WRESTLE-OFFS AND MANDATORY PARENT MEETING Our first internal wrestle off battle is this Wednesday. We will determine the varsity and JV lineup for upcoming competition. If you would like to know more about wrestle-offs, please look for an upcoming email containing the updated wrestling handbook. Note that this first wrestle off of the season is a public event held in the main gym. It is expected that family come to watch and get to know all of our wrestlers. To root on your son or daughter. Your wrestler will be at school for practice as normal at 3:30 Wednesday as they prepare for weighing in, get mats ready in the main gym, etc. Live wrestling will start at 6pm. We will continue with the wrestle-off competition until all challenges are completed. Once completed, the parent meeting will commence. At the conclusion of that meeting, the coaches and I will be open to answer any questions you might have. KIDS CAMP We will have a flyer go out this week for our kids camp fundraiser. We have multiple fundraiser, but this is our biggest and most important fundraiser of the year. It is what pays for our tournament entry fees each year. We hope that your younger siblings, children, neighbors, etc will participate. Not only is the wrestling program benefiting but the youth of Tracy will get exposed to this great sport.
Wednesday, November 18
HYDRATION RESULTS
Hydration Assessments are in the system now. I will be able to tell your athlete what their optimum and allowable weights will be. They can ask after their end of practice weigh-in and I will look it up for them. Following the chart online is a safe way to reach optimum weight without unhealthy dieting. A wrestler's body will realize the weight nature intended by working hard, eating healthy foods in the appropriate portions. For some, that will be a weight increase, some a decrease, and others may not change at all. For a more detailed discussion, please schedule a time to sit down with your coaches. We have experience in this area and can guide you as an athlete.
For those that need to still take the test or need to retake it due to not passing a portion of the evaluation, I will get dates and locations for you.
Other notes: · With about 50% of the team in their first year of wrestling I know many will have questions. Please feel free to email me any time to ask questions.
Some recent questions:
Do you need shoes? Yes, wrestling shoes are necessary. Until you get shoes, your athlete can work out in socks. I recommend neutral colors or shoes unless you can find ones that accent school colors. Sometimes are choices are limited so get what you can. Local sports shops will have them but in limited styles and sizes. There are multiple online sources such as http://www.wwsport.com/
Is headgear required? It is not required for practice but is required for competition. The school does have head gear to loan. We recommend that each athlete own if they can afford it. Shared head gear is kind of like sharing shoes… you can but you really don't want to. If you buy your own head gear, I recommend the Cliff Keen Signature edition (E58). I also recommend the Gladiator. Other styles are also available. As with shoes, get neutral color or school colors. The school provided head gear is light gold/yellow for example. o Singlets will be issued to athletes before competition. They will be collected at the end of competition until teams become more solidified. Girls should plan to wear a sports bra and possibly a dri-fit shirt underneath.
Those with braces – they will be required to wear a mouth guard. If you do not already have one, get one soon. It is good to practice with one to get used to it.
Fan gear – there will be some fund raising opportunities. Details will come soon. This includes fan clothing and things the kids can do to add to their wrestling workout gear.
I know wrestling is hard work. I hope your child is learning a lot about themselves and will see the benefits of their hard work.
Coach Jonno
Sunday, June 1
2015-16 SCHEDULE
2015-16 Schedule Released
HERE
. Subject to change.
Tuesday, November 17
PRACTICE SCHEDULE FOR HOLIDAY WEEK
The practice schedule for next week will be as follows: Monday, Tuesday, Wednesday and Friday, practice will be 8am-10. If we need some extra time, we will not go later than 10:30 to allow for some fun and games at the end of practice.
Traditionally, we usually see at least one motivational wrestling movie and/or documentary at the end of practice on one of these days. I will let you know what day we do that if we get enough interest. Just as we do during the winter break, we continue to practice. These are important practices for us as we head into competition.
Speaking of competition, our first event is Saturday the 28th (a week from this Saturday). All first year wrestlers as well as veteran wrestlers who have not medaled in a tournament are expected to participate. To prepare, please be sure that you are at all of the practices next week.
Attendance is important and any missed days can affect your participation on the team. Not only are you missing out if you miss practice, but your workout partners who count on you to be there to drill with are also affected. Refer to the handbook for attendance requirements.
As always, feel free to ask any questions.
Coach Jonno (Jonathan Blackwell) (209) 221-5302
Wednesday, January 21
PHOTOS VS ST. MARY'S (2014-15 Season)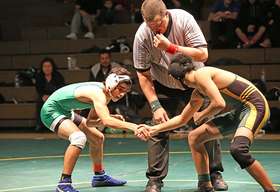 St. Mary's visits Tracy on Wednesday, Jan 21
Photos from the Wednesday, January 21 meet vs St. Mary's are located
here
.