Tracy High Football: ALUMNI
Sunday, October 28
COACHING STAFF VISIT 2015 ALUM NATE BROWN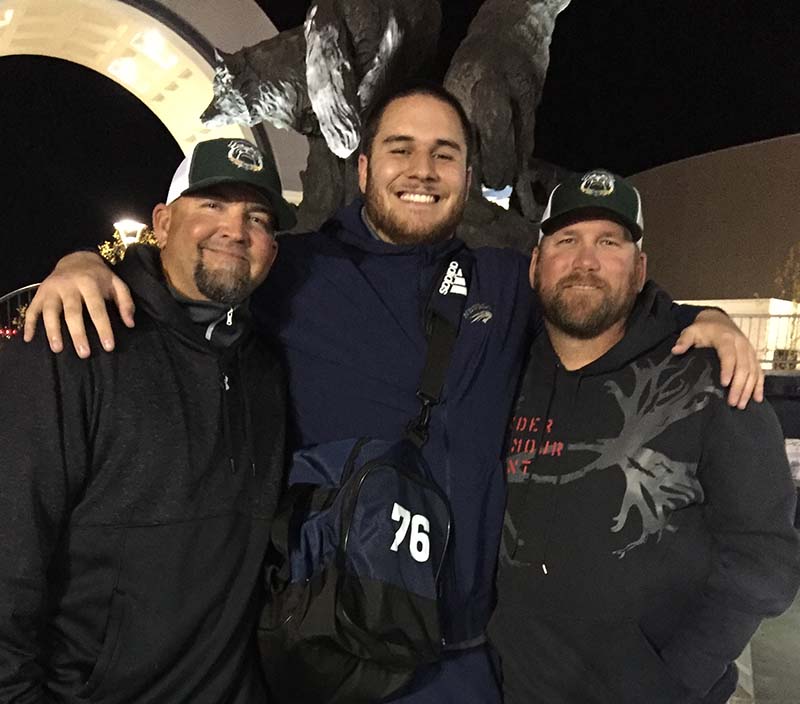 Nate Makes Coaches Pribble and Shrout Look Small
Nate Brown
is a starting offensive lineman for the Univ of Nevada. Coaches Pribble and Shrout made the trek up to Reno on Saturday to watch Nate play versus San Diego State. Brown was part of the superior Bulldog playoff team that went to the Section Finals in 2014.
Tuesday, September 18
2018 GRAD SEEING ACTION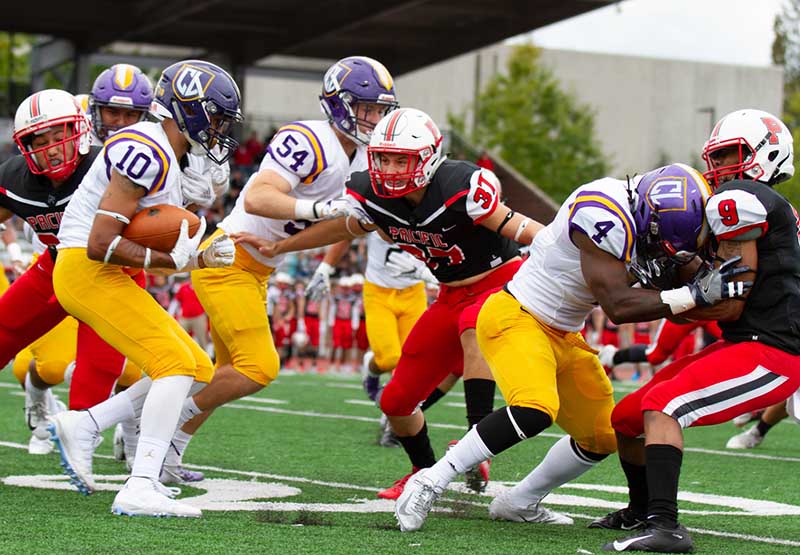 Carlos Vasquez in Action at Pacific Univ
It was just a year ago that Carlos Vasquez was making plays at Tracy High and now he is seeing some special teams action in his first game with Pacific University in Oregon.
Sunday, September 9
MICHAEL BROWN HAS TD PASS SATURDAY AGAINST NORTH GREENVILLE
Michael Brown
who led the Bulldogs as QB to a section final in December 2014, was at quarterback Saturday night (2018 season) for Lenoir-Rhyne University (Hickory, N.C.) and had a touchdown pass versus North Greenville University.
Tuesday, May 15
CARLOS VASQUEZ SIGNS WITH PACIFIC UNIVERSITY - OREGON
Saturday, July 21
2015 GRAD JAKE SERRATO ANNOUNCES FOOTBALL PURSUITS AT CONCORDIA UNIVERSITY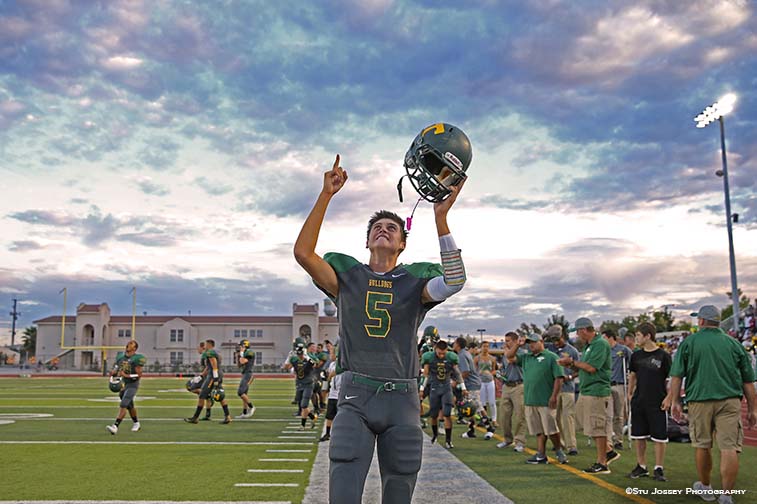 Serrato Headed to St. Paul For Div II Football
Jake Serrato (Class of 2015) is headed to play football at Concordia University.
Saturday, June 16
TRACY ALL STARS REPRESENT BULLDOGS WELL
Bolaji Akinyemi, Kristien Reyes, and Nick Nunez played on Saturday evening in the 45th Lions All-Star Football game. Their squad lost, but they represented Tracy High well in their play. 600+ photos uploading here
Wednesday, February 7
XAVIER MOORE SIGNS WITH CAL POLY SLO
Congratulations to Xavier Moore who got a full scholarship to Cal Poly SLO for football.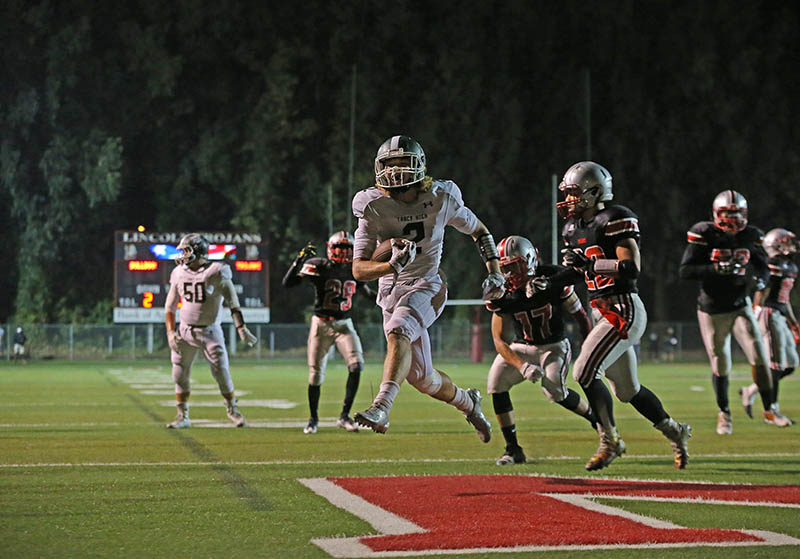 Xavier Moore Will be Headed to Cal Poly on a Football Scholarship
Monday, February 5
GEORGE OBINNA DOING BIG THINGS AT SAC STATE
Congratulations to Tracy High Football Alum (class of 2014) George Obinna who is a standout player at Sac State and was selected 1st Team in the Big Sky Conference.
Wednesday, March 7
Tommy Langley (Class of 2013)
Tommy Langley (Last season played 2012) kicked for Montana State University Northern (NAIA). He will now be participating in a Pro Day to get evaluated for the NFL.
Sunday, October 29
CONNER JOHNSON DEFENSIVE CAPTAIN FOR LA VERNE
Conner is the middle linebacker and was selected as a defensive captain in 2017. He currently leads the team in tackles at 34 through 5 games. An interview with him can be seen at
this link
(middle of clip)
Sunday, September 17
ALUMNI UPDATE - NATE BROWN - UNIVERSITY OF NEVADA RENO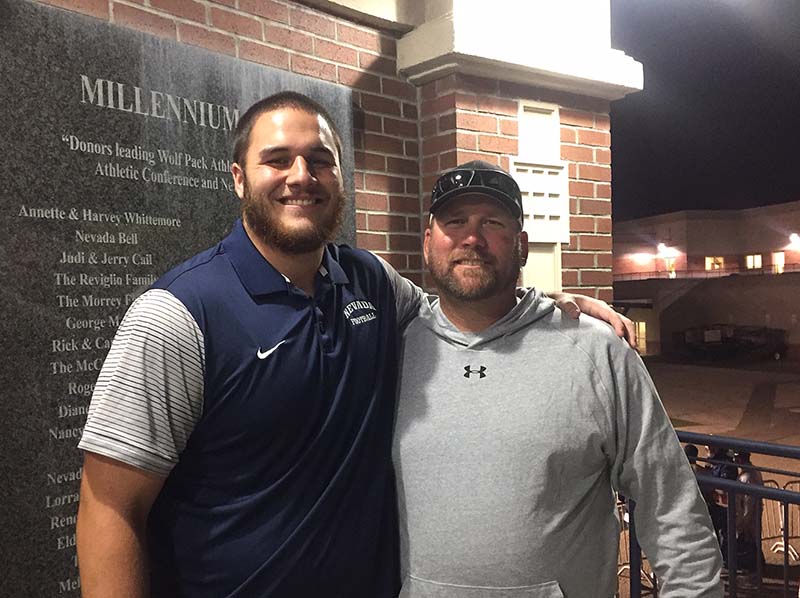 Coach Shrout Visits Nate Brown in Reno
It takes a lot to make Coach Shrout look small, but in the photo above 2014 graduate Nate Brown accomplishes that. The 6-4, 290 pound University of Nevada lineman is a redshirt freshman this year playing for the Wolf Pack. Shrout was recently in Reno watching his ex player accomplish great things. Brown bio
here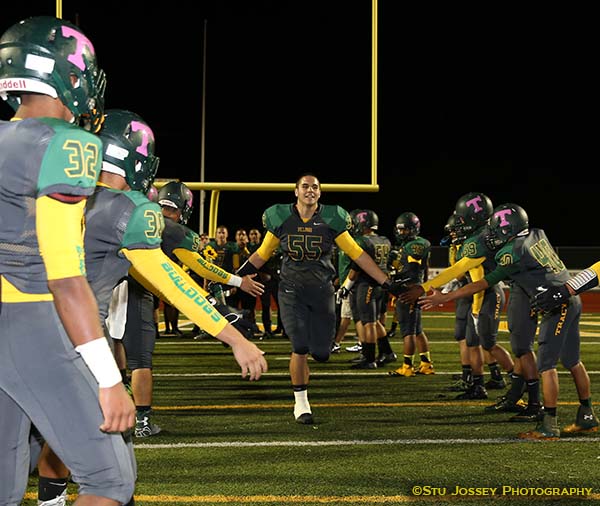 Nate Brown In His Final Home Game of the 2014 Season
Monday, October 16
CONGRATULATIONS BRUCE RUSSELL AND FAMILY
2013 Tracy High grad Bruce Russell graduated from the Alameda County Sheriffs Academy today and will now hit the streets as a Hayward police officer. Russell attended and played football for
Concordia University
for four years before returning to CA to pursue a career in law enforcement.
Wednesday, April 26
Brandon Russell and Conner Johnson Update
Wednesday, December 14
JOSH CLARKE HEADED TO DIV 1 FOOTBALL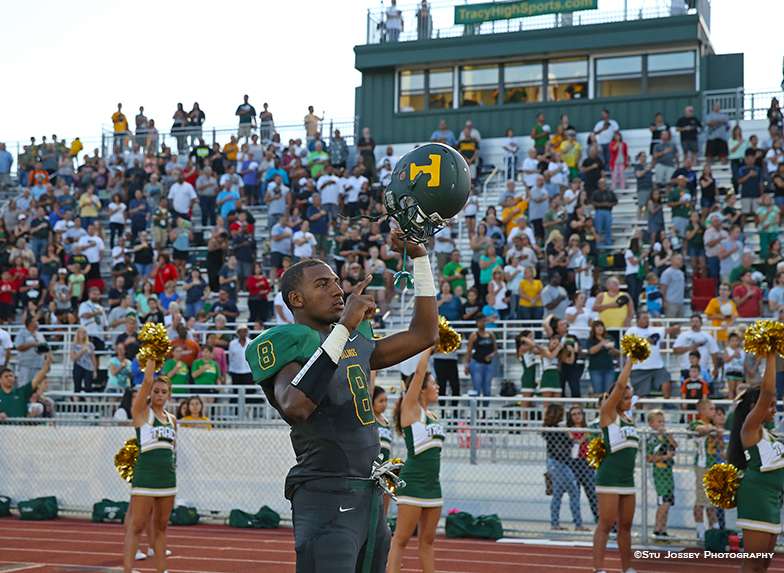 Josh Clarke Is Headed to Div I Football
Josh Clarke (Class of 2015) has received a scholarship from NCAA Division I Northern Arizona Football which is part of the Big Sky Conference. Congratulations Josh.
Sunday, December 11
2015 GRAD NATE JONES NOW PLAYING FOR FRESNO STATE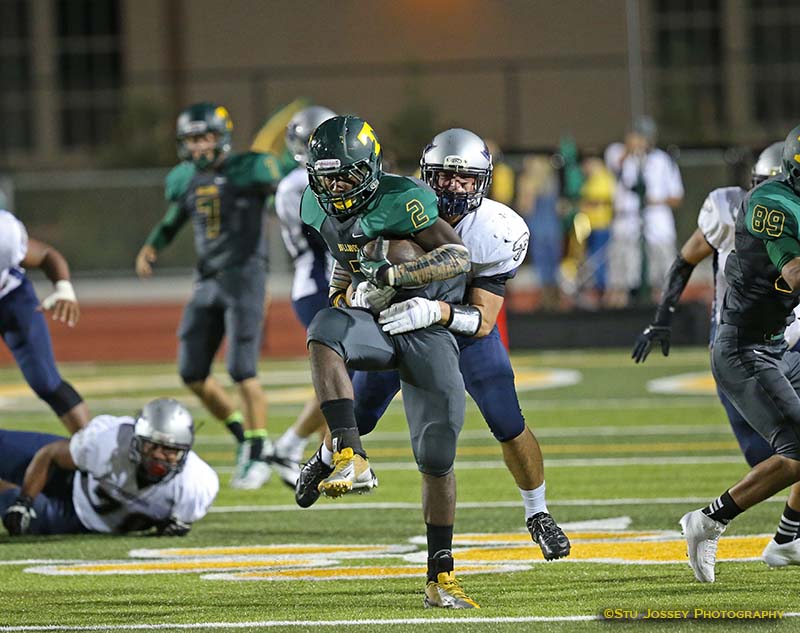 Jones Will Once Again Be a Bulldog
One of the most dynamic football players in the history of Tracy High will be headed to Fresno State to play in the Fall for head coach Jeff Tedford.
Monday, June 16
CLASS OF 2014 BULLDOG FOOTBALL PLAYERS CONTINUING TO PLAY AT THE NEXT LEVEL
Luke Pulliam will be attending Luther College in Northeastern Iowa
Damon Stroup will be attending Luther College in Northeastern Iowa
Chaz Briggs will be attending Eastern New Mexico University
Eric Hawkins will be attending Lewis & Clark College in Portland, OR
Clay Fegett will be attending Cal Lutheran College in Southern CA
George Obinna will be attending Sacramento State University
Monday, March 17
CLAY FEGETT WINS 2013 FOOTBALL SCHOLAR - ATHLETE FOR SACRAMENTO AREA
At the National Football Sacramento Valley Chapter Awards Banquet on Thursday, March 13, Bulldog Clay Fegett (Class of 2013) won the Scholar Athlete award. Congratulations Clay and family.
Saturday, October 26
RECENT TRACY GRADS MEET ON THE COLLEGE FIELD
2011 grad Cole McDaniel and 2012 grad Bruce Russell squared off against each other today in a Midwest college battle as Wayne State (Nebraska) played Concordia University of St. Paul Minnesota. Concordia won 28-24.
Sunday, September 22
MATT OVERTON THANKS TRACY RESIDENTS FOR THEIR SUPPORT DURING HIS GAME AT CANDLESTICK
Overton and the Colts defeated the 49ers today 27-7.
---
Longer video of Matt with some photos (1 minute)
Short video from Matt today (30 seconds)
---
Hey Bulldog football players - Matt definitely stays informed about your progress. He knew all the facts/details of your win over Kimball on Friday. He was very excited about your chances this year to win league.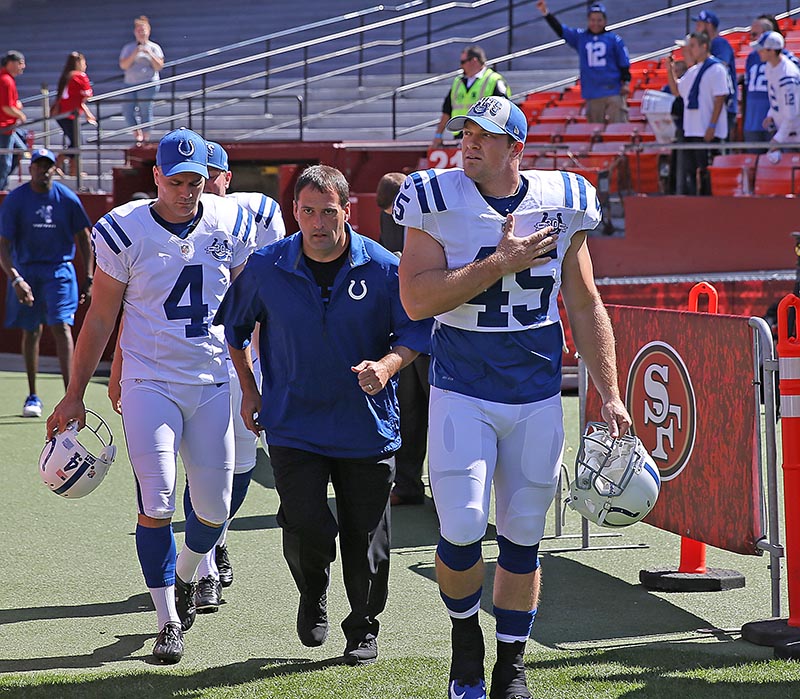 Matt Overton #45 Emerges From the Locker Room To Play The 49ers
Sunday, September 22
Monday, March 18
BRUCE RUSSELL RECEIVES FOOTBALL SCHOLARSHIP AT CONCORDIA UNIVERSITY
Bruce Russell found the perfect fit in the last few days to continue on his football career at the collegiate level. After a detailed review of several schools, the upcoming 2013 graduate will head back east to Concordia University of St. Paul Minnesota on a full football scholarship. "What interested me in the school is that it was an all around good fit for me on both the football and the academic side," said Russell. Russell will be a running back and the offense uses the read system which he has plenty of familiarity with the last four years.
"I would like to major in psycology with a criminal justice/behavorial sciences minor. I eventually want to be a you probations officer," said Russell.
Russell highlighted several important people in his life that got him to this point. "I want to say thank you to my Tracy High coaches for building me into the player that I am today. I also want thank my parents for always pushing me and supporting me no matter what. I am very thankful for my chance to play football for another 4-5 years as a Golden Bear, but I will ALWAYS be a Bulldog."
Tuesday, October 30
ALUMNI REPORT - CODY DANIEL CLASS OF 2012
It was just a year ago that Cody was running the Tracy offense as quarterback. Now he is getting a lot of playing time for the Sewanee University Tigers in Tennessee.
Cody has played in 8 of the 9 Sewanee football games this year. He is 11 for 27 passing for 125 yards and 1TD. He splits time with an established junior quarterback.
On the ground Cody has 88 carries for 322 yards and 3 TD's. He is the 3rd leading rusher on the team.
"We are 3-6 this year but getting better. We are very young team with 10 seniors, 12 juniors, 23 sophomores, and 26 freshmen. I love it here and I get 3 more years of running the triple option," said Daniel.
Congratulations Cody!
Saturday, September 1
TRACY ALUM MAKES 53 MAN COLTS ROSTER

Matt Overton Has Made the Indianapolis Colts Regular Season Roster
view full size
A huge congratulations to former Bulldog Matt Overton who made the Indianapolis Colts final roster this weekend. After a very good pre-season, he beat out long-time veteran Justin Snow who was fan favorite in Indianapolis going back to the Super Bowl years with Peyton Manning. For Matt it is a long journey of perseverance through youth, high school, college, semi pro, and pro ranks. There were many coaches that cut him along the way, but he never gave up his belief that he could make it in the NFL someday.
Overton attended Tracy where he was a two-way starter for four years for the Bulldogs. He earned Lineman of the Year, player of the month, athlete of the month awards, and 2002 SJAA honorable mention.
---
UPDATE 9/7 - Matt just played in his first regular season NFL game as he started for the Colts against the Chicago Bears. He made several long snaps in the game. Congrats Matt!
Saturday, April 28
MOST RECENT BULLDOG QUARTERBACK SIGNS ON WITH SEWANEE UNIVERSITY OF THE SOUTH
Cody Daniel who led the Bulldog offense in 2011 and put up some heavy duty numbers has signed with Sewanee University located between Nashville and Chattanooga Tennessee.
"I went on a visit there in January and really like the campus, the football coaches, and the entire program," said Daniel in an interview with me. "The coaches worked hard to get me to come to their school and gave me an offer that I could not pass up. I chose that school over California schools because they run the same offense as the Bulldogs and I will be able to play quarterback instead of defensive back."
Cody will leave for his new school on August 11 and begin preparing immediately for the first NCAA games which start on September 1.
Friday, December 30
2010 GRAD GETS FULL RIDE TO UNIVERSITY IN UTAH
When Kevin Speer finished his football career with the Bulldogs in the fall of 2009 with the 11-1 team, he headed to Delta College where he was an outstanding lineman. Now that he has concluded his two years of playing for the Mustangs, Kevin has announced he has just signed his letter of intent with Dixie State in St. George Utah where he will receive a full ride scholarship.
Congratulations Kevin!
Sunday, August 5
OLD PHOTOS SUBMITTED

1947 Bulldogs Compliments of Art Serpa
Coach Shrout received some 1947 photos from Art Serpa showing the bulldogs in action. I'll be posting more this week.
Sunday, September 9
STATS GOING BACK TO 2014 SEASON
Box scores and Stats via
Digital Scout
Tuesday, September 13
TRACY PRESS TAKES US BACK TO 1978
In a recent Tracy Press, the editor takes us back to 1978 and highlights Rob Wichman.
Sep 09, 2011 Last week's Remember When "mystery photo" shows Rob Wichman, a standout offensive lineman and defensive linebacker for the Tracy High Bulldogs football teams of the late 1970s. The photo, taken in July 1978, showed him preparing to play in the annual Lions All-Star game in Stockton. Wichman's sons, Steve and Casey, have both followed their dad in playing in the all-star game. After playing at Delta College, Rob Wichman was a member of the coaching staffs at Tracy and West highs, and he is now assisting his son, Steve, who is sophomore coach at Kimball High.