Tracy High Football: VARSITY (4-1 / 8-4)
WELCOME TO THE VARSITY HOME PAGE
Varsity Head Coach: Matt Shrout (mshrout@tusd.net)
Assistant Coaches: Jeff Pribble, Mike Speer, Kevin Speer, Mauricio Martin
2019 Team Assistants:
2019 ROSTER: TBA
Sunday, November 18
FINAL GAME STATS RELEASED
The stats from the Del Oro game have now been produced and are available here.
Saturday, November 10
END OF THE ROAD FOR THE BULLDOGS AND THE 2018 SEASON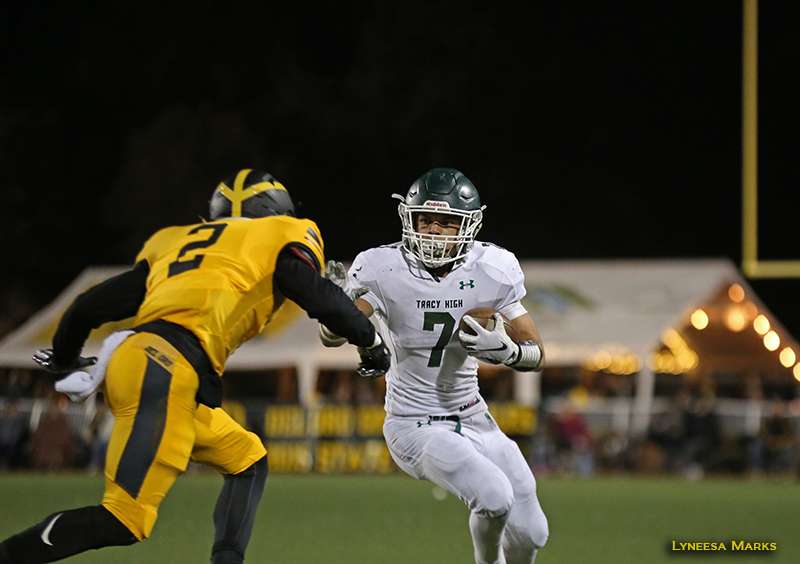 Elias Williams Takes On The Del Oro Defense
| | | | | | | |
| --- | --- | --- | --- | --- | --- | --- |
| CIF-SJS Playoffs Round II | 1 | 2 | 3 | 4 | | TOTAL |
| #8 Tracy Bulldogs (8-3) | 0 | 0 | 0 | 7 | | 7 |
| #1 Del Oro Golden Eagles (9-1) | 15 | 0 | 14 | 7 | | 36 |
OFFICIAL STATS NOW AVAILABLE HERE
On a chilly night in the foothills the Bulldogs concluded their 2018 campaign
Photos were taken Friday night by Lyneesa Marks in my absence.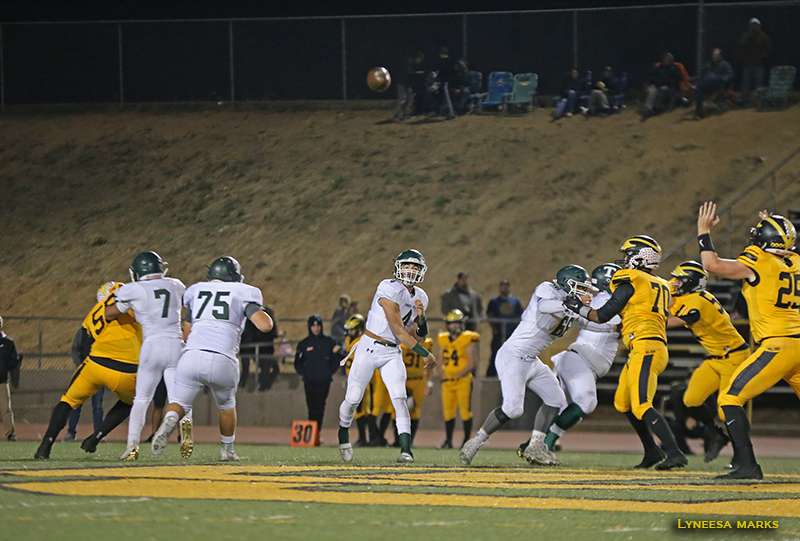 Logan Fife Launches a Pass In His Final Game as a Junior
Friday, November 2
BULLDOGS PLAY WITH EMOTION IN ROUND 1 PLAYOFF WIN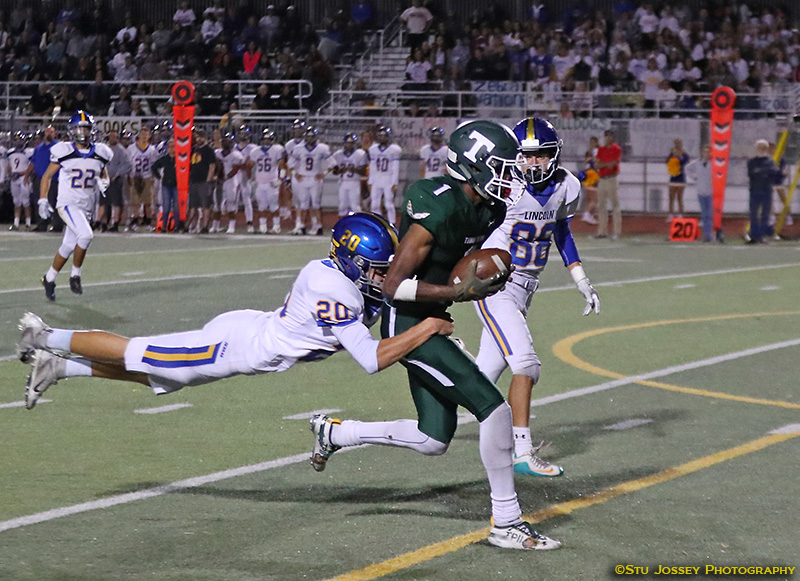 Trevor Pope Drags a Zebra Towards The Goal Line
| | | | | | | |
| --- | --- | --- | --- | --- | --- | --- |
| CIF-SJS Div II Playoffs | 1 | 2 | 3 | 4 | | TOTAL |
| #9 Lincoln Fighting Zebras | 7 | 7 | 7 | 7 | | 28 |
| #8 Tracy Bulldogs | 6 | 14 | 15 | 14 | | 49 |
---
Official Stats HERE
1,100 photos of the game are posted here A special Pictures of the Week segment will be released starting at 6 p.m Sunday.
---
Bulldogs travel next week to #1 Del Oro which is located between Rocklin and Auburn off of Hwy 80 (Brackets)
---
The coaching staff challenged their team pre-game to win the turnover battle, be dominant on offense and defense and enjoy the playoff experience by playing loose. A "check" was deserving in every category as the Bulldogs significantly benefited from four Lincoln turnovers while Tracy had none on the night. The combination of good offense (626 total yards) and defense gave Tracy a 28:31 to 19:16 advantage in time of possession. Without a doubt, it was the best defensive performance of the year for the Bulldogs.
Trevor Pope shredded the Lincoln defense with 203 yards on the ground (which included a 99 yard run from scrimmage) and 98 yards in reception. Elias Williams and Logan Fife also contributed to the Tracy ground game with 126 and 89 yards respectively.
Isaiah Smith had 8 solo tackles to lead the Bulldog defense. Riley Revino and Jordan Matson had 6, John Palmer and Trevion Shadrick-Harris had 5 total tackles.
Lincoln got on the board first after ressurecting their opening drive on a trick 4th down play that hid a running play in a punt formation. Deven Coffer finished it off with a 7 yard run for a score at the 6:57 mark of the first quarter.
Tracy's first score would not come until they had put a long 11 play drive together (which included 7 penalties) that culminated in a 4 yard Elias Williams run with 1 minute 50 seconds left in the quarter. At that point in the game they already had 9 flags dropped against them.
In Lincoln's 2nd possession late in the first quarter, Trevor Pope intercepted a pass at the Lincoln 35. This set up a 5 play drive that carried over into the 2nd quarter when Fife ran the ball in from 9 yards out to make it 13-7 (after the Tyler Gaudreau extra point).
Early in the 2nd quarter, Lincoln came back and put together a 10 play drive with Lincoln's Harry Rounds making an incredible one handed catch even with tight coverage provided by Jordan Matson.
After trading possessions, Tracy went up 20-14 on a quick 3 play drive that included a 10 yard Fife run, a 47 yard Pope run, and an 11 yard run by Zach Guillen for the score.
One of the key plays of the game came as Lincoln was just about to score and even the game at the end of the half, but Trevor Pope yanked the ball out of Harry Rounds' hands at the Tracy 8 yard line. Tracy would then sit on the ball to head to the locker room with a 6 point lead.
Tracy got the ball to start the 2nd half and made it count as they generated an 8 play drive with Pope running 9 yards for a 26-14 lead. A 2 point conversion (Fife to Guillen) made it 28-14.
With 3 minutes left in the quarter, Rounds continued to hurt the Bulldogs with a 36 yard touchdown run to close the game to within 7 at 28-21.
Tracy finished the 3rd quarter with a Fife 6 yard run to increase the score to 35-21 after the Gaudreau extra point.
It looked like Tracy was going to shut the game down at the start of the 4th quarter when Trevor Pope had the play of the game with a 98 yard touchdown run to increase the lead to a comfortable 42-21, but Lincoln came right back on a 63 yard kickoff return and 4 yard rushing TD to make it 42-28.
Tracy would punch their ticket to Sacramento when Williams ran the ball in to complete the scoring at 49-28.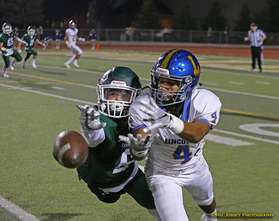 Jordan Matson Deflects a Pass In the First Half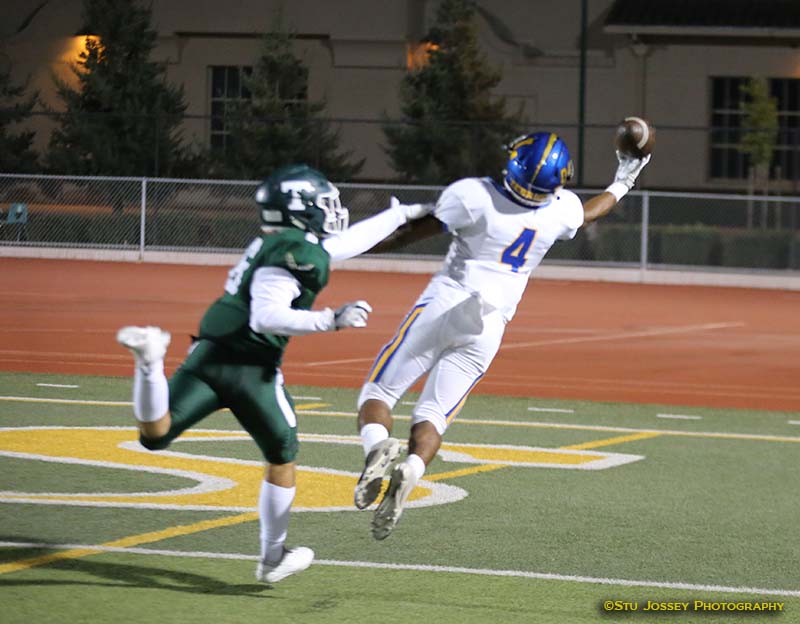 Harry Rounds Makes An Amazing TD Catch To Give Lincoln a 14-13 Lead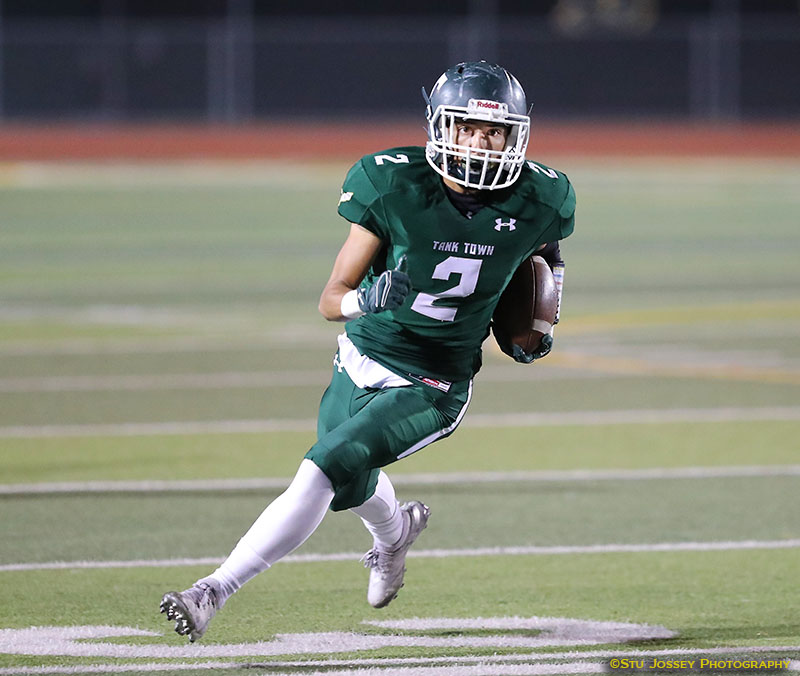 Zach Guillen Collects Some Early Yardage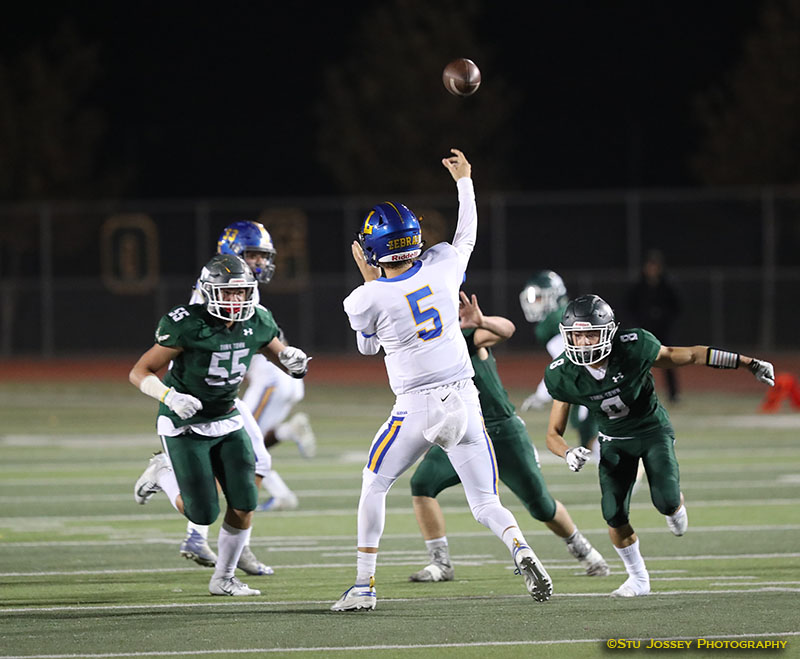 This Pass Rush Aided an Early Interception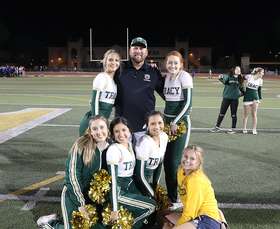 A Playoff Win Brought Out The Smiles Postgame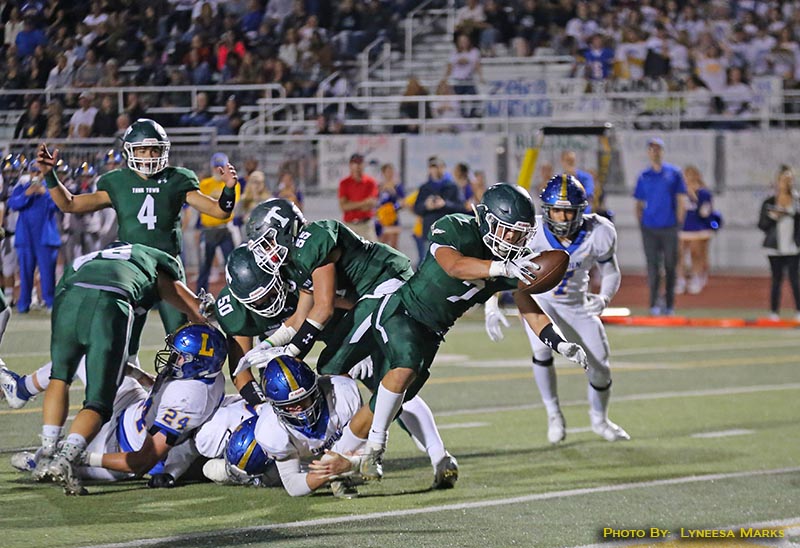 Elias Williams Crosses The Goal Line For The First Tracy Score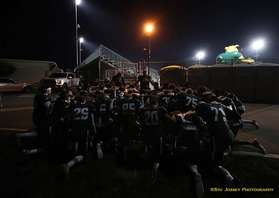 Angelo Ortega Gathers The Team Pre-Game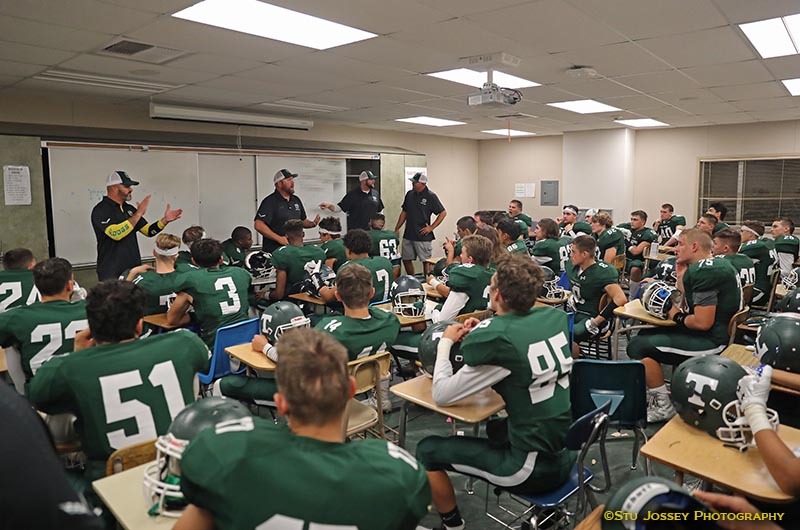 The Coaching Staff Motivates The Team For a 2nd Half Battle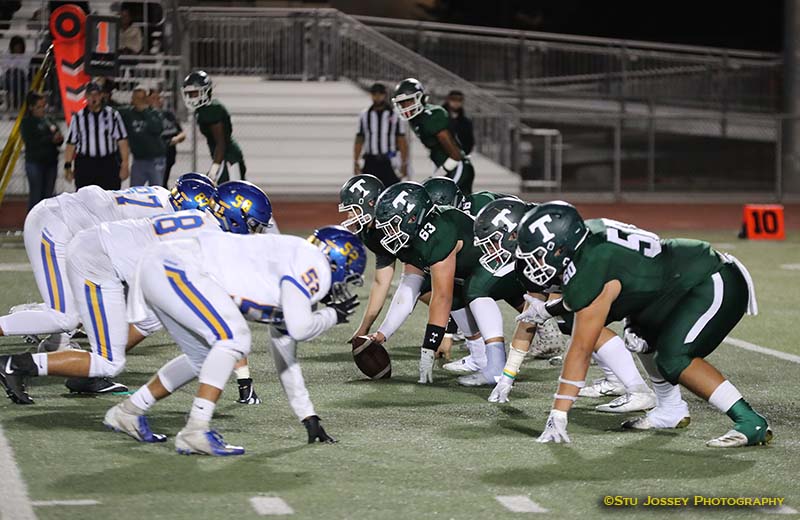 The Bulldogs and The Fighting Zebras Played Competitive Football In Round 1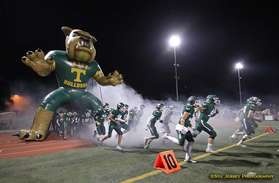 7 Wins On The Year Allowed Tracy To Host Round 1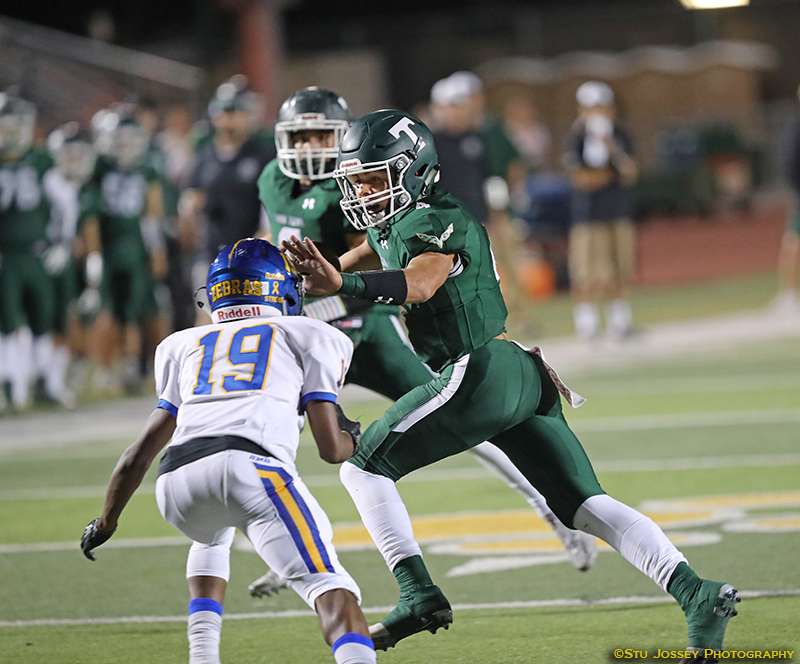 Logan Looks To Create Some Space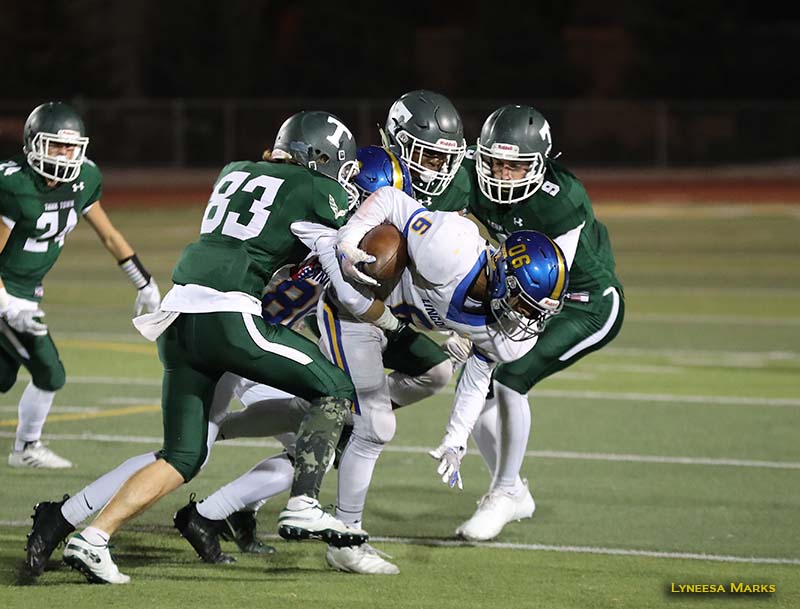 Special Teams Gets Their Man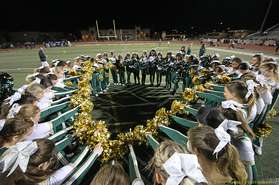 Cheer & Dance Honoring The Soares Family
Friday, October 26
EAST SIDE DEFEATS WEST SIDE IN CROSSTOWN BATTLE
| | | | | | | |
| --- | --- | --- | --- | --- | --- | --- |
| Varsity | 1 | 2 | 3 | 4 | | TOTAL |
| Tracy Bulldogs | 20 | 21 | 7 | 0 | | 48 |
| West Wolf Pack | 7 | 6 | 0 | 0 | | 13 |
1,300 Photos uploading overnight
The Tracy Bulldogs dominated this game with 424 yards of total offense compared to 177 for West as Logan Fife distributed the ball 153 yards in the air and 271 on the ground to defeat West relatively quickly.
The scoring started quickly on beautiful late October night as Elias Williams ran 18 yards for the first score. Parker Bonin kicked the first of several extra points on the night to make it 7-0.
West responded quickly as the Tracy tackling was insufficient. Rasheed Hunter ran for 37 yards through the Tracy defense. The Alex Crisp extra point was good. 7-7.
Logan Fife threw a beautiful 46 yard pass to Koby Larson at about the 9 yard line that Koby leaped for. After a collision, he kept his balance and went the final few yards into the end zone for the score. 14-7.
Fife found Trevor Pope for a 13 yard pass to make it 20-7 before the first quarter ended.
Trevion Shadrick-Harris had a 40 yard punt return in the 2nd quarter to make it 27-7. Elias Williams had a 49 yard run to make 34-7.
West responded with their only other score of the game i2th 1:37 left in the half to close to 34-13. Tracy immediatley resonded when Shadrick-Harris took the kickoff 69 yards for a score. 41-13 at the half.
The only 2nd half score was a 8 yard Zach Guillen rush to place the Bulldogs up 48-13. Bonin was 6 of 7 on extra points for the game.
Fife 7 of 12 for 135 and 2 TDs passing.
Pedigo threw 2 completions for 18 yards in the 2nd half.
Elias Williams led all rushers with 113 yards, 2TDs on 8 carries. Pope had 75 yards on 4 touches.
Leading tacklers were Shadrick-Harris, Andrew Garcia, Pope, and Kyle Silveira with 4 total tackles. Nolan Willis, Riley Revino, and Christian Pereira had 3.5 Blake Vollbrecht had 3. More are in the stats download.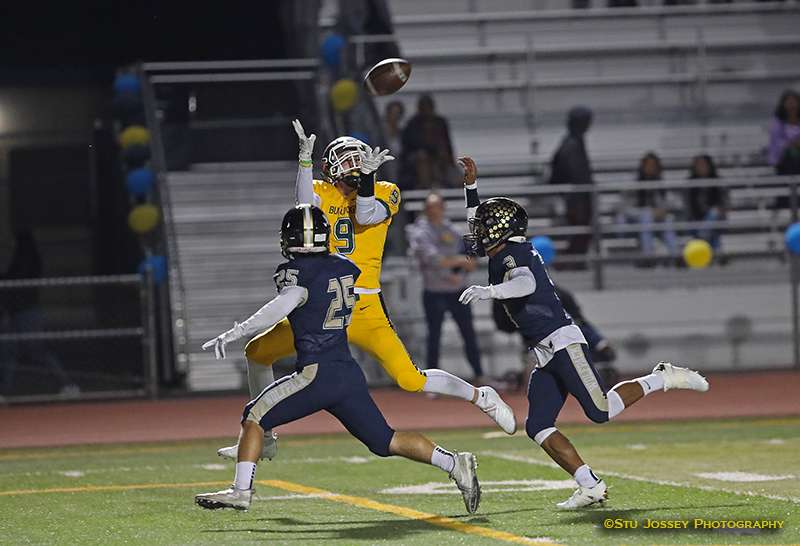 Logan Fife Delivers a 46 Yard TD Strike To Coby Larson In The First Quarter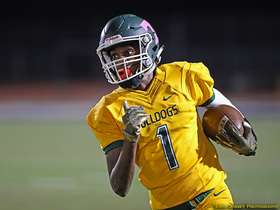 Already a "Picture of the Week" Winner as Pope Heads For 6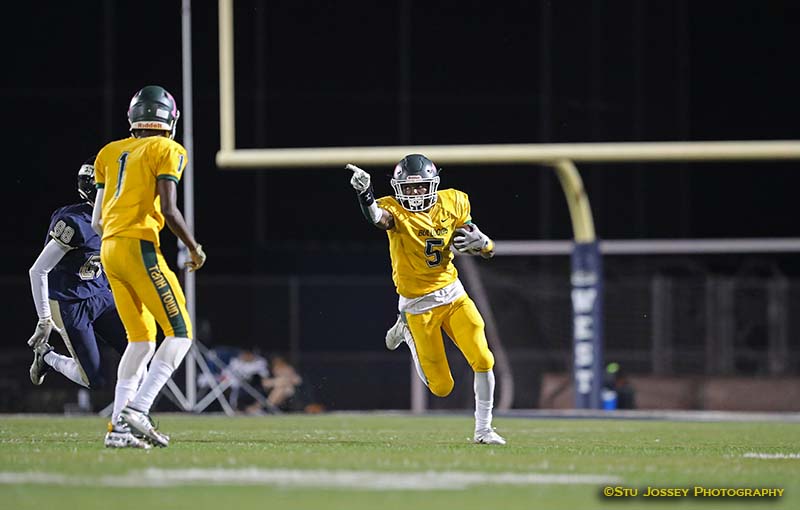 Trevion Shadrick-Harris Points Towards The End Zone On a Punt Return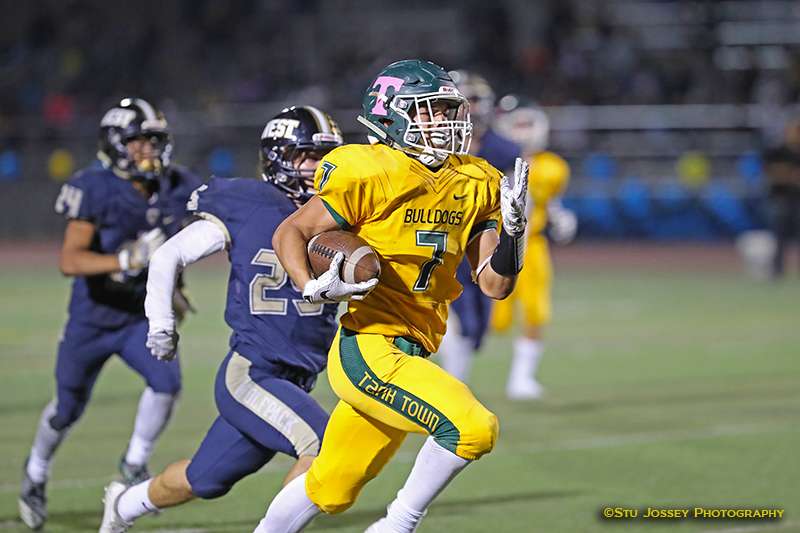 Elias Williams Streaks To a 49 Yard 2nd Quarter TD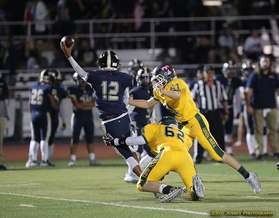 Tracy Defenders Hurry a Throw In the 2nd Half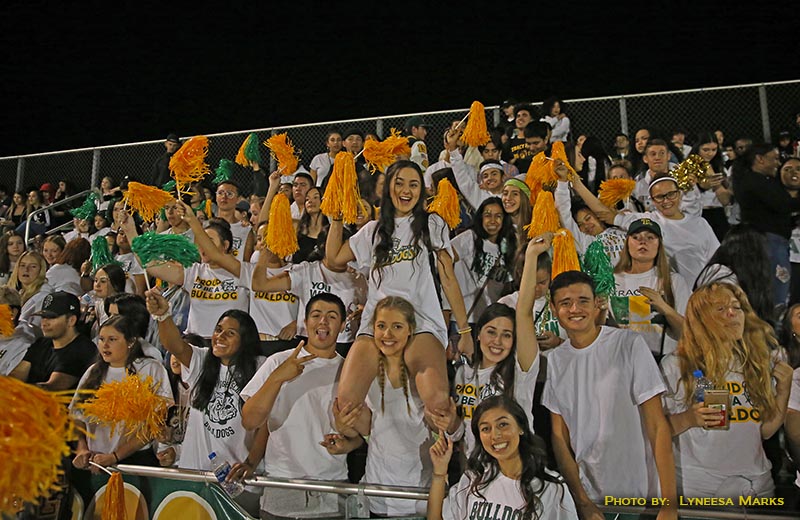 Student Lyneesa Marks Photographs The Dogpound In White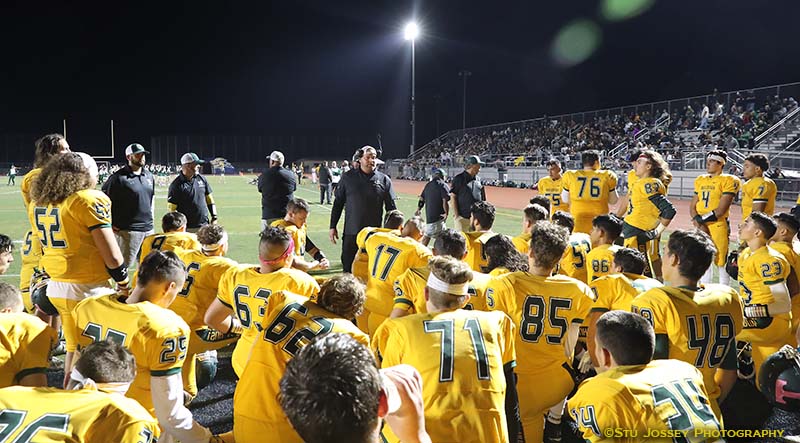 Giving Up 13 Points At Halftime Had Coach Speer A Bit Upset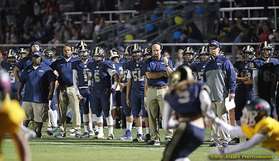 The West Coaching Staff Looks On During the 23rd Annual Game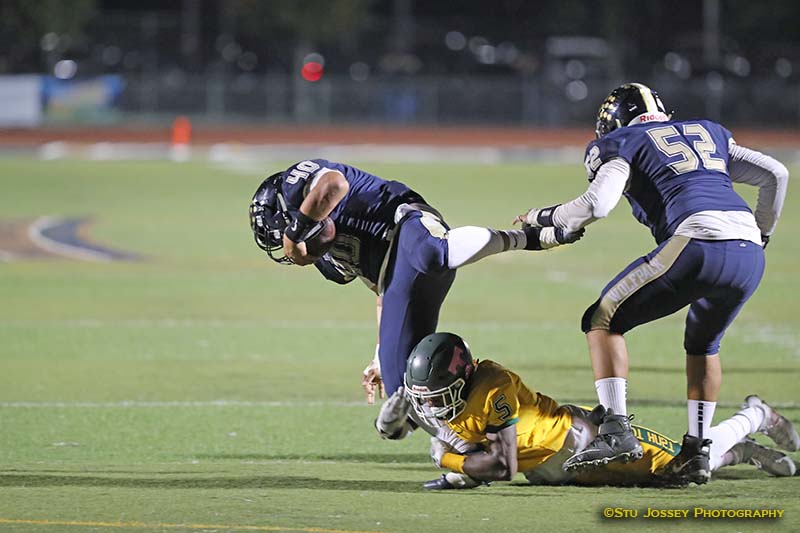 Trevion Holds On To Prevent a Large Gain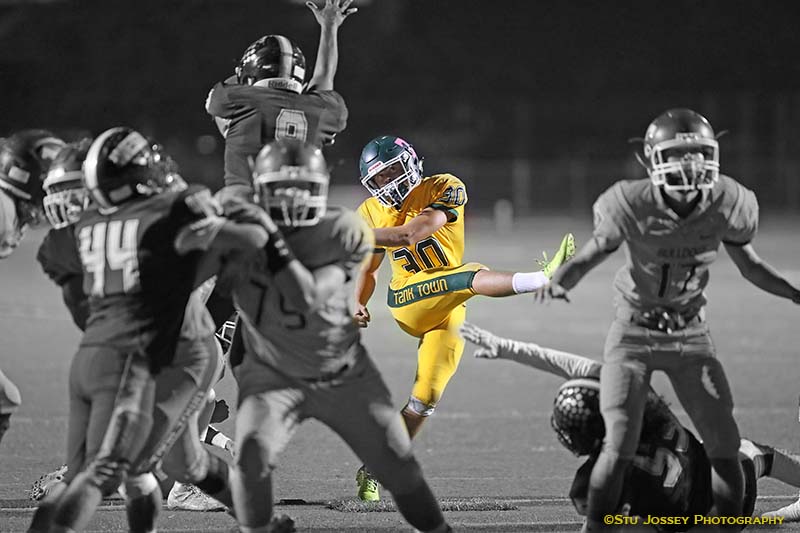 Parker Bonin Was 6 of 7 on Extra Points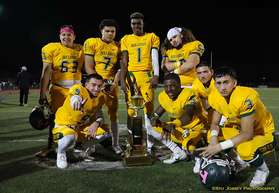 The Crosstown Trophy Remains With Tracy For the 7th Straight Year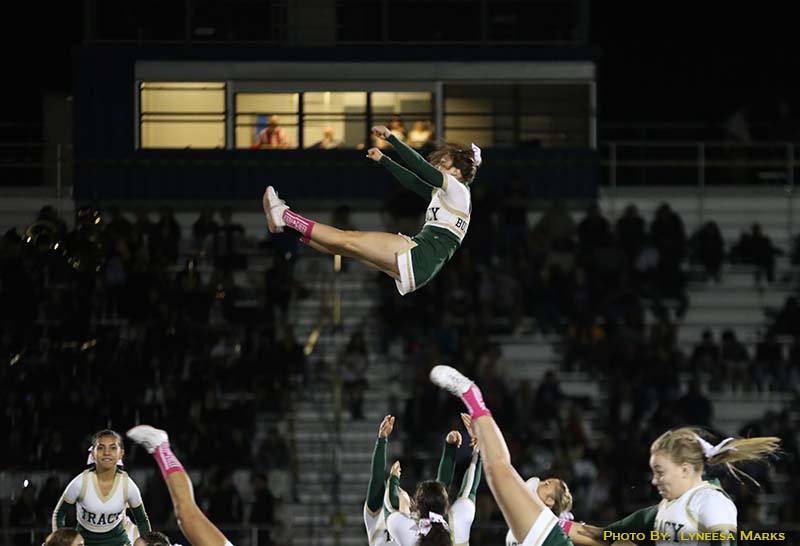 Photo By Student Lyneesa Marks
Friday, October 19
FIFE TO POPE DEFEATS LODI TO PRESERVE A HAPPY HOMECOMING AND PLAYOFF RELEVANCE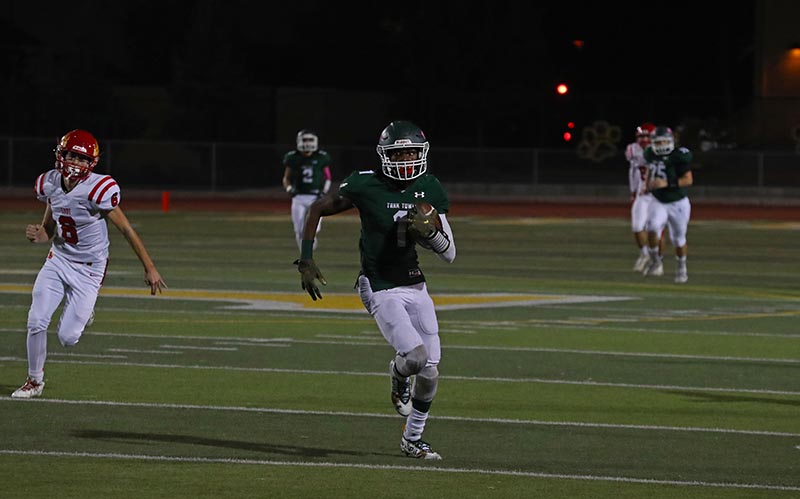 Trevor Pope Extinguished The Flames With 5 TDs
| | | | | | | |
| --- | --- | --- | --- | --- | --- | --- |
| Varsity | 1 | 2 | 3 | 4 | | TOTAL |
| Lodi Flames | 0 | 6 | 0 | 6 | | 12 |
| Tracy Bulldogs | 7 | 12 | 15 | 7 | | 41 |
Photos uploading here.
Official Stats here
The Tracy High classes of 1968 and 1988 were on hand for the Homecoming Game and Coach Shrout challenged his team during pre game to play quality football for the alumni on hand and for the most part the team delivered. Logan Fife connected with Trevor Pope for three first half touchdowns and two 2nd half touchdowns to carry Tracy past a persistent Lodi team. Fife also connected with Koby Larson for a 26 yard TD in the 3rd quarter. Tracy had 430 yards of total offense but Lodi had a ground game that Tracy could not completely stop as the Flames generated 358 yards of offense and 272 of that on the ground. Lodi also held the ball over twice as long as Tracy. (33 min to 15).
Logan Fife was 11 for 13, with 320 yards and 5 touchdowns. Logan also had the most yards on a relatively quiet Bulldog rushing night with 40. Trevor Pope dominated with his hands collecting 227 yards on 7 receptions. Trevion Shadrick-Harris had 3 receptions for 67 yards, and Larson had the one touchdown pass for 26 yards.
Defensively, the leading tacklers were Jordan Matson with 8 tackles, Kyle Silveira, Trevor Pope and Angelo Ortega had 6 solo tackles. Sharick-Harris, Gabe Andora, Nolan Willis had 5. Isaiah Smith, Christian Pereira had 4. Tommy Aguililera had 3.
Photographers Note: It was a special homecoming for me as my son Brandon joined me for the first time on the field to photograph. He graduated from THS in 2010 and then went back East to play college baseball and eventually coach. Many of his shots are featured this evening in the varsity and JV collection.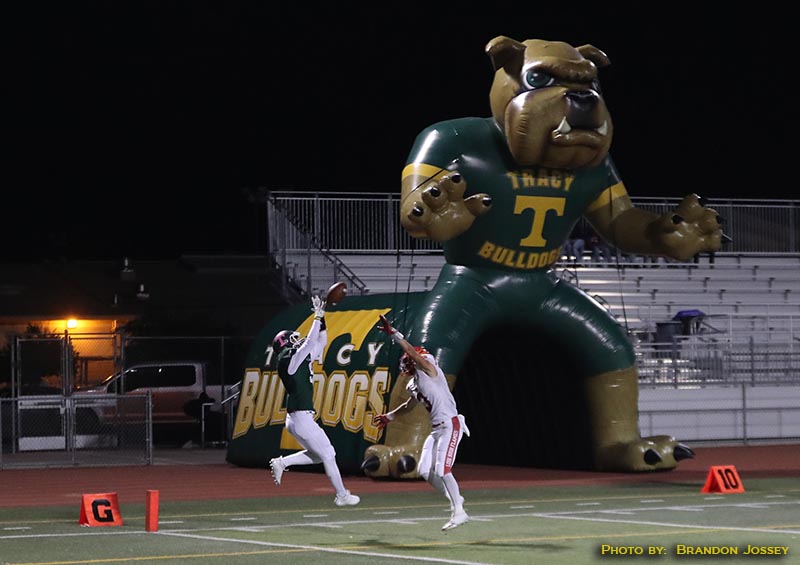 Coby Larson Hauls In a Fife Pass For a 3rd Quarter TD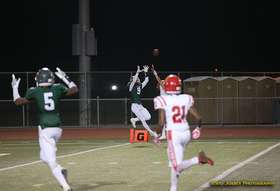 Larson's TD as Caught By My Camera Angle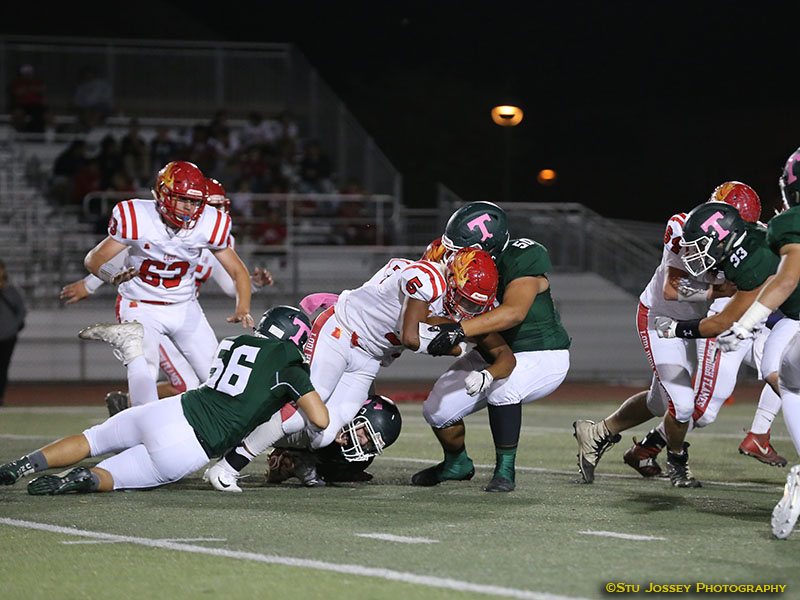 Three Tracy Defender Combine to Halt Larry Mcdowell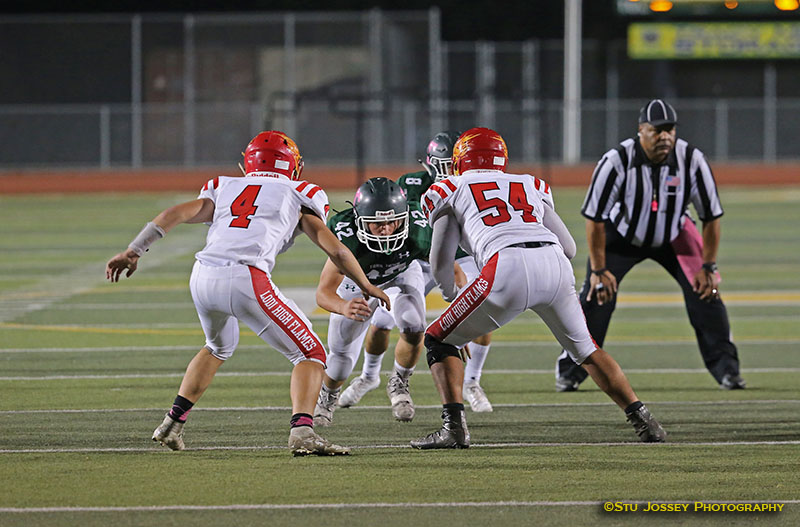 Christian Pereira Attacks The Lodi Defense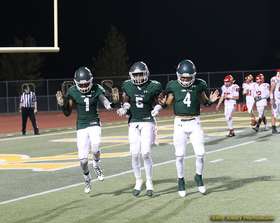 An Offensive Trio Celebrates After a TD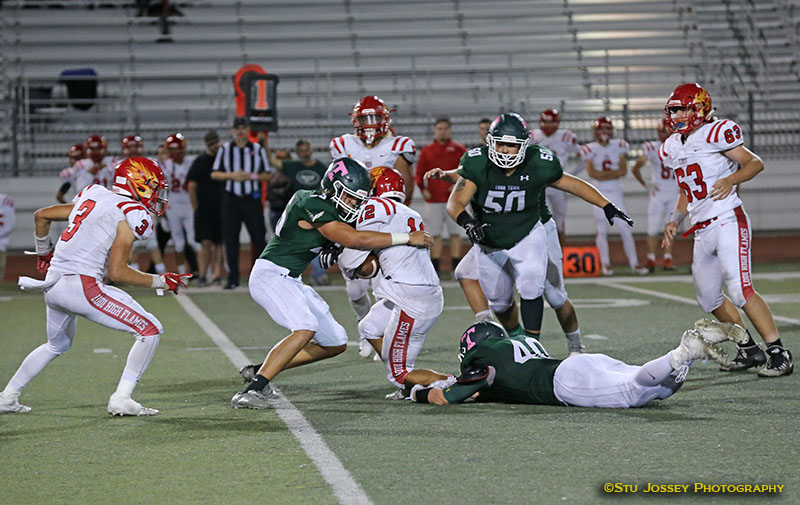 Tommy Aguilera Makes a Defensive Stop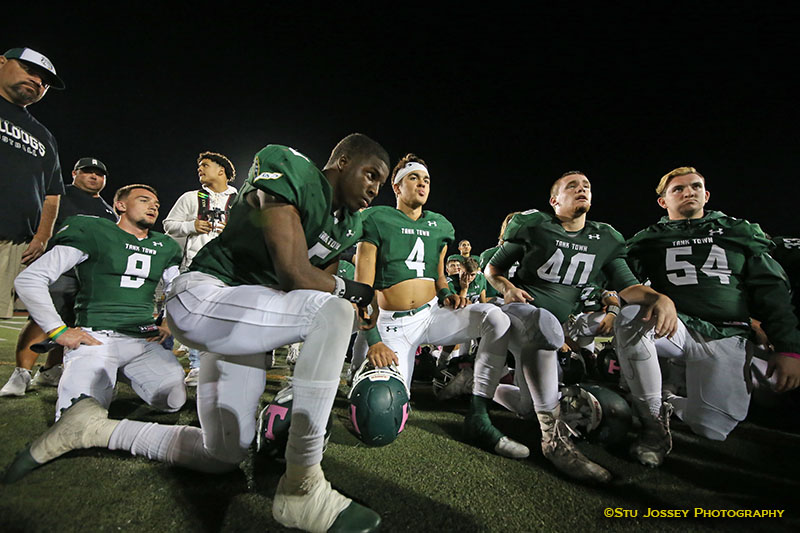 The Team Listens To The Coaches Talk About West As The Next Opponent
Friday, October 12
RAMS TAKE TCAL LEAD WITH 42-20 VICTORY OVER DOGS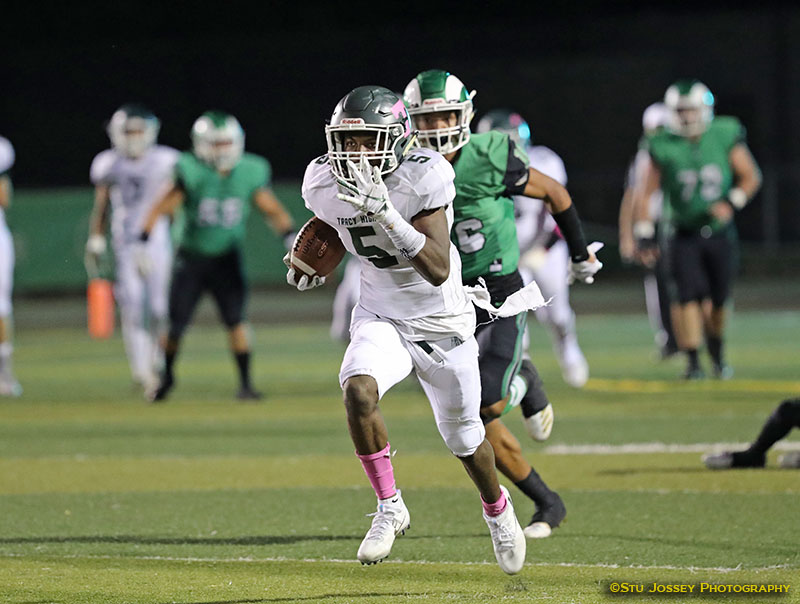 Trevion Kicks It Into Overdrive on a 2nd Quarter TD
| | | | | | | |
| --- | --- | --- | --- | --- | --- | --- |
| Varsity | 1 | 2 | 3 | 4 | | TOTAL |
| Tracy High Bulldogs | 0 | 13 | 0 | 7 | | 20 |
| St. Mary's Rams | 7 | 21 | 7 | 7 | | 42 |
Photos uploading here.
The coaching staff set a very clear goal before the game that the team needed to win the first 5 minutes of the game to set the tone and show tonight was going to be a fight. Unfortunately, the Bulldogs could not achieve that goal as the offense stalled and the defense continued to struggle tackling. The usually potent Tracy passing game did not complete a pass until the 2nd quarter.
St. Mary's drew first blood and would eventually jump out to a 21-0 lead early in the 2nd quarter. Tracy would come back and put 13 on the board to keep themselves somewhat in the game but the Rams would maintain command of the game in the 2nd half. The Rams had many weapons for the Dogs defense to contend with and St. Mary's generated 280 rushinhg yards on the evening.
Logan Fife connected for three touchdown passes in the game, 2 to Trevion Shadrick-Harris and one to Trevor Pope which was the first Tracy score.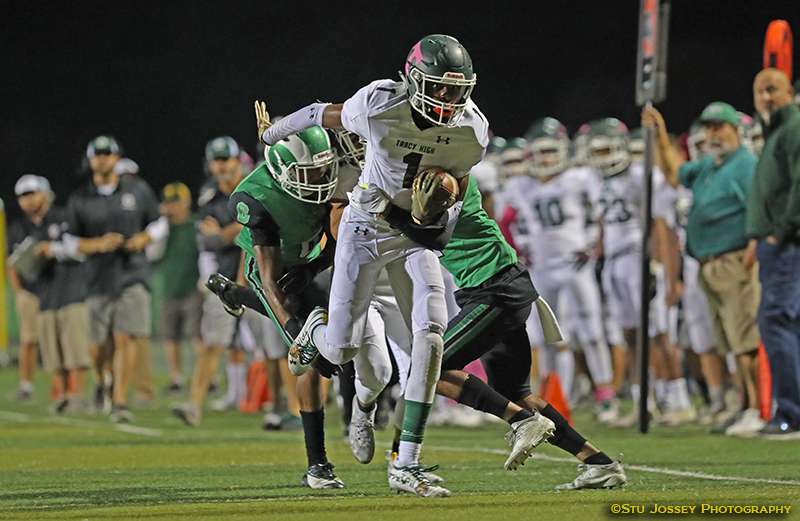 Trevor Pope Fights For The End Zone in the 2nd Quarter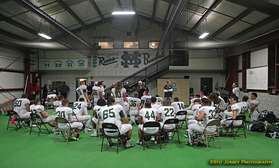 Coaching Staff Makes Adjustments at Halftime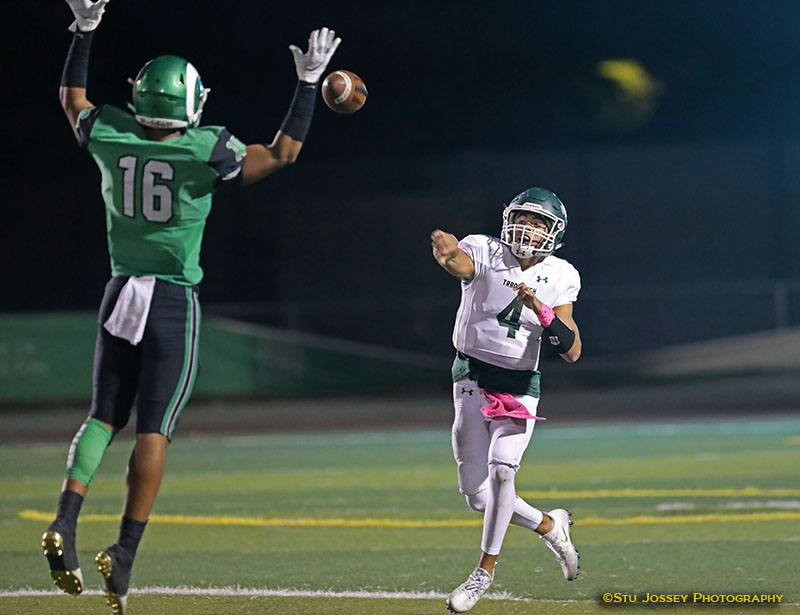 Logan Fife Attempts To Thread the Needle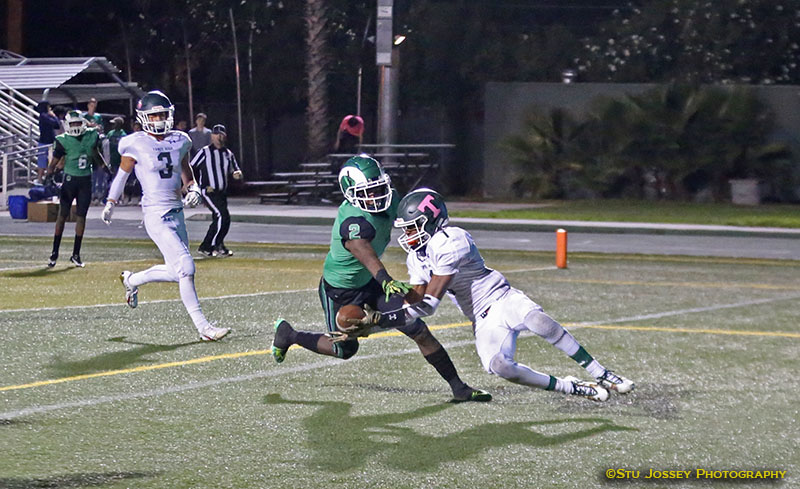 Good Defense Interrupts This Touchdown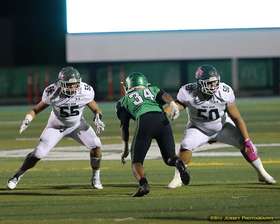 Palmer & Ortega Provide Fife Some Protection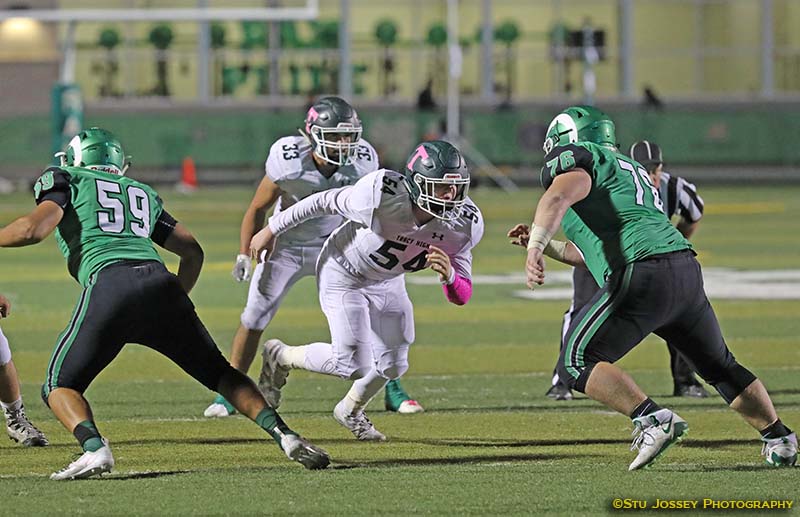 Brandon Summers On Defense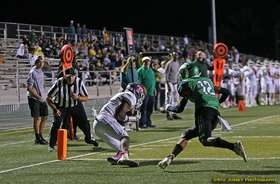 Shadrick Harris Catches a 4th Quarter TD From Fife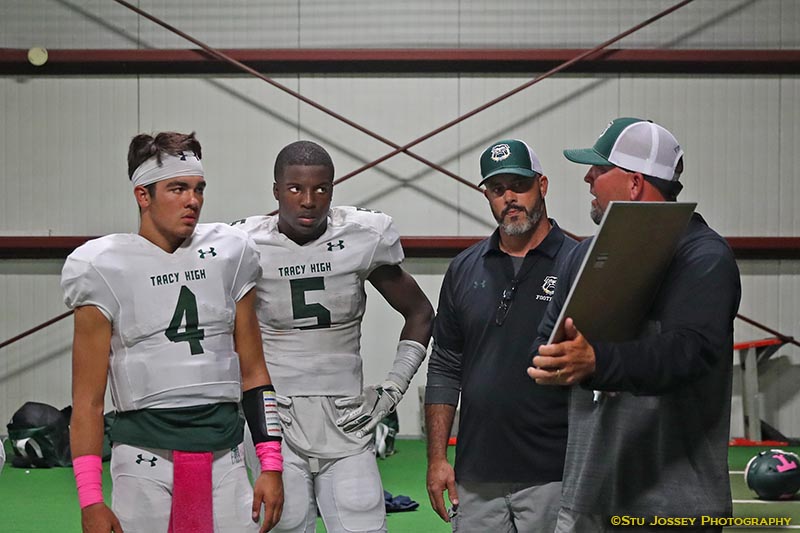 Coach Pribble Offers a Solution To Fife and Shadrick-Harris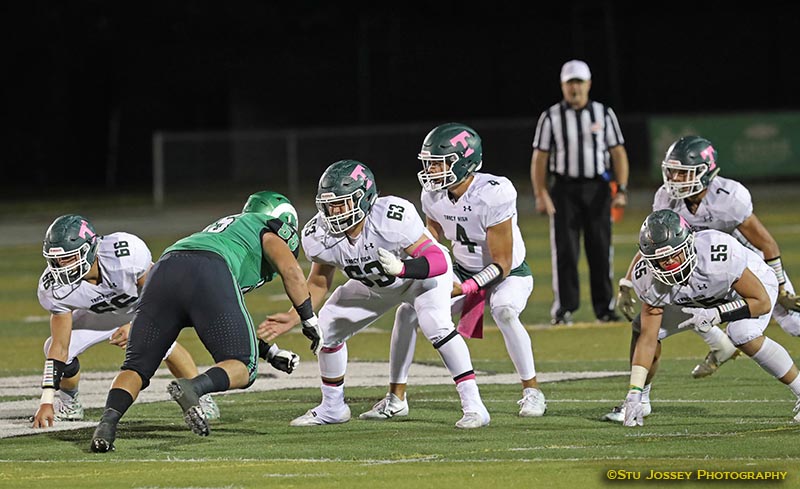 Center Jason Reyes Takes On His Blocking Assignment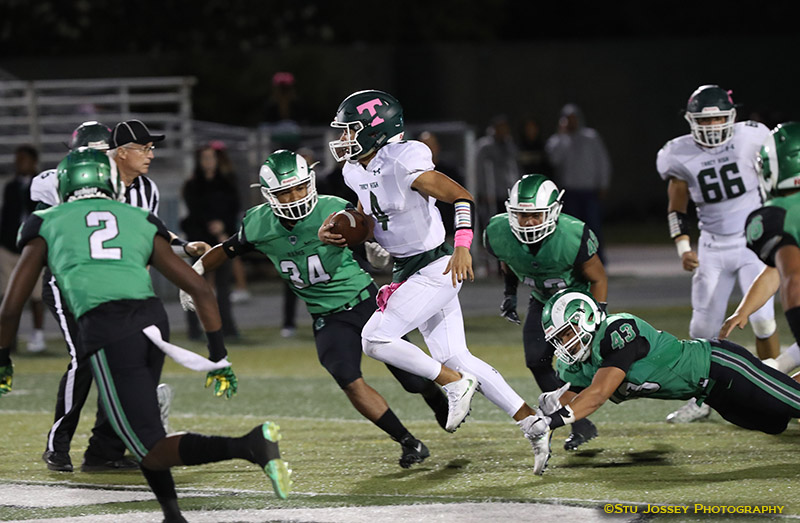 Logan Was Surrounded And Had Little Room To Manuever
Friday, October 5
SOUND DEFENSE AND 2ND HALF OFFENSE TAKES DOWN LINCOLN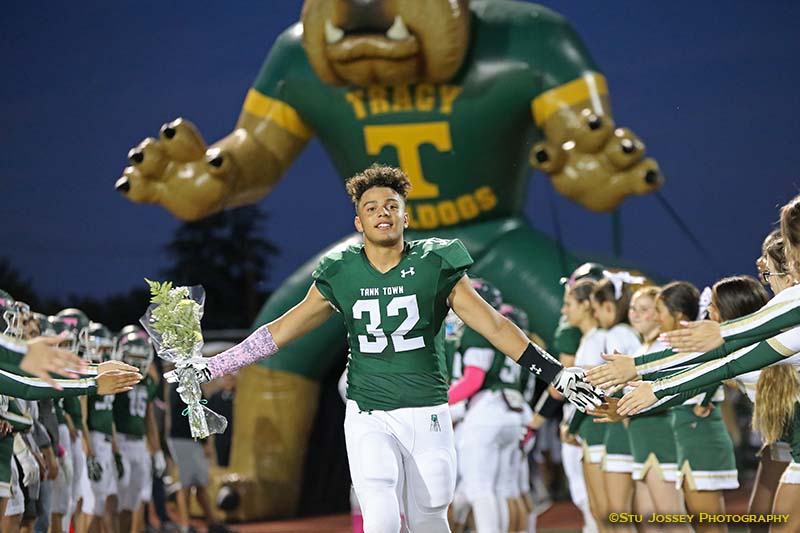 Bryce Shelton Is Introduced During Senior Night
| | | | | | | |
| --- | --- | --- | --- | --- | --- | --- |
| Varsity | 1 | 2 | 3 | 4 | | TOTAL |
| Lincoln Trojans | 0 | 10 | 7 | 0 | | 17 |
| Tracy Bulldogs | 7 | 7 | 10 | 27 | | 51 |
Official Stats Here
Game photos will upload here soon
Senior photos (intros and family shots)
---
In the middle of this game it looked like Tracy and Lincoln were headed to another one of those emotionally charged games where it would be determined in the final minute or in overtime. Parker Bonin kicked a 32 yard field goal to tie the game with 6:19 left in the 3rd and the Dogs had regained some energy they had lost coming out of halftime. From that point forward, the game swung totally Tracy's way as Trevor Pope picked off a tipped pass and gave the Bulldogs a 7 point lead. Elias Williams got the 4th quarter fireworks rolling with 2 scores and Trevor Pope had a 44 yard touchdown run to extend the lead comfortably to 45-17. A late TD pass from Fife to Shadrick-Harris finished off Lincoln 51-17.
Tracy would generate 454 yards of offense to Lincoln's 268. The passing game was modest tonight with only 124 yards on 19 attempts, but the ground game was stout with 330 yards. Elias Williams led all rushers with 144 yards on 19 attempts. Trevor Pope had 117 yards on 6 carries. Zach Guillen had 4 touches for 79 yards.
The Bulldog defense made Coach Speer very happy limiting the Trojans to 98 yards on the ground and 170 yards in the air. Speer would declare it the best game of the year for the Bulldogs. Kyle Silveira had 6 total tackles, Gabe Andora, Shadrick Harris, Jordan Matson, and Isaiah Smith each had 4.5, Bryce Shelton and Williams had 4. Riley Revino, Trevor Pope, and Blake Vollbrecht had 3.
The celebration can only last over the weekend as Tracy will have the most in depth week of practice coming up as they prepare for a trip to St. Mary's.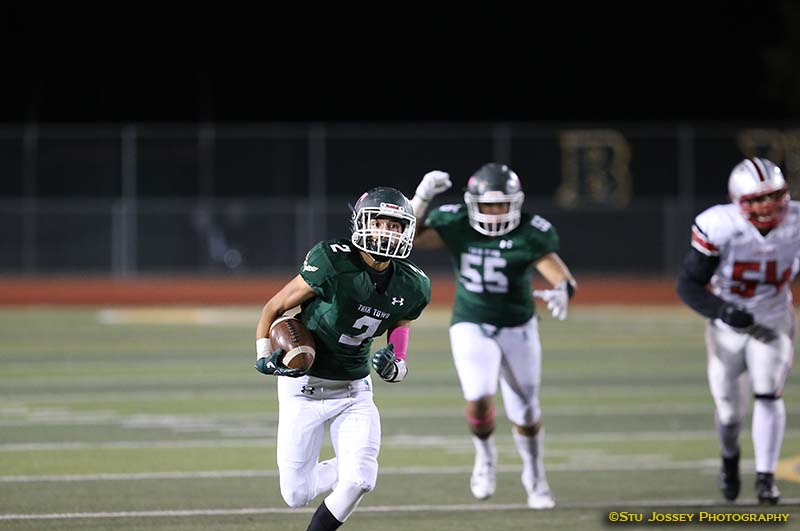 Zach Guillen Has Two Big Back-To-Back Runs In The 2nd Half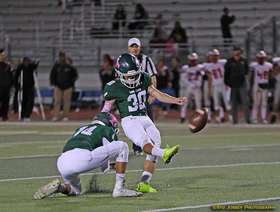 Bonin's 32 Yard Field Goal Tied The Game And Changed The Momentum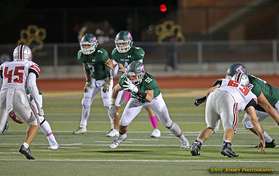 John Palmer Prepares To Run Block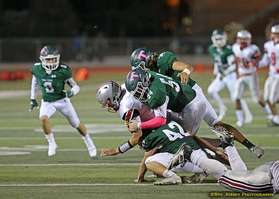 The Defense Gets a 2nd Half Sack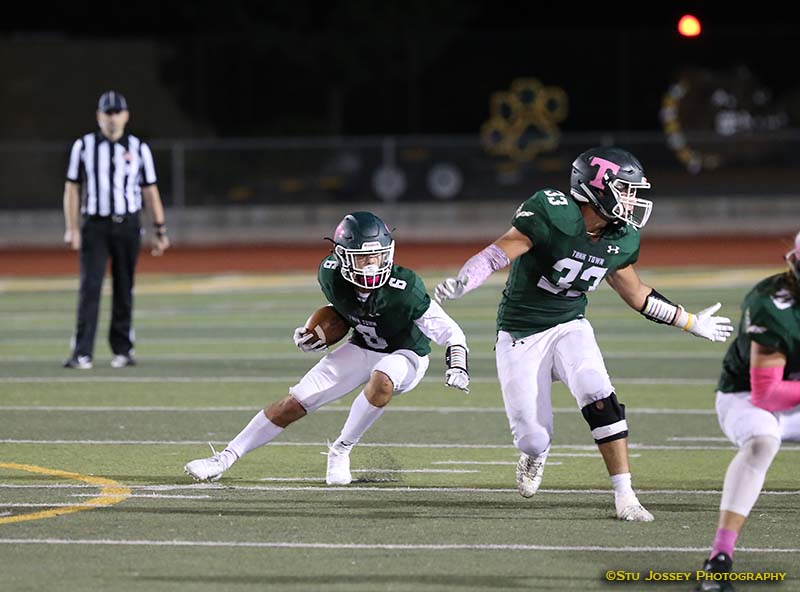 Jordan Matson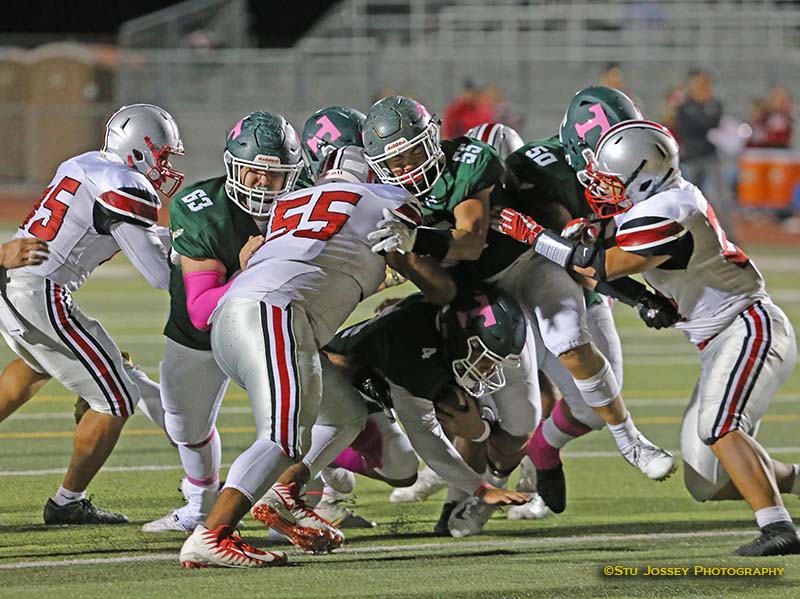 Logan Fife Goes Low For a TD As The Blocking Takes Place Above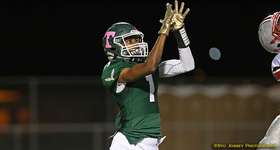 Trevor Pope Leaps For a Ball at the End Zone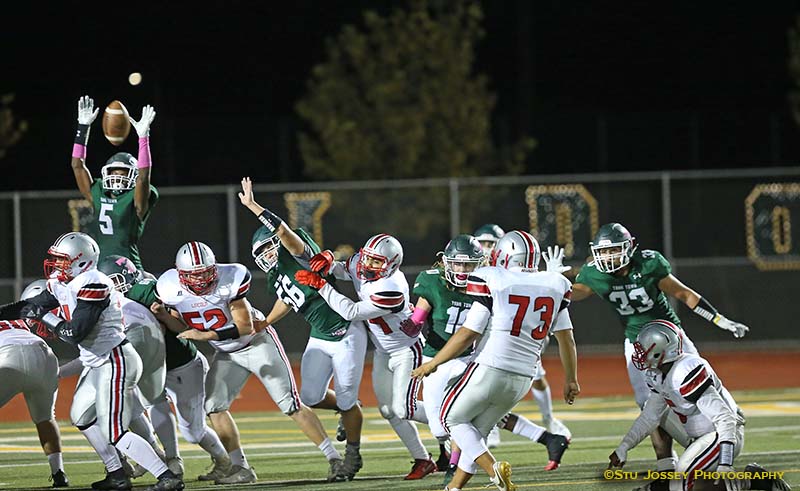 Special Teams Almost Makes The Play
Friday, September 28
BULLDOGS PARTY IN LODI WITH 500 YARDS OF OFFENSE AGAINST TOKAY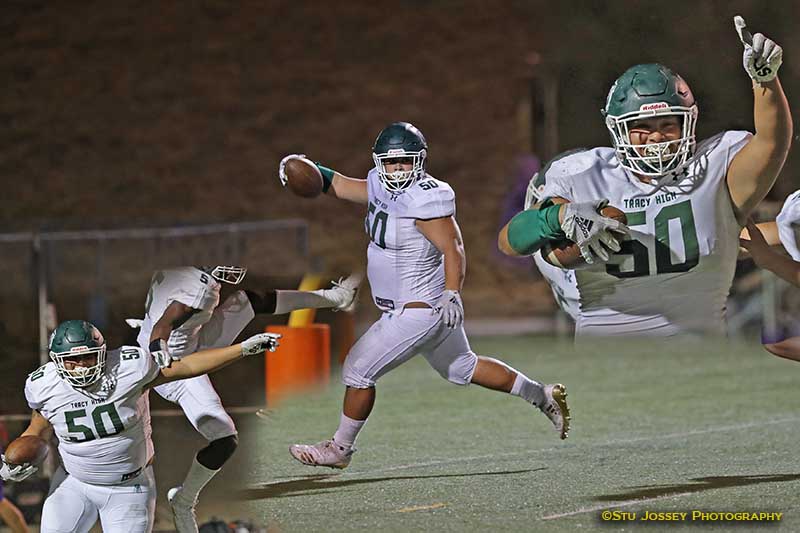 Angelo Ortega Celebrates An Interception and Touchdown
| | | | | | | |
| --- | --- | --- | --- | --- | --- | --- |
| Varsity | 1 | 2 | 3 | 4 | | TOTAL |
| Tracy Bulldogs | 20 | 27 | 14 | 8 | | 69 |
| Tokay Tigers | 0 | 0 | 0 | 6 | | 6 |
Cheer Photos (as a gift, no watermark across the photo)
The Bulldogs wasted no time scoring and kept the pedal to the metal through 3+ quarters as they throttled Tokay 69-6 behind 504 yards of offense (most of which occured through 3 quarters). The Tracy defense also kept the Tigers off the board until the final minute and limited them to 144 yards of offense.
Logan Fife was in command throwing 10 completions out of 13 attempts for 243 yards and 4 touchdowns. Zach Pedigo got several snaps in and was 3 for 3 with a touchdown throw. Nate Stroup contributed with a 5 yard touchdown run.
Elias Williams had 75 yards and 3 rushing touchdowns. Trevor Pope led the receivers with 85 yards on 3 receptions and a TD. Williams had 74 receiving yards and a TD, Trevion Shadrick Harris, Riley Revino, and Blake Vollbrecht also had receiving touchdowns.
One of the highlights of the night (and maybe the year) was a late 2nd quarter Angelo Ortega inteception and run back for a TD. (We hope to get video posted in the near future if cameras caught it).
---
Q1 9:34 13 yard TD pass Fife to Shadrick-Harris 6-0
Q1 7:13 Williams 1 yard TD run. Parker kick good 13-0
Q1 3:45 Fife pass to Williams 74 yards. Bonin point after good. 20-0
Q2 10:20 Williams 3 yard run. Bonin point after good 27-0
Q2 6:11 Fife to Pope 53 yards. 34-0
Q2 4:47 Ortega inteception and short run for TD. Pedigo pass for 2pt conversion good. 47-0
Q3 10:01 Fife 15 yd TD pass Vollbrecht. Gaudreau point after good. 54-0
Q3 9:33 Stroup 5 yd run. Bonin kick good 61-0
Q4 8:04 Pedigo 10 yard pass to Revino. 2pt conversion good Pedigo to Pereira. 69-0
Q4 1:47 Tokay 20 yard run 69-6.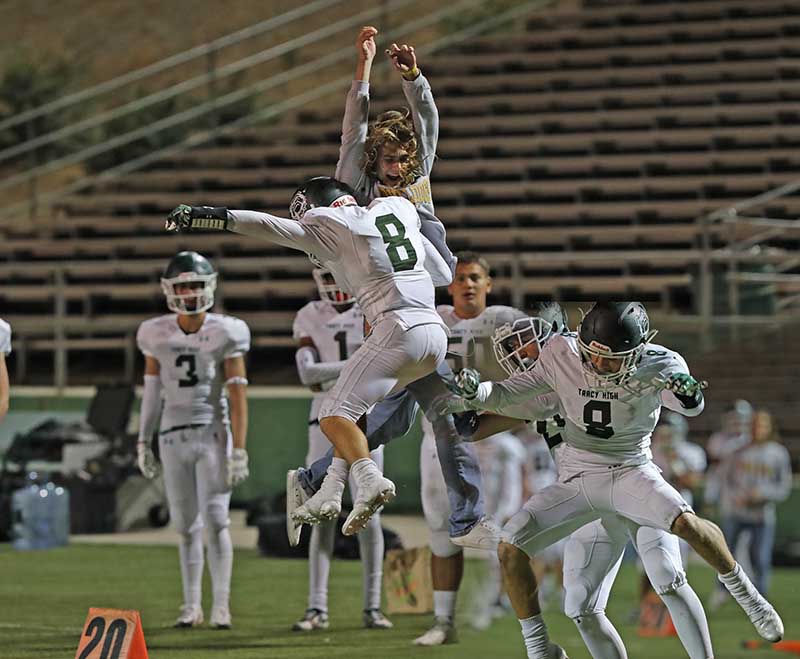 Riley Revino Celebrates a TD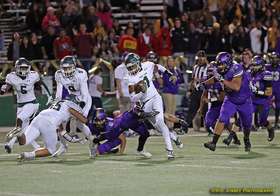 The Start of a Great Play as Pope Breaks Several Tackles For a TD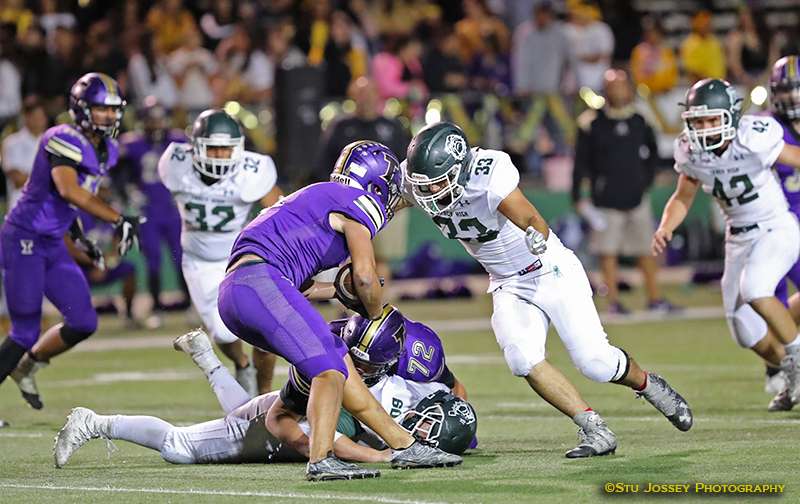 Isaiah Smith Meets a Tiger Head On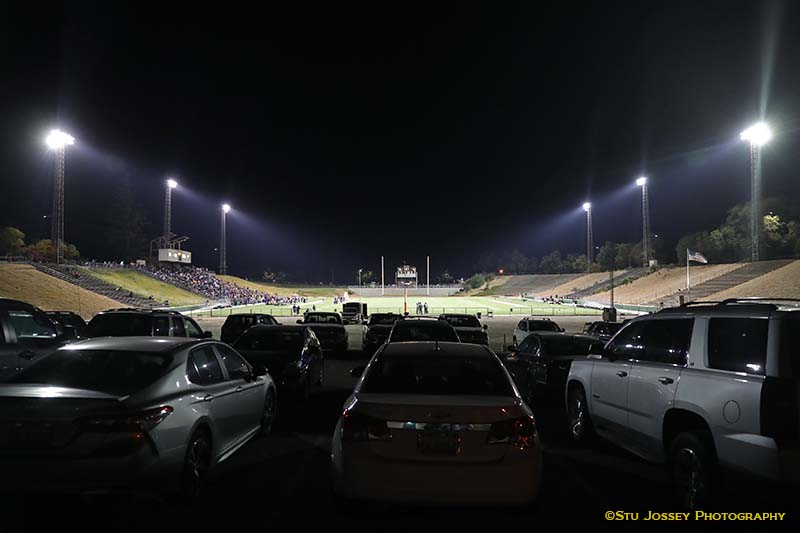 A Cool Fall Night at the Grape Bowl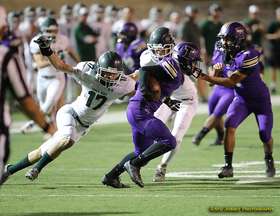 Michael Noll Shows His Wing Span As He Prepares To Tackle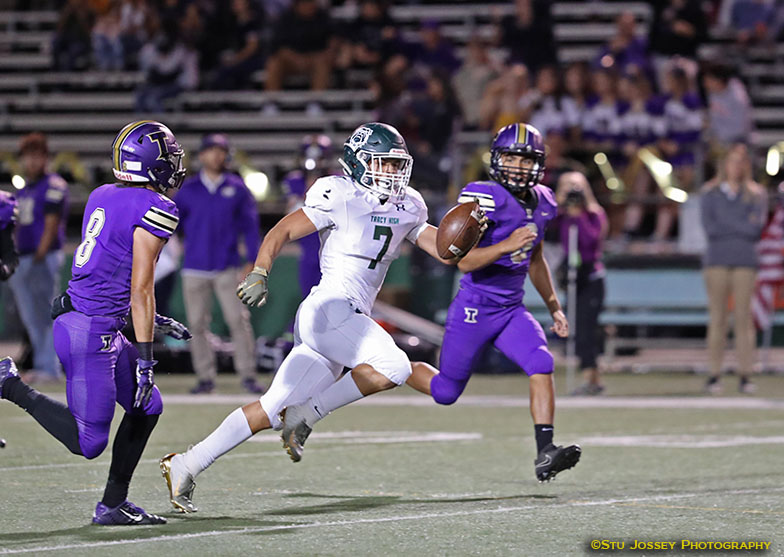 Elias Williams Breaks Free For a 52 Yard 2nd Quarter TD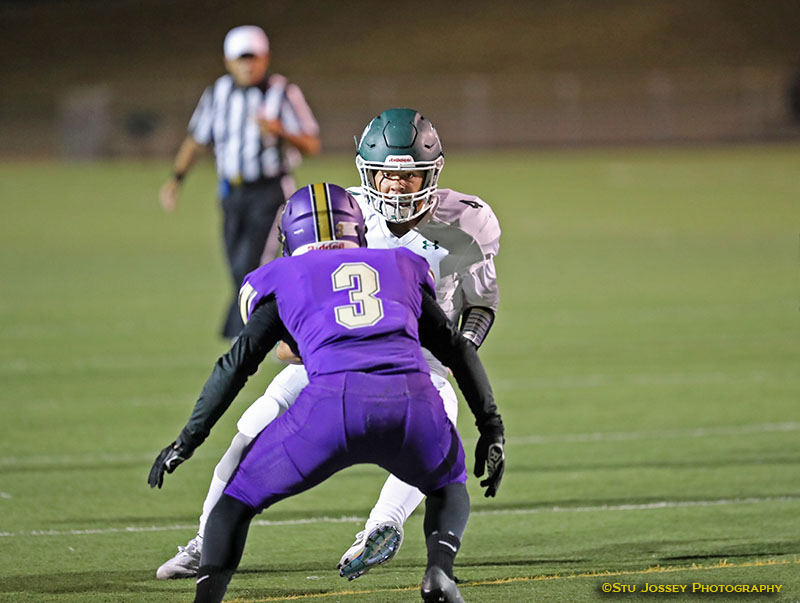 Logan Fife Plots His Next Move As He Approaches The End Zone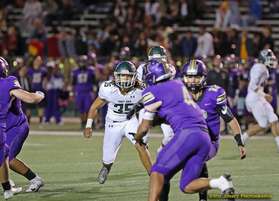 Tommy Aguilera Reads The Intentions of The Rusher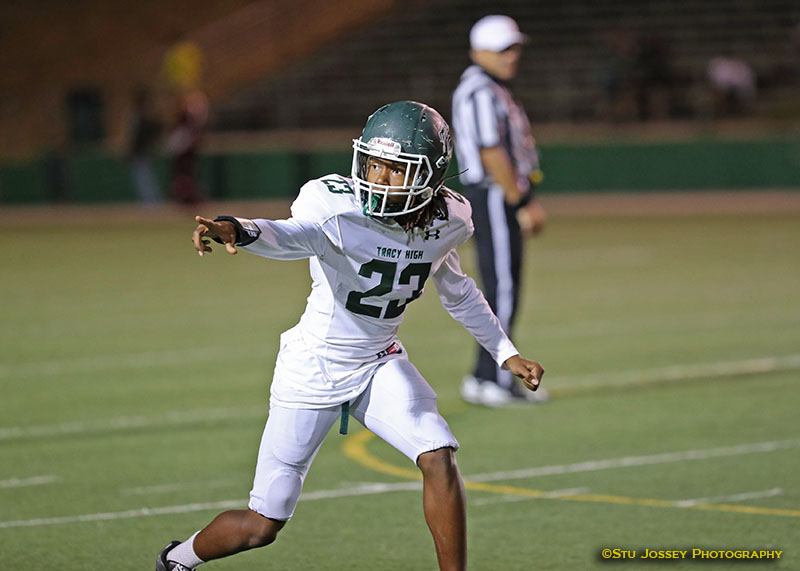 Frank Edmund Prepares For An Offensive Play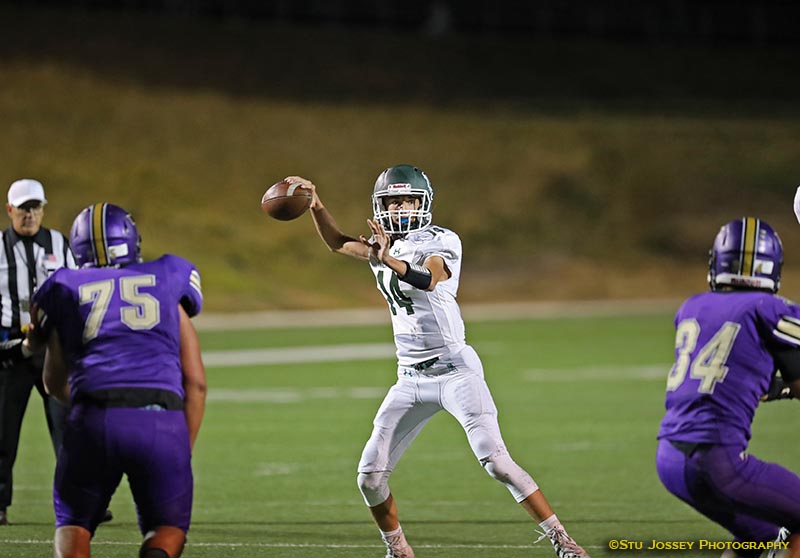 Zach Pedigo Prepares To Toss A TD Pass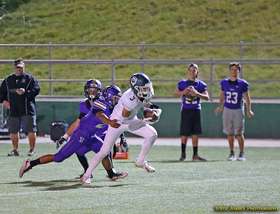 Blake Vollbrecht Fights For Yards After Catch To Reach The End Zone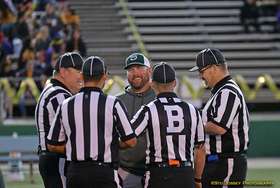 Matt Shrout Entertains The Refs With His Wit Prior To Kickoff
Friday, September 21
MID SEASON STATS
Stats courtesy of Jonathan Blackwell
The 3-2 Bulldogs are averaging 44 points per game and giving up 28.6
The Bulldogs have rushed for 1,073 yards on 161 carries (6.7 per) while their opponents have gained 1, 149 on 225 carries (5.1 per)
Logan has passed for 888 yards and 11 TDs. He has 3 interceptions
Bulldog total offense is 1,961 yards compared to 1,799 for their opponents.
The Bulldogs are 23-29 in extra points and 3-3 in field goals
Rushing leaders:
Elias Williams 458 yards on 54 carries, 8 TDs
Trevor Pope 306 yards on 18 carries 3 TDs
Logan Fife 124 yards on 55 carries, 5 TDs
Passing: Logan Fife 56 completions in 105 attempts for 888yds, 11 TDs, 3INTs
Receiving Leaders:
Trevion Shadrick-Harris 25 receptions for 486, 7TDs
Trevor Pope 10 receptions for 213, 4TDs
Blake Vollbrecht 6 receptions for 117 yards
Defense:
9 sacks, 2 inteceptions, 6 forced fumbles
Total Tackle Leaders
Trevion Shadrick-Harris - 35
Bryce Shelton - 34
Christian Pereira 21.5
Elias Williams 15.5
Gabe Andora 14.5
Jordan Matson 14
Trevor Pope 12.5
Kyle Silveira 10.5
Tommy Aguilera 10
Friday, September 14
NOT PERFECTION, BUT DOGS WILL TAKE THE WIN GETTING BACK ON TRACK AT 3-2 FOR FIRST HALF OF SEASON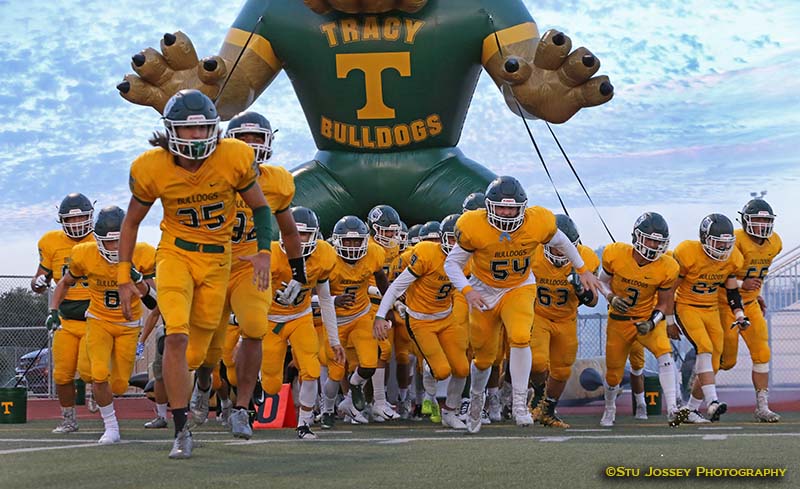 The Bulldogs Were Ready To Take The Field
| | | | | | | |
| --- | --- | --- | --- | --- | --- | --- |
| Varsity | 1 | 2 | 3 | 4 | | TOTAL |
| Fortuna Huskies | 7 | 7 | 0 | 7 | | 21 |
| Tracy Bulldogs | 20 | 14 | 0 | 14 | | 48 |
1,030 varsity game photo uploaded here
Before everyone got settled in their seats, Tracy had scored three times making it 20-0. It would have been easy for Fortuna to fold at that point, but give the Huskies a lot of credit as they never lost their composure and came back to put 14 first half points on the board and keep it competitive.
Trevion Shadrick-Harris ran the opening kickoff back for a touchdown, Elias Williams immediately took a fumble back for a long touchdown, and Logan Fife found Trevor Pope for a TD all in the first 3 minutes of play. Williams had a 58 yard rushing touchdown early in the 2nd quarter and Fife found Shadrick-Harris for a 30 yard touchdown with 24 seconds left in the half. Tracy would score two more 4th quarter tocuhdowns when Pope ran 17 yards for a score and Williams had a 23 yard run with under a minute left in the game.
Coach Shrout was very guarded before the game not sure how his team would perform after two disappointing road losses. Throughout the game this evening he found players out of position and not following their assignments, but some of the big plays that had eluded the team on the road, returned to Wayne Schneider Stadium and the Dogs gave the crowd plenty to cheer and allowed Shrout to relax a bit.
The win placed the team at 3-2 going into the bye week and they will now take a moment to breathe before entering league play in two weeks at 0-5 Tokay.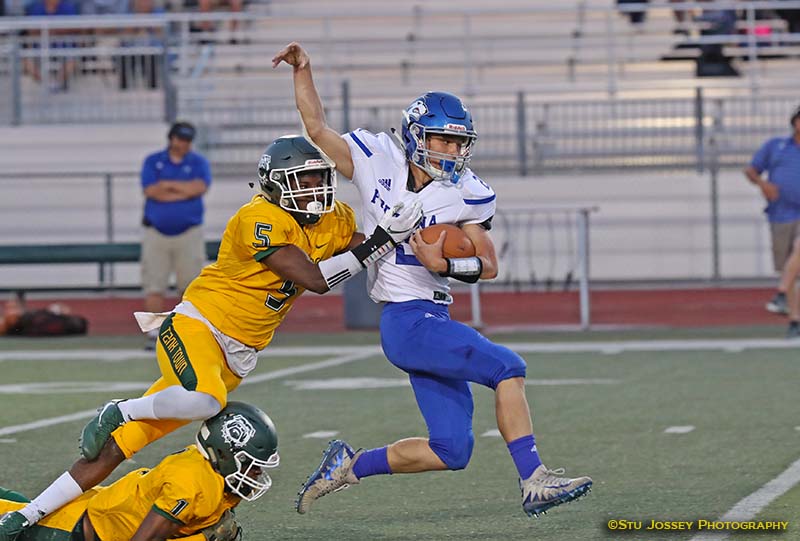 Trevion Shadrick-Harris Corrals a Husky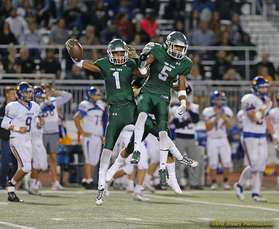 The Dynamic Duo Celebrate In The First Quarter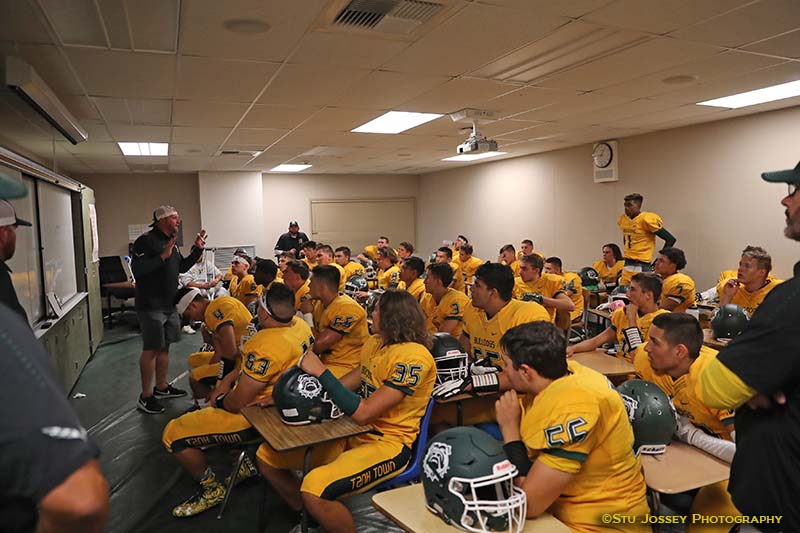 Coach Speer Makes Some Significant Adjustments at Halftime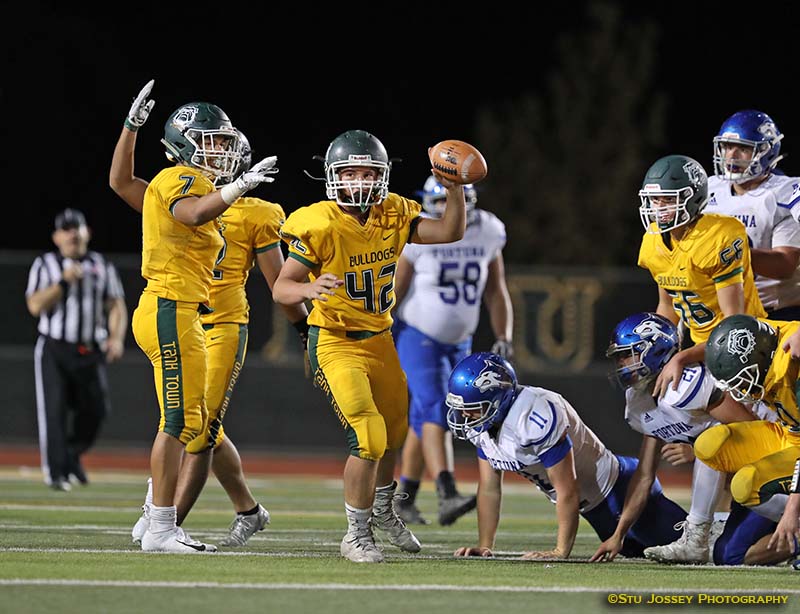 Christian Pereira Emerges With a Fumble Recovery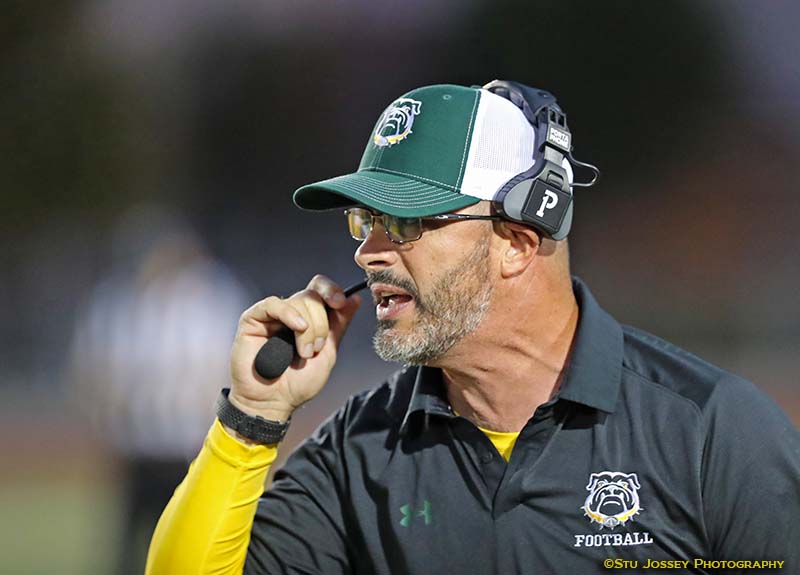 Coach Martin Was Busy On The Sidelines Friday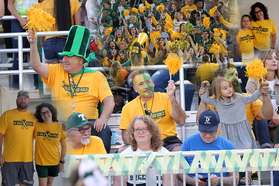 Be Bold Go Gold Night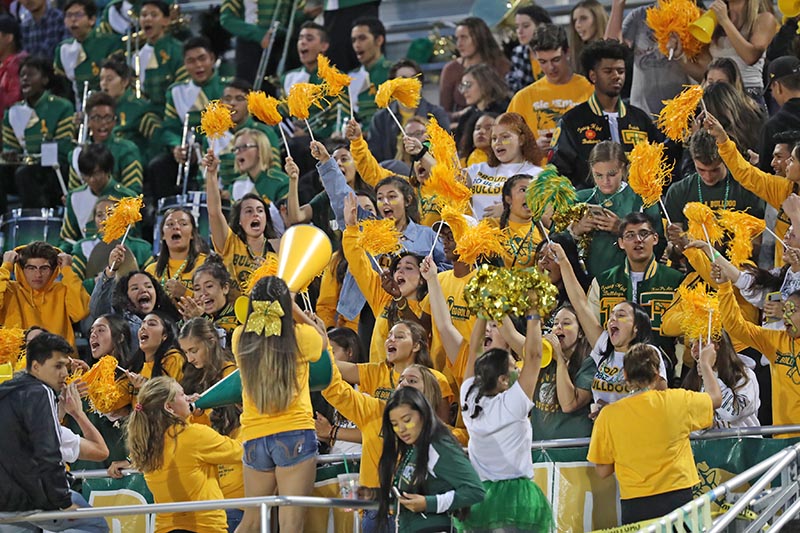 The Dogpound Was Active on Friday Night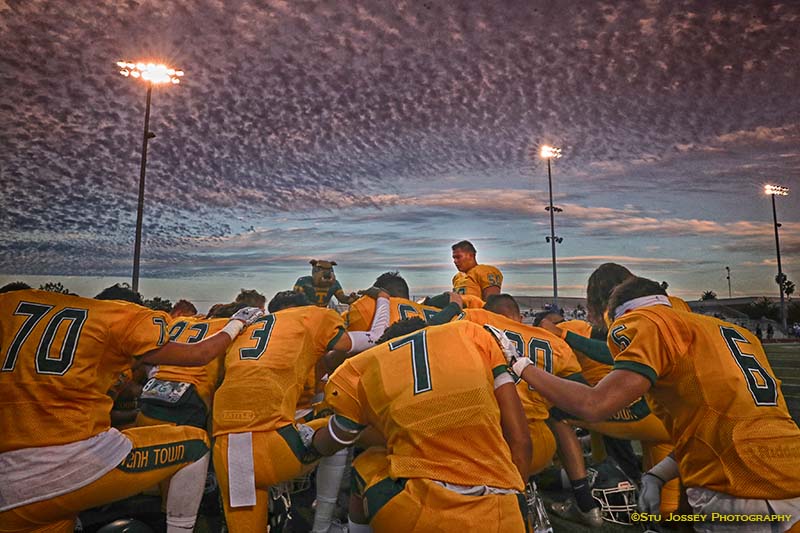 Angelo Ortega Gets The Team Ready Prior To Kick
Friday, September 7
MANTECA HOMECOMING STAMPEDE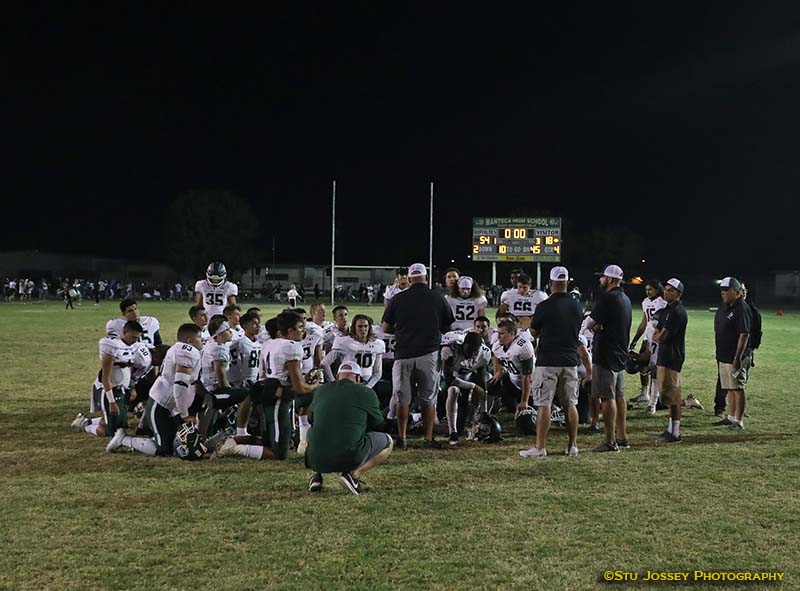 A Time For Deep Reflection As A Team
| | | | | | |
| --- | --- | --- | --- | --- | --- |
| Varsity | 1 | 2 | 3 | 4 | TOTAL |
| Tracy Bulldogs | 6 | 6 | 6 | 0 | 18 |
| Manteca Buffaloes | 14 | 27 | 6 | 7 | 54 |
Official Stats HERE
800 Photos HERE
Tracy got crushed by a herd of Buffalo in Manteca on Friday night as the Buffs had their way with the Bulldog defense. The Tracy offense could not get a rhythm going to fight back against the onslaught put on by Manteca. The loss placed Tracy at 2-2 with one game remaining in the early season but more importantly the two consecutive losses now cause Tracy to contemplate the competitive character of their team.
Manteca generated 402 yards of offense to 296 for Tracy. Passing was equal for both teams at 179. Manteca out rushed Tracy 223 to 117. Tracy had 3 turnovers to only 1 for Manteca. The Buffs had 3 sacks for -21 yards.
Logan Fife was 12 of 28 for 179 yards, 2TDs and 1 pick. Ryan Ward was 10 for 17, 144, with 2TDs. Elias Williams had 12 carries for 69 yards and a TD. Riley Revino generated 46 yards on 6 touches. Manteca's Jacob Dejesus had 21 carries for 132 yards. Trevion Shadrick-Harris led all recievers with 5 receptions for 123 yards and 2TDs.
Defensively, Shadrick-Harris had 6 solo tackles followed by Williams, Bryce Shelton with 5, and Jordan Matson with 4.
In his postgame comments, Coach Shrout put his team on notice that a tough Fortuna team will be traveling a long distance next Friday to make a statement at Wayne Schneider Stadium. "These are not going to be soft players coming down from extreme Northern California, they will be strong physical players like Clayton Borges who will be looking to hit you hard." Tracy needs to find some answers in the next 6 days in order to finish the first half of the season with some degree of confidence prior to entering league.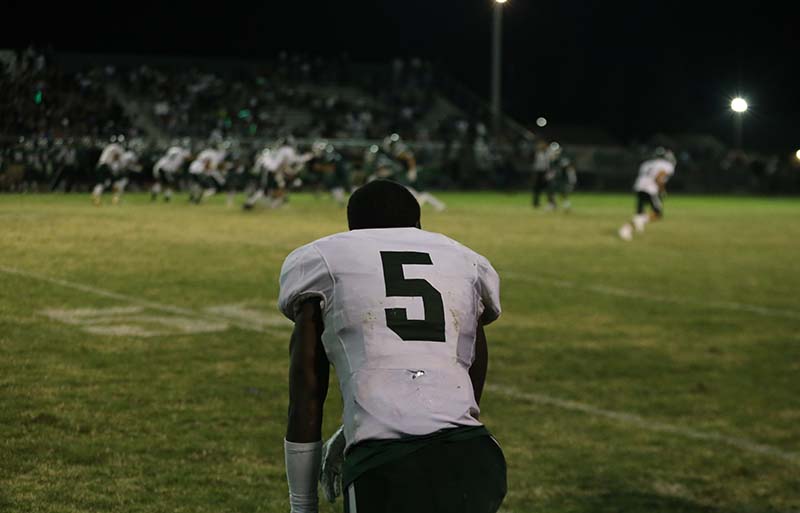 Trevion Looks On in Disbelief Late In The 4th Quarter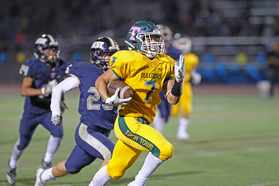 Elias Williams Scores An Early TD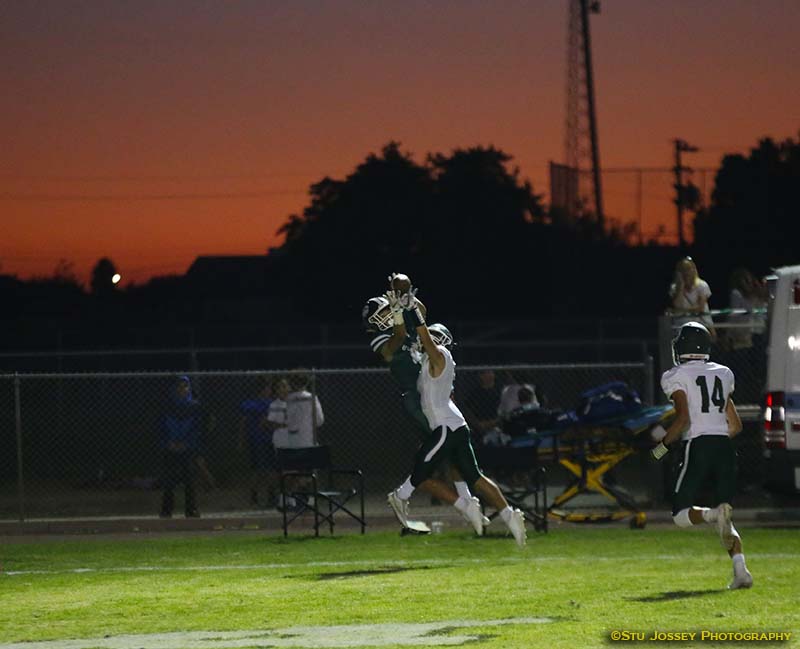 This Good Play by Jordan Matson Was Ruled Pass Interference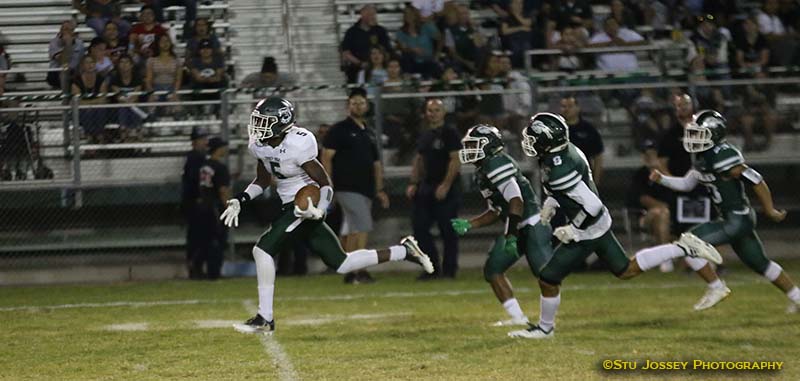 Trevion Shadrick Harris Makes the Score 41-12 Before The Half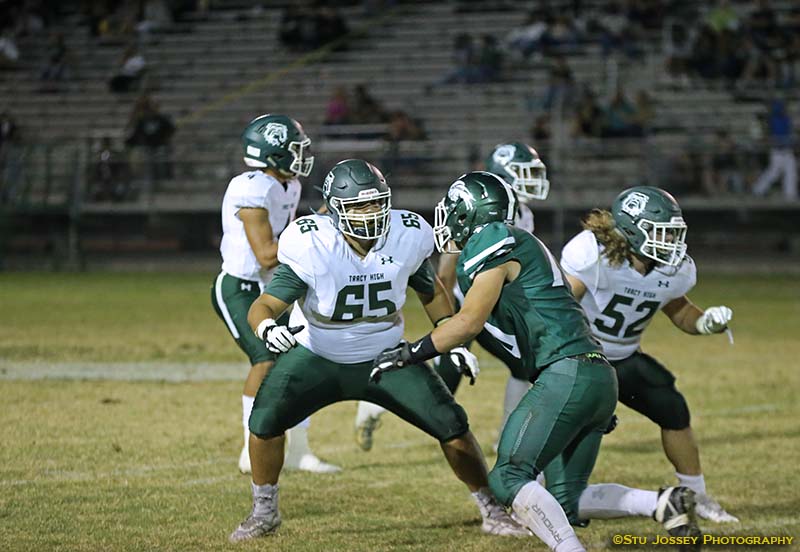 Angel Romo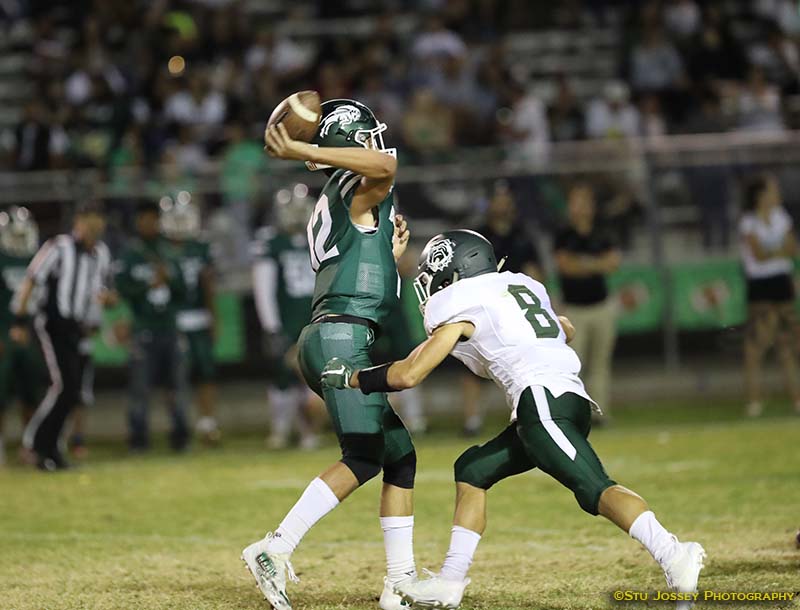 Riley Revino Just Misses a Sack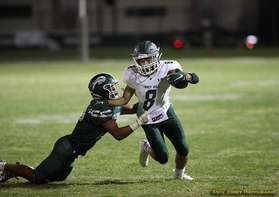 Riley Revino Looking For Yardage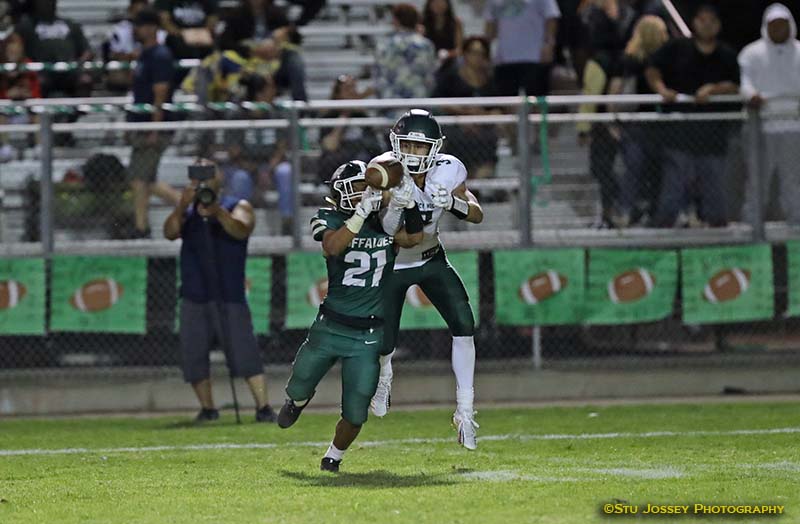 Blake Vollbrecht Disrupts a Pass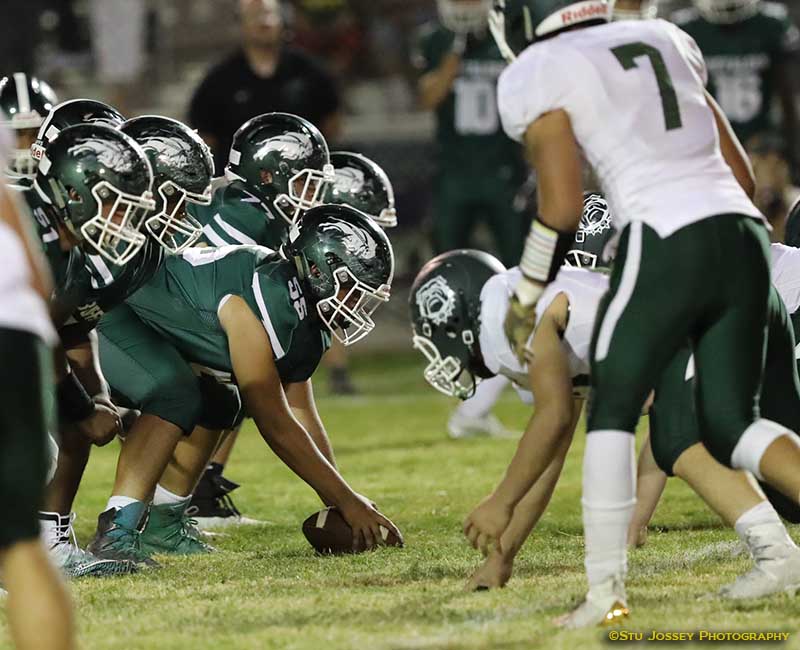 In The Battle of the Green Helmets, The Herd Was Dominant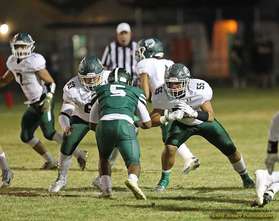 Jason Reyes and John Palmer Team Up
Friday, August 31
TURLOCK REGAINS THE BONE WITH 28-17 WIN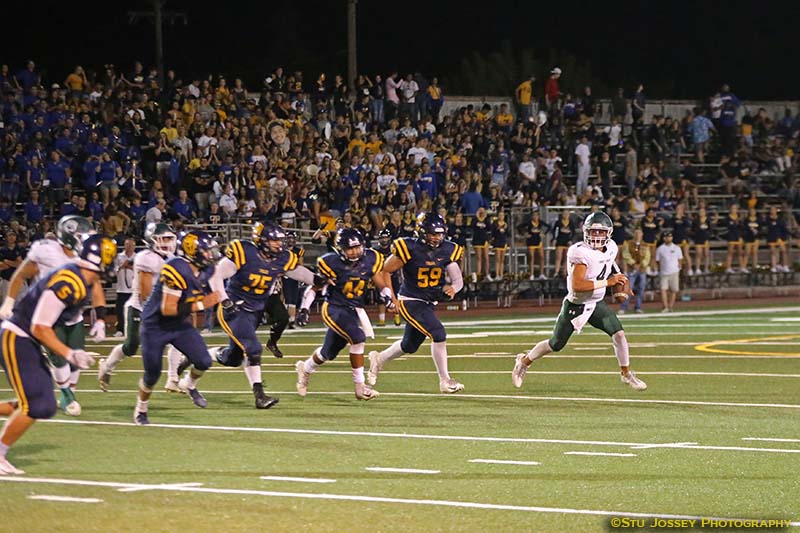 Logan Fife Was Harassed All Night By The Turlock D
| | | | | | | |
| --- | --- | --- | --- | --- | --- | --- |
| VARSITY | 1 | 2 | 3 | 4 | | TOTAL |
| Tracy Bulldogs | 0 | 10 | 7 | 0 | | 17 |
| Turlock Bulldogs | 7 | 7 | 7 | 7 | | 28 |
---
In their first road game of the year, the Tracy Bulldogs found themselves in the heart of a very spirited Turlock fan base. With the home stands full of excitement, Turlock came out of the gate ready to play, while Tracy seemed a little shell shocked at the speed of the game. Within just a few minutes Tracy had three injured players, two of which never returned to the game. Tracy would trail this game early, 14-0, but finally found some rhythm and went into half-time feeling better about themselves with only a 4 point deficit.
The second half was full of back and forth offense and defense including trading fumbles and interceptions, but Turlock would finally edge ahead for good later in the game and collected 380 yards total offense in this game compared to 273 for Tracy.
Tracy can only ponder this loss for a little while through film study Monday morning as Coach Shrout wants all eyes focused on historical rival, Manteca, by the time they practice later on Monday.
Logan Fife was 14 of 30 for 157 yards passing, 1TD and 2 interceptions. His counterpart Jonah Kosakiewicz was 6 of 9 for 158 and 1 TD. Tracy did not have any rusher gain more than 44 yards while Turlock's Anthony Frias collected 125 yards on 17 carries.
Bryce Shelton had a good defensive game with 8 solo tackles and 3 assists. Elias Williams had 6, Trevion Shadrick-Harris had 5, Christian Pereira and Kyle Silveira had 4, Zach Guillen had 3. Richard Adams, Blake Vollbrecht, and Jordan Matson had two, while several players had one.
Of special note: Football in Turlock is alive and well as it was noted that they have 169 players in their program for the 2018 season.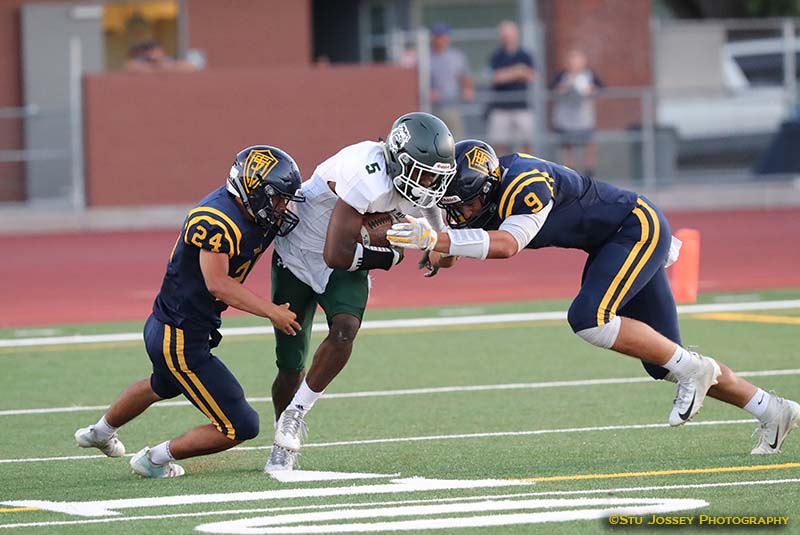 Trevion Shadrick-Harris Was Contained To 5 Receptions/74 yards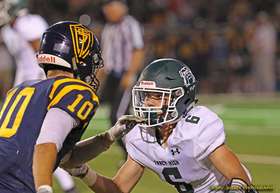 Jordan Matson Gets Face To Face With Another Bulldog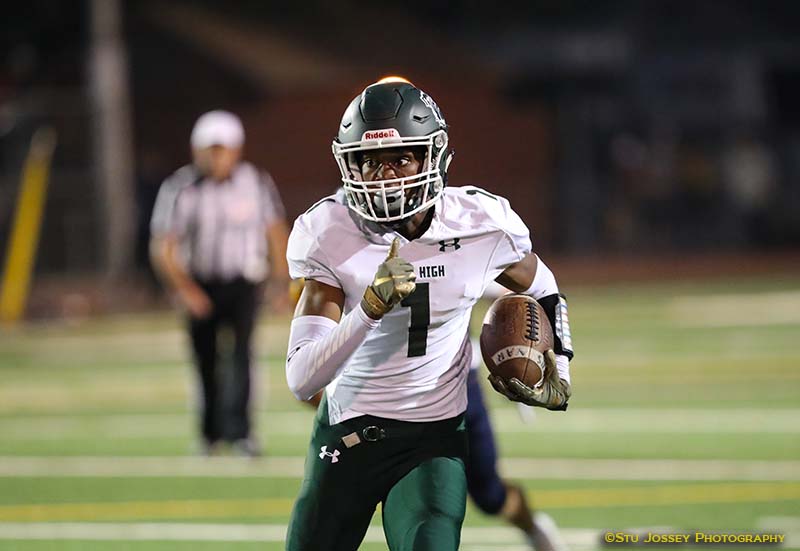 Trevor Pope Returned From a Minor Injury To Give A Little More Spark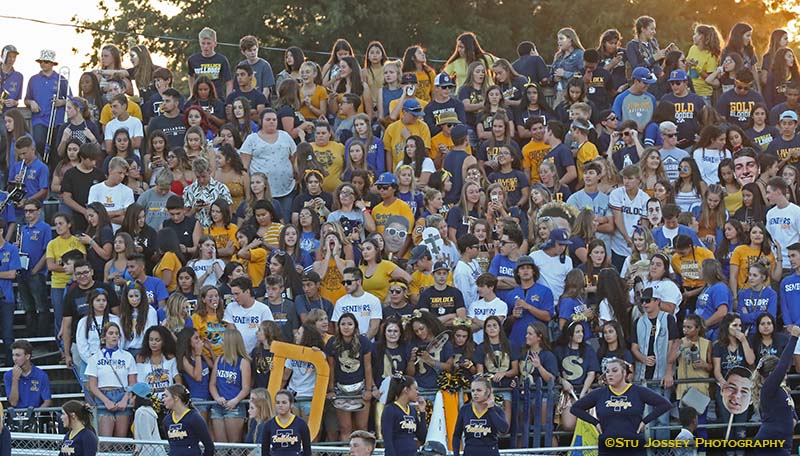 The Turlock Dog Pound Kept The Pressure On Tracy All Night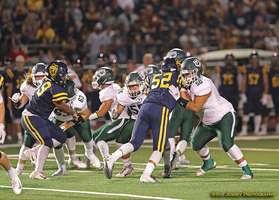 John Palmer Eyes a Blocking Assignment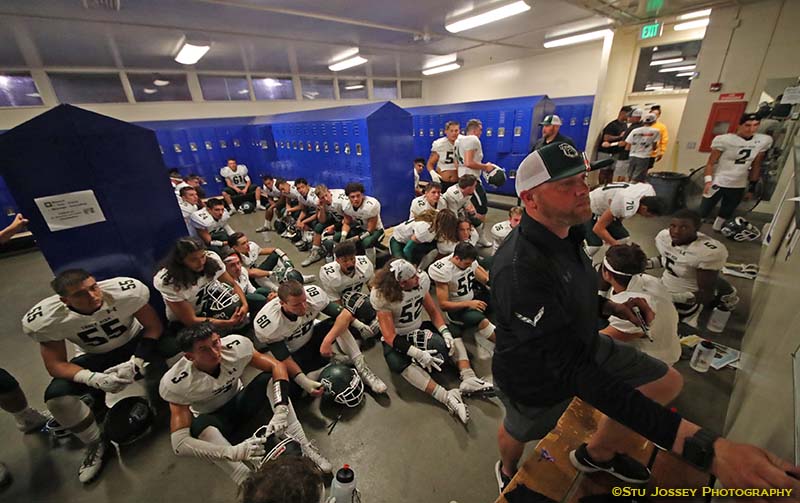 Coach Mike Speer Examines A Strategy He Drafted at Halftime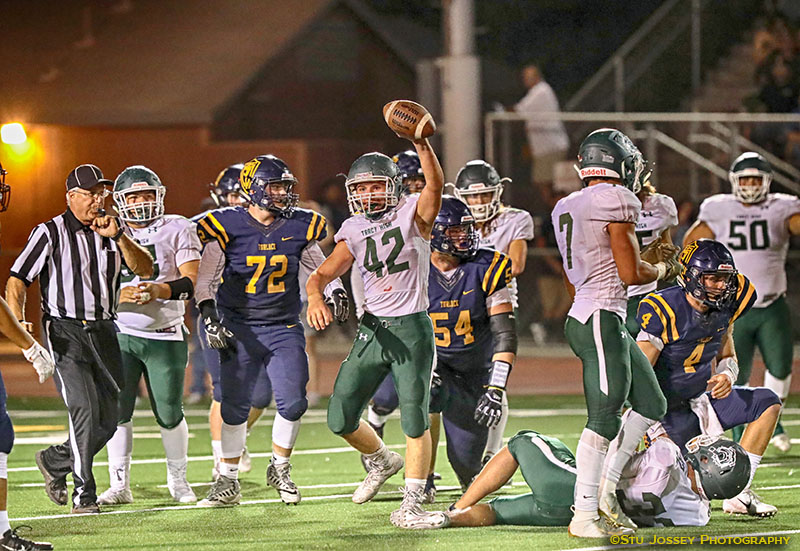 Christian Pereira With The Fumble Recovery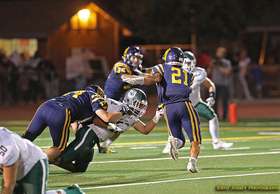 Bryce Shelton Gets Hit as He Gets a Piece of the Jersey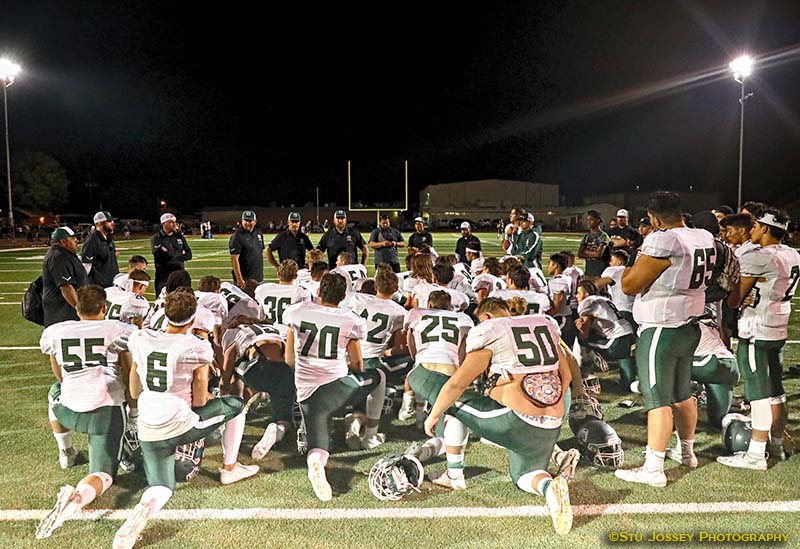 The Coaching Staff Performs The Post Mortem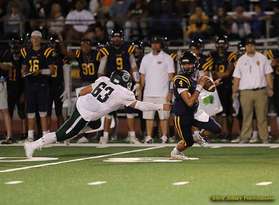 Jason Reyes Lunges For the Turlock QB
Friday, August 24
BULLDOG OFFENSE ON FIRE AS TRACY DEFEATS BUHACH COLONY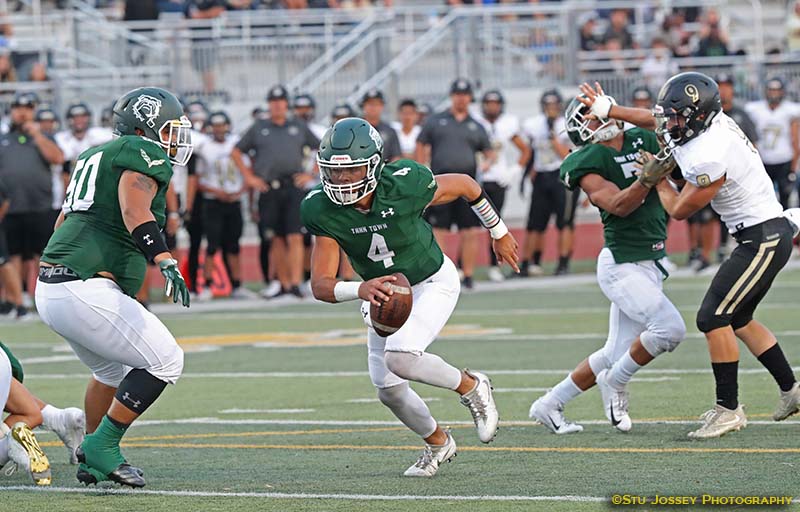 Logan Fife Finds A Lane To The End Zone Early In The Game
| | | | | | | |
| --- | --- | --- | --- | --- | --- | --- |
| Varsity | 1 | 2 | 3 | 4 | | TOTAL |
| Buhach Colony Thunder | 7 | 14 | 7 | 0 | | 28 |
| Tracy Bulldogs | 21 | 21 | 6 | 14 | | 62 |
Full Stats HERE
1,000+ photos are uploading now and should be complete by noon Saturday HERE
The offense fired on almost all cylinders Friday night, while the defense didn't meet all the goals they had set for themselves in a game that saw 1,025 yards of total offense between the two teams. Buhach Colony had the lead in rushing yards at 421, but Tracy won this game with it's passing game collecting 313 yards....more
Tracy got on the board first after the culmination of a nice long drive and a 3 yard run by Logan Fife. The extra point was no good. (6-0). When the Bulldogs recoverd the kickoff on a hustle play by Zach Guillen to scoop the loose ball, this set up a 10 yard run by Elias Williams. The 2 point conversion was good on a pass from Logan Fife to Trevor Pope. (14-0)
With 4 minutes left in the first quarter, Fife found Trevion Shadrick Harris on a 22 yard pass. The kick by Tyler Gaudreau was good to make it 21-0.
Buhach Colony showed they still had life at the 2:31 mark of the quarter when they scored on a 13 yard touchdown run. (21-7).
Tracy responded early in the 2nd quarter on a 32 yard pass from Fife to Trevion Shadrick-Harris. (28-7). While it seemed the game would start to be a comfortable one for Tracy, the Thunder found several holes in the Tracy defense and scored on a 10 yard run to make it 28-14.
Tracy responded again when Fife hit Trevor Pope on a 64 yard pass play to make it 35-14 with 8:21 left in the half. Once again Buhach Colony came righ t back and scored again on more rushing to shrink the Tracy lead to 35-21.
Tracy would score once more in the first half on a 15 yard Fife run with 2:50 left to place the halftime lead at 42-21.
At halftime, Coach Speer had a few choice words to motivate his defense while Coach Pribble had nothing but smiles for his offense.
The offense responded in the 3rd with another score on a 1 yard Elias Williams run to place the score at 48-21. With 3:22 left in the 3rd, Buhach scored on more rushing offense to make it 48-28.
Trevor Pope would get one final touchdown on a 56 yard rush to finish the game 62-28.
Fife was 14 of 23 for 313 yards. Tracy rushed for 212 yards on 24 carries.
On the ground Trevor Pope had 155 yards on 7 carries, Elias Williams had 36 yard on 8 carries and Logan Fife had 20 yard on 8 keepers.
Tracy leading receivers were Shadrick Harris with 8 receptions for 178 yards, and Trevor Pope for 81 yards on two catches.
Shadrick-Harris had a stellar defensive game as well recording 10 solo tackles. Bryce Shelton had 5, Isaiah Smith , Jordan Matson, Gabe Andora, Tommy Aguilera had 4 solo tackles each. Other leaders with 3 included Christian Pereira, Trevor Pope, and Angel Romo.
Tyler Gaudreau made 6 extra points on the evening.
A frustrating part of the game for the Bulldogs were 11 penalties that generated 90 yards.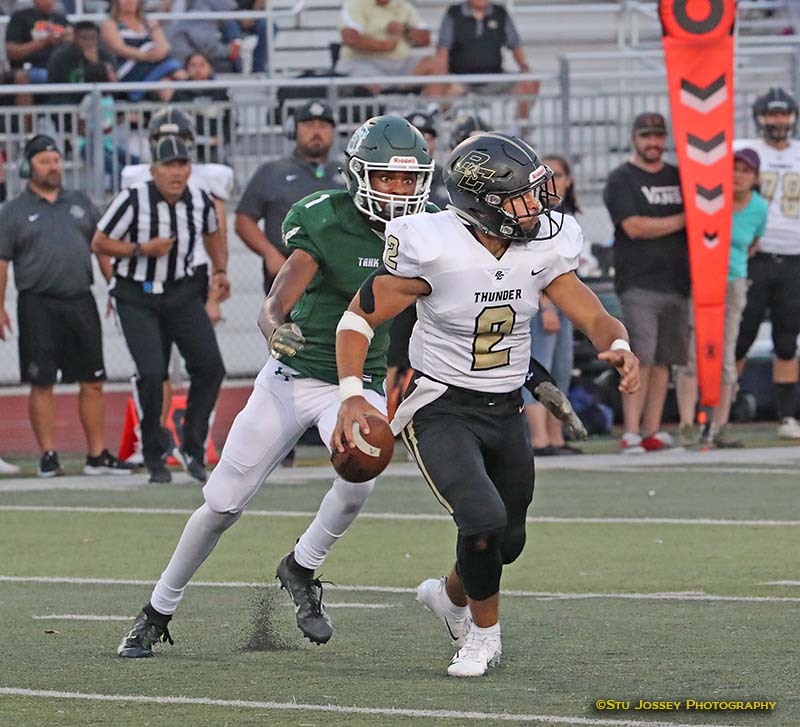 Trevor Pope Is About To Take Down The QB On This Blitz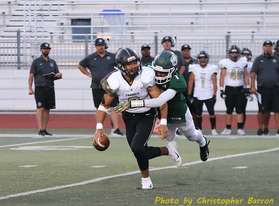 Another Angle of the Sack Captured By My Student Assistant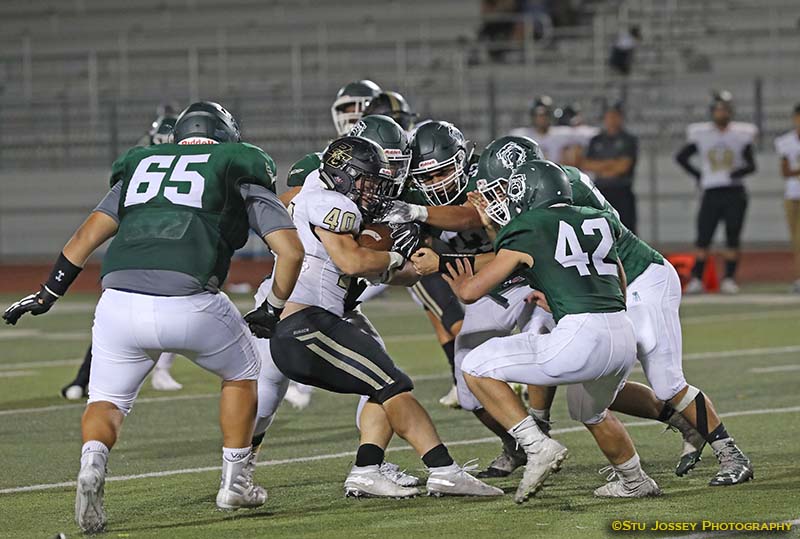 The Bulldog Defense Converge on a Thunder Ball Carrier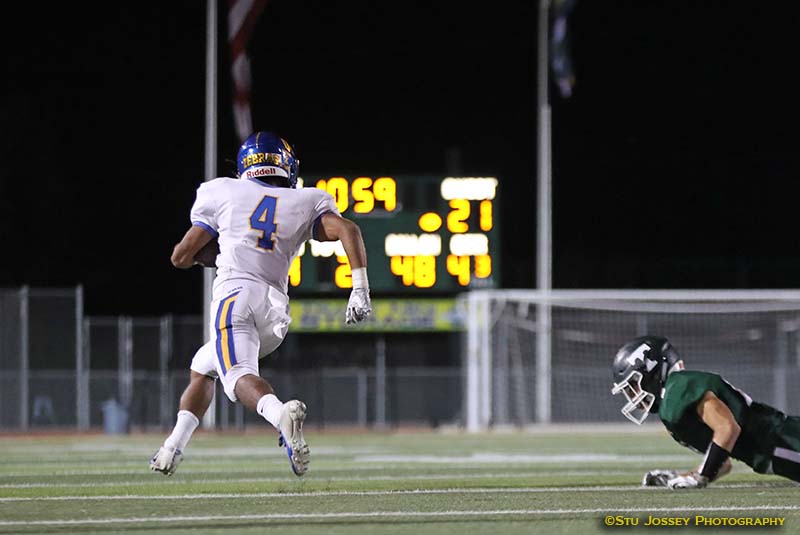 The Bulldogs Had 11 Flags for 90 Yards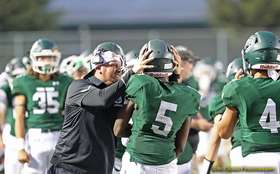 Coach Speer Shows His Excitement With a TD Catch by Trevion Shadrick-Harris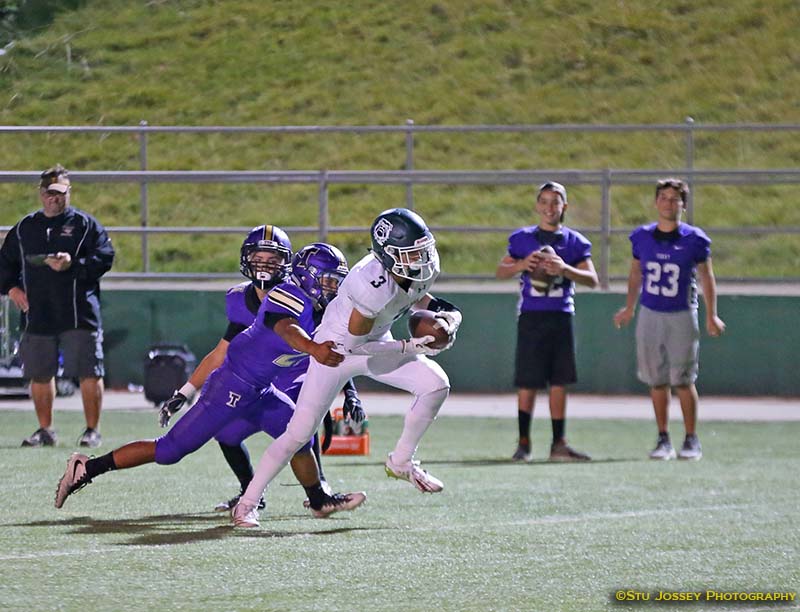 Blake Vollbrecht Collects 36 Yards After The Catch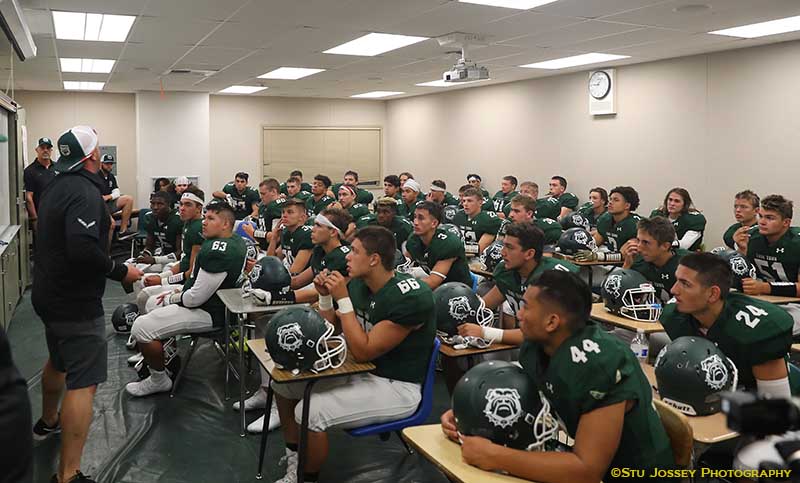 Coach Speer Commanding The Full Attention of the Room At Halftime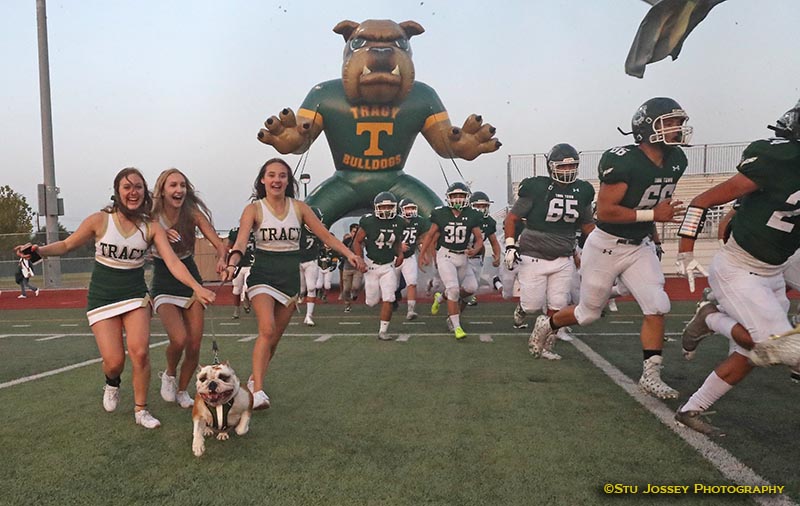 Another Bulldog Entrance Onto The Field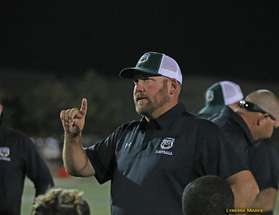 Coach Shrouts Warns His Club That a Very Tough Test Awaits Next Week
Friday, August 17
VARSITY WIN BIG AGAINST KIMBALL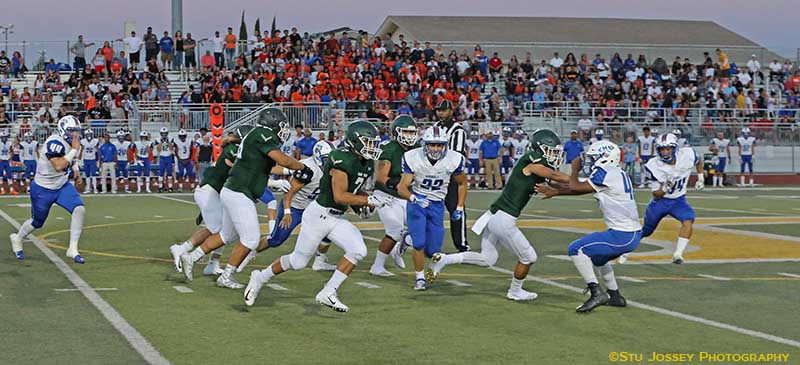 Elias Williams Runs Right For a 63 Yard Score On The 1st Play From Scrimmage
| | | | | | | |
| --- | --- | --- | --- | --- | --- | --- |
| Varsity | 1 | 2 | 3 | 4 | | TOTAL |
| Kimball Jaguars | 0 | 6 | 6 | 0 | | 12 |
| Tracy Bulldogs | 34 | 23 | 15 | 3 | | 75 |
1,500 varsity game photos uploading here (well into Saturday).
After a very long freshman game, the varsity players were eager to take the field and get rolling. It didn't take them long to score their first points of the 2018 season. After a 21 yard kickoff return by Trevion Shadrick-Harris, Logan Fife handed off to Elias Williams on the first play of the game and Williams swept right around the line en route to a 63 yard touchdown. Williams saw some varsity action late in the 2017 season and was mentally and physically prepared for his Junior debut collecting 190 yards on 12 carries.
As shown in the photos below, Tracy got their 2nd touchdown on a soft and on the money 23 yard pass from Fife to Shadrick-Harris. With 5 minutes left in the first quarter, Trevor Pope took a pitch from Fife for a 3 yard score. Williams collected his second touchdown with 4:23 left in the first with a 48 yard run. The score erupted to 34-0 with 1:44 remaining in the first on a 7 yard Fife keeper.
At the start of the 2nd, Fife scored again to take the Bulldog lead to 41-0. Kimball got on the board with a nice 52 yard touchdown pass with 7:31 left in the half. Pope caught another pass from Fife for a 61 yard touchdown with 7:18 left in the half. Parker Bonin concluded the scoring in the first half with a 32 yard field goal. For Bonin he was superb in game one with 9 of 10 extra points and two field goals.
Kimball got their 2nd and final touchdown early in the 2nd half on an 11 yard touchdown pass. Fife got one more chance to touch the ball on the first series of the 2nd half and he would score again on a 5 yard run. Shadrick-Harris scored again on a 55 yard punt return with 5:46 left in the 3rd, and Bradley Maddox scored on hard fought yards up the middle with 2:40 left in the 3rd. The final score was a Bonin 31 yard field goal to increase the score to 75-12.
The Bulldogs can enjoy this win for a day or two, but when Monday comes, a lot of effort must be put into stopping Buhach Colony who will arrive in Tracy next week. The Thunder are one of the best teams along the Hwy 99 central valley corridor this year and they defeated Gregori 13-6 this evening with 300 rushing yards and two touchdowns.
Stats will be produced by the team after review of the film.
Photos uploading into Saturday
A video summary of the game will be produced on Sunday.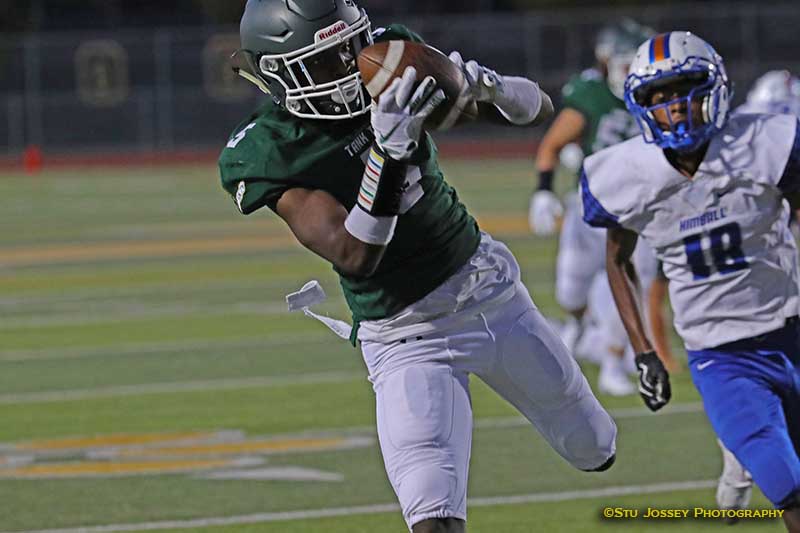 Trevion Shadrick-Harris Hauls In a Fife Pass For a 1st Quarter TD
Sunday, August 19
STATS FROM GAME 1 AVAILABLE
After review of the tape, our stats guy was able to compile the official stat sheet for Game 1 vs Kimball. It is located here.
In the Kimball game, what stood out was the 497 total yards of Tracy offense compared to 139 for Kimball. Tracy rushed for 367 yards while the Jaguars had -7. Tracy had 25 first downs to 7 for Kimball.
Elias Williams led all ball carriers with 12 rushes for 187 yards and 2 TDs.
Solo tackle leaders included Bryce Shelton (6), and Trevion Shadrick-Harris with 5.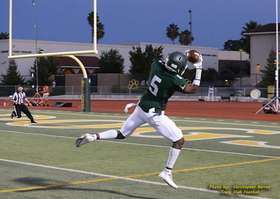 Another Angle Of The Shadrick-Harris Catch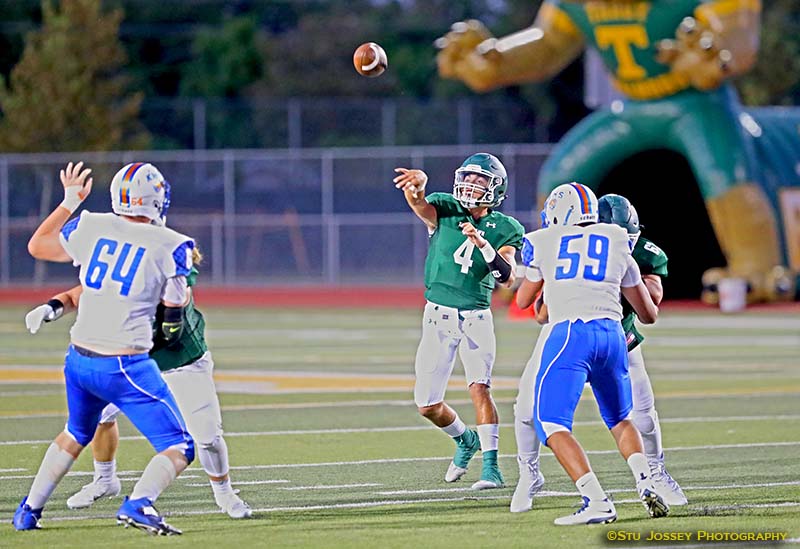 The Perfect Pass From Logan To Trevion For the 2nd Score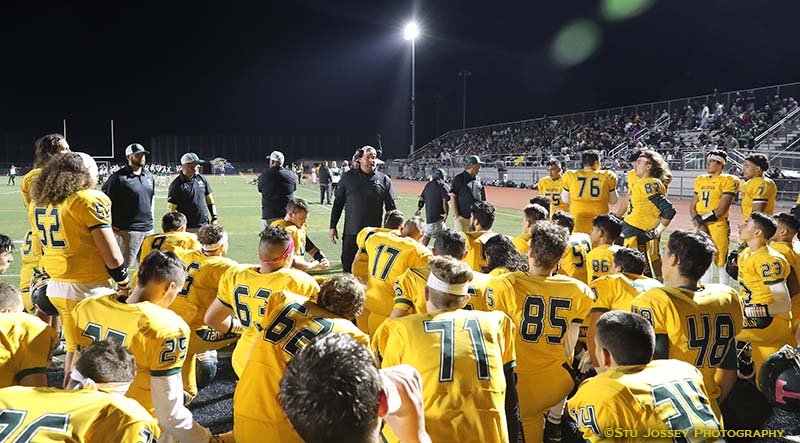 Only Minor Adjustments Were Implemented at Halftime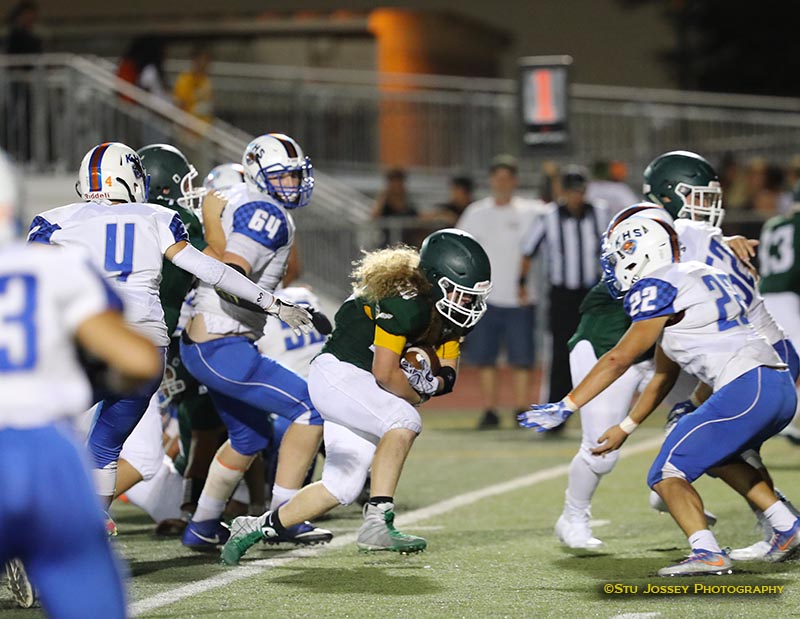 Bradley Maddox Seeks The End Zone In the 2nd Half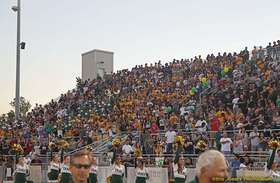 A Lot of Tracy Fans Showed Up For Game 1 of the 2018 Season
Saturday, August 18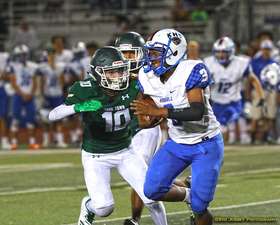 Gabe Andora Pursues a Jaguar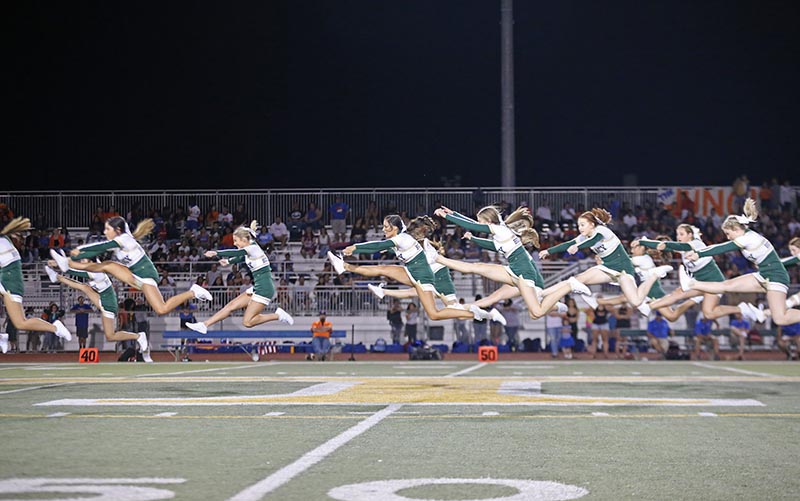 Varsity Cheer In Their First Performance of the Year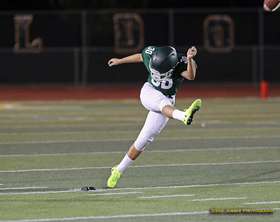 A Big Night of Kicking For Senior Parker Bonin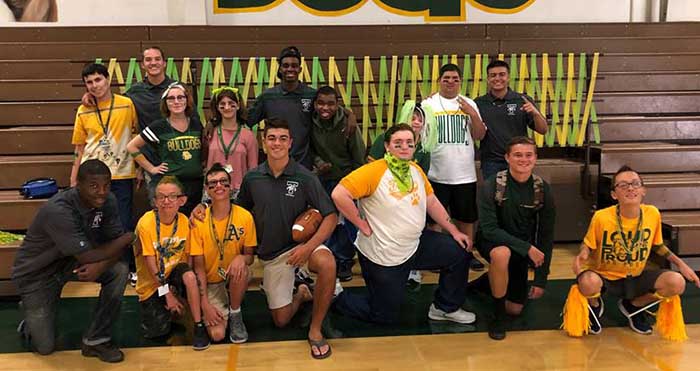 Football Players Soak In The Spirit From The Tracy Student Body Pre-Game