Tracy High Football: My Site News
Monday, December 10
THREE BULLDOGS NAMED TO ALL SAC-JOAQUIN SECTION LIST
Trevor Pope, Angelo Ortega, and Trevion Shadrick-Harris were named to the Honorable Mention section of the All Sac-Joquin Section Football list. The list heavily dominated by northern schools was selected by a committee of high school coaches representing north and south regions. List
HERE
Saturday, December 1
DEL ORO WINS SECTION TITLE 20-17 OVER CENTRAL CATHOLIC
In a late second comeback, Del Oro ruined the spirits of Central Catholic who thought they were about to win the game.
Saturday, December 1
FRESHMAN AND JV INFO
THS student Tom Jaekel had done an amazing job collecting all the player stats for both freshman and JV. His summary reports of the season can be found here:
Thursday, November 29
SCHEDULE CHANGES FOR 2019
The Fortuna game is replaced with old Tracy rival Vacaville who will come to Tracy for the 5th game of the year in the 2019 season.
The "Dog Bone" Turlock rivalry continues but Tracy will have to go back there again in 2019 and the game may be part of a Thursday triple header in Week 3.
The games will start a week later in 2019 then they did in 2018. Draft calendar (very much subject to change) HERE The freshman and JV games also have some variation depending on which opponents field frosh squads. TBA
Date
Opponent
Location
Time
Friday, August 23

Kimball

Kimball
5/7
Friday, August 30
Buhach Colony
BC
5/7
Thursday, September 5 (possible triple header)
Turlock
Turlock
3/5/7
Friday, September 13
Manteca
Tracy
5/7
Friday, September 20
Vacaville
Tracy
5/7

Bye Week

LEAGUE BEGINS
Friday, October 4
Tokay
Tracy
Friday, October 11
Lincoln
Lincoln
Friday, October 18
St. Mary's
Tracy
Friday, October 25

Lodi

Lodi
Friday, November 1

West

24th Annual Crosstown Classic

Tracy
Tuesday, November 27
VARSITY AWARDS
Peter B. Kyne Award - Trevion Shadrick-Harris
Captains - Jason Reyes, Logan Fife, Trevino Shadrick-Harri
Weeks Award - 4.5 gpa Zach Pedigo
Tommy Greenhow Scholar Athlete- Blake Vollbrecht
Coaches Award - Christian Pereria
John Rita Most Improved Award - John Palmer
Most Inspirational - Trevion Shadrick-Harris
Richie Silva Most Valuable Lineman - Jason Reyes
Offensive Player of the Year - Logan Fife
Defensive Player of the Year - Trevor Pope
Mary Nunez Scholarships - Madison Baker and Trevion Shadrick-Harris
Thursday, November 29
FRESHMAN AWARDS NIGHT
MVP - Dylan Anderson
Best Back - Cody Lammerts
Best Lineman - Robert Molina
Coaches Award - Brady Guadalupe
Monday, November 26
JV AWARDS
Tommy Chavez was named JV MVP
Best Lineman - Cameron Pereira
Best Back - Chase Henderson
Most Improved - Omar Contreras
Captains - Tommy Chavez , Noah Deneau, Aaron Montenegro, Dominick Suniga
Tuesday, November 27
THE INTRO TO THE VARSITY SEASON IN REVIEW DVD
In case you missed it or could not hear it when shown onTuesday night, here is the first 2 minutes of the overall 50 minute varsity season in review movie. View
HERE
Tuesday, November 27
TREVION WINS THE PETER B. KYNE AWARD
Tuesday, November 27
TREVION SHADRICK-HARRIS JOINS A LONG LIST OF SPECIAL FOOTBALL PLAYERS
Friday, November 23
2018 TCAL ALL LEAGUE
Full list of TCAL All League HERE
Congratulations to Trevor Pope named league MVP
Angelo Ortega - Defensive Lineman of the Year
Trevion Shadrick-Harris - Co-Utility Player of the Year
---
1st Team Offense - Logan Fife, Elias Williams, Jason Reyes
1st Team Defense - Blake Vollbrecht, Jordan Matson, Riley Revino
---
2nd Team Offense - Zach Guillen, Adam Dragoo
2nd Team Defense - Christian Perreira, Isaiah Smith, John Palmer
Honorable Mention - Koby Larson, Nolan Willis, Gabe Andora, Brandon Summers
Sunday, November 18
FINAL GAME STATS RELEASED
---
The stats from the Del Oro game have now been produced and are available here.
---
Saturday, November 17
ONE TIME ASSISTANT NOW WORKING FOR RAIDERS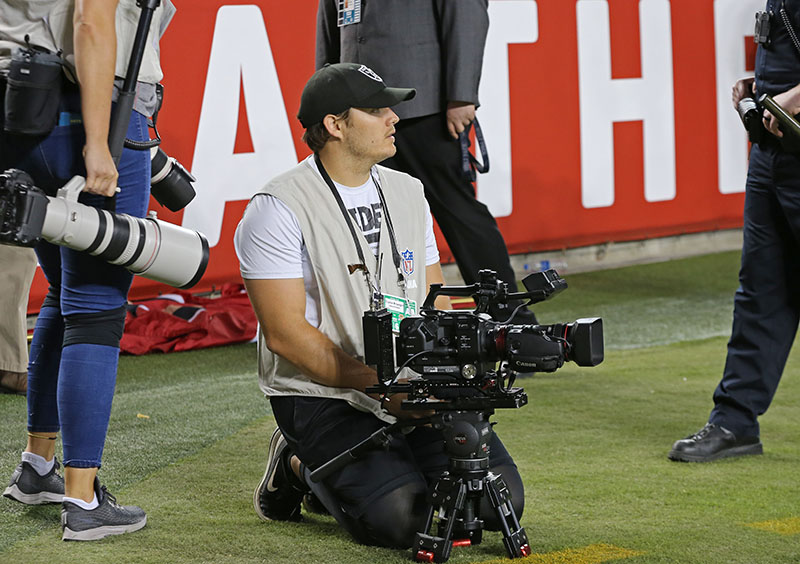 Once Bulldog Sideline Videographer Now With Raiders
Two weeks ago I was photographing at the Raiders vs 49ers game and came across one of my student assistants from three years back. Taylor Krueger attended West High but after graduation assisted me one Bulldog football season taking sideline video. Shortly after helping me, he used that experience plus film work at Delta College to get the position as a Raider film crew member.
Congratulations Taylor, I'm proud of you.
Tuesday, November 13
DOMINANT OFFENSE HIGHLIGHTED THE 2018 SEASON
| | | |
| --- | --- | --- |
| STAT | TOTAL | RANK ALL TIME |
| TD's Per Game | 6.5 | 1 |
| Points Per Game | 45.3 | 1 |
| Total Points | 498 | 1 |
| Total TD's | 71 | 2 |
| TD's Passing | 29 | 1 |
| TD's Rushing | 36 | 7 |
| Passing Yards | 2,209 | 1 |
| Rushing Yards | 2,589 | 5 |
| Receiving Yards | 2,209 | 1 |
| Yards Per Game | 400 | 4 |
| Total Yards | 4,798 | 2 |
HOW TO GET PICTURES (click to expand)
Sunday, November 4
HIGHLIGHT VIDEO JUST RELEASED
---
A 12 minute video showing some behind the scenes action as well as all the key plays from Friday's playoff win can be viewed at
THIS LINK
.
---
Wednesday, August 10
THE RICH HISTORY OF TRACY HIGH FOOTBALL (click to expand)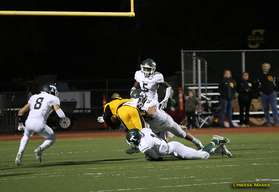 Photos By Lyneesa Marks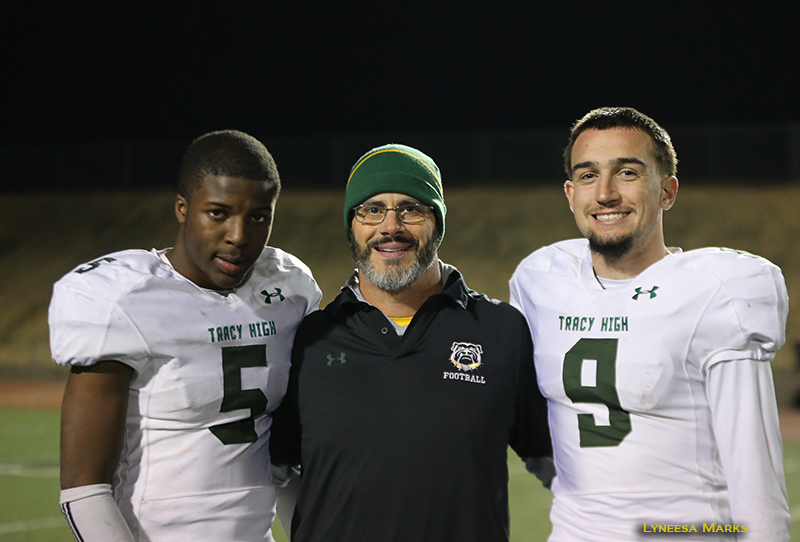 Coach Martin Enjoys a Moment With His Seniors Postgame