Tracy High Football: Welcome
Tuesday, September 18
2018 GRAD SEEING ACTION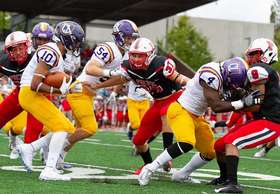 Carlos Vasquez in Action at Pacific Univ
It was just a year ago that Carlos Vasquez was making plays at Tracy High and now he is seeing some special teams action in his first game with Pacific University in Oregon.
FAST MOVING FIRST HALF OF SEASON GIVES WAY TO BYE WEEK
In a blink of an eye, 5 weeks of football are in the books and now only 5 league games remain. Varsity hope to be in a position to tack a few more onto that starting in November if they can generate several wins and qualify for the playoffs.
SUN
MON
TUE
WED
THU
FRI
SAT

21

JV only @ Summerville High in Tuolomne

22
23
24
25
26

27

Freshman @ Tokay (League Game 1)

28

League Begins @ Tokay

29
Digital Scout - Stats Recap of Season
Tuesday, September 18
LEAGUE OPPONENTS
Tracy will travel to Tokay (Grape Bowl) in a week to start league. Here is the league schedule and how our TCAL opponents have faired in the first half
@ Tokay (0-5) who has losses to Patterson 51-12, Bear Creek 56-16, Stagg 61-14, Chavez 50-13, and McNair 48-14.
Lincoln (0-4) 24-7 loss to Anticoh, loss to Pitman 49-28, loss to Vintage 26-20, loss to Central Catholic 47-7. One more pre-season game vs Inderkum
@ St. Mary's (0-4) who has losses to Pittsburg 48-7, Central Catholic 33-20, Mater Dei 56-0, and Damonte Ranch 20-15. One pre-season game remaining vs Bishop O'Dowd.
Lodi (1-3) W36-0 win vs Ceres, 36-28 loss to Chavez, 41-37 loss to Stagg, 41-0 loss to Edison. One pre-season game remaining vs Bear Creek
West (2-3) 49-7 loss to Atwater, 13-6 win vs Encohs, 33-12 loss to Kimball, 22-0 win vs Ceres, and a 36-21 loss to Sonora.
Sunday, September 16
PICTURES OF THE WEEK
In my first Picture of the Week, I capture Parker Bonin Getting ready prior to the start of the game. I knew the sky was going to offer some interesting backgrounds in my photos and video if I got low enough and pointed up.
---
After the youth cheerleaders had their performances at halftime, I noticed one of the young girls hanging out on the sidelines with team manager Maddy Baker. I thought this shot was worthy of a Picture of the Week nod.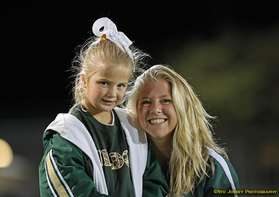 A Future Tracy High Cheerleader?
---
In my next Picture of the Week I capture the JV team headed my way as they enter the field. I always hope they will see me, but I've had some very close calls.
---
In my next Picture of the Week, I was getting ready to exit the classroom where the players and coaches gather for halftime, when I looked down and saw some cool looking gloves. I took a quick photo and thought not too much more of it until I got home and began editing it a bit on the computer. I came up with this as one of my Pics of the Week.
Sunday, September 16
---
In this next Picture of the Week I was shooting straight towards the linebacker position and got Giovanni Rodriguez wathching the early developments of the play before he moves in to make the tackle.
---
The Bulldogs were penalized 9 times for 90 yards. By late in the game, there was mounting frustration everytime the flag flew in eyesight of Coach Shrout. Here was one of the moments which of course made my Picture of the Week segment.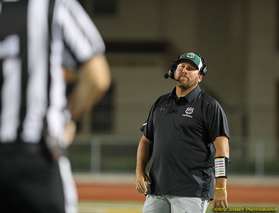 Coach Shrout Saying "Not Again"
---
The JV Cheer was having fun on Friday night with lots of scoring and there was plenty of filtered daylight out for me to get some good pictures without the harsh sun in their faces. Here is a photo late in the game along with a little special effect to highlight the flyers.
---
JV Cheer was feeling pretty good at the conclusion of their game on Friday, so they asked for a group picture.
---
In this next Picture of the Week, Lyneesa Marks who is helping me take photos this year, submitted this shot to me on Saturday after she pulled it off her memory card. I thought it was a nice shot and angle.
---
In my next Picture of the Week, Freshman quarterback Dylan Anderson appears to be getting held up as a Los Banos defender holds on by a thread. Upon closer review, he just has thin air.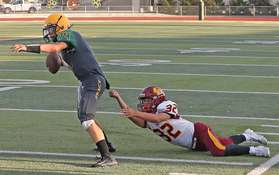 Holding on by a Thread?
---
In my next Picture of the Week I capture an excited JV team ready to take the field.
Saturday, September 15
90 SECOND VIDEO RELEASED SHOWING OPENING KICKOFF AND STADIUM REACTION
This newest short video clip shows the stadium reaction before, during, and after the opening kickoff. View it HERE
Saturday, September 15
SATURDAY NOON UPDATE
In looking through the 2,000 + photos from Thursday and Friday, I've got a lot of good Pictures of the Week which will be released starting at 6 p.m. Sunday. I'll also try to produce a highlight video this weekend (time permitting.....they take a long time to produce). More updates coming throughout the weekend.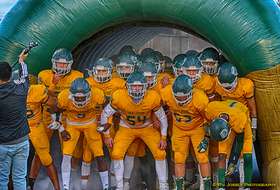 Pictures of the Week (like this one) Will Begin Publishing After 6 p.m. Sunday
Saturday, September 15
REGIONAL SCORES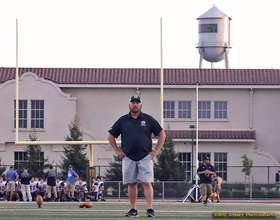 Coach Shrout Looks On With Guarded Optimism Pregame
Tracy 48 - Fortuna 21
Damonte Ranch 20 - St. Mary's 15
Edison 41 - Lodi 0
McNair 48 - Tokay 14
Sierra 49 - Kimball 28
Sonora 36 - West 21
Central Catholic 35 - Manteca 28
---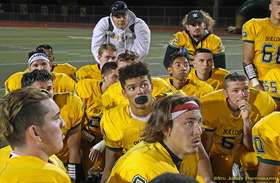 All Eyes Are Focused On The Bye Week Finishing the First Half 3-2
Saturday, September 15
TIME LAPSE VIDEO
Here is a one minute time lapse of Wayne Schneider Stadium taken Friday night. View it
HERE
.
Friday, September 14
NOT PERFECTION, BUT DOGS WILL TAKE THE WIN GETTING BACK ON TRACK AT 3-2 FOR FIRST HALF OF SEASON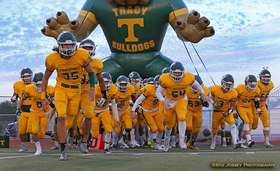 The Bulldogs Were Ready To Take The Field
| | | | | | | |
| --- | --- | --- | --- | --- | --- | --- |
| Varsity | 1 | 2 | 3 | 4 | | TOTAL |
| Fortuna Huskies | 7 | 7 | 0 | 7 | | 21 |
| Tracy Bulldogs | 20 | 14 | 0 | 14 | | 48 |
1,030 varsity game photo uploaded here
Before everyone got settled in their seats, Tracy had scored three times making it 20-0. It would have been easy for Fortuna to fold at that point, but give the Huskies a lot of credit as they never lost their composure and came back to put 14 first half points on the board and keep it competitive.
Trevion Shadrick-Harris ran the opening kickoff back for a touchdown, Elias Williams immediately took a fumble back for a long touchdown, and Logan Fife found Trevor Pope for a TD all in the first 3 minutes of play. Williams had a 58 yard rushing touchdown early in the 2nd quarter and Fife found Shadrick-Harris for a 30 yard touchdown with 24 seconds left in the half. Tracy would score two more 4th quarter tocuhdowns when Pope ran 17 yards for a score and Williams had a 23 yard run with under a minute left in the game.
Coach Shrout was very guarded before the game not sure how his team would perform after two disappointing road losses. Throughout the game this evening he found players out of position and not following their assignments, but some of the big plays that had eluded the team on the road, returned to Wayne Schneider Stadium and the Dogs gave the crowd plenty to cheer and allowed Shrout to relax a bit.
The win placed the team at 3-2 going into the bye week and they will now take a moment to breathe before entering league play in two weeks at 0-5 Tokay.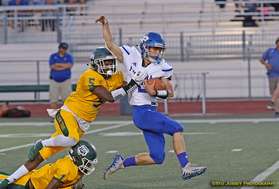 Trevion Shadrick-Harris Corrals a Husky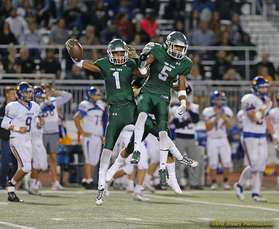 The Dynamic Duo Celebrate In The First Quarter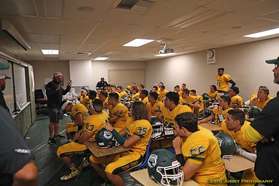 Coach Speer Makes Some Significant Adjustments at Halftime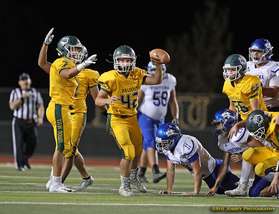 Christian Pereira Emerges With a Fumble Recovery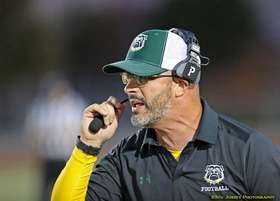 Coach Martin Was Busy On The Sidelines Friday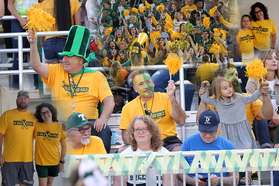 Be Bold Go Gold Night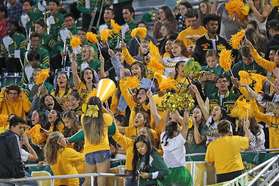 The Dogpound Was Active on Friday Night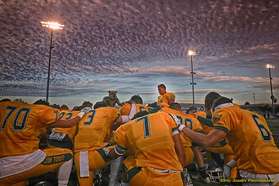 Angelo Ortega Gets The Team Ready Prior To Kick
Friday, September 14
JV GET A 34-12 WIN OVER FORTUNA
| | | | | | | |
| --- | --- | --- | --- | --- | --- | --- |
| J.V. | 1 | 2 | 3 | 4 | | TOTAL |
| Fortuna Huskies | 0 | 0 | 6 | 6 | | 12 |
| Tracy Bulldogs | 7 | 14 | 6 | 7 | | 34 |
Thursday, September 13
FRESHMEN GET VICTORY WITH TOUGH D AND TWO TDs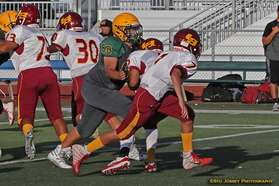 Anthony Gomez Greets The Tigers On His 1st Defensive Play
| | | | | | |
| --- | --- | --- | --- | --- | --- |
| Freshmen | 1 | 2 | 3 | 4 | TOTAL |
| Los Banos Tigers | 0 | 0 | 0 | 0 | 0 |
| Tracy Bulldogs | 6 | 0 | 0 | 6 | 12 |
Tracy carried a 6-0 lead through 90 percent of the ball game before getting some insurance on a drive late in the game. The Tracy defense played spirited ball even holding the Tigers on final drive at the goal line. Dylan Andersen and Dwayne Thomas had touchdowns.
500+ photos have uploaded here
D
---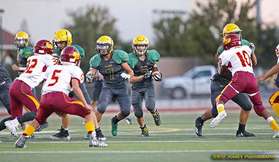 Cody Lammerts Follows The Block Of Austin Ho-Sy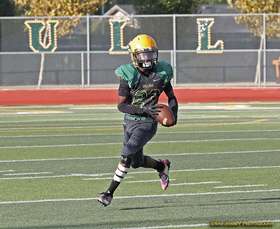 Dwayne Thomas With A 4th Quarter Touchdowns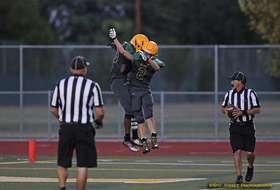 Late In The Game Lammerts and Thomas Celebrate The 2nd TD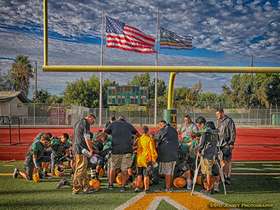 A New Bulldog Nation Flag on Display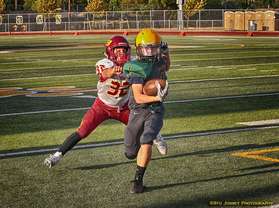 Logan Murray Attempts To Find The End Zone
2018 SCHEDULE
Saturday, September 1
THANK YOU NOR CAL PLUMBING
Thanks Nor Cal Plumbing for being a continuing sponsor of this website.
Sunday, July 22
THANK YOU RUBENSTEIN SUPPLY COMPANY

Thank You To The Laiolo Family For Sponsoring This Website
Rubenstein Supply (and the Laiolo family) have helped to sponsor this website for several years. They have renewed for another year providing me with support to help pay for the multimedia and web items to cover Tracy High Sports. If you are interested in sponsoring my web coverage and having your ad run at the top of this page and my baseball website for a full year, a $100 donation is greatly appreciated. I'll do the formatting of your ad and it will be seen by thousands of viewers each week.
Please contact me at stujossey@tracyhighfootball.com or 209-609-1456.
Sunday, August 26
NEW VIDEO JUST RELEASED
A new video is active at this link. It is 11 minutes long and has some of the best plays from Friday night including commentary from Coach Shrout and some video of what was happening up in the coordinators box with Coach Pribble. My thanks to students Christopher Barron and Lynessa Marks helping with video along with my wife, Lynn Jossey who is on the sidelines videotaping .
---
2018 Game Photos HERE
---
Wednesday, August 22
DON'T FORGET YOU CAN BUY YOUR GATE TICKETS ELECTRONICALLY
Deborah our Bookkeeper at the school reported strong sales in the first week of offering online ticket sales. Save yourself from standing in line at the ticket booth and use the online service through
GoFan
.
HOW TO GET PICTURES (click to expand)
Wednesday, August 10
THE RICH HISTORY OF TRACY HIGH FOOTBALL (click to expand)