Tracy High Football: Welcome
Thursday, June 8
UNDER ARMOUR STORE REMAINS OPEN - (Updated)
(Updated) Access Code For the Bulldogs is bulldo7K56
Website: www.bsnteamsports.com
Brochure (revised) HERE
Sunday, June 11
COACHING CHANGES AT WEST
Steven Wichman has replaced Steve Anastasio as the varsity head coach at West. Wichman played for West and also played at Delta and the University of Idaho as quarterback. Tracy alumni and star quarterback Jeremy Silcox returns to coaching again and will be the sophomore coach for West. Ben Juarez will be the freshman coach for the Wolf Pack.
Tracy Press article here
Tuesday, June 6
PREPARING FOR 2017 COVERAGE
We are hard at work behind the scenes on the website removing the 2016 game information to make room for all the 2017 action at the freshman, sophomore, and varsity level. Photos from previous years can still be found in my main photo library.
Wayne Schneider Stadium Flyover Video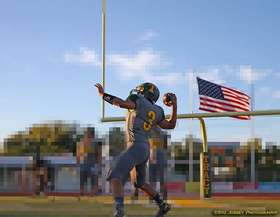 Won't Be Long Before The Boys of Fall Take The Field
Thursday, May 11
SAVE THE DATE - AUG 19
On Saturday August 19 not only will the football program scrimmage against Oakdale, but later that evening the Football Boster Club will host a Dinner with a live & silent auction. More details on ticket sales will be provided in the future by the Football Booster Club.
Friday, April 28
TRACY HIGH FOOTBALL RELEASES SUMMER CALENDAR
Football season is getting closer as the coaching staff released the summer schedules for the three levels of play.
2017 TRACY HIGH FOOTBALL SCHEDULE
Day
Date
Opponent
Location
Time
Sat
Aug 19

Oakdale (Scrimmage)

Fundraiser Dinner/Auction

Tracy High
TBA
Fri
Aug 25
San Ramon Valley
Tracy High
5/7:15
Fri
Sep 1
Buhach Colony
Atwater High
5/7:15
Fri
Sep 8
Turlock
Tracy High
5/7:15
Fri
Sep 15
Kimball
Kimball High
5/7:15
Fri
Sep 22
Liberty
Liberty High
5/7:15
BYE WEEK
Fri
Oct 6

League Game 1

Lodi

Tracy High
5/7:15
Fri
Oct 13

League Game 2

Tokay

HOMECOMING

Tracy High
5/7:15
Fri
Oct 20

League Game 3

St. Mary's

St. Mary's High
5/7:15
Fri
Oct 27

League Game 4

Lincoln

Lincoln High
5/7
Fri
Nov 3

League Game 5

22nd Crosstown Classic

vs West

Tracy High
5/7:15
Fri
Nov 10
Playoffs Round 1
TBA
Fri
Nov 17
Playoffs Round 2
TBA
Fri
Nov 24
Playoffs Round 3
TBA
Fri /Sat
Dec 1 / 2
Section Finals
Sacramento State
Freshman football play on Thursday's at 6 p.m. unless otherwise noted
Saturday, April 8
VARSITY COACHING ADJUSTMENT FOR 2017
Coach Matt Shrout has announced that John Waggle will not return as the line coach for the Bulldogs in 2017. Taking his place will be Tracy alumni Mike Speers (class of 2001). Mike will join his brother Kevin, Maurico Martin, Jeff Pribble, and head Coach Matt Shrout in 2017.
Friday, March 24
TRACY HIGH FOOTBALL WEBSITE CELEBRATING 10TH YEAR OF COVERAGE
In 2008 I started a simple website to display some photos of the football games. Now 10 years later this website has had over 600,000 hits and numerous sponsors. Thanks to all who come and visit to view my material and receive daily updates on Bulldog Football. The 2017 team should be exciting to watch.
Monday, April 10
2017 LIONS ALL STAR FOOTBALL GAME JUNE 17
Tracy plays host once again to one of the four oldest-running prep football all-star games in all of California. The annual Lions (District 4-A1) All-Star Football game started back in 1974 and will be held this year on Saturday June 17 with a kickoff of 7 p.m. at Wayne Schneider Stadium. Pre-game 6 p.m., Gate opens at 5 p.m.
Rosters showing the players from the region who are playing, will be posted soon.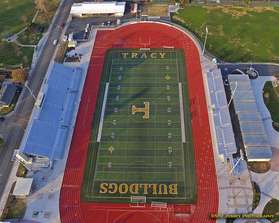 Wayne Schneider Stadium
HOW TO GET PICTURES (click to expand)
Wednesday, August 10
THE RICH HISTORY OF TRACY HIGH FOOTBALL (click to expand)