Tracy High Football: Welcome
Monday, August 20
GAME 1 RECAP
The varsity manhandled Kimball 75-12. Tracy had 372 yards on the ground rushing and Logan Fife had 124 passing yards primarily in the first half. While the first team was efficient, the coaching staff was very pleased with how ready the 2nd string was to play and the way they executed on the field.
1,200 varsity photos here
14 minute varsity highlight video here
Varsity stats are being generated after a review of the film and should be published shortly.
---
The freshman who played a rare Friday night game, started slow, quickly found themselves and put up 20 points, but then stalled until a late game drive that had them in a position to possibly win the game with only seconds remaining. A fumble near the goal line handed the Jaguars the game at 26-20.
550 freshman photos here
---
Pictures of the Week segment below
---
While the teams will review film early Monday, the Bulldogs will quickly set their sights on hosting Buhach Colony. The Thunder are one of the best teams in the Modesto, Merced, Atwater area and there should be three very competitive games played at Wayne Schneider Stadium later this week. More information on the Thunder will be provided here starting on Monday evening.
---
Sunday, August 19
GAME 1 VIDEO PRODUCED AND UPLOADED
A 14 minute football video summarizing the varsity game vs Kimball has been produced and is available for viewing HERE. It includes an audio track from Coach Matt Shrout who was mic'd up before and during the game.
Sunday, August 19
PICTURES OF THE WEEK - GAME 1
Welcome to my first week of a special Sunday night feature where I review the 1,000+ pictures I took and look for the unique photos that stand out and have special meaning.
My first one was taken a few minutes before the start of the freshman game. I was wondering what kind of thoughts must be going through these freshmen as they stared at their first high school opponent on the other side of the field.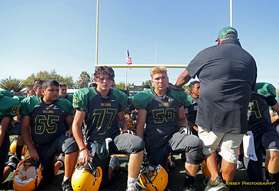 Moments Before Their First Battle
In my 2nd Picture of the Week, I was observing the new cheerleaders as they took the field for the first time. Many were being a bit conservative as you would expect for their first game performing, but a few were getting into it, like this cheerleader who had plenty of energy even though it was well over 90 degrees.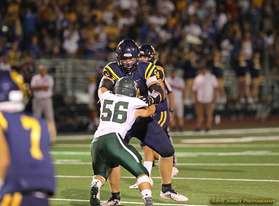 A JV Cheerleader Showing Plenty of Enthusiasm
This is one of my favorite pictures from Friday. In this photo I capture speedster Trevor Pope returning a kick and is "locked in" on an approaching defender.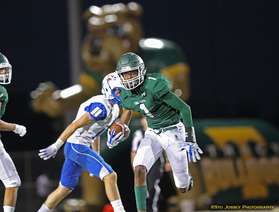 Trevor Pope "Eyes" An Approaching Defender
In this next Picture of the Week, I capture the Dogpound having a great time at their first game of 2018. The spirit looks really positive for this year.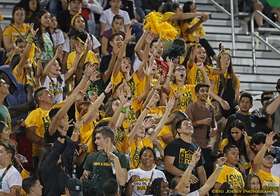 The Dogpound Looks To Be Very Enthusiastic This Year
In my next Picture of the Week the Bulldogs line up for their first play from scrimmage. Unfortunately things did not go well after this ball was snapped.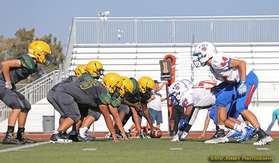 First Play From Scrimmage For The Frosh
In my next Picture of the Week I shift to the varsity for the moment and show the team as they squad up for the first time in preparation for battle. The sunlight coming across the field at that moment was extremely harsh and made for some washed out photographs. I tried my best in post production to clean this up a bit.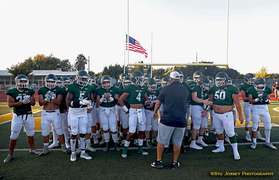 Squad Up For Battle
In the next Picture of the Week I capture the Bulldogs running onto the field in front of their very spirited fans. There was a good turnout of Tracy fans for this game.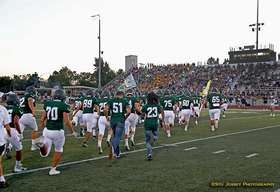 The Bulldogs Take The Field To Their Supportive Fans
In this next Picture of the Week I capture freshman Tyler Ward taking a hard hit as he makes sure to hold onto the ball.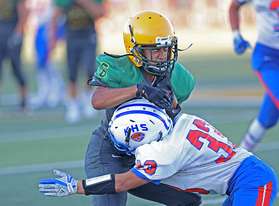 Freshman Tyler Ward Receives a Jolt
In this next Picture of the Week, JV cheer shows off their acting skills in the middle of their routine.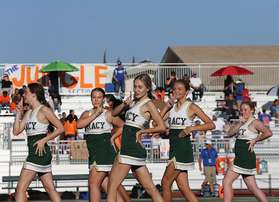 JV Cheer Showing A Little Flair For the Dramatic
In this next Picture of the Week from the freshman game, I capture corner Cody Lammerts lock on visually to his man.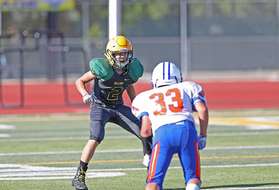 Cody Lammerts Is Locked On His Man
The Tracy Fans came out in force and provided a great atmosphere for the first game of 2018. Let's do it again next Friday.
Bryce Shelton is captured by one of my student photographers showing how prepared he is for Game 1 just before the National Anthem.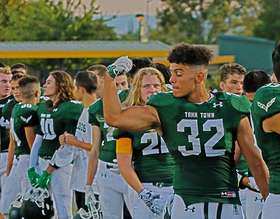 Suns Out, Guns Out
In this Picture of the Week, the locker room is focused on Coach Speer for some halftime adjustments.
In this Picture of the Week, Logan Fife finds Elias Williams cutting across the middle.
In my next Picture of the Week, I capture a cheerleader performing in front of the Tracy fans before the sun went down.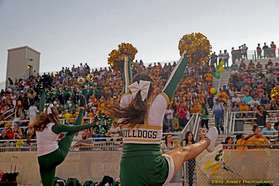 Varsity Cheer Performing In The First Game of the Year
I've got two new student assistants assigned from the school helping me this year. I quickly turned my cameras over to Lynessa Marks and Christopher Barron to help me out. In this photo, I believe it was Lynessa who captured this nice action shot of the cheerleaders at halftime.
Varsity Cheer In Their First Performance of 2018 On the Field
My student assistant Christopher Barron shows good composition skills capturing this sideline shot of some football alum who just graduated.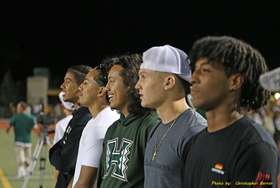 Class of 2018 As Photographed by Christopher Barron
I believe my camera was in the hands of Lynessa for this Pic of the Week of the team coming back from halftime.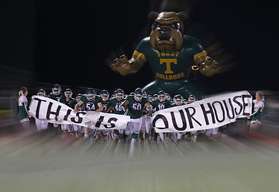 This Is Our House
In my next Picture of the Week I capture Coach Mike Speer providing some motivation to his defense.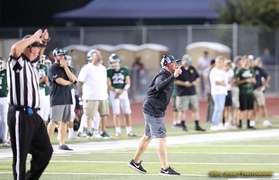 Coach Speer Gets The Attention of His Defense
In this next Picture of the Week, I capture Elias Williams working hard to pick up extra yards in a first quarter drive.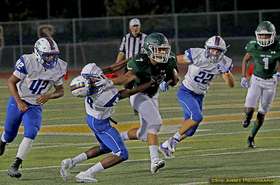 Elias Williams Pushes Aside a Jaguar
In this final Picture of the Week, I capture Coach Mauricio Martin getting a nice postgame victory hug from his daughter.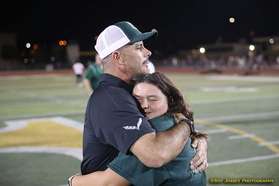 Coach Martin Gets a Victory Hug From His Daughter
Sunday, August 19
SATURDAY NIGHT WAS A GREAT NIGHT OF FOOD, FUN AND FUNDRAISING
Coach Matt Shrout was so pleased with the results of the Tracy Football Boosters fundraising event. "There are so very many people to thank for this event. It's hard to name them all, but I really want to thank Stephanie Palmer (Booster Club President), Domo Bogetti who did all the cooking from Vernalis BBQ, and Josh Saenz of Saenz Construction who kicked off our "Fund a Cause" with a very generous donation. "It was an amazing night of fun and generosity shown by our football community."
Saturday, August 18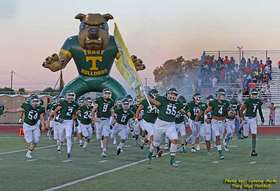 The Bulldogs Were Pumped and Ready To Perform In Game 1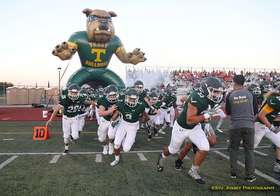 The Bulldogs Busted Out of the Gate With 75 Points In Game 1
Friday, August 17
VARSITY WIN BIG AGAINST KIMBALL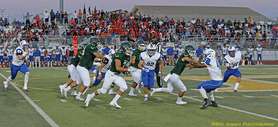 Elias Williams Runs Right For a 63 Yard Score On The 1st Play From Scrimmage
| | | | | | | |
| --- | --- | --- | --- | --- | --- | --- |
| Varsity | 1 | 2 | 3 | 4 | | TOTAL |
| Kimball Jaguars | 0 | 6 | 6 | 0 | | 12 |
| Tracy Bulldogs | 34 | 23 | 15 | 3 | | 75 |
1,500 varsity game photos uploading here (well into Saturday).
After a very long freshman game, the varsity players were eager to take the field and get rolling. It didn't take them long to score their first points of the 2018 season. After a 21 yard kickoff return by Trevion Shadrick-Harris, Logan Fife handed off to Elias Williams on the first play of the game and Williams swept right around the line en route to a 63 yard touchdown. Williams saw some varsity action late in the 2017 season and was mentally and physically prepared for his Junior debut collecting 190 yards on 12 carries.
As shown in the photos below, Tracy got their 2nd touchdown on a soft and on the money 23 yard pass from Fife to Shadrick-Harris. With 5 minutes left in the first quarter, Trevor Pope took a pitch from Fife for a 3 yard score. Williams collected his second touchdown with 4:23 left in the first with a 48 yard run. The score erupted to 34-0 with 1:44 remaining in the first on a 7 yard Fife keeper.
At the start of the 2nd, Fife scored again to take the Bulldog lead to 41-0. Kimball got on the board with a nice 52 yard touchdown pass with 7:31 left in the half. Pope caught another pass from Fife for a 61 yard touchdown with 7:18 left in the half. Parker Bonin concluded the scoring in the first half with a 32 yard field goal. For Bonin he was superb in game one with 9 of 10 extra points and two field goals.
Kimball got their 2nd and final touchdown early in the 2nd half on an 11 yard touchdown pass. Fife got one more chance to touch the ball on the first series of the 2nd half and he would score again on a 5 yard run. Shadrick-Harris scored again on a 55 yard punt return with 5:46 left in the 3rd, and Bradley Maddox scored on hard fought yards up the middle with 2:40 left in the 3rd. The final score was a Bonin 31 yard field goal to increase the score to 75-12.
The Bulldogs can enjoy this win for a day or two, but when Monday comes, a lot of effort must be put into stopping Buhach Colony who will arrive in Tracy next week. The Thunder are one of the best teams along the Hwy 99 central valley corridor this year and they defeated Gregori 13-6 this evening with 300 rushing yards and two touchdowns.
Stats will be produced by the team after review of the film.
Photos uploading into Saturday
A video summary of the game will be produced on Sunday.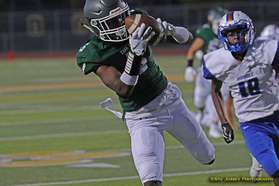 Trevion Shadrick-Harris Hauls In a Fife Pass For a 1st Quarter TD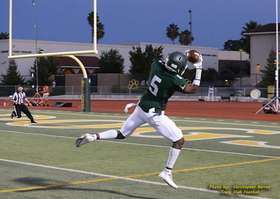 Another Angle Of The Shadrick-Harris Catch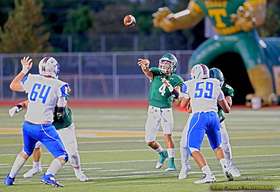 The Perfect Pass From Logan To Trevion For the 2nd Score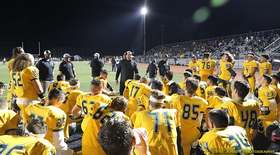 Only Minor Adjustments Were Implemented at Halftime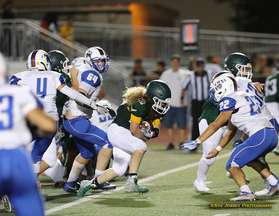 Bradley Maddox Seeks The End Zone In the 2nd Half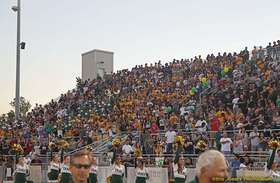 A Lot of Tracy Fans Showed Up For Game 1 of the 2018 Season
Saturday, August 18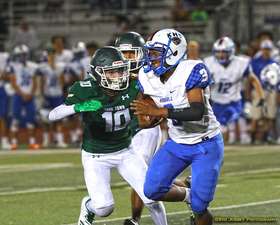 Gabe Andora Pursues a Jaguar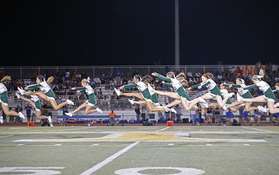 Varsity Cheer In Their First Performance of the Year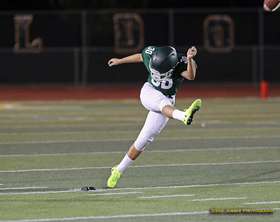 A Big Night of Kicking For Senior Parker Bonin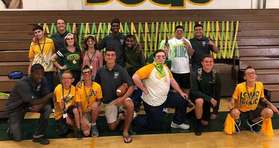 Football Players Soak In The Spirit From The Tracy Student Body Pre-Game
Friday, August 17
LATE GAME FUMBLE SPELLS DISASTER FOR TRACY FRESHMEN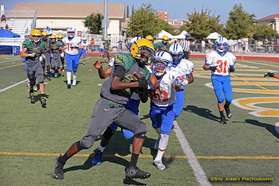 Dwayne Thomas Scores Early In The Game
| | | | | | | |
| --- | --- | --- | --- | --- | --- | --- |
| Freshman | 1 | 2 | 3 | 4 | | TOTAL |
| Kimball Jaguars | 13 | 7 | 6 | 0 | | 26 |
| Tracy Bulldogs | 20 | 0 | 0 | 0 | | 20 |
500 photos uploading here.
After getting stunned on an early Kimball score, the Tracy freshman rebounded and executed a series of touchdowns to take an early 20-6 lead over the Jaguars. It appeared as though the Dogs were going to put together a strong game in their debut on a rowdy Friday night. Slowly but surely though the Jaguars evened the score and then took a 26-7 lead in the 3rd. The Bulldogs began to put together a dominant drive late in the game and Coach Fishburn and staff were confident they would win this game as the final minute was in their control. A fumble near the goal line spelled disaster for the Bulldogs as Kimball celebrated a Game 1 victory at Wayne Schneider Stadium.
Photos: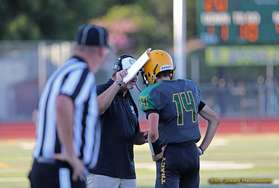 Coach Fishburn Gives Some Late Game Guidance To Dylan Anderson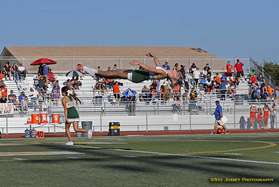 A Freshman Cheerleader Floats Over the Kimball Stands
Friday, August 17
OTHER GAMES ON FRIDAY
De La Salle defeated Folsom 14-0
Atwater defeated West 49-7
Antioch defeated Lincoln 24-7
Patterson defeated Tokay 51-12
Buhach Colony defeated Gregori 13-6 on 300 yards rushing and 2TDs.
Turlock (Week 3 opponent) at Freedom
Cardinal Newman at Fortuna (Week 4 opponent)
Lodi and St. Mary's are dark for Week 0
Tuesday, August 7
WEB BASED PURCHASE FOR HOME GAME TIXS
Tracy High Football tickets and admittance to volleyball and water polo games can now be purchased online via
Go Fan
.
SUN
MON
TUE
WED
THU
FRI
SAT
19
20
21
22

23

Freshman home vs Buhach Colony 6 p.m.

24

Home vs Buhach Colony

5 p.m. JV

7:15 Varsity

25
Wednesday, August 15
2018 ROSTERS PUBLISHED
Just in time for game time, here are the rosters (subject to change)
2018 SCHEDULE
Sunday, July 22
THANK YOU RUBENSTEIN SUPPLY COMPANY

Thank You To The Laiolo Family For Sponsoring This Website
Rubenstein Supply (and the Laiolo family) have helped to sponsor this website for several years. They have renewed for another year providing me with support to help pay for the multimedia and web items to cover Tracy High Sports. If you are interested in sponsoring my web coverage and having your ad run at the top of this page and my baseball website for a full year, a $100 donation is greatly appreciated. I'll do the formatting of your ad and it will be seen by thousands of viewers each week.
Please contact me at stujossey@tracyhighfootball.com or 209-609-1456.
Tuesday, July 31
THANK YOU
On Monday this website received its 700,000 hit to the front page. I now have 1.3 million hits between the football and baseball websites which I launched in the 2008 timeframe. Thanks for visiting my websites where I enjoy delivering daily content to you the players and fans of Tracy High sports.
Also follow me on twitter at: @tracyhighsports (my main page for all Tracy High sports) and @tracyfootball (my new football only twitter page for 2018 action)
SUMMER CALENDAR
Summer calendar HERE.
Wednesday, July 4
NEW VIDEO GETS YOU IN THE MOOD FOR SOME BULLDOG FOOTBALL
In 2 weeks, tracyhighfootball.com will be starting it's 11th season of photo, video, and web coverage of the Bulldogs. We are proud to be approaching 700,000 hits to this website as we start our 2018 season coverage.
Here is a little video teaser for the start of the 2018 season. Click here.
HOW TO GET PICTURES (click to expand)
Wednesday, August 10
THE RICH HISTORY OF TRACY HIGH FOOTBALL (click to expand)