Tracy High Football: Welcome
Friday, November 17
FOLSOM CLOSES THE DOOR ON THE 2017 TRACY SEASON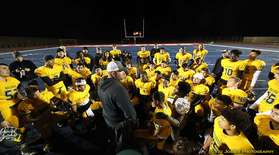 Coach Shrout Addresses The Team One Final Time
| | | | | | | |
| --- | --- | --- | --- | --- | --- | --- |
| Varsity | 1 | 2 | 3 | 4 | | TOTAL |
| #8 Tracy Bulldogs | 0 | 7 | 7 | 7 | | 21 |
| #1 Folsom Bulldogs | 28 | 7 | 14 | 7 | | 56 |
1,000+ game photos HERE.
Tracy Press article covering the game HERE.
The 12th and final game of the 2017 Bulldog season ended in Folsom on a chilly Friday evening in mid November. Tracy was dealt a bad hand in the 2nd round of the playoffs having to travel up to #1 Folsom and play a state powerhouse. Most of the game Folsom was able to have their way with Tracy, but even with the one-sided loss, Tracy players were able to hold their heads high and have a good attitude as a season of hard work came to an end.
Folsom quarterback Kaiden Bennett had a dominant evening throwing for 283 yards and 5 touchdowns. It would be very late in the first half before the Tracy defense could get their first stop of the high powered Folsom offense, but by then Folsom had placed 35 points on the board in their first five posessions. As dominant as Folsom was, credit Tracy for playing strong all four quarters and never quitting on offense and defense. Tracy had two scores on Elias Williams runs, but should have probably generated one or two more scores had a few breaks gone their way during the game.
A highlight of the game and probably the season occurred with just over 2 minutes left in the game when the coaching staff put senior Bolaji Akinyemi in on special teams for a kickoff return. Fielding the ball at the two, Bolaji started up the middle and then broke left and with some good blocking returned the kick 98 yards for a score. His score uncorked a huge celebration even though the season was seconds from ending.
2017 will be remembered on several levels. It was an odd season where the team saw some unexpected personnel turnover over the course of the season. The squad was able to overcome that and several injuries to have a relatively strong first half and then finish 4-1 in league. Key wins down the stretch against Lincoln, West, and the playoff win against Turlock allowed Tracy to have a positive reflection on their season even though they had just suffered a season ending defeat at Folsom.
Tracy will say goodbye to some outstanding seniors but the future is bright with a young high caliber quarterback and several up and coming weapons on offense and defense who proved during the playoffs that they are ready for elite varsity play in 2018.
Note: Coach Shrout announced postgame that the varsity team banquet will be Monday, December 4. I'll produce and show a Season In Review Movie that evening after the team awards are handed out.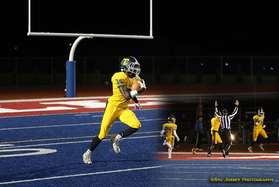 Final HS FBall Memory - Bolaji Returns a Kickoff In The Final Minutes for a TD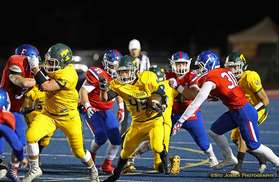 Promising Future - Elias Williams Had Two Tracy Rushing TDs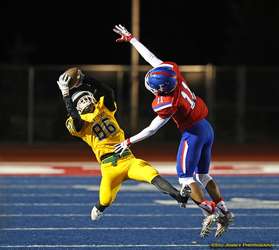 Blake Vollbrecht Made a Spectacular Catch Late In The First Half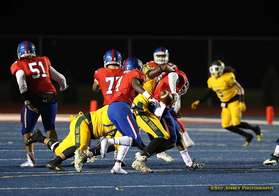 Unlucky Night - Even A Good Rush That Generated a Fumble Squirted Folsom's Way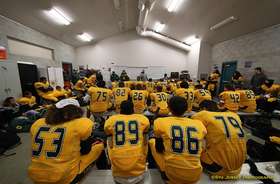 Coach Pribble Addresses The Team at Halftime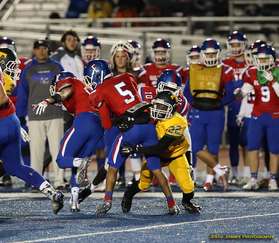 Lamar Johnson Makes a Stop In the First Half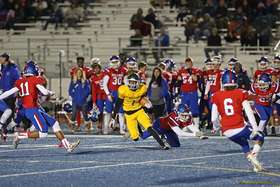 Trevion Shadrick-Harris Has a Nice Return In the First Half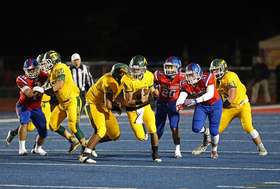 Logan Fife Finds An Opening For Some Positive Yardage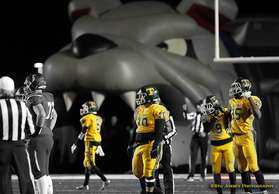 The Folsom Bulldogs Bit Down Hard On Tracy With a 35-7 First Half Lead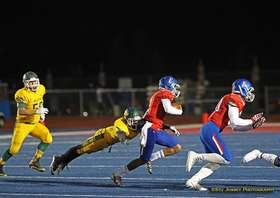 Daniel Turner Makes a Stop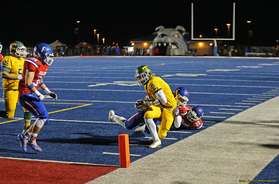 The Folsom Defense Kept Tracy From Scoring a 2nd TD At The End Of The 1st Half
DIVISION I PLAYOFF BRACKET
Brackets here
HOW TO GET PICTURES (click to expand)
Wednesday, August 10
THE RICH HISTORY OF TRACY HIGH FOOTBALL (click to expand)