Tracy High Football: Welcome
Sunday, September 24
TCAL OPPONENTS
Here is how the TCAL did in the first five games of the season:
Team
Record
Wins
Losses
Up Next
Tracy
3-2

51-30 over Buhach Colony

29-22 over Turlock

55-0 over Kimball

Def 27-7 by San Ramon Valley

Def 24-21 by Liberty

vs Lodi
St. Mary's
3-2

41-13 over Serra

48-34 over Cardinal Newman

42-21 over Cosumnes Oaks

Def 20-7 by Central Catholic

Def 52-14 by Mater Dei

@ Tokay
Lincoln
2-3

47-40 over Pitman

41-14 over Golden Valley

Def 24-0 by Antioch

Def 48-21 by Elk Grove

Def 24-21 by Vintage

West
Tokay
2-3

45-9 over Bear Creek

58-40 over Chavez

Def 38-14 by Heritage

Def 61-25 by Downey

Def 47-3 by McNair

St. Mary's
Lodi
2-2

27-12 over Sonora

26-22 over Chavez

Def 38-29 by Stagg

Def 35-20 by Edison

@ Tracy
West
1-4
20-10 over Kimball

Def 33-16 by Lathrop

Def 31-0 by Enochs

Def 41-20 by East Union

Def 31-14 by Central Valley

@ Lincoln
Saturday, September 23
ALL PHOTOS UPLOADED
All the photos from Friday night are loaded in my photo gallery.
30 second video of Xavier Moore's "non catch" HERE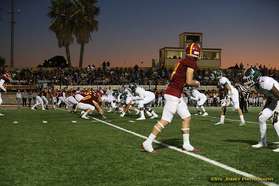 It Was a Beautiful Evening in Brentwood for Fall Football
Saturday, September 23
REGIONAL SCORES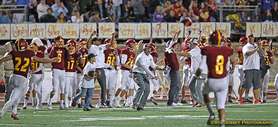 The Liberty Sidelines Celebrate After Holding Tracy With 37 Seconds Left
Vintage 24 - Lincoln 21 (Lincoln now 2-3)
Edison 35 - Lodi 20 (Lodi now 2-2)
McNair 48 - Tokay 3 (Tokay now 2-3)
Central Valley (Ceres) 31 - West 14 (West now 1-4)
St. Mary's vs Mater Dei (at Levi's Stadium on Saturday)
Friday, September 22
VALIANT BULLDOG EFFORT IN 24-21 LOSS AT LIBERTY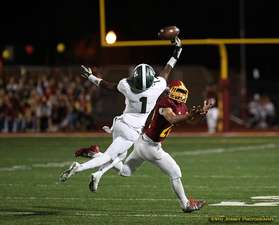 Trevion Shadrick-Harris Makes a Nice Defensive Play In the First Half
| | | | | | | |
| --- | --- | --- | --- | --- | --- | --- |
| Varsity | 1 | 2 | 3 | 4 | | TOTAL |
| Tracy Bulldogs | 7 | 7 | 7 | 0 | | 21 |
| Liberty Lions | 0 | 14 | 7 | 3 | | 24 |
While in the end, the scoreboard didn't go Tracy's way, it was an admirable fight by a Bulldog team that was desimated by injuries and food poisoning. It was a "next man up" kind of night and the players responded keeping Tracy in the game and nearly winning it after all the Homecoming hoopla and game drama was over. Logan Fife would take a big hit late in the 2nd quarter and Ethan Bejines stepped right in to throw a touchdown pass that evened the score just before halftime. Bejines stayed sharp and led several more drives in the 2nd half (4 of 13 for 108 yards and a TD for the night) that put the pressure on the Liberty defense. With the Tracy defense limiting the Liberty scoring in the 4th quarter, Tracy put together a nice long drive to burn much of the clock and get a chance to win it, but the drive eventually stalled with 37 seconds left at the Liberty 25 yard line.
Recap - Tracy got on the board first with 1:27 left in the first quarter as a 13 play drive culminated with a 3 yard Logan Fife keeper for a touchdown. The Bonin extra point was good to make it 7-0.
Early in the 2nd quarter Tracy had an opportunity to really pull ahead as Carlos Vasquez returned a punt to give Tracy excellent field position. A fumble would tilt the momentum to Liberty and they capatilized with their own scoring drive. With 5:03 left in the first half, Liberty intercepted a Fife pass at the Tracy 45 for a pick six and a 14-7 lead. An onside kick immediately followed that caught Tracy unprepared and the Tracy defense had to come up big to keep Liberty out of the end zone before the half. Bolaji Akinyem caused a fumble with a minute left before the half and then Fife would have to leave the game after a running play. Bejines took his first throw of the game and made it a good one finding Trevion Shadrick-Harris up the middle for a 41 yard touchdown and evening things up with time expiring in the half.
In the 3rd quarter the teams went back and forth for awhile until Bejines was picked off with 7:13 left in the 3rd. The Tracy defense gave up a 50 yard run and a 22 yard pass which allowed Liberty to take a 21-14 lead. Anthony Buckhanan caught a short pass from Bejines and sprinted down the Liberty sidelines for a 48 yard gain. After a Kristien Reyes 7 yard gain, Bejines fought his way up the middle for a 4 yard touchdown once again evening the score at 21 after the Bonin kick.
In the 4th, Liberty took a 24-21 lead on a 22 yard field goal with 11:51 left in the game. Tracy had an excellent opportunity for prime field position when a long pass to Xavier Moore was broken up but the tipped ball landed in Moore's chest as he fell to the ground. The ball appeared to stay clearly against his shoulder and never making contact with the ground, but a referee ruled it incomplete spoiling a great opportunity (30 second video of my photos showing the sequence here). Tracy got another chance one series later when they mounted an impressive drive which started with 7:21 left at the Tracy 21 yard line. As Tracy moved the chains over and over again the Bulldogs got down to the Liberty 18 before a holding penalty pushed the Dogs back to the 25 yard line and made it 2nd and 16. A 1 yard run and two incomplete passes sealed the game for Liberty.
Total offense: Tracy 323 / Liberty 304
Passing: Tracy 118 / Liberty 229
Rushing: Tracy 205 / Liberty 75
Each team had 5 penalties and both lost a fumble. Tracy gave up 2 INTs
Time of possession - Tracy 29 min / Liberty 18 min
Kristien Reyes: 19 carries for 82 yards
Xavier Moore: 12 carries for 36 yards
Logan Fife: 8 carries for 19 yards and a TD
Ethan Bejines: 7 carries for 11 yards and a TD
Jaylan Smith 3 carries for 24 yards
Mason Sarsfield (played primarily the first quarter) 5 carries for 33 yards
Receiving leaders: Anthony Buckhanan 1 for 48, Shadrick-Harris 1 for 41, 1TD, Moore 3 for 29
Punt Returns: Vasquez 2 for 54 yards
Kickoff Returns: Moore 2 for 54, Vasquez 2 for 33
Leading tacklers: K. Reyes 4, Bejines 4, Walker 3, Andrade, 3, Moore 3
---
Photos postgame very late HERE.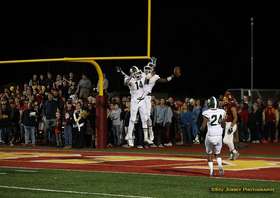 Tracy Came Very Close To Ruining Liberty's Homecoming Celebration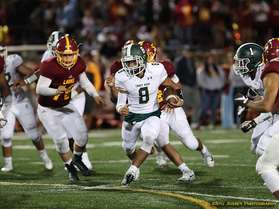 Ethan Bejines Did an Admirable Job Taking Over the Offense
Friday, September 22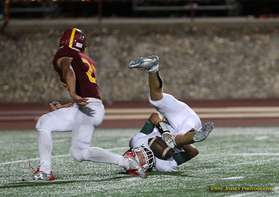 A Xavier Moore Catch on a Tip Was Ruled Incomplete??? Late in the Game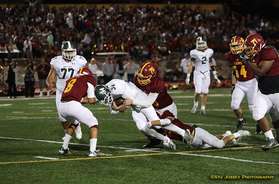 It Was A Hard Hitting Game And Fortunately Tracy Has a Bye Week Ahead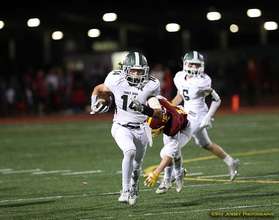 Carlos Vasquez Sets Up Good Tracy Field Position on a Return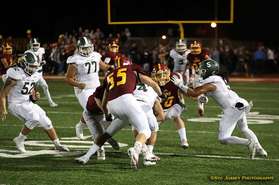 Logan Fife is Pounced On In His Final Play of The Game Late In Q2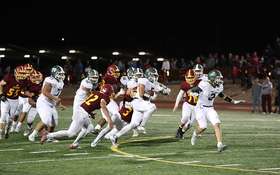 Kristien Reyes Gains Some of His 82 Yards On the Night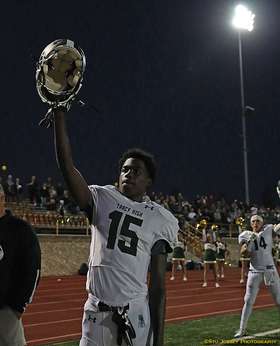 Malcolm King In The Final Moments of the Anthem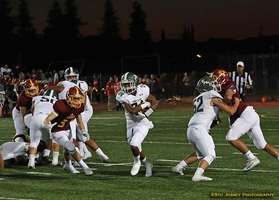 Jaylan Smith With a 4 Yard First Quarter Carry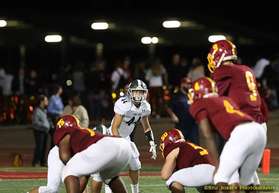 Paxton Andrade Reads The Offense During The 2nd Quarter
Saturday, September 23
ORTEGA ENJOYS LIBERTY'S HOMECOMING PRE-GAME
Angelo Ortega gets pumped up as he watches Liberty High homecoming festivities moments before kickoff. Tracy will have their homecoming in 3 weeks vs Tokay.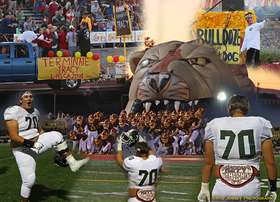 Ortega Gets Pumped Up Pre-Game As Liberty Has Their Homecoming
Friday, September 22
SOPHOMORES DOGS COMEBACK IN 4th TO DEFEAT LIBERTY 14-10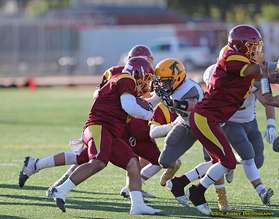 After an Early Touchdown, The Tracy Defense Silenced The Liberty Offense
| | | | | | | |
| --- | --- | --- | --- | --- | --- | --- |
| Sophomores | 1 | 2 | 3 | 4 | | TOTAL |
| Tracy Bulldogs | 6 | 0 | 0 | 8 | | 14 |
| Liberty Lions | 8 | 2 | 0 | 0 | | 10 |
Photos postgame here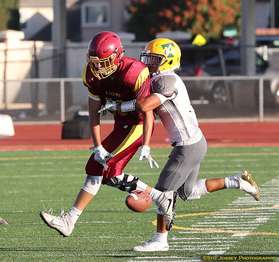 Excellent Positioning Leads To a Broken Up Pass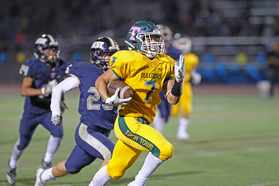 Elias Williams Scores The Go Ahead TD Late In The Game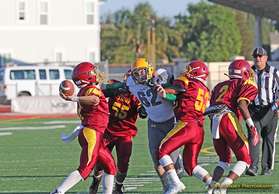 Brandon Summers Gets Attention During His Pass Rush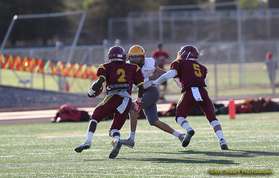 Michael Noll Gets Into Position For a Tackle
Thursday, September 21
TRACY FRESHMAN FINISH FIRST HALF 1-4 BUT RECORD DOES NOT REFLECT PERFORMANCE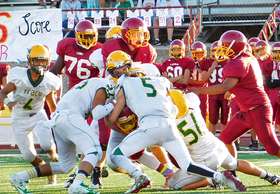 Photo Courtesy of Robert Garcia
| | | | | | | |
| --- | --- | --- | --- | --- | --- | --- |
| Freshman | 1 | 2 | 3 | 4 | | TOTAL |
| Tracy Bulldogs | 7 | 14 | 7 | 6 | | 34 |
| Liberty Lions | 14 | 7 | 7 | 11 | | 39 |
After five games the freshman are 1-4 but three of the losses have a margin of error of just 7 points. "Two of our losses have been one point, and this one tonight was by five" said Coach Bruce Russell. "This team is better than the 1-4 record in the books. Tonight we scored 34 points and should have won, but we spotted Liberty 14 points up front and then let them snatch victory from us late," said Russell.
Liberty ran the opening kickoff back for a 7-0 lead and then a Tracy fumble on the first drive resulted in a 14-0 advantage for Liberty before anyone could break a sweat. Tracy fought back and evened the score at 14 by the end of the first quarter and then both teams were tied at 21 by the half. The game would go back and forth until Tracy edged ahead with a 34-33 lead in the 4th quarter. Things looked even more promising as Tracy began to march downfield for another score with just two minutes left but a holding call required Tracy to punt. With a 1:50 left Liberty was able to score on a big pass play and take a 39-34 lead. Tracy once again mounted a scoring opportunity on a nice pass from Noah Deneau to Jake Shrout getting it down to around the 20 yard line, but Tracy would run out of time and downs late in the game allowing Liberty to sneak out a win.
"Noah Deneau had a very good game at quarterback scoring two touchdowns and Gabe Andora produced another excellent game with 3 scores. Our line and receivers blocked well too."
"Our defense played well but we just had too many turnovers on offense that really hurt us said Coach Russell. We are improving and I know it can be hard to realize that with the losses, but the record cannot cloud the improvement we are seeing and the level in which we are competing in each game. We get the chance to hit the reset button as we start the bye week and then begin league."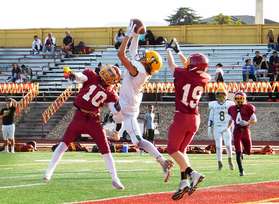 Photo Courtesy of Robert Garcia
BYE WEEK - UP NEXT LEAGUE
Tracy heads into the bye week then league play begins hosting Lodi on October 6th followed by the Tracy High homecoming game against Tokay on October 13th.
2017 SCHEDULE LINK HERE
SU
MO
TU
WE
TH
FR
SA

24

BYE WEEK

25

Team Photos

(Varsity/white uniforms 3:30)

26

Varsity Film

27
28

29

Varsity Off

30
1
2
3
4

5

League Game 1

Freshman Lodi at Tracy 6 p.m.

6

League Game 1

Sophomore/Varsity Lodi at Tracy 5/7:15 p.m.

7
Sunday, September 10
10 MINUTE HIGHLIGHT VIDEO - TURLOCK AT TRACY VARSITY
I've created a 10 minute highlight video that will be available for viewing
here
(includes halftime entertainment).
2017 TRACY HIGH FOOTBALL SCHEDULE
Date
Opponent
Location
Time
Score
Aug 25
San Ramon Valley
Tracy High
L 27-7
Sep 1
Buhach Colony
Atwater High
W 51-30
Sep 8
Turlock
Tracy High
W 29-22
Sep 15
Kimball
Kimball High
W 55-0
Sep 22
Liberty
Liberty High
4:30/7:15
BYE WEEK
Oct 6

League Game 1

Lodi

Tracy High
5/7:15
Oct 13

League Game 2

Tokay

HOMECOMING

Tracy High
5/7:15
Oct 20

League Game 3

St. Mary's

St. Mary's High
5/7:15
Oct 27

League Game 4

Lincoln

Lincoln High
5/7
Nov 3

League Game 5

22nd Crosstown Classic

vs West

Tracy High
5/7:15
Nov 10
Playoffs Round 1
TBA
Nov 17
Playoffs Round 2
TBA
Nov 24
Playoffs Round 3
TBA
Dec 1 / 2
Section Finals
Sacramento State
Freshman football play on Thursday's at 6 p.m. unless otherwise noted
HOW TO GET PICTURES (click to expand)
Wednesday, August 10
THE RICH HISTORY OF TRACY HIGH FOOTBALL (click to expand)