Tracy High Football: Welcome
Saturday, August 19
FINAL TUNEUP IN THE BOOKS BEFORE REFULAR SEASON BEGINS
The Bulldogs held their scrimmage today against Oakdale and now set their attention towards a season home opener Friday vs a very good San Ramon program.
UPCOMING PRE-SEASON DATES
Tonight - Fundraiser Dinner, Dance, Auction - Doors open at 6. Dinner at 7
2017 SCHEDULE LINK HERE
SU
MO
TU
WE
TH
FR
SA
20
21
22
23

24

GAME 1

Freshman Season Home Opener vs San Ramon Valley 6 p.m.

25

GAME 1

Sophomore/Varsity Home Opener vs San Ramon Valley

5/7 p.m

26
27
28
29
30

31

GAME 2

Freshman vs Buhach Colony (at Atwater High) 6 p.m.

September 1

GAME 2

Sophomore/Varsity vs Buhach Colony (at Atwater High) 5/7 p.m.

2
FOOTBALL BOOSTERS DINNER IS THIS SATURDAY
Thursday, August 17
MULTIMEDIA COVERAGE OF BULLDOG FOOTBALL KICKS INTO FULL GEAR NEXT WEEK
Full multimedia coverage of Bulldog football will begin Thursday/Friday of next week when the Dogs host San Ramon Valley. If you are not familiar with my coverage of THS Football, I'll take hundreds of photos at the freshman, sophomore, and varsity games. I post several on this website immediately following each game along with the stats and a brief game summary. Within 24 hours I usually have all the photos uploaded to my photo library for your viewing pleasure. I also try to produce a short highlight video after each varsity game. I'm always happy to work with you if you have any special photo requests. You can contact me at stujossey@tracyhighfootball.com
I have other committments this Saturday and will miss the scrimmage, but I'll be in full coverage mode beginning next week. Make sure to also check out posts I have on Twitter @tracyhighsports AND on my TracyHighSports.com website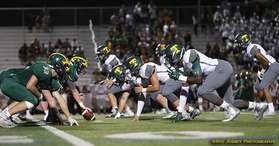 I'll have hundreds of photos to post after each game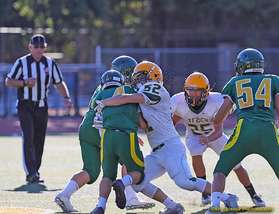 On The Field Action From The Freshman In 2016
Monday, July 31
RETURN TO THE TURF
The Bulldogs took the field Monday afternoon to formally kick off preparation for the 2017 season. In 100 degree heat all three levels of coaching staff worked with a sense of urgency to prepare their players for the first game which is less than four weeks away.
The turnout for Tracy High football was very high this year with Coach Shrout announcing that he had well over 50 students at varsity practice on Monday and there was the possibility of some cuts in the future. Shrout went on to state that he was optimistic about the upcoming season. "I think we have some pretty good talent assembled. There will be some changes this year in our offense and defense. On offense we are making some adjustments at key positions and trying some new combinations that we think will pay off in 2017. Defensively we will be playing in some new formations with a different strategic scheme."
A 2 minute video is HERE
---

The Freshman At Work Learning Their System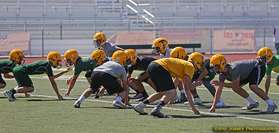 The Sophomores Begin To Implement Their Plays
Thursday, July 27
2017 AWAITS - 2nd Video Trailer of the 2017 Pre Season
As we await the arrival of the Bulldogs back onto the field, here are some highlights from 2016.
View the 4 minute video here
Saturday, July 22
PRE SEASON VIDEO
Here is the first of several trailers to get you ready for the 2017 season. This video is 1 minute long. View it HERE.
SUMMER CALENDAR
2017 TRACY HIGH FOOTBALL SCHEDULE
Day
Date
Opponent
Location
Time
Sat
Aug 19

Oakdale (Scrimmage)

Fundraiser Dinner/Auction

Tracy High
TBA
Fri
Aug 25
San Ramon Valley
Tracy High
5/7:15
Fri
Sep 1
Buhach Colony
Atwater High
5/7:15
Fri
Sep 8
Turlock
Tracy High
5/7:15
Fri
Sep 15
Kimball
Kimball High
5/7:15
Fri
Sep 22
Liberty
Liberty High
5/7:15
BYE WEEK
Fri
Oct 6

League Game 1

Lodi

Tracy High
5/7:15
Fri
Oct 13

League Game 2

Tokay

HOMECOMING

Tracy High
5/7:15
Fri
Oct 20

League Game 3

St. Mary's

St. Mary's High
5/7:15
Fri
Oct 27

League Game 4

Lincoln

Lincoln High
5/7
Fri
Nov 3

League Game 5

22nd Crosstown Classic

vs West

Tracy High
5/7:15
Fri
Nov 10
Playoffs Round 1
TBA
Fri
Nov 17
Playoffs Round 2
TBA
Fri
Nov 24
Playoffs Round 3
TBA
Fri /Sat
Dec 1 / 2
Section Finals
Sacramento State
Freshman football play on Thursday's at 6 p.m. unless otherwise noted
Saturday, April 8
VARSITY COACHING ADJUSTMENT FOR 2017
Coach Matt Shrout has announced that John Waggle will not return as the line coach for the Bulldogs in 2017. Taking his place will be Tracy alumni Mike Speers (class of 2001). Mike will join his brother Kevin, Maurico Martin, Jeff Pribble, and head Coach Matt Shrout in 2017.
Friday, March 24
TRACY HIGH FOOTBALL WEBSITE CELEBRATING 10TH YEAR OF COVERAGE
In 2008 I started a simple website to display some photos of the football games. Now 10 years later this website has had over 600,000 hits and numerous sponsors. Thanks to all who come and visit to view my material and receive daily updates on Bulldog Football. The 2017 team should be exciting to watch.
HOW TO GET PICTURES (click to expand)
Wednesday, August 10
THE RICH HISTORY OF TRACY HIGH FOOTBALL (click to expand)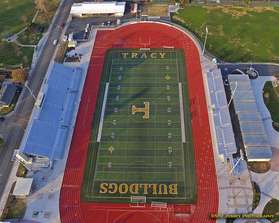 Wayne Schneider Stadium