Tracy High Football: Welcome
Wednesday, October 17
MULTIMEDIA COVERAGE OF HOMECOMING
My busiest week of the year with photo and video occurs now as I'll be at every event providing thousands of photos documenting Homecoming. It all starts with the Night Rally photos that will upload late Wednesday night.
ON DECK - FINAL HOME GAME AND HOMECOMING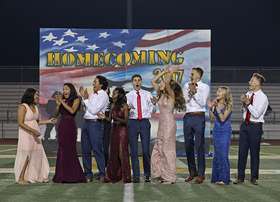 Homecoming Week Begins With The Night Rally on Wednesday
There is always a concern about weather when Homecoming is scheduled for mid to late October, but this year the Bulldogs will have excellent Fall weather for their Homecoming activities. The fun begins with the big Night Rally at 7 p.m. on Wednesday for the Student Body (and any parents/friends that want to attend). The Thursday JV game begins at 5 p.m. followed by the very spirited Powder Puff game (don't miss this fun event as the Junior girls take on the Seniors). Friday will be the Homecoming Parade in the afternoon, then a JV game, and the varsity main event. The week concludes with a Friday night dance.
SUN
MON
TUE
WED
THU
FRI
SAT
16

17

HOMECOMING WEEK

NIGHT RALLY

7 p.m.

18

Freshman host Lodi 5 p.m. (early start)

Powder Puff Game follows

19

Homecoming Parade 3 p.m.

JV host Lodi 5 p.m.

Varsity host Lodi 7:15 p.m.

Dance follows

20
21
22
23
24

25

JV plays final game vs Kimball at Kimball 6 p.m.

26

23rd Crosstown Classic @ West

Freshman 5 p.m.

Varsity at 7:15

27

Playoff brackets released approx 5 p.m.

28
29
30
31

1

Varsity - Possible away playoff game Th or Fri

2

Playoff game ?

3
Sunday, October 14
PICTURES OF THE WEEK
---
I'll have more throughout the night, but here is the first one showing Tyler Gaudreau during pre-game warmups.
---
In my next Picture of the Week I get a nice sharp photo of the Captains taking the field.
---
In this next Picture of the Week I capture the JV cheer team performing between quarters of the game.
---
The JV game was lopsided in favor of St. Mary's and the boys were down at halftime, but the JV cheerleaders kept things positive for all four quarters. Here is one of many happy photos I took at halftime.
---
There are two things I like about this picture. The first is the reaction via the eyes that the player is preparing for another hit or needing to secure the ball. The 2nd is the perfect symmetry in which the St. Mary's helmet is in alignment just behind the Tracy helmet.
---
230 pound Jason Reyes has his hands full blocking 255 pound Rams lineman Gino Allen.
---
In this next Picture of the Week I capture a very focused John Palmer.
---
In this next Picture of the Week, Logan Fife shows he is an escape artist as he would eventually pull away from this tackle attempt and scramble up field. My multi year investment in some high quality camera gear pays off in a picture like this. I'm probably 40-50 yards away and working with marginal high school stadium lighting. To get farily good focus, sharpness, and freezing of the action is a testament to modern cameras.
---
Tracy did not have many big plays on Friday night, but this was one of them as Trevor Pope barrels downfield and picks up a nice block along the way. You even see Mr. "Black Hat Football" (Richard Estrada who runs a popular high school
football blog
) in the background.
---
The St. Mary's baseball facility had stairs which offered this birds eye view of the team at halftime.
LEAGUE STANDINGS
League

W

L

Overall

W

L

Up Next
St. Mary's Rams
3
0
4
4
@ Tokay
Tracy Bulldogs
2
1
5
3
Lodi
Lincoln Trojans
2
1
2
6
@ West
Lodi Flames
1
2
2
6
@ Tracy
West Wolfpack
1
2
3
5
Lincoln
Tokay Tigers
0
3
0
8
St. Mary's
Lincoln defeated Tokay 50-0
Lodi defeated West 30-6
Friday, October 12
RAMS TAKE TCAL LEAD WITH 42-20 VICTORY OVER DOGS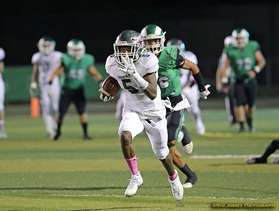 Trevion Kicks It Into Overdrive on a 2nd Quarter TD
| | | | | | | |
| --- | --- | --- | --- | --- | --- | --- |
| Varsity | 1 | 2 | 3 | 4 | | TOTAL |
| Tracy High Bulldogs | 0 | 13 | 0 | 7 | | 20 |
| St. Mary's Rams | 7 | 21 | 7 | 7 | | 42 |
Photos uploading here.
The coaching staff set a very clear goal before the game that the team needed to win the first 5 minutes of the game to set the tone and show tonight was going to be a fight. Unfortunately, the Bulldogs could not achieve that goal as the offense stalled and the defense continued to struggle tackling. The usually potent Tracy passing game did not complete a pass until the 2nd quarter.
St. Mary's drew first blood and would eventually jump out to a 21-0 lead early in the 2nd quarter. Tracy would come back and put 13 on the board to keep themselves somewhat in the game but the Rams would maintain command of the game in the 2nd half. The Rams had many weapons for the Dogs defense to contend with and St. Mary's generated 280 rushinhg yards on the evening.
Logan Fife connected for three touchdown passes in the game, 2 to Trevion Shadrick-Harris and one to Trevor Pope which was the first Tracy score.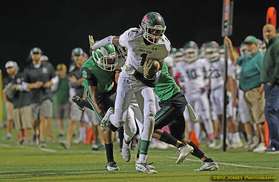 Trevor Pope Fights For The End Zone in the 2nd Quarter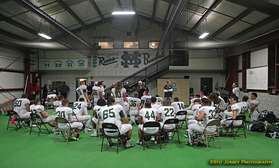 Coaching Staff Makes Adjustments at Halftime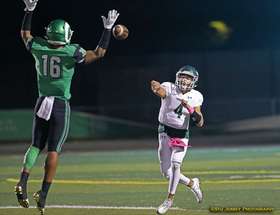 Logan Fife Attempts To Thread the Needle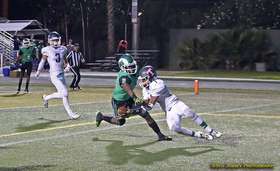 Good Defense Interrupts This Touchdown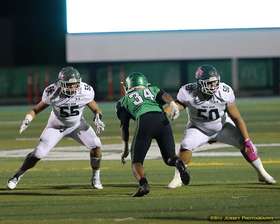 Palmer & Ortega Provide Fife Some Protection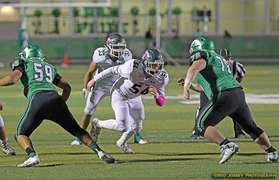 Brandon Summers On Defense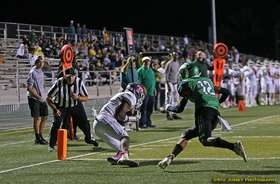 Shadrick Harris Catches a 4th Quarter TD From Fife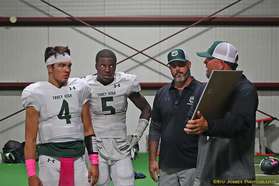 Coach Pribble Offers a Solution To Fife and Shadrick-Harris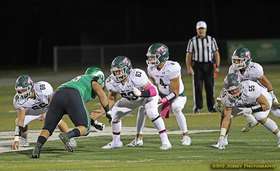 Center Jason Reyes Takes On His Blocking Assignment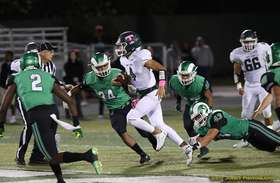 Logan Was Surrounded And Had Little Room To Manuever
Friday, October 12
JV LOSE TO RAMS 50-14
Tracy Encountered Traffic on the Freeway and on the Field
| | | | | | | |
| --- | --- | --- | --- | --- | --- | --- |
| JV | 1 | 2 | 3 | 4 | | TOTAL |
| Tracy High Bulldogs | 0 | 0 | 0 | 14 | | 14 |
| St. Mary's Rams | 15 | 21 | 7 | 7 | | 50 |
JV were riddled with injuries to key players early in this game as St. Mary's dominated. Photos starting to upload
here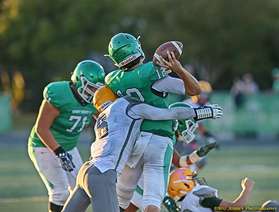 Dylan Vergez Produces One of the Few Bulldog Hits of the Game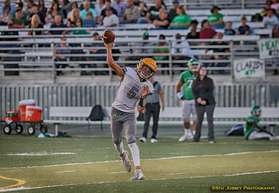 Noah Deneau
Thursday, October 11
TRACY FRESHMEN LOSE TO ST. MARY'S
On the first drive of the game Tracy put together a good series of run/pass plays to get down to the St. Mary's 15 yard line before the long drive stalled. Not much else happened offensively for the Dogs all night until late in the game when another good drive was put together culminating in a Tyler Ward rushing touchdown around the right side. St. Mary's put the pressure on the Tracy defense all night with a strong running and long passing game.
Tuesday, October 9
SCHEDULE UPDATE FOR WEEK 10 (in 2 weeks)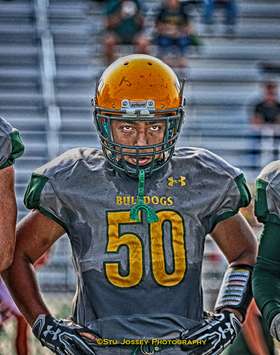 JV Will Play Their Final Game in 2 Weeks On a Thursday
Just an update for the schedule on Week 10 (West week)
Freshman will play at West Friday at 5 p.m. followed by Varsity at 7:15
JV will play at Kimball vs Kimball 6 p.m. Thursday.
Tuesday, October 2
NEW VIDEO RELEASED FROM TOKAY GAME
In this 5 minute video we have some fun with Coach Matt Shrout as we listen in on some of his reaction to the offense and defense at Tokay last Friday night. View the video
HERE
Tracy High Football vs Tokay 9_28_18 from Stu Jossey on Vimeo.
Saturday, September 15
TIME LAPSE VIDEO
Here is a one minute time lapse of Wayne Schneider Stadium taken Friday night. View it
HERE
.
Tuesday, September 25
2018 SCHEDULE
Wednesday, August 22
DON'T FORGET YOU CAN BUY YOUR GATE TICKETS ELECTRONICALLY
Deborah our Bookkeeper at the school reported strong sales in the first week of offering online ticket sales. Save yourself from standing in line at the ticket booth and use the online service through
GoFan
.
Sunday, August 26
NEW VIDEO JUST RELEASED
A new video is active at this link. It is 11 minutes long and has some of the best plays from Friday night including commentary from Coach Shrout and some video of what was happening up in the coordinators box with Coach Pribble. My thanks to students Christopher Barron and Lynessa Marks helping with video along with my wife, Lynn Jossey who is on the sidelines videotaping .
---
2018 Game Photos HERE
---
HOW TO GET PICTURES (click to expand)
Wednesday, August 10
THE RICH HISTORY OF TRACY HIGH FOOTBALL (click to expand)