Tracy High Football: Welcome
Saturday, October 21
LEAGUE SCORES
Lodi 26 - West 14
Lincoln 55 - Tokay 10
---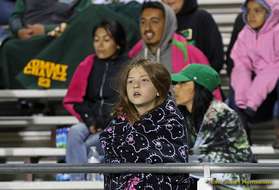 Bulldog Fans Braved Cool Temps on Friday
Friday, October 20
RAMS HAND TRACY FIRST LEAGUE DEFEAT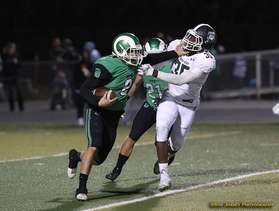 Marcus Aponte & His Rams Had Success Against The Tracy Defense
| | | | | | | |
| --- | --- | --- | --- | --- | --- | --- |
| Varsity | 1 | 2 | 3 | 4 | | TOTAL |
| Tracy Bulldogs | 7 | 0 | 7 | 0 | | 14 |
| St. Mary's Rams | 7 | 14 | 14 | 7 | | 42 |
Photos - 630 varsity photos and 300 sophomore game photos
No stats at this time
With three minutes before halftime this game was tied at seven. In many ways, Tracy should have been ahead in the first half but came out of the gate a little too amped up which may have generated some key errors that allowed St. Mary's to keep their offense on the field a significant amount of the first half. The Rams produced two quick scores in the final 3 minutes of the half which really put the pressure on the Bulldogs. Down by 14 in the locker room, Tracy still knew they had a chance as they felt they had been very close to possibly having a lead had it not been for the miscues.
The optimism the Dogs had coming back to the field in the 2nd half would be erased as the game wore on and the Rams continued to pull further ahead and take first place with them as they celebrated the end of their Homecoming.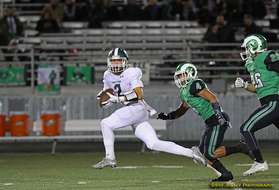 Xavier Moore's Offensive Production Was a Bright Spot For Tracy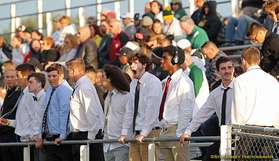 Mason Sarsfield Looked Relaxed Pre-Game at St. Mary's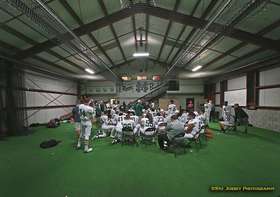 The Bulldogs Discuss Changes And Approach At Halftime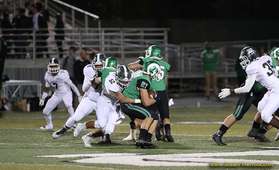 Jonah Reyes Puts An Initial Halt To Frampton's Progress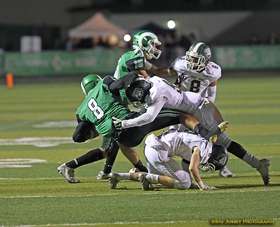 Anthony Buckhanan and Myles Walker Bring Down Aponte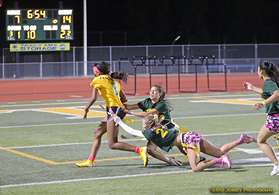 Brandin Farmer Prepares To Take On Anthony Rosales Jr.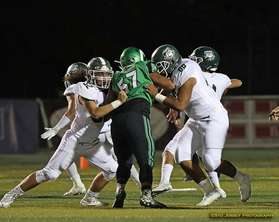 Nathan Zarzuele Gets Attention From Reyes and Rivera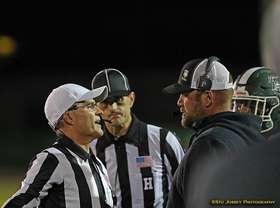 Coach Shrout Gets Some Bad News From The Officiating Crew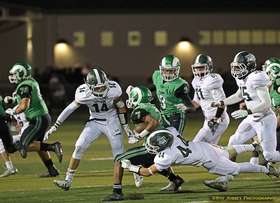 Paxton Andrade Brings Down William Brown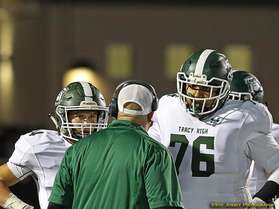 Coach Speer Voices His Opinion About Defensive Conditions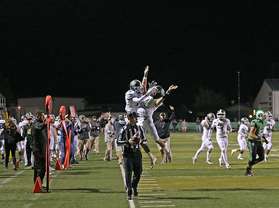 Fife and Vasquez Find Something To Celebrate About In The 2nd Half
Friday, October 20
UPON FURTHER REVIEW......TRACY SOPHOMORES COULD HAVE TIED
Coach Jay Fishburn had an odd grin on his face several minutes after he had decompressed from a heartbreaking 22-21 loss at St. Mary's. "I just saw the video of our extra point late in the game and it was good," said Fishburn. He was referring to an extra point that just moments before had been ruled no good preserving a 1 point lead for the Rams late in the game. Despite that bad fortune, the Bulldogs played St. Mary's very tough and fought back to almost tie the game .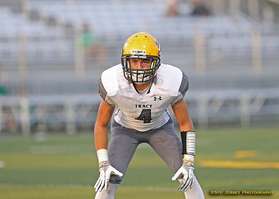 Riley Revino Eyes His Assignment Pre-Snap
Thursday, October 19
TRACY FRESHMEN DOMINATE ST MARY'S 28-0
Tracy freshmen drove the length of the field on the first drive and then never looked back taking a 21-0 lead into halftime and tacking one more TD for good measure in the 2nd half......
A few photos will be posted Saturday evening.
ON DECK - CRITICAL LEAGUE GAME AGAINST LINCOLN
THS 2017 SCHEDULE LINK HERE
SU
MO
TU
WE
TH
FR
SA
22
23
24
25

26

Freshman at Lincoln 6 p.m.

27

Sophmores and Varsity at Lincoln 5/7:15 p.m.

28
Saturday, October 14
HOMECOMING MULTIMEDIA SUMMARY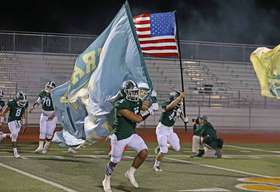 The Bulldogs Make a Grand Entrance (Photo by Ally Vierra)
Over 6,400 photos were taken since Wednesday night accounting for over 50GB of photo and video data.
Night Rally - Photos / Video Part I, Part II (skits), Part III (conclusion)
Powder Puff
---
Friday, September 22
REVISED VARSITY ROSTER AS OF SEPT 22, 2017
New roster revised
HERE
.
2017 TRACY HIGH FOOTBALL SCHEDULE
Date
Opponent
Location
Time
Score
Aug 25
San Ramon Valley
Tracy High
L 27-7
Sep 1
Buhach Colony
Atwater High
W 51-30
Sep 8
Turlock
Tracy High
W 29-22
Sep 15
Kimball
Kimball High
W 55-0
Sep 22
Liberty
Liberty High
L 24-21
Oct 6

League Game 1

Lodi

Tracy High
W 35-0
Oct 13

League Game 2

Tokay

HOMECOMING

Tracy High
5/7:15
Oct 20

League Game 3

St. Mary's

St. Mary's High
5/7:15
Oct 27

League Game 4

Lincoln

Lincoln High
5/7
Nov 3

League Game 5

22nd Crosstown Classic

vs West

Tracy High
5/7:15
Nov 10
Playoffs Round 1
TBA
Nov 17
Playoffs Round 2
TBA
Nov 24
Playoffs Round 3
TBA
Dec 1 / 2
Section Finals
Sacramento State
HOW TO GET PICTURES (click to expand)
Wednesday, August 10
THE RICH HISTORY OF TRACY HIGH FOOTBALL (click to expand)
Sunday, October 15
PICTURES OF THE WEEK SPECIAL HOMECOMING EDITION
The diverse activities of Tracy High Homecoming offer some excellent photo opportunities and a rich treasure trove in which to display some "Pictures of the Week." There are many, many more photos that could not be displayed on this page but are available for your viewing (or purchase) pleasure in the Homecoming and 2017 Bulldog Football folder at stujosseyphotography.com
Here is my first one of a student doing a flip during the Night Rally on Wednesday.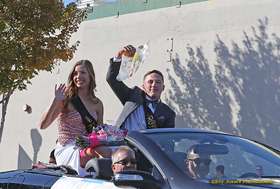 "Sorry Kids, Out of Candy"
Carlos Vasquez tells a disappointed crowd that he is out of candy as his vehicle nears the end of the parade route.
Ally Vierra is in the right position with the camera to capture this action shot of Anthony Buckhanan receiving a Logan Fife pass that was on target. Brutus oversees the action from his vantage point in the background.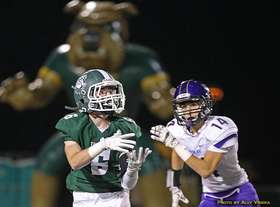 Focused And On Target
Coach Mike Speer has fun with the team during a relaxed halftime locker room as he dons a Bulldog helmet for a few seconds and gets quite the reaction.
Sophomore cheer salutes the military during the halftime performance on Friday evening.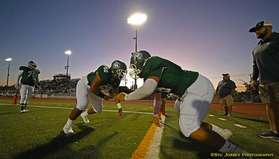 Line Dogs Warming Up
Kevin Speer supervises the warm up of the Line Dogs before Friday's game against Tokay. This will be the final varsity game where there is any hint of sunlight for my photos. It's all stadium lighting from here on out.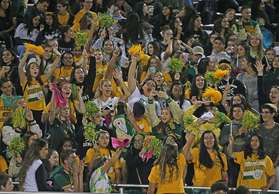 9 Times To Strike Up the Band and Cheer
Ally Vierra snapped this photo of the Dogpound cheering on their team. It was a 9 touchdown night that kept the band and the Dogpound very busy.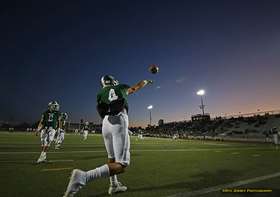 Logan Fife Prepares For Another Big Night Under The Lights
Logan Fife returns to the lineup after a minor injury at Liberty in Game 5. In this Picture of the Week I capture him warming up on a mid October evening.
Sunday, October 15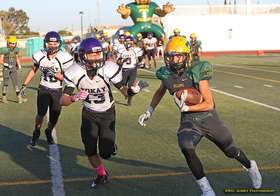 Tommy Chavez Hits The Corner of the End Zone for a TD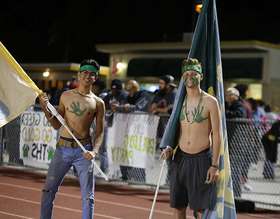 Tracy Bulldog Spirit On Display (Photo by Ally Vierra)
Ally Vierra got another Picture of the Week as she captures two students busy running the flags down the track. It was a busy 9 touchdown night for the Bulldogs that required anyone celebrating a touchdown to be in good shape.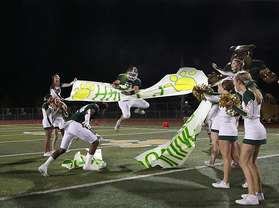 Nick Bursts Through The Homecoming Sign En Route to a Collison With Jaylan
I displayed this picture on Friday night, but wanted to make reference to it again in my Pic of the Week segment. What happens a split second after this picture was taken was documented in video footage as Nick and Jaylan collide in a not so graceful move. It will be seen during the end of the year "season in review" movie when the Game 7 highlights appear.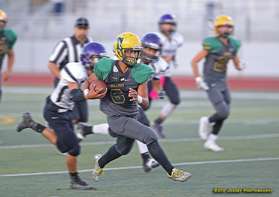 Alejandro Delatorre Breaks Free
This is one of my favorite action shots I've taken this year and worthy of a Picture of the Week.
Senior Ally Vierra snapped this crystal clear and colorful photo of a Tracy High band member. Downsizing and placing these images on the web do not do justice to the clarity of some of the photographs like this that I get to see in full resolution. Ally has shown in just a few weeks of sideline work to be a very talented photographer. I hope she pursues photojournalism after High School.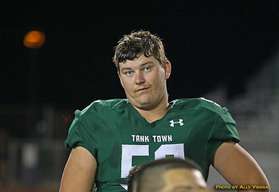 Brandin Farmer Provides a Funny Response To Ally Vierra's Camera Lens
Ally Vierra captures a relaxed Brandin Farmer postgame as he listens to the postgame comments. It's nice having a student assistant snap some of these candid shots because they get reactions that are not possible for me to draw out of the students.
Another Ally Vierra photo capturing some varsity players in a moment of reflection prior to kickoff.
Sunday, October 15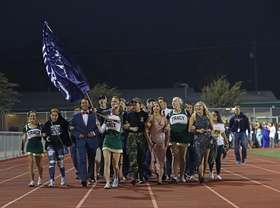 Seniors Enter For One Final Night Rally
In the next Picture of the Week above I capture the seniors as they enthusiastically enter the stadium on Wednesday night for the Night Rally.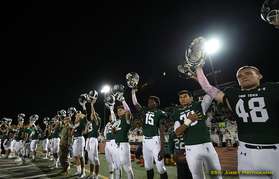 Honoring the Flag Prior to Kickoff Of the Homecoming Game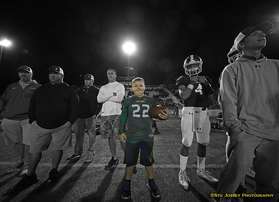 Mason Pribble Looking Proud On The Sidelines
Ball Boy Mason Pribble has a great time on the sidelines working hard during the varsity game Friday night.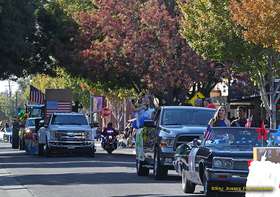 Fall Colors On Display During the Homecoming Parade
I have a routine on the parades where I first shoot the students coming North on Central at the start of the parade and then I move to this location which has a really nice background of the trees that line 10th Street. The October Fall colors are in full display as the parade hits the large crowds assembled downtown.
A student gets into the spirit as he walks north on Central Ave during the Homecoming parade.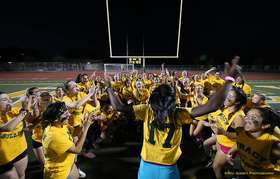 Amaya Terry Gets The Seniors PUMPED!
Amaya Terry gives a motivational speech to the seniors pre-game to get them pumped up. It worked.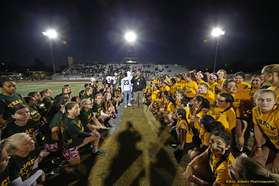 The Final Moments of Civility
Principal Jason Noll lays down the rules of the game in the final moments of civility between the Juniors and Seniors. It was a very competitive and entertaining Powder Puff game with a lot of offense.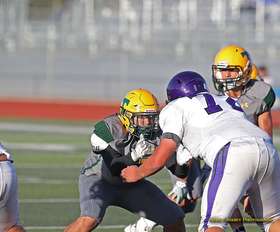 A Sophomore Lineman Is Focused On His Blocking Assignment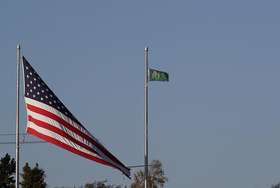 The Flag Honoring Mary Nunez Flies High Above the Football Field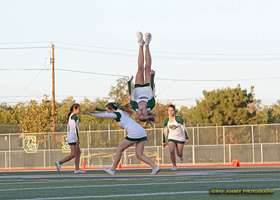 "Brain Rush"