Tracy High Football: Welcome
Wednesday, April 18
INCOMING FRESHMEN FOOTBALL MEETING THIS TUESDAY
There will be a meeting for incoming freshman football players and parents at 7 p.m. in Room D210 (above the library) on Tuesday, April 24, 2018.
Wednesday, April 18
2018 SCHEDULE
Updated 4/18/18 - The game against Liberty has been changed. The opponent is now Fortuna.
CIF-SJS rules allow for an earlier start to the practice season in 2018. Tracy has also changed up their opponents a bit. The league rotation has changed and yes, Tracy will travel for the 2nd time in two years to St. Mary's.
Date
Opponent
Location
Time
Monday, July 23
Practice Begins
Saturday, August 4
Green & Gold
Saturday, August 11
Scrimmage vs Oakdale
Friday, August 17
Kimball
Tracy
Friday, August 24
Buhach Colony
Tracy
Friday, August 31
Turlock
Turlock
Friday, September 7
Manteca
Manteca
Friday, September 14
Fortuna (new opponent)
Tracy
Bye Week
LEAGUE BEGINS
Friday, September 28
Tokay
Tokay
Friday, October 5
Lincoln
Tracy
Friday, October 12
St. Mary's
St. Mary's
Friday, October 19

Lodi

HOMECOMING

Tracy
Friday, October 26

West

23rd Annual Crosstown Classic

West
Tuesday, March 20
FOOTBALL SEASON JUST A FEW MONTHS AWAY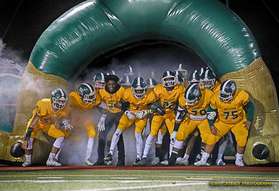 The Boys of Fall Return This Summer
Wednesday, February 7
XAVIER MOORE SIGNS WITH CAL POLY SLO
Congratulations to Xavier Moore who got a full scholarship to Cal Poly SLO for football.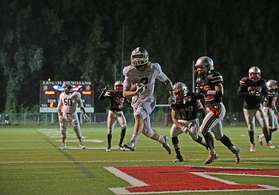 Xavier Moore Will be Headed to Cal Poly on a Football Scholarship
Monday, February 5
ALUMNI UPDATE
Congratulations to Tracy High Football Alum (class of 2014) George Obinna who is a standout player at Sac State and was selected 1st Team in the Big Sky Conference.
Tuesday, December 12
AKINYEMI AND VASQUEZ SHARE IN PBK AWARD - MOORE WINS WEEKS AWARD FOR GPA
Monday, December 4
VARSITY AWARDS ISSUED
Defensive Player of the Year- Bolaji Akinyemi
Offensive Player of the Year - Logan Fife
Richie Silva Most Valuable Lineman - Alex McNely
Coaches Award- Brandin Farmer & Trevion Shadrick-Harris
Most Improved - Jonah Reyes
Most Inspirational - Christian Pereira
Tommy Greenhow Scholar Athlete (GPA and field performance) - Xavier Moore
Saturday, December 2
ALL LEAGUE SELECTIONS
Now that St. Mary's has played their final game of the season, the all-league selections can be released
Full listing of all players at these links
Tre Jenkins of St. Mary's was the league MVP
Bolaji Akinyemi was the league Defensive Player of the Year
Alex McNely was the Offensive Lineman of the Year
Zach Fleming of Tokay was the Defensive Lineman of the Year
Carlos Vasquez was the Utility Player of the Year
Matt Shrout picked up the Coach of the Year title
---
1st Team Offense (Tracy selections)
Xavier Moore (RB)
Brandin Farmer OL
1st Team Defense (Tracy selections)
Angelo Ortega (DL)
Nick Nunez (DL)
Kristien Reyes (LB)
Trevion Shadrick-Harris (DB)
---
2nd Team
QB - Logan Fife
OL - Jonah Reyes
LB - Myles Walker
LB - Daniel Turner
DB - Ethan Bejines
---
Honorable Mention
DB - Lamar Johnson
WR - Anthony Buckhanan
K - Parker Bonin
OL - Ray Rivera
DL - Emilio Lopez
Wednesday, November 22
SEASON IN REVIEW STATS
Team Stat Leaders For The Full Year
Offense (full stats HERE)
Leading Rushers
Logan Fife 103 carries for 455 yards. 4.4 average. 5 TDs
Mason Sarsfield 74 carries for 344 yards. 4.6 average. 2 TDs
Xavier Moore 59 carries for 309 yards. 5.2 average. 6 TDs
Passing
Logan Fife 102 of 184 for 1781 yards. 17 TDs
Ethan Bejines 27 of 49 for 430 yards.
Receiving Leaders
Xavier Moore 39 receptions for 646 yards, 5 TDs
Carlos Vasquez 26 receptions for 509 yards, 7 TDs
Trevion Shadrick-Harris 14 receptions for 255 yards, 4 TDs
Scoring Leaders
Xavier Moore 11 TDs
Carlos Vasquez 9 TDs
Logan Fife 5 TDs
---
Defense (full stats
HERE
)
Leading Tacklers
Bolaji Akinyemi 63 total tackles. 46 solo / 34 assists.
Daniel Turner - 58 total tackles. 48 solo / 20 assists
Kristien Reyes - 58 total tackles. 43 solo / 30 assists
Special Teams (full attachment HERE)
Tyler Gaudreau 57 kickoffs averaging 45 yards
Parker Bonin 10 kickoffs averaging 44 yards
Logan Fife 27 punts for 1016 yards. 37.6 average
Kickoff Return Leaders
Xavier Moore 14 for 248. 17.7 average
Trevion Shadrick-Harris 9 for 195. 21.7 average
Mason Sarsfield 5 for 130. 26 yard average.
Punt Returns
Carlos Vasquez 12 for 230 yards. 19.2 average, 2TDs.
---
Tracy vs Opponents Cumulative Stats HERE
---
Monday, November 20
UPCOMING INFORMATION
We had over 60,000 visits to the website since August 1....thanks for visiting this year but we are not done yet. Coming up will be the release of All League (once St. Mary's season ends). I'll also have the Peter B. Kyne Award winner announcement and clips from my Season In Review that will be shown on Monday December 4 at the varsity banquet. A DVD of the movie will be $10 at the event.
HOW TO GET PICTURES (click to expand)
Wednesday, August 10
THE RICH HISTORY OF TRACY HIGH FOOTBALL (click to expand)
PICTURES OF THE WEEK - FINAL 2017 EDITION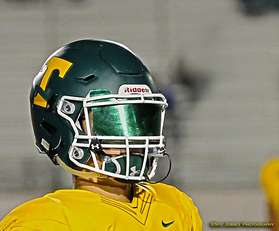 Logan Fife Surveys The Alien Environment at Folsom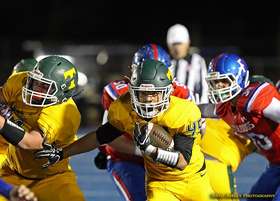 Elias Williams Focuses On Approaching Traffic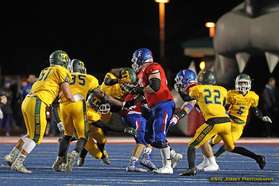 Half The Bulldog Defense Converge To Bring Down a Folsom Ball Carrier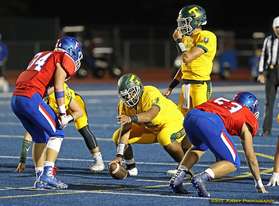 Ray Rivera Identifies a Pre-Snap Read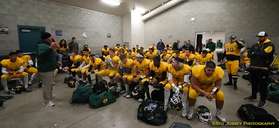 The Bulldogs Contemplate 2 Quarters Of Play Left In Their Season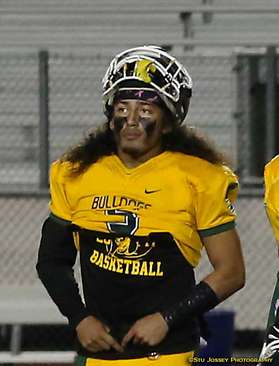 Kristien Reyes Makes The Quick Transition to Basketball Season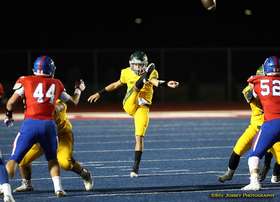 Logan Fife Gets The First of Several Punts Away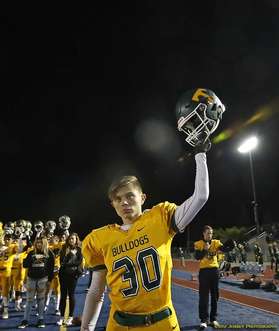 Parker Bonin In The Final Moments of the National Anthem