Tracy High Football: Welcome
Monday, December 10
THREE BULLDOGS NAMED TO ALL SAC-JOAQUIN SECTION LIST
Trevor Pope, Angelo Ortega, and Trevion Shadrick-Harris were named to the Honorable Mention section of the All Sac-Joquin Section Football list. The list heavily dominated by northern schools was selected by a committee of high school coaches representing north and south regions. List
HERE
Saturday, December 1
DEL ORO WINS SECTION TITLE 20-17 OVER CENTRAL CATHOLIC
In a late second comeback, Del Oro ruined the spirits of Central Catholic who thought they were about to win the game.
Saturday, December 1
FRESHMAN AND JV INFO
THS student Tom Jaekel had done an amazing job collecting all the player stats for both freshman and JV. His summary reports of the season can be found here:
Thursday, November 29
SCHEDULE CHANGES FOR 2019
The Fortuna game is replaced with old Tracy rival Vacaville who will come to Tracy for the 5th game of the year in the 2019 season.
The "Dog Bone" Turlock rivalry continues but Tracy will have to go back there again in 2019 and the game may be part of a Thursday triple header in Week 3.
The games will start a week later in 2019 then they did in 2018. Draft calendar (very much subject to change) HERE The freshman and JV games also have some variation depending on which opponents field frosh squads. TBA
Date
Opponent
Location
Time
Friday, August 23

Kimball

Kimball
5/7
Friday, August 30
Buhach Colony
BC
5/7
Thursday, September 5 (possible triple header)
Turlock
Turlock
3/5/7
Friday, September 13
Manteca
Tracy
5/7
Friday, September 20
Vacaville
Tracy
5/7

Bye Week

LEAGUE BEGINS
Friday, October 4
Tokay
Tracy
Friday, October 11
Lincoln
Lincoln
Friday, October 18
St. Mary's
Tracy
Friday, October 25

Lodi

Lodi
Friday, November 1

West

24th Annual Crosstown Classic

Tracy
Tuesday, November 27
VARSITY AWARDS
Peter B. Kyne Award - Trevion Shadrick-Harris
Captains - Jason Reyes, Logan Fife, Trevino Shadrick-Harri
Weeks Award - 4.5 gpa Zach Pedigo
Tommy Greenhow Scholar Athlete- Blake Vollbrecht
Coaches Award - Christian Pereria
John Rita Most Improved Award - John Palmer
Most Inspirational - Trevion Shadrick-Harris
Richie Silva Most Valuable Lineman - Jason Reyes
Offensive Player of the Year - Logan Fife
Defensive Player of the Year - Trevor Pope
Mary Nunez Scholarships - Madison Baker and Trevion Shadrick-Harris
Thursday, November 29
FRESHMAN AWARDS NIGHT
MVP - Dylan Anderson
Best Back - Cody Lammerts
Best Lineman - Robert Molina
Coaches Award - Brady Guadalupe
Monday, November 26
JV AWARDS
Tommy Chavez was named JV MVP
Best Lineman - Cameron Pereira
Best Back - Chase Henderson
Most Improved - Omar Contreras
Captains - Tommy Chavez , Noah Deneau, Aaron Montenegro, Dominick Suniga
Tuesday, November 27
THE INTRO TO THE VARSITY SEASON IN REVIEW DVD
In case you missed it or could not hear it when shown onTuesday night, here is the first 2 minutes of the overall 50 minute varsity season in review movie. View
HERE
Tuesday, November 27
TREVION WINS THE PETER B. KYNE AWARD
Tuesday, November 27
TREVION SHADRICK-HARRIS JOINS A LONG LIST OF SPECIAL FOOTBALL PLAYERS
Friday, November 23
2018 TCAL ALL LEAGUE
Full list of TCAL All League HERE
Congratulations to Trevor Pope named league MVP
Angelo Ortega - Defensive Lineman of the Year
Trevion Shadrick-Harris - Co-Utility Player of the Year
---
1st Team Offense - Logan Fife, Elias Williams, Jason Reyes
1st Team Defense - Blake Vollbrecht, Jordan Matson, Riley Revino
---
2nd Team Offense - Zach Guillen, Adam Dragoo
2nd Team Defense - Christian Perreira, Isaiah Smith, John Palmer
Honorable Mention - Koby Larson, Nolan Willis, Gabe Andora, Brandon Summers
Sunday, November 18
FINAL GAME STATS RELEASED
---
The stats from the Del Oro game have now been produced and are available here.
---
Saturday, November 17
ONE TIME ASSISTANT NOW WORKING FOR RAIDERS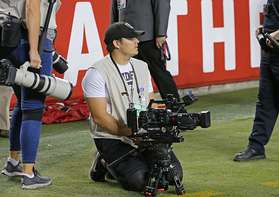 Once Bulldog Sideline Videographer Now With Raiders
Two weeks ago I was photographing at the Raiders vs 49ers game and came across one of my student assistants from three years back. Taylor Krueger attended West High but after graduation assisted me one Bulldog football season taking sideline video. Shortly after helping me, he used that experience plus film work at Delta College to get the position as a Raider film crew member.
Congratulations Taylor, I'm proud of you.
Tuesday, November 13
DOMINANT OFFENSE HIGHLIGHTED THE 2018 SEASON
| | | |
| --- | --- | --- |
| STAT | TOTAL | RANK ALL TIME |
| TD's Per Game | 6.5 | 1 |
| Points Per Game | 45.3 | 1 |
| Total Points | 498 | 1 |
| Total TD's | 71 | 2 |
| TD's Passing | 29 | 1 |
| TD's Rushing | 36 | 7 |
| Passing Yards | 2,209 | 1 |
| Rushing Yards | 2,589 | 5 |
| Receiving Yards | 2,209 | 1 |
| Yards Per Game | 400 | 4 |
| Total Yards | 4,798 | 2 |
HOW TO GET PICTURES (click to expand)
Sunday, November 4
HIGHLIGHT VIDEO JUST RELEASED
---
A 12 minute video showing some behind the scenes action as well as all the key plays from Friday's playoff win can be viewed at
THIS LINK
.
---
Wednesday, August 10
THE RICH HISTORY OF TRACY HIGH FOOTBALL (click to expand)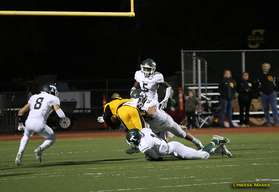 Photos By Lyneesa Marks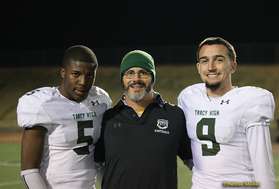 Coach Martin Enjoys a Moment With His Seniors Postgame
Saturday, October 27
10 MINUTE VIDEO SUMMARY OF CROSSTOWN CLASSIC
I've produced a 10 minute highlight video of the sights and sounds from Friday's crosstown classic. You can view it HERE
PICTURES OF THE WEEK - CROSSTOWN CLASSIC
In my first Picture of the Week, I found a better team shot to represent the outcome of the 23rd matchup between West and Tracy.
In looking back at some old football pictures, I came across a folder where I had attended a Bulldog Football camp held at Tracy High in June of 2010. Some of the kids seemed to look like players on our rosters now and I had Coach Shrout confirm that. In the photo below, you see a young Trevor Pope eagerly taking on the bags. You can view the folder to see if a current Bulldog is in them
HERE
.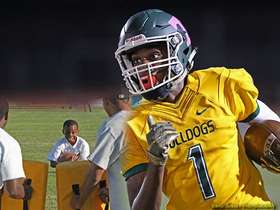 Trevor Pope Back in 2010 and now in 2018
---
In this Picture of the Week I capture Angelo Ortega coming in hot to attempt a punt block. While the picture isn't bad, I could have made it so much better. I had too large a lens and should have either put on a smaller lens or backed way up before the punt took place. Also the depth of field is very narrow and is focused on the punters jersey. Shooting in low light conditions and high shutter speeds limits some flexibility here but I should have tried to make some adjustments before the shot to expand the distance that would have been in focus.
---
In this Picture of the Week, the varsity get their "groove" on before kickoff.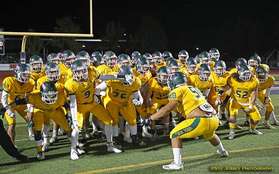 Angelo Ortega Helps The Team Get Their Groove On
---
Friday night provided some special memories for many Bulldog families. Here is one for the Pereira family.
---
In this photo from halftime, student assistant Lyneesa Marks clicked the shutter at the perfect moment to get hands of the dance team in synchronization. The dark West High stands in the background also helps to dramatize the picture.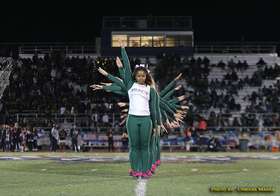 A Picture of the Week Taken By Lyneesa Marks
---
When I saw this scene go down at the beginning of the JV game, I knew I had a Picture of the Week and got enjoyment out of watching the Bulldog defense apply some psychological warfare to the West offense.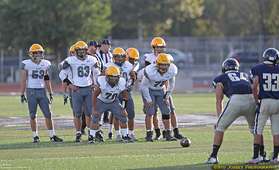 Tracy Attempts to Employ Psychological Warfare at the Line
---
The JV team with freshmen get one last chance to run through the cheerleaders banner.
---
I got down on the ground to shoot up into the helmets for a few plays. On this one, I got Trevion Shadrick-Harris taking a kick return down field and pointing to his ultimate destination.
---
The JV cheer liked their jump picture so much last week, we decided to do another one this week.
---
Trevor Pope providing a little crosstown affection to a West player.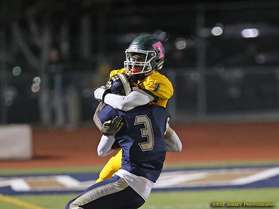 Trevor Pope Offers a Hug To a Rival West Player
---
It was about a year ago that Elias Williams came up to varsity and starting making an impact. Here he is on Friday night out running the West defense for a Tracy score.
Coach Shrout had all the seniors come out part of the way on the field for the coin flip Friday night as they particpated in their last Crosstown game.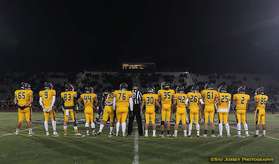 One Last Crosstown Game For The Seniors
---
Lyneesa Marks captures Marti Rhinehart in one of her last cheer performances during a football game. Fortunately, we have one more home game.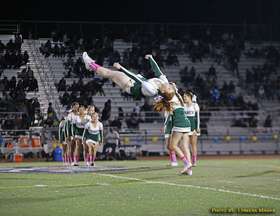 Marti Rhinehart Airborne
---
In this Picture of the Week, I was shooting directly into the sun which really challenged me on whether I would get a decent photo. With some photoshop work behind the scenes I got this to an acceptable level. The Frosh and JV "Boys of Fall" return to the field one last time for the 2018 season. See you guys next year!
---
In this Picture of the Week, I zoomed in on a JV lineman who is getting squeezed by some West beef.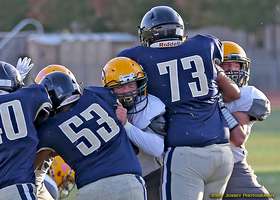 "Squeezed"
---
In this Pic of the Week I capture the JV cheer team finishing up a performance between the 1st and 2nd quarter. This photo and hundreds more will show up again when I present the cheer "Season In Review" movie at their team banquet in early March.
---
In a final picture of the week, I combined several photos I took in sequence of Coby Larson's 46 yard TD reception from Logan Fife early in the 1st quarter. The photos show it was not an easy catch as West defenders did harass the reception a bit as Coby brought it into his chest at the 10 yard line.
Coby Larson Hauls In a 46 Yard TD Pass For The 2nd Tracy Score
Sunday, November 4
SPECIAL PICTURES OF THE WEEK SEGMENT - FROM BEGINNING TO END
For this week I wanted to do a special Pics of the Week segment where I tell the story of the first playoff game chronologically through the pictures Lyneesa and I took.
---
5:30 p.m. Friday in the Team Room
In the first picture, I capture the coaching staff addressing the team just after they have left the locker room and are preparing to take the field for warm ups. Roll call and some broad strategy are discussed. On this night Coach Pribble also shares with them his frustration on how unkept they have left their locker room.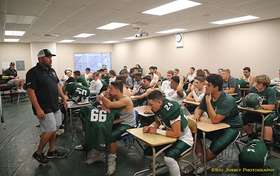 5:30 p.m. Friday - 90 Minutes to Kickoff
---
It's 5:50 p.m. and Tommy Aguilera is the first Bulldog to step foot on the field on a beautiful early November evening. The temperature all evening was fantastic for this time of the year.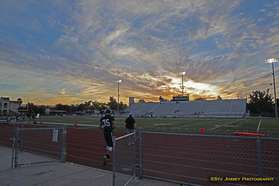 70 Minutes to Kickoff
---
It's 6:02 p.m. and Lincoln steps foot onto the field.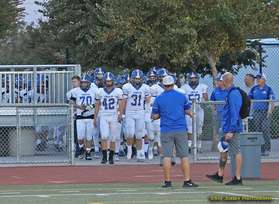 58 Minutes Before Kickoff
---
It's 6:03 p.m. and all the Bulldogs are now on the field so Coach Shrout huddles everyone up to begin stretching and full team drills.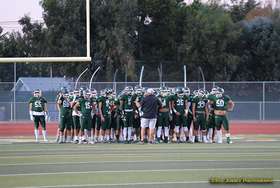 57 minutes to kickoff
---
It's 6:17 p.m. and the voice of the Bulldogs Keith Britt has arrived in the press box and is going over his game notes.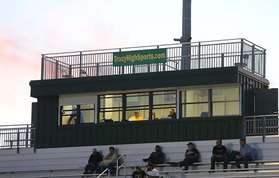 43 Minutes to Kickoff
---
It's 6:25 p.m. and warmups have begun for both teams. Coach Mike Speer settles in on the sidelines and stares off at the Lincoln team in a moment of quiet reflection.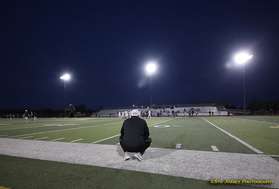 35 Minutes to Kickoff
---
It's 6:31 p.m. and warmups are in full swing. Coach Shrout is summoned by the officials for a meeting. There is informal talk about the season, the playoffs, and what could lie ahead next week and then the refs get into asking questions on whether there are any trick plays to be prepared for, what arm the quarterback throws with, and what foot the kicker uses. The refs discuss the uniform policy and a few other items they will be watching carefully for during the game. They also inquire as to who the captains will be for the evening.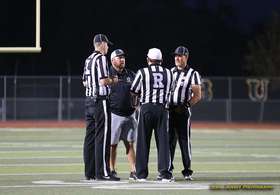 29 Minutes to Kickoff
---
It's 6:51 p.m. and the coaching staff has concluded their final pre-game speech to the team to get them motivated. Captain Angelo Ortega gathers the team for a team prayer and motivation before heading to the fog tunnel. As I walked around the team at this point doing some videotaping, I gotta tell you, the location of this meeting next to the Porta Potties was not a good idea. Thats why I took this picture from a distance.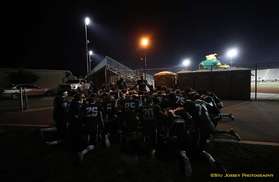 9 Minutes to Kickoff
---
It's 6:54 p.m. and the team prepares to run on the field one last time at home. I had wanted to take this shot from straight on, but as I came out on the field with the team, there was already a photographer and a video guy straight on and I would have been blocking their view, so I took a less desirable side angle.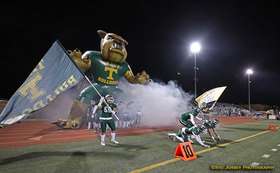 6 Minutes to Kickoff
---
It's 6:55 and the team is now headed to the sidelines. By the middle of the first quarter I'd say the stands ended up being about 50% full for this November playoff game.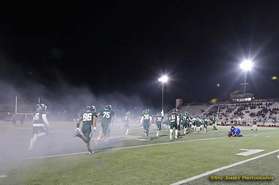 5 Minutes to Kickoff
---
It's 6:59 p.m. and the National Anthem is in the final chorus. "Helmets Up."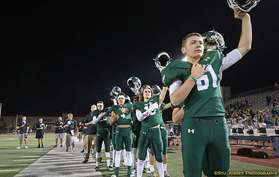 1 Minute to Kickoff
---
We are about 12 minutes into the game and the Bulldog defense is trying to shut down the opening Lincoln drive. A fake punt fools them and ultimately the Fighting Zebra's would find the end zone to take an early 7-0 lead.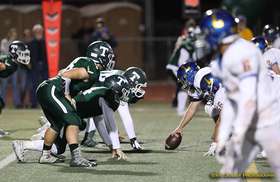 5 Minutes In and Lincoln Is Marching Towards a Score
---
It's 7:16 p.m. and the Bulldogs are on a very long 11 play drive that includes 7 penalties. I show this photo for two reasons. 1) Logan gave it his all to leap over a Lincoln defender and took a very serious looking spill. 2) I'm so disappointed in my photography at this moment. It would have been a great shot, one of those top 10 of the season type of shots, and the focus point for that split second was locked in on the jersey of a Lincoln player 5 yards away from Logan. When I looked down at the viewing monitor on the camera right after the play, I was
VERY
disappointed.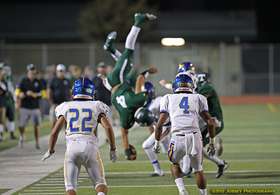 7:16 p.m. - Logan Takes a Flip and I Miss A Great Shot
---
Coach Shrout called it "
a drive for the ages
." Coach Pribble at halftime said he had never seen anything like that in his coaching career. The photo below is the moment the very long first Tracy drive concludes in the end zone with Elias Williams running up the middle for a 7 yard score. The drive took 8 minutes of actual time had 11 plays and 7 penalites and the game clock had 1 minute: 50 seconds left in the quarter at the time of the touchdown.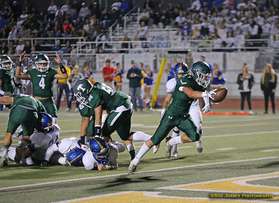 7:18 p.m. - Tracy's First Scoring Drive Results in 6 Points
---
It's 7:25 p.m. and we are 4 seconds into the 2nd quarter when Logan Fife scores a 9 yard rushing TD to give Tracy a 12-7 lead. The extra point would make it 13-7.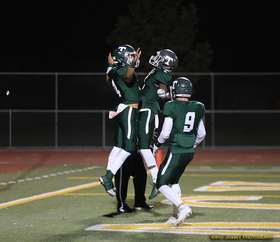 7:25 P.M. Tracy Takes The Lead
---
It's 7:34 p.m. and we are at the 9:45 mark of the 2nd quarter. You have likely already seen the closeup shot I posted over the weekend of Jordan Matson deflecting this pass to intended for Harry Rounds. I decided to show the frame before it here to display the great positioning Jordan had in front of the receiver. Unfortunately, the next play would result in a TD as Tommy Turner laid a perfectly thrown pass just within the fingertips of Rounds who made an incredible one hand catch in the end zone.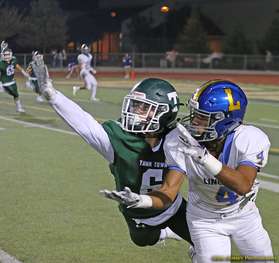 An Early 2nd Quarter Great Defensive Play
---
It's 8:08 p.m. and halftime as Coach Shrout ditches the head set. Lyneesa Marks took this photograph. I made an error in watermarking it.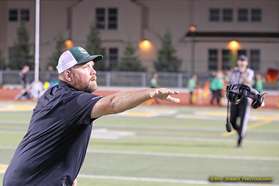 Pitch Right. Photo by Lyneesa Marks
---
It's 8:18 p.m. and Lyneesa Marks is photographing for me on the field while I'm in the team room. Lyneesa captures the cheer team performing one last time at home.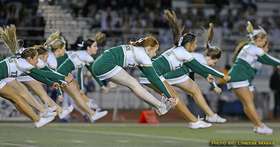 Photo by Lyneesa Marks
---
It's 8:20 p.m. and we have a 20 minute halftime. While the cheerleaders perform outside, the team is listening to some adjustments the coaches are making inside.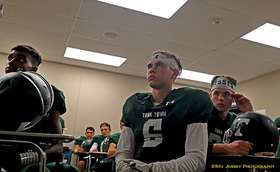 8:20 P.M. Middle of Halftime
---
It's 8:24 p.m. and Lyneesa Marks captures the team returning to the field leading Lincoln 20-14.
---
It's 9:08 p.m. and the 4th quarter is just underway. This is a key play when Harry Rounds turns the corner and scores on Tracy. It would have brought Lincoln to within 7, but the play was called back. Shortly thereafter Lincoln punted which then led to the next scene.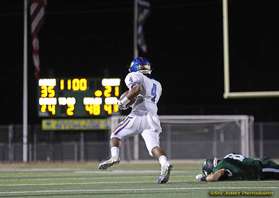 A TD Is Called Back In The 4th Quarter
---
It's 9:22 p.m. and Lincoln has punted to Tracy and downed it on the 2 yard line. Fife hands off to Pope who sweeps around the left side and burns the Lincoln defense for a 98 yard TD and a 14 point lead.
---
It's 9:40 p.m. and Tracy assembles to check off the accomplishments of their goals. Onward to Del Oro and Round II.