Tracy High Football: Welcome
Tuesday, July 10
Wednesday, July 4
NEW VIDEO GETS YOU IN THE MOOD FOR SOME BULLDOG FOOTBALL
In 2 weeks, tracyhighfootball.com will be starting it's 11th season of photo, video, and web coverage of the Bulldogs. We are proud to be approaching 700,000 hits to this website as we start our 2018 season coverage.
Here is a little video teaser for the start of the 2018 season. Click here.
Monday, July 9
FORMAL START TO FOOTBALL SEASON JUST 2 WEEKS AWAY
Summer calendar HERE.
In-depth coverage of Tracy High Football will begin here on July 23rd as the first formal practice begins. The first game is Thurs/Friday August 16/17th when the Bulldogs host Kimball.
2018 SCHEDULE
CIF-SJS rules allow for an earlier start to the practice season in 2018. Tracy has also changed up their opponents a bit. The league rotation has changed and yes, Tracy will travel for the 2nd time in two years to St. Mary's.
Note: Freshman games are always Thursday at 6 p.m. starting on August 16 vs Kimball
Date
Opponent
Location
Time
Monday, July 23
Practice Begins
Saturday, August 4
Green & Gold Scrimmage
Tracy
A.M.
Saturday, August 11
Scrimmage @ Oakdale
Oakdale
Friday, August 17
Kimball
Tracy
SATURDAY AUGUST 18
THS FOOTBALL BOOSTERS FUNDRAISING DINNER
Friday, August 24
Buhach Colony
Tracy
Friday, August 31
Turlock
Turlock
Friday, September 7
Manteca
Manteca
Friday, September 14
Fortuna (new opponent)
Tracy
Bye Week
LEAGUE BEGINS
Friday, September 28
Tokay
Tokay
Friday, October 5
Lincoln
Tracy
Friday, October 12
St. Mary's
St. Mary's
Friday, October 19

Lodi

HOMECOMING

Tracy
Friday, October 26

West

23rd Annual Crosstown Classic

West
PLAYOFFS
Sunday, June 17
NEW FOOTBALL COACH IN TOWN
When Kimball high opens the season versus Tracy High on August 17th, there will be a new head coach for the Jaguars. Mike Kuhnlenz takes over the assignment leading the Jaguars. View the Tracy Press article about him HERE.
---
After Tracy opens against Kimball on Thursday and Friday August 16/17th the Football Boosters will be hosting the big Football Dinner Gala on Saturday the 18th. More details coming soon.
Saturday, June 16
TRACY ALL STARS REPRESENT BULLDOGS WELL
Bolaji Akinyemi, Kristien Reyes, and Nick Nunez played on Saturday evening in the 45th Lions All-Star Football game. Their squad lost, but they represented Tracy High well in their play. 600+ photos uploading here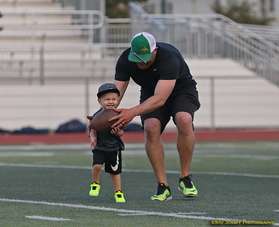 It's Almost Football Season And Some of Us Can't Contain Our Excitement
Thursday, May 3
ATTENTION INCOMING FRESHMEN
FRESHMEN - Make sure you register online for participation in practices, etc. FamilyID is the school district's official online portal for sports registration. Go to tracyhighsports.com at this link for direct access to the portal and medical forms.
The health physical also needs to be complete and uploaded online. If you cannot upload it, bring a copy to Coach Fishburn on the first day of practice on May 29.
---
If players entering the football program in 2018-19 school season (or their parents) have questions about the upcoming freshman football season, please contact the coaching staff:
Jay Fishburn - Freshman Head Coach jfishburn@tusd.net
Matt Shrout - Varsity Head Coach mshrout@tusd.net
---
Tuesday, May 15
CARLOS VASQUEZ SIGNS WITH PACIFIC UNIVERSITY - OREGON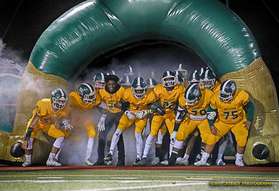 The Boys of Fall Return This Summer
Tuesday, December 12
AKINYEMI AND VASQUEZ SHARE IN PBK AWARD - MOORE WINS WEEKS AWARD FOR GPA
Monday, December 4
VARSITY AWARDS ISSUED
Defensive Player of the Year- Bolaji Akinyemi
Offensive Player of the Year - Logan Fife
Richie Silva Most Valuable Lineman - Alex McNely
Coaches Award- Brandin Farmer & Trevion Shadrick-Harris
Most Improved - Jonah Reyes
Most Inspirational - Christian Pereira
Tommy Greenhow Scholar Athlete (GPA and field performance) - Xavier Moore
Saturday, December 2
ALL LEAGUE SELECTIONS
Now that St. Mary's has played their final game of the season, the all-league selections can be released
Full listing of all players at these links
Tre Jenkins of St. Mary's was the league MVP
Bolaji Akinyemi was the league Defensive Player of the Year
Alex McNely was the Offensive Lineman of the Year
Zach Fleming of Tokay was the Defensive Lineman of the Year
Carlos Vasquez was the Utility Player of the Year
Matt Shrout picked up the Coach of the Year title
---
1st Team Offense (Tracy selections)
Xavier Moore (RB)
Brandin Farmer OL
1st Team Defense (Tracy selections)
Angelo Ortega (DL)
Nick Nunez (DL)
Kristien Reyes (LB)
Trevion Shadrick-Harris (DB)
---
2nd Team
QB - Logan Fife
OL - Jonah Reyes
LB - Myles Walker
LB - Daniel Turner
DB - Ethan Bejines
---
Honorable Mention
DB - Lamar Johnson
WR - Anthony Buckhanan
K - Parker Bonin
OL - Ray Rivera
DL - Emilio Lopez
HOW TO GET PICTURES (click to expand)
Wednesday, August 10
THE RICH HISTORY OF TRACY HIGH FOOTBALL (click to expand)
Wednesday, November 22
SEASON IN REVIEW STATS
Team Stat Leaders For The Full Year
Offense (full stats HERE)
Leading Rushers
Logan Fife 103 carries for 455 yards. 4.4 average. 5 TDs
Mason Sarsfield 74 carries for 344 yards. 4.6 average. 2 TDs
Xavier Moore 59 carries for 309 yards. 5.2 average. 6 TDs
Passing
Logan Fife 102 of 184 for 1781 yards. 17 TDs
Ethan Bejines 27 of 49 for 430 yards.
Receiving Leaders
Xavier Moore 39 receptions for 646 yards, 5 TDs
Carlos Vasquez 26 receptions for 509 yards, 7 TDs
Trevion Shadrick-Harris 14 receptions for 255 yards, 4 TDs
Scoring Leaders
Xavier Moore 11 TDs
Carlos Vasquez 9 TDs
Logan Fife 5 TDs
---
Defense (full stats
HERE
)
Leading Tacklers
Bolaji Akinyemi 63 total tackles. 46 solo / 34 assists.
Daniel Turner - 58 total tackles. 48 solo / 20 assists
Kristien Reyes - 58 total tackles. 43 solo / 30 assists
Special Teams (full attachment HERE)
Tyler Gaudreau 57 kickoffs averaging 45 yards
Parker Bonin 10 kickoffs averaging 44 yards
Logan Fife 27 punts for 1016 yards. 37.6 average
Kickoff Return Leaders
Xavier Moore 14 for 248. 17.7 average
Trevion Shadrick-Harris 9 for 195. 21.7 average
Mason Sarsfield 5 for 130. 26 yard average.
Punt Returns
Carlos Vasquez 12 for 230 yards. 19.2 average, 2TDs.
---
Tracy vs Opponents Cumulative Stats HERE
---