Tracy High Football: Welcome
Wednesday, October 18
FRESHMEN FACE TOUGH TEST ON THURSDAY'S EARLY GAME
Tracy freshmen get their first experience playing the upper crust St. Mary's football program when they visit Sanguinetti Field on the Rams campus in Stockton on Thursday with a 3:30 p.m. kickoff to facilitate St. Mary's homecoming activities later that evening.
ON DECK - TWO TOUGH ROAD GAMES - THURSDAY TIME CHANGE FOR FRESHMEN
THS 2017 SCHEDULE LINK HERE
SU
MO
TU
WE
TH
FR
SA

19

NOTE GAME TIME CHANGE DUE TO SM HOMECOMING ACTIVITIES

Freshman at St. Mary's 3:30 p.m.

20

Sophomores and Varsity at St. Mary's 5/7:15 p.m.

21
22
23
24
25

26

Freshman at Lincoln 6 p.m.

27

Sophmores and Varsity at Lincoln 5/7:15 p.m.

28
Monday, October 16
CONGRATULATIONS BRUCE RUSSELL AND FAMILY
2013 Tracy High grad Bruce Russell graduated from the Alameda County Sheriffs Academy today and will now hit the streets as a Hayward police officer. Russell attended and played football for
Concordia University
for four years before returning to CA to pursue a career in law enforcement.
Monday, October 16
THANKS FOR VISITING THE WEBSITE OVER THE WEEKEND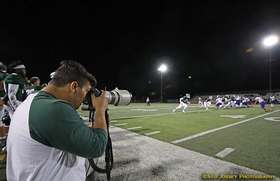 Student Assistant Dylan Angelo Captures Some Action During the Varsity Game
We had our biggest hit count on the website for the football season as Homecoming generated over 4,500 web hits to tracyhighfootball.com Thanks for checking in during this festive week of activities.
---
Sunday, October 15
PICTURES OF THE WEEK SPECIAL HOMECOMING EDITION
The diverse activities of Tracy High Homecoming offer some excellent photo opportunities and a rich treasure trove in which to display some "Pictures of the Week." There are many, many more photos that could not be displayed on this page but are available for your viewing (or purchase) pleasure in the Homecoming and 2017 Bulldog Football folder at stujosseyphotography.com
Here is my first one of a student doing a flip during the Night Rally on Wednesday.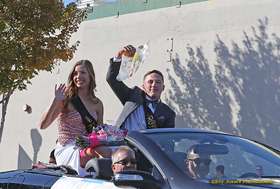 "Sorry Kids, Out of Candy"
Carlos Vasquez tells a disappointed crowd that he is out of candy as his vehicle nears the end of the parade route.
Ally Vierra is in the right position with the camera to capture this action shot of Anthony Buckhanan receiving a Logan Fife pass that was on target. Brutus oversees the action from his vantage point in the background.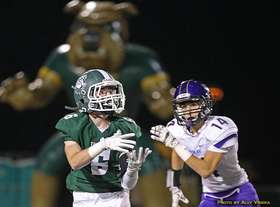 Focused And On Target
Coach Mike Speer has fun with the team during a relaxed halftime locker room as he dons a Bulldog helmet for a few seconds and gets quite the reaction.
Sophomore cheer salutes the military during the halftime performance on Friday evening.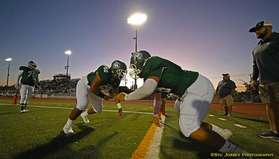 Line Dogs Warming Up
Kevin Speer supervises the warm up of the Line Dogs before Friday's game against Tokay. This will be the final varsity game where there is any hint of sunlight for my photos. It's all stadium lighting from here on out.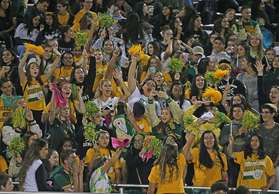 9 Times To Strike Up the Band and Cheer
Ally Vierra snapped this photo of the Dogpound cheering on their team. It was a 9 touchdown night that kept the band and the Dogpound very busy.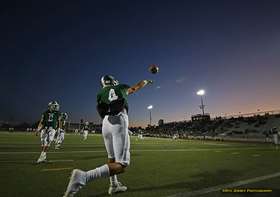 Logan Fife Prepares For Another Big Night Under The Lights
Logan Fife returns to the lineup after a minor injury at Liberty in Game 5. In this Picture of the Week I capture him warming up on a mid October evening.
Sunday, October 15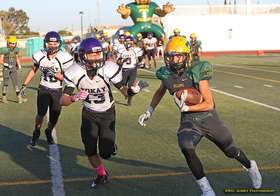 Tommy Chavez Hits The Corner of the End Zone for a TD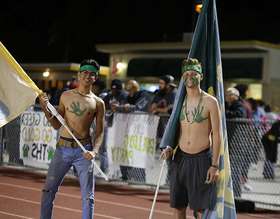 Tracy Bulldog Spirit On Display (Photo by Ally Vierra)
Ally Vierra got another Picture of the Week as she captures two students busy running the flags down the track. It was a busy 9 touchdown night for the Bulldogs that required anyone celebrating a touchdown to be in good shape.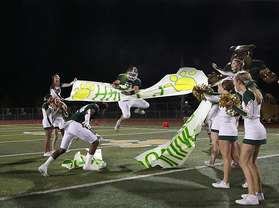 Nick Bursts Through The Homecoming Sign En Route to a Collison With Jaylan
I displayed this picture on Friday night, but wanted to make reference to it again in my Pic of the Week segment. What happens a split second after this picture was taken was documented in video footage as Nick and Jaylan collide in a not so graceful move. It will be seen during the end of the year "season in review" movie when the Game 7 highlights appear.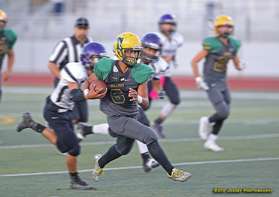 Alejandro Delatorre Breaks Free
This is one of my favorite action shots I've taken this year and worthy of a Picture of the Week.
Senior Ally Vierra snapped this crystal clear and colorful photo of a Tracy High band member. Downsizing and placing these images on the web do not do justice to the clarity of some of the photographs like this that I get to see in full resolution. Ally has shown in just a few weeks of sideline work to be a very talented photographer. I hope she pursues photojournalism after High School.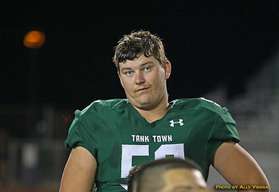 Brandin Farmer Provides a Funny Response To Ally Vierra's Camera Lens
Ally Vierra captures a relaxed Brandin Farmer postgame as he listens to the postgame comments. It's nice having a student assistant snap some of these candid shots because they get reactions that are not possible for me to draw out of the students.
Another Ally Vierra photo capturing some varsity players in a moment of reflection prior to kickoff.
Sunday, October 15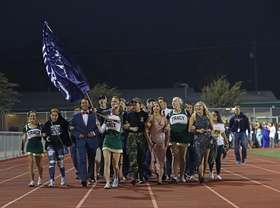 Seniors Enter For One Final Night Rally
In the next Picture of the Week above I capture the seniors as they enthusiastically enter the stadium on Wednesday night for the Night Rally.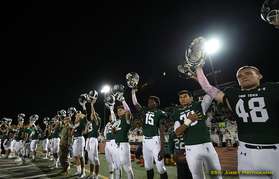 Honoring the Flag Prior to Kickoff Of the Homecoming Game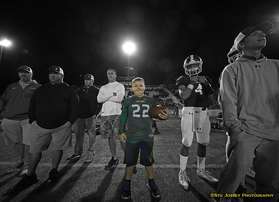 Mason Pribble Looking Proud On The Sidelines
Ball Boy Mason Pribble has a great time on the sidelines working hard during the varsity game Friday night.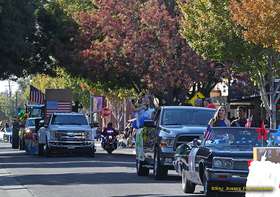 Fall Colors On Display During the Homecoming Parade
I have a routine on the parades where I first shoot the students coming North on Central at the start of the parade and then I move to this location which has a really nice background of the trees that line 10th Street. The October Fall colors are in full display as the parade hits the large crowds assembled downtown.
A student gets into the spirit as he walks north on Central Ave during the Homecoming parade.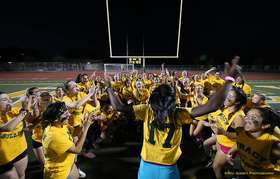 Amaya Terry Gets The Seniors PUMPED!
Amaya Terry gives a motivational speech to the seniors pre-game to get them pumped up. It worked.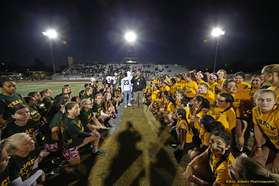 The Final Moments of Civility
Principal Jason Noll lays down the rules of the game in the final moments of civility between the Juniors and Seniors. It was a very competitive and entertaining Powder Puff game with a lot of offense.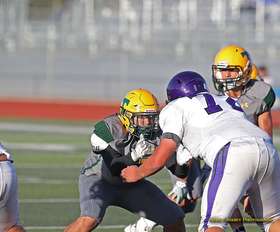 A Sophomore Lineman Is Focused On His Blocking Assignment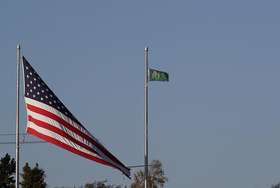 The Flag Honoring Mary Nunez Flies High Above the Football Field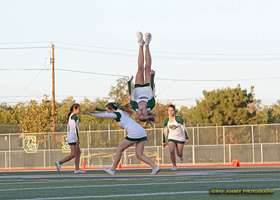 "Brain Rush"
Saturday, October 14
HOMECOMING MULTIMEDIA SUMMARY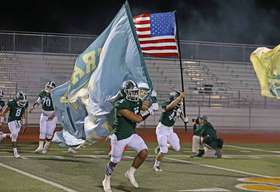 The Bulldogs Make a Grand Entrance (Photo by Ally Vierra)
Over 6,400 photos were taken since Wednesday night accounting for over 50GB of photo and video data.
Night Rally - Photos / Video Part I, Part II (skits), Part III (conclusion)
Powder Puff
I may produce a short varsity highight video. Evaluating material now.
---
Saturday, October 14
REGIONAL SCORES
St. Mary's 50 - West 6
Lincoln 56 - Lodi 0
Friday, October 13
HAPPY HOMECOMING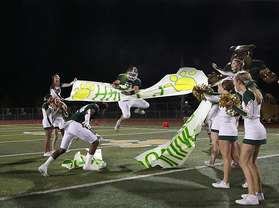 Nick Nunez Leaps Through the Homecoming Banner After Halftime
| | | | | | | |
| --- | --- | --- | --- | --- | --- | --- |
| Varsity | 1 | 2 | 3 | 4 | | TOTAL |
| Tokay Tigers | 0 | 0 | 0 | 0 | | 0 |
| Tracy Bulldogs | 34 | 21 | 7 | 0 | | 62 |
Bulldog nation had a lot to smile about this week as they put on a stellar tribute to the military with their homecoming festivities. The weather was amazing, the spirt was at an all-time high and all three football teams dominated over Tokay. For the varsity, it was domination from the get go as the scoring came fast and furious on offense and defense.
With only a few ticks off the clock, Logan Fife found Anthony Buckhanan on a 25 yard pass play to get the first score accomplished. Fife would come right back and hit Xavier Moore on a 7 yard pass at the 10:33 mark to take a 13-0 lead. 30 seconds later Bolaji Akinyemi fell on a fumble in the end zone to taking a stunning 20-0 lead. If that was not enogh rapid fire scoring, Ethan Bejines picked up a pass that was a lateral and ran it back 46 yards for a 27-0 lead still early in the 1st quarter. First quarter scoring would finally conclude on a Moore 19 yard run and a Parker Bonin kick to make it 34-0.
The Tracy scoring parade continued early in the 2nd when Fife found Carlos Vasquez on a 24 yard touchdown pass. Vasquez had double the fun shortly thereafter on a 50 yard punt return to give Tracy a 48-0 lead. Mason Sarsfield leaped into the end zone on a 12 yard run to make it 55-0 late in the first half.
After halftime a running clock limited the amount of playing time but Bejines executed a 26 yard pass to Zach Guillen for the final score.
Tracy would out produce Tokay 343 to 75 in total offense. Surprisingly in a score of this nature, the passing and rushing yards were not significant for Tracy. Key to the lopsided nature of the game was 5 Tokay turnovers.
Logan Fife was 7 of 8 for 140 yards and 3 touchdowns. He was also the leading Bulldog rusher with 64 yards. Ethan Bejines was 2 of 3 for 19 yards and 1 TD.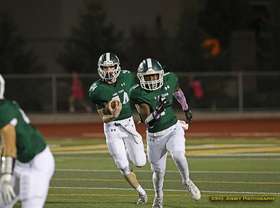 Mason Sarsfield Follows His Lead Blocker On The Opening Kickoff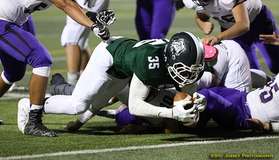 Bolaji Akinyemi Fall On a Loose Ball In The End Zone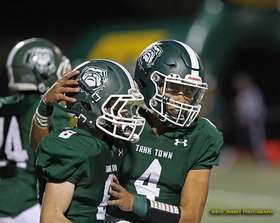 Teamwork! Fife Congratulates Buckhanan on His Nice TD Reception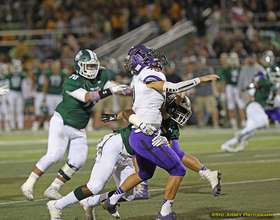 Myles Walker Delivers a Blow To the Tiger QB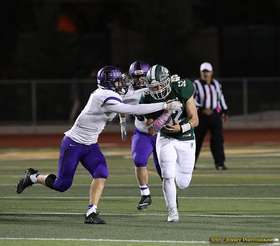 Jonah Reyes Picks Up Some First Half Yardage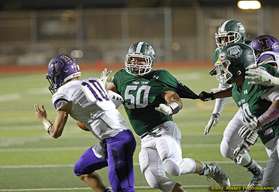 Brandin Farmer Gets "Held Up" In His Pursuit of a Tiger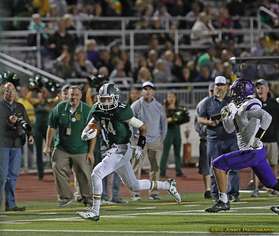 Carlos Vasquez Makes the Principal Happy On This Punt Return for a TD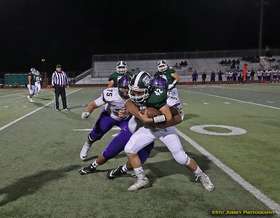 Christian Pereira Takes On The Tokay Defense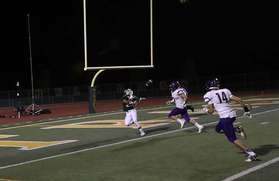 Bejines Finds Zach Guillen In the End Zone in the 3rd Quarter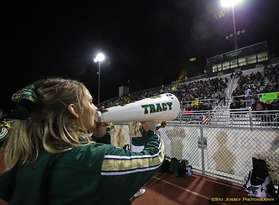 Kassidy Carlson Gets The Attention of the Large Homecoming Crowd
Thursday, October 12
A SPECIAL HOMECOMING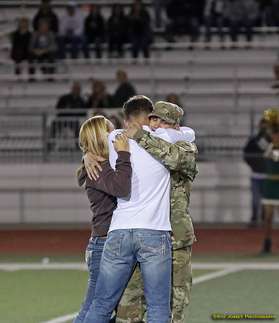 An Emotional Surprise At Halftime as Trent surprises Weslee (and Mom)
The 2017 Tracy High Homecoming is about a tribute to our military and there was a VERY SPECIAL "Homecoming" moment during halftime of the Powder Puff game today as Trent Kersey surprised brother Weslee (and mother too) arriving from Ft. Benning, GA unexepctedly.
Thursday, October 12
SENIORS RULE IN WELL PLAYED POWDER PUFF GAME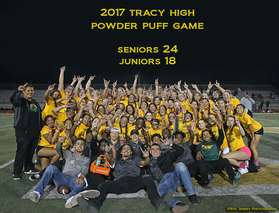 The Seniors Edged The Juniors In An Exciting Game
1,009 photos uploading overnight and into Friday HERE.
It was one of the best Powder Puff games I've seen in my 10 years photographing the event. The seniors edged the juniors in a game that saw a lot of precision passing on both sides and some very long runs!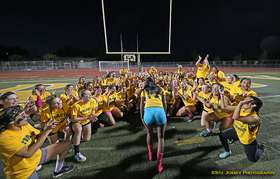 The Seniors Get Pumped Up Pre-Game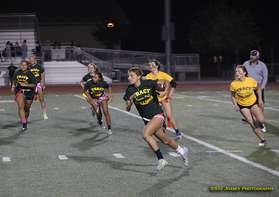 There Were Some Top Notch Athletes On The Field Thursday Night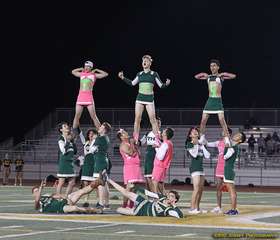 Senior Cheer Concludes Their Act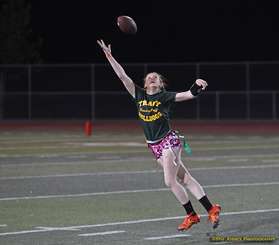 A Long Throw Is Just A Couple of Inches Out of Reach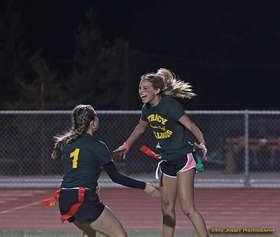 A Junior TD Celebration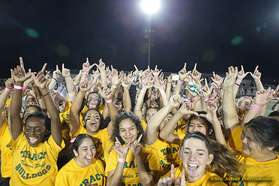 Victory Formation
Friday, September 22
REVISED VARSITY ROSTER AS OF SEPT 22, 2017
New roster revised
HERE
.
2017 TRACY HIGH FOOTBALL SCHEDULE
Date
Opponent
Location
Time
Score
Aug 25
San Ramon Valley
Tracy High
L 27-7
Sep 1
Buhach Colony
Atwater High
W 51-30
Sep 8
Turlock
Tracy High
W 29-22
Sep 15
Kimball
Kimball High
W 55-0
Sep 22
Liberty
Liberty High
L 24-21
Oct 6

League Game 1

Lodi

Tracy High
W 35-0
Oct 13

League Game 2

Tokay

HOMECOMING

Tracy High
5/7:15
Oct 20

League Game 3

St. Mary's

St. Mary's High
5/7:15
Oct 27

League Game 4

Lincoln

Lincoln High
5/7
Nov 3

League Game 5

22nd Crosstown Classic

vs West

Tracy High
5/7:15
Nov 10
Playoffs Round 1
TBA
Nov 17
Playoffs Round 2
TBA
Nov 24
Playoffs Round 3
TBA
Dec 1 / 2
Section Finals
Sacramento State
HOW TO GET PICTURES (click to expand)
Wednesday, August 10
THE RICH HISTORY OF TRACY HIGH FOOTBALL (click to expand)