Saturday, November 2
UPDATE ON BASEBALL BOOSTERS
The next meeting is November 13th at the Banta Inn at 6:30 p.m.
www.facebook.com/thsbaseballboosterclub
Tuesday, September 24
RETURNING TO VARSITY?????
THE FOUNDATION OF THE FUTURE?
Potential returning players pending eligibility, tryouts, etc...
SR Brett Curtis
SR Braeden Oki
SR Ryan Vares
SR Aaron Denholm
SR Dustin Dibble
SR Michael Motyka
SR Anthony Nunez
SR Chaz Samaniego
JR Jacob Alvarado
JR Robbie Ramirez
JR Brandon Russell
Room for several more from sophomore and freshman squads. The varsity roster is usually around 17 but there is no official #. Coaches discretion based on team needs.
?
?
?
?
?
???????????
---
Thursday, June 6
VARSITY DELIVER AWARDS ON THURSDAY NIGHT
Most Inspirational - Robbie Ramirez
MVP - John Jaeger
Most Improved - Anthony Nunez
4 Varsity Career No Hitters Recognized for Jonah Wesely
4/10/12 - Chavez 6-0 win with 18Ks
4/26/12- Lincoln 2-0 win with 8Ks
5/17/12 - Tokay 7-2 win with 15Ks
4/17/13 - Chavez 6-0 win with 18Ks
Scholar Athletes:
Michael Motyka
Chaz Samaniego
Saturday, May 18
PHOTOS OF PLAYOFF GAME NOW AVAILABLE
I Rented a Special Wide Angle Lens On Thursday for Unique Perspectives
Photos from the Buhach Colony vs Tracy game have loaded here.
Included in the photos are several shots taken with a special Canon 14mm wide angle lens. For the first time, I rented this special lens to give a unique perspective on shots in and around the dugout at UOP.
The 2014 Bulldogs Look To Stay Strong With Returning Talent
Friday, May 17
SJAA ALL-LEAGUE ANNOUNCEMENTS
SJAA MVP (for 2nd straight year) John Jaeger
SJAA Pitcher of the Year (for 3rd straight year) Jonah Wesely
Relief Pitcher of the Year - Nick Patla (Lincoln)
Offensive Player of the Year - David Simon (Lodi)
1st Team All League:
Pitchers: Bijan Tavakoli (Senior), Eric Lara (Bear Creek)
Catchers: Parker Klein (Lincoln)
Infield: Oscar Moreno (Tracy), Grant Henecke (Lodi), Brett Young (Lodi), Jacob Thomas (Bear Creek)
Outfield: Justin Wallis (Bear Creek), Anthony Piombo (Lodi), Nate Verlin (Lincoln)
Utility: Averey Kolomvotos (Chavez)
---
2nd Team All League:
Pitcher: Jacob Rosales (Bear Creek), Zach Kramer (Lodi)
Catcher: Marcos Jimenez (Bear Creek)
Infield: Aaron Denholm (Tracy), Hanalei Kalua-Adams (Lincoln), Jacob Glover (Bear Creek), Nathan Wallen (Franklin)
Outfield: Jacob Alvarado (Tracy), Braeden Oki (Tracy), Dean Kremer (Lincoln)
Utility: Robert Flores (Chavez)
Tracy Bulldogs Honorable Mention
Anthony Nunez (Tracy), Robbie Ramirez (Tracy), David Miranda (Tracy)
---
Friday, May 17
SEASON ENDING STATISTICAL REPORT
A detailed report by player is listed here. A summary is shown below of the team leaders:
Highest batting average: John Jaeger .395, Oscar Moreno .370
Most hits: Jaeger 34, Wesely 26, Alvarado/Nunez 24
Most runs: Alvarado/Jaeger 17, Wesely 13
Most RBIs: Jaeger 19, Ramirez 16, Wesely 14
Most doubles: Wesely 6, Nunez 5
Most stolen bases: Oki 11 of 12 attempts, Alvarado 8 of 10
Bulldog Team Batting Average: .291
---
Pitching wins: Jaeger 9, Wesely 6
Pitching ERA: Jaeger .32, Wesely .98
Strikeouts: Wesely 110, Jaeger 103
Friday, May 17
SPECIAL REPORT BY COACH ALKIRE: WHAT HAPPENED TO THE HOMERUNS?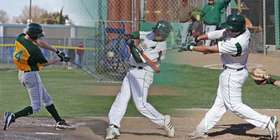 HR Sluggers Jossey, Scornaienchi, and Valdez From a Few Years Ago

Coach Alkire woke up this morning with a lot of time on his hands. There was no practice or game to get ready for. So he took the time to research something that had been on his mind lately. What happened to all the homeruns? Oscar Moreno hit one last night and Jonah Wesely hit one a few weeks back. But that is it for 2013. It was not that long ago that the Dogs were cranking out 22 a year. An interesting report on this is in this attached 2 page article.
---
Friday, May 17
Wednesday, May 1
WEBSITE THANKS NEW SPONSORS
My baseball website just received two new sponsors for the balance of this year and the 2014 baseball season. I'm proud to say thank you to Premier Hyundai of Tracy and Premier Chrylser Dodge Jeep Ram of Tracy for providing sponsorship that helps to cover my costs associated with this website, disc space, and photo/video coverage my wife and I provide of Tracy High baseball.
The dealerships are located in the Tracy Auto Mall and I'll have more information to share soon + an advertising banner at the top of this page.
THS CAREER BATTING AND PITCHING LEADERS (COACH VIC WILL UPDATE AT THE END OF THIS SEASON)
NOTE: THERE IS A LOT OF UPDATING TO DO ON THIS LIST AND THE DETAILED SPREADSHEET THAT INCLUDES ALL THE PLAYERS. Coach Alkire is in the process of updating.
(Coach Alkire is updating)
Career Avg

1. Ricky Diaz (08-10) .456

2. Steven Ramos (07-08) .429

3. Brad Kelley (82-83) .419

4. Tanner Turner .415

5. Dexter Hermosura (94-95) .400

Career Hits

1. Tanner Turner 125 hits (09-12)

2. Jacob Valdez (08-10) 93 hits

3. Ryan Scornaienchi 87 (06-08)

4. Vince Canale 76 (06-08)

5. Stevie Alkire 75 (90-92)

Career RBIs

1. Jacob Valdez 94 RBIs (08-10)

2. Jake Shull (09-11) 73 RBIs

3. Vince Canale (06-08) & Brandon Jossey (08-10) 69 RBIs

4. Tanner Turner 67 RBIs

5. Ricky Diaz (08-10) 65

Career HRs

1. 14 HRs - Kevin Hollenbeck (90-91 season)

2. 10 HRs - Jake Shull (10-12 season) Brandon Jossey & Jacob Valdez (08-10 season), Ryan Scornaienchi (06-08 season)

3. 8 HRs - Albert Navarra (92-93 season) & Chris Reece (02-03 season)

4. 6 HRs - Tanner Turner, Ricky Diaz (08-10), Kyle Hassna (08-09) & Chris Ullery (97-98)

5. 5 HRs - Stevie Ramos (07-08)

Career Pitch ERA

(COACH VIC TO UPDATE SOON)

1.John Jaeger/Jonah Wesely (ERA Pending)

2. Louie Contreras (80-81) 1.61

2. Ernie Lopez (02-04) 1.86

3. Danny Auchard (87-88) 1.93

4. B.J. O'Bryan (06-07) 2.09

5. Mark Grijalva (77-78) 2.10

Career Pitch Wins

1. John Jaeger 19

2. Jonah Wesely 18

3.Danny Auchard (87-88) & Ernie Lopez (02-04) 14

4. Sam Crivello (94-96) 13

5. Jason Timko (91-92) 12

Career Strikeouts

1. Jonah Wesely 247

2. John Jaeger 189

3. Jason Timko (91-92) 185

4. Ernie Lopez (02-04) 142

5. Danny Auchard (87-88) 141

Innings Pitched

1. Sam Crivello (94-96) 174.3

2. John Jaeger 161.2

2. Ernie Lopez (02-04) 158.3

3. Charlie Pikas (92-93) 152.3

4. Jonah Wesely 135

4. Jason Timko (91-92) 130.6
Handout:
VARSITY HISTORICAL STATS
Friday, April 27
MORE HISTORICAL INFORMATION IS DISCOVERED (updated)
Click on the title of this article to unveil historical coaching records.


Monday, January 10
NCAA ELIGIBILITY WEBSITE


ALUMNI ACTIVELY PLAYING COLLEGE OR PRO BALL
This information is updated as I receive updates from players, parents, or coaches.
Sunday, February 17
2013 ROSTERS AND SCHEDULES