Monday, January 26
START OF 2015 BASEBALL SEASON BEGINS TODAY WITH CONDITIONING
SUN
MON
TUE
WED
THU
FRI
SAT

26

Conditioning begins at Monte Vista 3:30 p.m.

27

Conditioning

28

Conditioning

29

Conditioning

30

Conditioning

31
1

2

Pitchers & Catchers can begin participation in baseball drills

3

Pitchers & Catchers

4

Pitchers & Catchers

5

Pitchers & Catchers

6

Pitchers & Catchers

7
Thursday, January 22
CONDITIONING BEGINS MONDAY - IS YOUR PAPERWORK SUBMITTED?
Conditioning for baseball begins at 3:30 p.m. Monday. There is a golden rule in Tracy Unified School Athletics: "If a student-athlete is missing anything (even a concussion form), it is the coaches utmost professional responsibility to keep the student-athlete from participating until the form(s) are turned in. The athletic director will not allow any athlete to condition, practice, or play without all paperwork turned in. Need the paperwork? Find it here.
Next year this process will go all electronic.
Friday, January 16
2015 VARSITY BASEBALL SCHEDULE - Click to Expand (updated 1/25/15)
Wednesday, January 21
NEW ON THE WEBSITE
I'm starting to ramp up the coverage of the upcoming baseball season. Below you will find new articles on the coaches, my website coverage, and the draft 2015 baseball schedule.
(new) Freshman schedule now released on the freshman page.
Monday, January 19
2015 VARSITY COACHES
Tony Crivello Returns As Assistant Varsity Coach

2015 brings some changes to the assistant coaching staff at the varsity level. The baseball program welcomes back Tony Crivello who played a significant role with Vic and Stevie Alkire bringing the baseball program to prominence in the 2006-2012 era. Tony took a break from coaching at Tracy High for a couple of years and is now back. A new face this year is Joel Hight who will be joining returning assistant coaches Chris Anklam and Kenny Serrano.

Saturday, January 18


COACH ALKIRE RETURNS FOR 22ND SEASON WITH 310 CAREER WINS AND COUNTING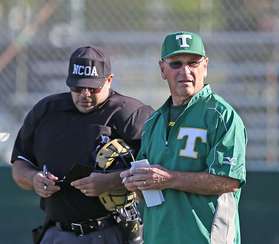 Vic Alkire Returns to Coach the Bulldogs in 2015
When you average 20 wins a season, the career victories add up fast. That is exactly what has happened to Vic Alkire in the latter part of his coaching career, especially the last five to six years. It was 2009 when Vic achieved the 200 win milestone. It only took five years to arrive at the front door of the next major plateau of 300 wins last spring. "It has gone by really fast, said a satisfied Alkire. "The last 10 plus years of my 21 year coaching career have flown by because I've been having so much fun. I primarily contribute it to my assistant coaches, the fans, and our active booster club. I've been fortunate to surround myself with good people. There are many of my peers in coaching that I've seen come and go because they can't deal with all the off the field responsibilties of being a head coach."
Another factor that Alkire points to regarding his happiness in coaching has been the role of the Athletic Director at the High School. "I've coached under four of them. Don Nicholson, Manuel Costa, Mark Stroup, and Gary Henderson. All have been very supportive of the baseball program, but possibly none more so than our current A.D. Gary Henderson. He has been right there willing to do whatever it takes to make our program successful during the move off campus," said Alkire.
"I'm so lucky to coach baseball. My playing days have long since past me by, but I get the opportunity to still smell the grass, stay involved strategically in the game, and get the infield dirt mixed into my hands. It keeps me young," said Alkire.
"When I started coaching in 1994 I thought I was going to do this for two to three years. Boy was I wrong."
Monday, January 19
WEBSITE BEGINS 9TH YEAR OF BASEBALL COVERAGE
In 2007 I launched this website with a few photos of the games and scoring recaps. It quickly grew into a much larger endeavor and would eventually expand to other Tracy High Sport websites, photo journalism gigs, a new TCAL website, and much more.
As this baseball website enters it's 9th year and approaches 400,000 web hits I thank you the viewers for visiting frequently for updates on our baseball program. I encourage your feedback on my coverage. Feel free to offer information that you think would be of interest to others, activities of our baseball alumni, and always let me know if you find errors.
This is a volunteer gig and I can't make all the games due to my day job, but I will update the site daily with information flowing in from the coaches at all three levels and any input you provide that might enhance the website.
If you know someone that would like to run an add at the top of my page, the ad donation helps to offset my costs for web and multimedia fees and equipment. I'll create and post the ad for $100/year which will also include coverage on the highly popular Tracy High Football website through next year. Recent advertisers have included real estate companies, hair stylists, insurance companies, restaurants, car dealerships, and other local businesses.
As the February season draws near, the coverage will pick up in pace and game recaps will include photos, stats, and coaches summaries. I also try to keep up on our opponents and provide you with insight from other high school sources.
Thanks for viewing my tracyhighbaseball.com website - Stu
Sunday, January 12
BASEBALL SEASON DRAWS NEAR - ARE YOU IN SHAPE?
SR Jacob Alvarado Should Have a Stellar Year For the Bulldogs
It's important you get all your official forms filled out now and get your arm and body in shape
FORMS CAN BE OBTAINED HERE
If a player has not had a physical since June 1, 2014 they must obtain a physical from their physician prior to participating in any baseball related activities including conditioning.
Upcoming baseball related events:
January 26-31 Conditioning
February 2 - Pitchers and catchers particpate in practice
February 9 - 1st day of practice for all players
February 19 - Final rosters announced
February 21 - First scrimmage vs Kimball (varsity only)
February 28 - First game vs Enochs (all levels)


Friday, January 2


FORMER TRACY HIGH BASEBALL AND FOOTBALL COACH PASSES AWAY


Former Tracy High Baseball & Football coach Glenn "Dutch" Grose passed away Sunday. He was the Bulldog varsity head baseball coach in the 1950s and 60s coaching Vic Alkire during that time period.

Tuesday, December 16


BASEBALL TOURNAMENTS




The Tracy High Baseball Boosters will host 3 tournaments this pre-season. There will be a varsity and JV tourney on March 7-14 and a Freshman tourney March 17-21. Teams are beginning to sign up for the tourney with 7 frosh and JV teams announced and 6 varsity teams on board. Tracy High still hopes to get 1 more frosh and JV team, and 2 more varsity teams to round out the action.

More details to come.





ALUMNI ACTIVE IN COLLEGE OR PRO BALL (updated for 2015)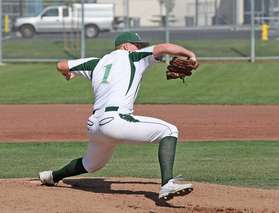 2013 Grad Jonah Wesely Now Plays in Orem Utah Working Towards the Big Show
This information is updated as I receive updates from players, parents, or coaches.
Sunday, June 1
TRACY HIGH BASEBALL PROGRAM ACCOMPLISHMENTS
League champions at all three levels in 2014 - Freshman, Sophomore, and Varsity
Varsity 3 years in a row as league champions 2012, 2013, 2014. Varsity has made playoffs 8 of the last 9 years.
Varsity MVP of the league was Braeden Oki
Vic Alkire 300+ wins in his coaching time at Tracy High
Monday, March 24
COACH ALKIRE UPDATES CAREER RBI LEADERS
THS CAREER BATTING AND PITCHING LEADERS
Updated February 2014
Career Avg

1. Ricky Diaz (08-10) .456

2. Steven Ramos (07-08) .429

3. Brad Kelley (82-83) .419 / Tanner Turner .419

4. Dexter Hermosura (94-95) .400

5. Jacob Valdez .397

Career Hits

1. Tanner Turner 126 hits (09-12)

2. Jacob Valdez (08-10) 93 hits

3. Ryan Scornaienchi 87 (06-08)

4. Kyle Moses 82 ((08-11)

5. John Jaeger 76 (11-13)

Career RBIs

1. Jacob Valdez 94 RBIs (08-10)

2. Jake Shull (09-11) 73 RBIs

3. Vince Canale (06-08) & Brandon Jossey (08-10) 69 RBIs

4. Tanner Turner 67 RBIs

5. Ricky Diaz (08-10) 65

Career HRs

1. 14 HRs - Kevin Hollenbeck (90-91 season)

2. 10 HRs - Jake Shull (10-12 season) Brandon Jossey & Jacob Valdez (08-10 season), Ryan Scornaienchi (06-08 season)

3. 8 HRs - Albert Navarra (92-93 season) & Chris Reece (02-03 season)

4. 6 HRs - Tanner Turner, Ricky Diaz (08-10), Kyle Hassna (08-09) & Chris Ullery (97-98), Kyle Moses (08-11)

5. 5 HRs - Stevie Ramos (07-08)

Career Pitch ERA

(COACH VIC TO UPDATE SOON)

1. Louie Contreras (80-81) 0.75

2. Jonah Wesely 1.12 (10-13)

3. Doug Auchard 1.36 (67-69)

4. John Jaeger 1.40 (11-12)

5. Ernie Lopez 1.86 (02-04)

Career Pitch Wins

1. John Jaeger 24

2. Jonah Wesely 21

3.Danny Auchard (87-88) & Ernie Lopez (02-04) 14

4. Sam Crivello (94-96) 13

5. Jason Timko (91-92) 12, Kyle Moses 12 (08-11)

Career Strikeouts

1. Jonah Wesely 295

2. John Jaeger 221

3. Jason Timko (91-92) 185

4. Ernie Lopez (02-04) 142

5. Danny Auchard (87-88) 141

Innings Pitched

1. John Jaeger (11-13) 195.6

2. Sam Crivello (94-96) 174.3

3. Jonah Wesely (10-13) 162.0

4. Ernie Lopez (02-04) 158.3

5. Charlie Pikas (92-93) 152.3
Handout:
VARSITY HISTORICAL STATS
Friday, April 27
MORE HISTORICAL INFORMATION IS DISCOVERED (updated)
Click on the title of this article to unveil historical coaching records.


Tuesday, February 11
COACH ALKIRE SPENDS THE OFF-SEASON UPDATING HISTORICAL BASEBALL RECORDS

Wednesday, February 12
UPDATED CAREER RECORD HOLDERS

Sunday, February 16
CAREER HIT LEADERS FOR VARSITY

Sunday, February 16
CAREER WIN PERCENTAGE FOR PITCHERS MAY SURPRISE YOU

Thursday, February 20
OUR LATEST UPDATE OF CAREER STATS - TOP 10 STRIKEOUT LEADERS (Varsity Pitchers)