TRACY HIGH BASEBALL: Welcome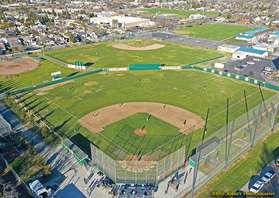 Clear But Crisp Conditions Greeted Opening Day
Friday, February 22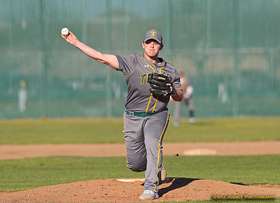 Kyle Mulhern Started What Should Have Been Game 1
FALSE START AS FIRST "GAME" PLAYED WITH NO UMPIRES
| | | | | | | | | | | | |
| --- | --- | --- | --- | --- | --- | --- | --- | --- | --- | --- | --- |
| Varsity (unofficial) | 1 | 2 | 3 | 4 | 5 | 6 | 7 | | R | H | E |
| Antioch Panthers | 0 | 0 | 0 | 3 | 0 | 0 | | | 3 | | |
| Tracy Bulldogs | 0 | 0 | 2 | 0 | 0 | 8 | | | 10 | | |
435 varsity photos HERE.
Opening day got off to a not so spectacular start as there were no umpires available to make this a legal game. Both teams took advantage of the situation though to play a practice game in a near real game situation. More to come.
Coaches Comments - "It was good for us to see our team perform under "almost" game conditions," said Coach Vic Alkire who has just started his 26th season as skipper of the Bulldogs. "Our coaching staff was able to evaluate our players against outside competition and it definitely benefited both the players and staff. Our players and coaches both learned a lot today."
"I was very happy with our effort, focus, and hustle today. I like how the players supported each other. That should be a nice benefit as we move forward this season."
"Next week will be a big challenge for us as Foothill and Liberty are both very good teams," said Alkire. Alkire and his team will face not only strong opponents but also the fury of mother nature in 2019 as more rain is predicted many days next week.
Coach Alkire has stated that this game will be made up to be official in the near future.
Reminder - Website will improve over the weekend as I move to a new platform. Address tracyhighbaseball.com stays the same.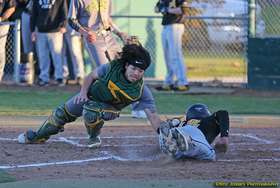 Ryan Dzoan Makes a Tag Late In The Game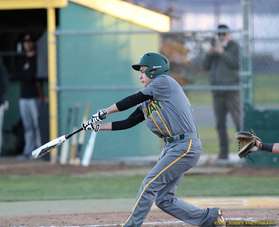 Matt Giuliacci Picks Up Some Clutch RBIs In The 6th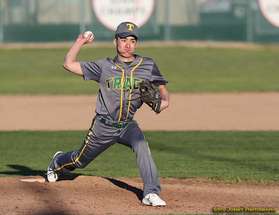 Robert Crivello Delivers In Friday's "Practice" Game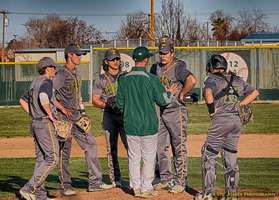 Coach Crivello Conducts a Meeting of the Minds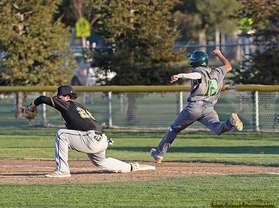 Octavio Martinez Legs Out a Hit
Friday, February 22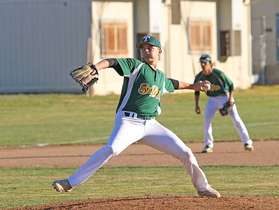 Starter Jacob Shrout (Courtesy of Carla Bicomong)
JV IMPROVES IN LATE INNINGS TO TIE GAME
| | | | | | | | | | | | |
| --- | --- | --- | --- | --- | --- | --- | --- | --- | --- | --- | --- |
| JV - Booster Tourney Gm 1 | 1 | 2 | 3 | 4 | 5 | 6 | 7 | | R | H | E |
| Antioch Panthers | 0 | 2 | 0 | 0 | 1 | 0 | 0 | | 3 | | |
| Tracy Bulldogs | 0 | 0 | 0 | 0 | 0 | 0 | 3 | | 3 | | |
JV photos courtesy of Carla Bicomong
"We got better as the game went on today," said Coach Daniel Bauer. "We did not have the best approaches at the plate early and I don't think we had a lot of swagger in the first five innings, but as the game played into the final 2 innings, we really got aggressive at the plate and things really turned around offensively. The mistakes we did make today can all be easily fixed," said Bauer. "Our players learned a lot today and the light went on for many of our guys in the later innings as they identified how to approach various situations. Our coaching staff did a lot of in-game instruction in the first five innings."
Jacob Shrout threw the first 2 2/3 innings but Coach Bauer pulled him at 49 pitches for pitch count purposes. Conner Johnson threw the next 2 2/3 and got to 46 pitches. Matt Pombo was very impressive finishing the game to hold the Panthers in check. "Matt brought some real spirit and swagger to the late innings that I think was noticed by much of the team, it helped us offensively as well," said Bauer.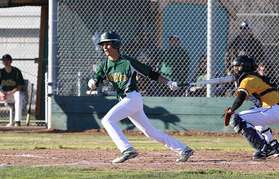 Photos Courtesy of Carla Bicomong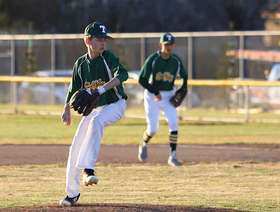 Matt Pombo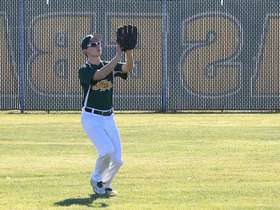 Donovan Treolo
Thursday, February 21
WEBSITE CHANGES COMING
The platform this website has been on for 12 years has all of sudden stopped supporting their customers and have turned off many of my features. I'm quickly moving all the material over to a new website and it will keep the same tracyhighbaseball.com name. I'll keep this site active through the first game on Friday and then transfer over to the new look.
If there is a temporary disruption in service, please go direct to stujosseyphotography.com to see photos of the game.
Sorry for the disruption, could not have come at a worse time.
ON DECK
SU
MO
TU
WE
TH
FR
SA
24

25

Fr/So host Kimball 3:30 p.m.

26

V / FrSo at Foothill 3:30 p.m.

---

JV host Foothill at 3:30 p.m.

27

V/JV host Liberty 3:30 p.m.

---

Fr/So at Liberty 3:30 p.m.

28

Mar 1

Picture Day

2

Var/JV host Pacheco in Tracy Tourney 10:45 a.m.

3

4

New

JV & Fr/So host Turlock at 3:30 p.m.

5

6

V & JV host Freedom 3:30 p.m.

---

Fr/So at Turlock 3:30

7
8

9

Var/JV

Tracy Tourney conclusion

TBA

Spring Forward at end of night
2019 SCHEDULE (updated 2-22-19)
2019 FULL SCHEDULE
New game added on March 4.
Below is the varsity schedule. The JV play a similar schedule but tourney dates may be different (a specific JV schedule is forthcoming)
Varsity Boras Classic Tourney Brackets released here
DATE
OPPONENT
LOCATION
TIME
Fri Feb 22

Tracy Tourney

Tracy vs Antioch (Var and JV)

Tracy
3:30 p.m.
Tue Feb 26
Foothill
Foothill
3:30 p.m.
Wed Feb 27
Liberty
Tracy
3:30 p.m.
Sat March 2

Tracy Tourney

Pacheco vs Tracy (Var & JV)

Tracy
10:45 a.m.
Mon March 4

NEW ADDITION

Turlock JV and Frosh Soph

Tracy
3:30 p.m.
Wed March 6
Freedom
Freedom
3:30 p.m.
Sat March 9
Tracy Tourney
Tracy
TBA
SPRING FORWARD ON TIME
Wed March 13
Bear Creek
Bear Creek
4:00 p.m.
Wed March 20
Turlock
Tracy
3:30 p.m.
Sat March 23

7th Annual East Bay vs San Joaquin Showdown against

Monte Vista

Stockton Ports Field

Banner Island Ballpark

2:30 p.m.
LEAGUE BEGINS
Mon April 1
Tokay
Tokay
3:30 JV / Var 6 p.m.
Wed April 3
Tokay
Tracy
4:00 p.m.
Fri April 5
Tokay
Tokay
3:30 JV / 6 p.m. Var.
Tue April 9
Lincoln
Tracy

4 p.m.

Thu April 11
Lincoln
Lincoln
4:00 p.m.
Fri April 12
Lincoln
Tracy
4 p.m. JV and VAR
BORAS CLASSIC
Tue Apr 16

Boras Game 1 vs Granite Bay

Boras Game 2 vs Franklin EG or Heritage

Sacramento McAuliffe Field

10:00 a.m.

1 p.m.

Wed Apr 17
Boras Game 3
Sacramento McAuliffe Field
TBA
Thu Apr 18
Boras Game 4
Sacramento McAuliffe Field
TBA
LEAGUE RESUMES
Mon April 22
St. Mary's
Tracy
4:00 p.m.
Wed April 24
St. Mary's
St. Mary's
4:00 p.m.
Fri April 26
St. Mary's
Tracy
4:00 p.m.
Mon April 29
Lodi
Zupo Field
4:00 p.m.
Wed May 1
Lodi
Tracy High
4:00 p.m.
Fri May 3
Lodi
Zupo Field
4:00 p.m.
Mon May 6
West
West
4:00 p.m.
Tue May 7
West (Senior Day)
Tracy
4:00 p.m.
Wed May 8
West
West
4:00 p.m.
PLAYOFFS
Freshman schedule
HERE
Wednesday, February 20
FLASHBACK
If you dug into the batters box up through the 2012 season, this was the view from the diamond at the old ball field on campus. The location was abandonded to make room for the expansion of the football field which opened in the 2014 season.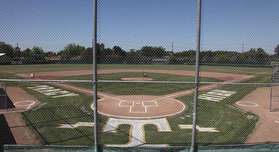 How The Diamond Looked For the Last Game on May 9, 2012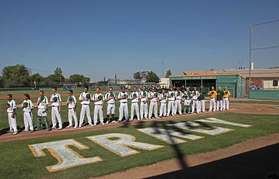 The Final Home Lineup In 2012
Monday, February 18
13th YEAR OF WEBSITE GAME COVERAGE BEGINS FRIDAY
13 years ago I began documenting Tracy High baseball activities on a simple website I created. Thanks to a lot of support from the coaches and you fans, I'm now entering my 13th year. The website has generated 635,000 hits on the front page alone in those 13 years.
On Friday I will begin documenting a summary of the games as provided by each coach postgame. This will include scores, stats, coaches comments in some cases, and photos. I try to get to a lot of the varsity games, but frankly there are several parents that have been providing some pretty good photos to help fill in the gaps on the games I miss at the varsity, JV, and frosh/soph level.
Monday, February 5
UPDATED - ALUMNI ACTIVE IN COLLEGE OR PRO BALL
12 alumni that I am aware of, are still playing ball at a JC, 4 year or in the minor leagues. This information is updated as I receive updates from players, parents, or coaches. Updated February 4, 2019.
Saturday, December 15
BULLDOGS PREPARE TO RETURN TO THE DIAMOND IN 2019
2019 brings a few changes to the program and the TCAL league.
Tyler Sanfilippo (a 2011 graduate) returns to Bulldog baseball and will be an assistant varsity coach. Adam DeHaro who played for Coach Alkire 1996-1998 returns to assist the JV team.
There are some changes in the TCAL league coaches. Pete Pigl returns to the TCAL after leaving St. Mary's several years ago and then having a short stint with Bear Creek. He will now be the Lincoln coach. Tracy alumni Dante Dell'aringa will be the West High varsity coach.
---
The parents meeting will occur on February 19th after the rosters are solidified.
Tracy will host thier first scrimmage vs West on February 15th. A 2nd scrimmage at Kimball will happen February 18th.
Team pictures will be on March 1 (revised)
The Tracy Boosters Tourney follows a new format this year to imrpove its chances should rain develop. Varsity and JV tourney will occur on three consecutive Saturday's Feb 23, Mar 2, and Mar 9. The Frosh-Soph tourney will happen during the week of March 11 - 16th.
Players and fans will see new trees planted in the complex along with new fence artwork on the varsity field. Artwork will also appear on the JV fenceline.
Numerous players signed up at the informational meeting last week held on campus. Tracy graduated 12 senior baseball players last year so there will be a lot of open spots to fill. There were only 4 junior players last year on varsity so much of the varsity team this year wil be new junior and sophomore players rounding out the 4 seniors that may be on this year's team. Of course tryouts may find new players at all levels entering the mix.
PHOTO LIBRARY
Photos from previous season are always available for viewing/purchase
HERE
.