Sunday, June 1


TRACY HIGH BASEBALL PROGRAM ACCOMPLISHMENTS




League champions at all three levels in 2014 - Freshman, Sophomore, and Varsity

Varsity 3 years in a row as league champions 2012, 2013, 2014. Varsity has made playoffs 8 of the last 9 years.

Varsity MVP of the league was Braeden Oki

Vic Alkire 300+ wins in his coaching time at Tracy High



Thursday, May 29


BULLDOGS HOLD END OF SEASON AWARDS NIGHT




MVP - Braeden Oki

Most Improved - Anthony Nunez

Most Inspirational - Thomas Greely

Captains - Dustin Dibble & Braeden Oki

Scholar Athlete - Dylan Sandoval with a 4.0 GPA



Wednesday, May 21


SJAA ALL LEAGUE ANNOUNCEMENTS - OKI GAINS MVP OF LEAGUE




League Awards:
Most Valuable Player-Braeden Oki--Tracy--(SR)
Pitcher of the Year-Averey Kolomvotos--Chavez--Senior
Reliever of the Year-Justin Kottinger--Bear Creek--Junior Offensive Player of the Year-David Simon--Lodi--Junior SJAA Coach of the Year-Vic Alkire--Tracy

First Team:
Anthony Nunez, Tracy Catcher, (SR)
Pitchers-Eric Chen--Lodi--Junior, Carson Criner--Lincoln--Junior

Infield Jacob George (JR), -, Nate Verlin--Lincoln--Senior, Joe Montes--Linc--Junior, Vincent Cecchetti--Lodi--Junior


Outfield Jacob Alvarado, Tracy--(JR), Brett Young--Lodi-Junior, Jake Toon--Lodi--Senior,


Utility-Cody Valeros--Lincoln--Junior

Second Team:
Catcher-Marcos Jimenez--Bear Creek-Junior
Pitchers-Brett Mansell--Tracy--Sophomore, Greg Blanco--Bear Creek--Senior
Infield-Dustin Dibble--Tracy--Senior, Aaron Denholm--Tracy--Senior, Raul Rizo--Lincoln--Junior, Justin Wallis--Bear Creek--Junior
Outfield-Camerin Romo--Franklin--Sophomore, Noah Wallen--Chavez--Junior, Alex Ketchie--Lincoln--Junior
Utility-Noah Hennecke--Lodi--Junior

Honorable Mention:
Noah Denoyer----Tracy---Sophomore
Robbie Ramirez--Tracy---Junior
Thomas Greely---Tracy---Sophomore
Chandlyr Metal-Tracy--Freshman



Tuesday, May 13


HIGH SCHOOL SENIOR ALL STAR GAME SELECTIONS


The Sac-Joaquin Section hosts a High School All-Star game each year for seniors. Selected for Tracy to play at UOP on Friday June 20 at 5:45 p.m. is Braeden Oki, Anthony Nunez, Dustin Dibble, and Aaron Denholm.

Friday, May 9


UPDATES




Photos from senior day are here.

A video of the senior day postgame ceremony is available for viewing here



Wednesday, May 7


CONGRATULATIONS SENIORS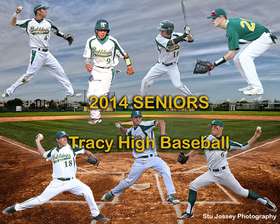 The Seniors Played Their Last Home Game Today
National Anthem Time at Monte Vista
TRACY FINISHES THEIR RUN IN THE SJAA AS #1 SEED
| | | | | | | |
| --- | --- | --- | --- | --- | --- | --- |
| School | W | L | | W | L | T |
| #1 Tracy | 12 | 3 | | 20 | 7 | 0 |
| #2 Lodi | 12 | 3 | | 17 | 10 | 0 |
| #3 Lincoln | 9 | 6 | | 13 | 12 | 0 |
| Bear Creek | 9 | 6 | | 17 | 10 | 0 |
| Chavez | 3 | 12 | | 6 | 15 | 0 |
| Franklin | 0 | 15 | | 3 | 20 | 1 |
Wednesday results:
Tracy defeated Lincoln 6-4
Lodi defeated Bear Creek 10-0 in 5 innings
Chavez defeated Franklin 11-4
Monday, March 24
COACH ALKIRE UPDATES CAREER RBI LEADERS
THS CAREER BATTING AND PITCHING LEADERS
Updated February 2014
Career Avg

1. Ricky Diaz (08-10) .456

2. Steven Ramos (07-08) .429

3. Brad Kelley (82-83) .419 / Tanner Turner .419

4. Dexter Hermosura (94-95) .400

5. Jacob Valdez .397

Career Hits

1. Tanner Turner 126 hits (09-12)

2. Jacob Valdez (08-10) 93 hits

3. Ryan Scornaienchi 87 (06-08)

4. Kyle Moses 82 ((08-11)

5. John Jaeger 76 (11-13)

Career RBIs

1. Jacob Valdez 94 RBIs (08-10)

2. Jake Shull (09-11) 73 RBIs

3. Vince Canale (06-08) & Brandon Jossey (08-10) 69 RBIs

4. Tanner Turner 67 RBIs

5. Ricky Diaz (08-10) 65

Career HRs

1. 14 HRs - Kevin Hollenbeck (90-91 season)

2. 10 HRs - Jake Shull (10-12 season) Brandon Jossey & Jacob Valdez (08-10 season), Ryan Scornaienchi (06-08 season)

3. 8 HRs - Albert Navarra (92-93 season) & Chris Reece (02-03 season)

4. 6 HRs - Tanner Turner, Ricky Diaz (08-10), Kyle Hassna (08-09) & Chris Ullery (97-98), Kyle Moses (08-11)

5. 5 HRs - Stevie Ramos (07-08)

Career Pitch ERA

(COACH VIC TO UPDATE SOON)

1. Louie Contreras (80-81) 0.75

2. Jonah Wesely 1.12 (10-13)

3. Doug Auchard 1.36 (67-69)

4. John Jaeger 1.40 (11-12)

5. Ernie Lopez 1.86 (02-04)

Career Pitch Wins

1. John Jaeger 24

2. Jonah Wesely 21

3.Danny Auchard (87-88) & Ernie Lopez (02-04) 14

4. Sam Crivello (94-96) 13

5. Jason Timko (91-92) 12, Kyle Moses 12 (08-11)

Career Strikeouts

1. Jonah Wesely 295

2. John Jaeger 221

3. Jason Timko (91-92) 185

4. Ernie Lopez (02-04) 142

5. Danny Auchard (87-88) 141

Innings Pitched

1. John Jaeger (11-13) 195.6

2. Sam Crivello (94-96) 174.3

3. Jonah Wesely (10-13) 162.0

4. Ernie Lopez (02-04) 158.3

5. Charlie Pikas (92-93) 152.3
Handout:
VARSITY HISTORICAL STATS
Friday, April 27
MORE HISTORICAL INFORMATION IS DISCOVERED (updated)
Click on the title of this article to unveil historical coaching records.


Thursday, February 20

NUMEROUS THS ALUMNI STILL PLAYING COLLEGE BALL (updated)
Daniel Heefner, Brandon Jossey, and Jacob Valdez all start their final season of collegiate baseball on their respective college teams. Heefner has spent five years at UMASS Boston as an infielder and pitcher. Valdez has spent his four years as a star infielder for the San Jose State Spartans at 2nd and 3rd base. Jacob hopes to get drafted this spring as he concludes his college experience. Jossey who started at Ohlone College in Fremont transferred to Seton HIll in Pennsylvania as a Junior and will now wrap up his collegiate career hoping to get to the College World Series. Last year his team lost in the super regionals at Wake Forest University just one game shy of a bid to the World Series.
After two years as a pitcher for Delta College, Dominic D'Souza (class of 11) has joined the SEC and is playing for the Univ of Kentucky. Class of 11 teammate Kyle Moses enters his Junior year of baseball with Sacramento State.
Class of 09 outfielder Scott Souza has become a catcher and is enjoying the baseball exerience playing for Holy Names University in Oakland.
Devon Denholm (class of 12) was a red shirt last year with Delta College but has found a new home and playing time with Modesto Junior College. Class of 2012 star Jake Shull continues into his sophomore year at Fresno State as a high velocity pitcher.
The workhorse of the 2013 bulldog pitching staff, John Jaeger, is on the mound this year for the University of the Pacific Tigers. Since he is close by, we will try to cover some of his games via this website.
High profile baseball players Stevie Ramos (class of 08) and Jonah Wesely (class of 13) are in the MLB minor leagues as Ramos continues to climb the long ladder in the St. Louis Cardinals organization and Wesely has just begun his career with the Angels.
Note: If I'm missed someone, please provide me an update.
Tuesday, February 11
COACH ALKIRE SPENDS THE OFF-SEASON UPDATING HISTORICAL BASEBALL RECORDS
Wednesday, February 12
UPDATED CAREER RECORD HOLDERS
Sunday, February 16
CAREER HIT LEADERS FOR VARSITY
Sunday, February 16
CAREER WIN PERCENTAGE FOR PITCHERS MAY SURPRISE YOU
Thursday, February 20
OUR LATEST UPDATE OF CAREER STATS - TOP 10 STRIKEOUT LEADERS (Varsity Pitchers)
Sunday, April 13
ALUMNI NEWS - Jaeger Earns Key Save On Sunday As UOP Defeats USF
Earning his first conference win on the mound, 2009 Tracy High graduate Daniel Heefner was featured on the team's website.
---
2010 graduate Jacob Valdez is batting .293 for the 10-25 San Jose Spartans in his senior year. Valdez has been the starting 2nd baseman for the Spartans most of his four years. He is now 9th on the all-time Spartans career hit list!
---
2010 graduate Kyle Perez is batting .313 with 32 at bats for the Kansas Wesleyan Coyotes
---
2010 graduate Brandon Jossey's Seton Hill Griffin's baseball team are awaiting a bid into the NCAA Division II Atlantic Regional of the College World Series.
---
2011 graduate Kyle Moses is batting .288 for the Sacramento State Hornets with 10 runs and 17 hits. Kyle has one homerun this year and is playing the outfield for the Hornets in his Junior year.
---
2012 graduate Jake Shull has a 5.09 ERA and 2-3 record in 15 appearances for the 18-18 Fresno State Bulldogs. He has 4 saves and 13 strikeouts.
---
2012 graduate Devon Denholm has appeared in 7 games for Modesto College and is 1-0 with 4.91 ERA after 7 innings pitched.
---
2013 Graduate Jonah Wesely is preparing to see action with the Arizona Angels of the MLB Rookie League. He was recently described as a "Diamond In The Rough." in a recent Angels publication.
---
2008 Graduate Steven Ramos is with the MLB Class A Advanced Cardinals of Palm Beach, FLA His Florida State League is just getting started. He has a .154 average in just four games.
---
2013 graduate John Jaeger is performing well as a freshman at UOP. He has a 2-0 record in 13 appearances with 1 save. In 21 innings so far he has 16 strikeouts and a 3.43 ERA. On Sunday, April 13, Jaeger saved the day for the Tigers shutting down a threat in the 9th and getting his first collegiate save.
---
ALUMNI ACTIVELY PLAYING COLLEGE OR PRO BALL
This information is updated as I receive updates from players, parents, or coaches.