Torrey Pines Lady Falcons Softball: Welcome
Home of the Lady Falcons
Important Dates!
January 31 - Clean-up Day! Times and items needed will be forthcoming.
February 1 - Athletic Packets due, a current physical is due in the packet
https://sites.google.com/a/sduhsd.net/tpathletics/athletic-packet
February 21 - Tryouts, times tbd
February 26* - Mandatory Spring Athlete Meeting, 2:40pm in the Lecture Hall
February 26* - Mandatory Spring Parent Meeting, 6pm in the Lecture Hall, Softball Meeting immediately following, place tbd
*Must attend in order to participate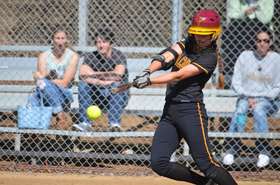 Emma Wong
All-State Softball 3rd Team - Emma Wong
All-State Softball: 2nd Team, 3rd Team
Third Team
(35 players; alphabetical; seniors only and large schools only since underclass, medium and small schools players all have been previously honored)
Marialena Ahern (Los Altos) INF
Lacey Alderman (Murrieta Valley, Murrieta) P
Nychole Antillon (Mater Dei, Santa Ana) INF
Madison Clark (Clovis West, Fresno) INF
Brooke Clemetson (Charter Oak, Covina) P
Hannah Cookson (Crescenta Valley) OF
Jenna Curtan (Woodcreek, Roseville) OF
Alex Formby (Mater Dei, Santa Ana) MP
Tabitha Heinz (Granada, Livermore) INF
Kailey Hill (Ramona) P
Danielle Ingraham (Dana Hills, Dana Point) INF
Anessa Kaylor (Sheldon, Sacramento) INF
Sara Ketelsleger (Ayala, Chino Hills) INF
Danielle Kranz (Benicia) MP
Randel Leahy (Santiago, Corona) C
McKenzie Long (Los Osos, Rancho Cucamonga) INF
Alexa McCoin (Pleasant Grove, Elk Grove) MP
Chloe Melanson (Bonita, La Verne) OF
Victoria Molina (Amador Valley, Pleasanton) C
Nikki Mendoza (Salinas) OF
Taylor Misfeldt (Tracy) P
Sarai Niu (Cathedral Catholic, San Diego) INF
Chanler Powell (Benicia) INF
Kaitlyn Rider (Chatsworth) C
Rachel Rodriguez (Central, Fresno) P
Rachel Sellers (Los Alamitos) C
Kelly Spear (Oaks Christian, Westlake Village) INF
Taylor Stewart (Bellflower) Sr.
Micaela Vierra (Huntington Beach) P
Leah Wodach (Tesoro, Rancho Santa Margarita) C
Emma Wong (Torrey Pines, San Diego) OF
Maddie Wuelfing (Rocklin) MP
Shianne Ybarra (Mission Viejo) OF
Nicole Yozzo (Amador Valley, Pleasanton) OF
Victoria Zamora (El Modena, Orange) C