Torrey Pines Lady Falcons Softball: Welcome
Home of the Lady Falcons
Important Dates!
March 2* - Mandatory Spring Parent Meeting, 6pm in the Lecture Hall, Softball Meeting immediately following, Room 2
March 3 or 4* - Make-up Parent meeting, 6pm in the Lecture Hall
*Must attend in order for your daughter to participate
March 4 - Varisty pictures, 12:45, Varsity field
March 11 - JV pictures, 2:45, Varsity field
Announcement
Spirit Wear - The link to Order Spirit Wear will be open this Sunday. Please print the order form with your check attached and give to me by Wednesday, March 11th. Make checks payable to TPHS Foundation - Softball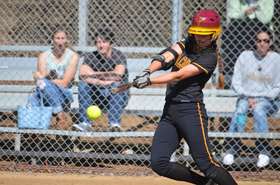 Emma Wong
All-State Softball 3rd Team - Emma Wong
All-State Softball: 2nd Team, 3rd Team
Third Team
(35 players; alphabetical; seniors only and large schools only since underclass, medium and small schools players all have been previously honored)
Marialena Ahern (Los Altos) INF
Lacey Alderman (Murrieta Valley, Murrieta) P
Nychole Antillon (Mater Dei, Santa Ana) INF
Madison Clark (Clovis West, Fresno) INF
Brooke Clemetson (Charter Oak, Covina) P
Hannah Cookson (Crescenta Valley) OF
Jenna Curtan (Woodcreek, Roseville) OF
Alex Formby (Mater Dei, Santa Ana) MP
Tabitha Heinz (Granada, Livermore) INF
Kailey Hill (Ramona) P
Danielle Ingraham (Dana Hills, Dana Point) INF
Anessa Kaylor (Sheldon, Sacramento) INF
Sara Ketelsleger (Ayala, Chino Hills) INF
Danielle Kranz (Benicia) MP
Randel Leahy (Santiago, Corona) C
McKenzie Long (Los Osos, Rancho Cucamonga) INF
Alexa McCoin (Pleasant Grove, Elk Grove) MP
Chloe Melanson (Bonita, La Verne) OF
Victoria Molina (Amador Valley, Pleasanton) C
Nikki Mendoza (Salinas) OF
Taylor Misfeldt (Tracy) P
Sarai Niu (Cathedral Catholic, San Diego) INF
Chanler Powell (Benicia) INF
Kaitlyn Rider (Chatsworth) C
Rachel Rodriguez (Central, Fresno) P
Rachel Sellers (Los Alamitos) C
Kelly Spear (Oaks Christian, Westlake Village) INF
Taylor Stewart (Bellflower) Sr.
Micaela Vierra (Huntington Beach) P
Leah Wodach (Tesoro, Rancho Santa Margarita) C
Emma Wong (Torrey Pines, San Diego) OF
Maddie Wuelfing (Rocklin) MP
Shianne Ybarra (Mission Viejo) OF
Nicole Yozzo (Amador Valley, Pleasanton) OF
Victoria Zamora (El Modena, Orange) C