Tornadoes: Welcome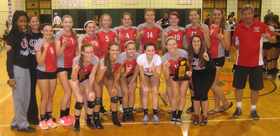 2013 District Champions! 3rd Year in a row!
Welcome to the 2013 Lady Tornadoes Volleyball Season!
---
Welcome to the offical volleyball web site of the Clearwater High Tornadoes.
The Lady Tornadoes Volleyball Team is home to 2 State Championship, 6 Regional Titles, 25 District Titles, and 24 Conference Championships.
---
PCAC volleyball teams announced
Congratulations!
First Team: Sam Reeves, Haley Barrett, Allie Russell
Honorable Mention: Ciara Lusnia, Caitlin Stoner Darby Oakes
Tampa Bay Times' all-Pinellas County volleyball teams
Congratulations !
First Team: Samantha Reeves, Allie Russell. Second Team: Haley Barrett
Honorable Mention: Caitlin Stoner, Ciara Lusnia, Darby Oakes
Tampa Bay Times' all-Suncoast volleyball teams
Congratulations!
First Team: Samantha Reeves
Honorable Mention: Allie Russell, Haley Barrett