Tornadoes: Welcome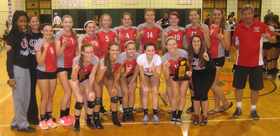 2013 District Champions! 3rd Year in a row!
Welcome to the 2013 Lady Tornadoes Volleyball Season!
---
Welcome to the offical volleyball web site of the Clearwater High Tornadoes.
The Lady Tornadoes Volleyball Team is home to 2 State Championship, 6 Regional Titles, 25 District Titles, and 24 Conference Championships.
---
TRYOUTS
Tryouts for the 2014 Clearwater Tornadoes Varsity and Junior Varsity Volleyball teams will be held on Monday, Tuesday and Wednesday, August 4, 5, and 6 in the Gymnasium from 2:30 till 4:30pm.
Summer Conditioning Starts Monday June 23, 2014.
You must have completed your athletic paperwork and bring a yellow form from Mrs. Biddle to participate.
Who: Open to all returning players and anyone interested in trying out for Tornadoes Volleyball
What to bring: Plenty of water, track shoes, court shoes
What to wear: Gym shorts, spandex and t-shirts are acceptable. NO street clothes
When: 2:30 till 4:30
Where: Meet at the back doors of the Gym
Why: Conditioning helps prevent injuries, improves endurance and wins games!
Returning players know you should show up in shape and ready to go. New players we will start you off slowly to allow you to catch up.
Any questions, contact Coach Rice. coachrice311@aol.com
Friday, May 30
ATTENTION INCOMING FRESHMEN VOLLEYBALL PLAYERS
On Thursday June 5th 2014 we will have 9 that's right 9 players graduating from our District Championship Winning Tornadoes Volleyball team. We NEED new talent to keep the winning tradition going! If you have the right skills you could be a part of the tradition that is Tornado Varsity Volleyball in 2 short months. We also have an EXCELLENT Junior Varsity program for players who are still developing their skills. Please continue to check this site for information on Summer conditioning and tryouts.
Athletic Paperwork Meeting Tuesday June 10, 2014 at 6:30 PM in the Auditorium
Please plan on attending the athletic paperwork meeting. This paperwork is required to participate in conditioning this summer. Follow the link below for the updated forms. Please check back soon for summer conditioning information. https://www.pcsb.org/images/stories/Central_Printing/FormPDFs/prefix4/4-1891-A.pdf
PCAC volleyball teams announced
Congratulations!
First Team: Sam Reeves, Haley Barrett, Allie Russell
Honorable Mention: Ciara Lusnia, Caitlin Stoner Darby Oakes
Tampa Bay Times' all-Pinellas County volleyball teams
Congratulations !
First Team: Samantha Reeves, Allie Russell. Second Team: Haley Barrett
Honorable Mention: Caitlin Stoner, Ciara Lusnia, Darby Oakes
Tampa Bay Times' all-Suncoast volleyball teams
Congratulations!
First Team: Samantha Reeves
Honorable Mention: Allie Russell, Haley Barrett