Topsail Girls Softball: Welcome
Welcome to TGS
LETS PLAY BALL
Be sure to check out the Calendar for upcoming events.
"It's not the time you spend at practice that counts; it's what you put into practice that makes the difference." Eric Lindros
Important 2014 Spring Dates to remember.
On Site signups Topsail Middle School Gym: January 25th February 1st and 8th 11:00 am -2:00pm Player's evaluations: Hampstead Kiwanis Park February 15th & 16th Times TBA Player Draft: February 23rd Coaches only Hampstead Kiwanis Park Darden Diamond press box 1st Week of Practice Begins March 3rd Opening Day Ceremonies March 22nd Closing Ceremonies May 23rd Pender County Schools Spring Break April 14th -18th No games this week, voluntary practices
Topsail Girls Softball is excited to announce Dick's Sporting Goods as a Corporate Sponsor!

In 1948, at the age of 18, Richard Stack worked at an Army/Navy store in his hometown of Binghamton, New York, after World War II. At the owner's request, "Dick" explored the idea of expanding the product line to include fishing and camping supplies, but the owner rejected Dick's suggestions, stating that Dick "would never make a good merchant."
When Dick recounted his story later that day, his grandmother advised, "Dick, always follow your dreams," and gave him $300 from her savings. He rented a storefront and opened the first Dick's as a small "bait & tackle" fishing supply store, on Court Street near Howard Avenue.
In the mid-1950s, the store expanded into the market of general sports merchandise and by the early 1960s, he was able to build and open a new store on the corner of Oliver and Court St., naming it "Dick's Sporting Goods".


Click on the link below for some saving from our Sponsor


These Coupons are linked to our league so please share them with your fellow players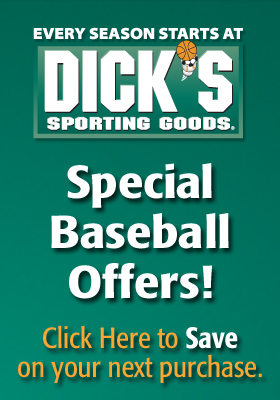 Board Members
TGSO Board Members.
Please contact one of these members for any questions, concerns , comments.