Grand Rapids: Welcome
Grand Rapids Thunderhawk Volleyball Open Gyms
Every Tuesday and Thursday 7:00 p.m. to 8:30 p.m. at the high school through July 30th.
(No open gyms the week of July 6th- 10th)
Open gym is for all girls entering grades 5th-12th.
2015 Thunderhawk Volleyball
High School Volleyball for girls entering 9th-12th grade will begin with captains practice on August 10th. Times and location are yet to be determined.
High School Volleyball Tryouts will begin for all girls entering 9th - 12th grade on August 17th at the high school from 8:30 a.m. to Noon.
All paperwork and fees should be turned in to the Activites Office prior to participation in tryouts. Forms can be found on the GRHS website. Under the Activities Tab click on Registration Forms.
USAV Officiating Training
Sign Up Now for 2015 Volleyball Camps!
VOLLEYBALL ...

Rapids Thunder 2015 Tournaments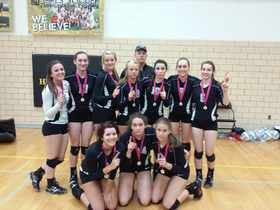 17's Take the Gold in the NCR Area Championships in Duluth
Tuesday, April 28


17-1 Win Gold 12-1 Win Silver!




This weekend the 17-1 team took first place in the Gold division and the 12-1 team won first place in the Silver division at the NCR Championships in Duluth. Congratulations to all the players and to our 17's coach, Guy, and our 12's coaches, Becky and Heather, for a successful weekend of volleyball.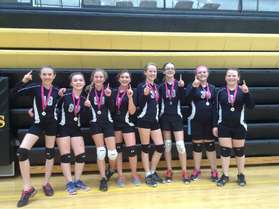 12-1 Take the Silver in the NCR Area Championships!


Monday, March 23
Central Lakes Tournament
Congratulations to all of our teams this

2014-15 Winter and Spring JO Teams