Thousand Oaks Little League: Championship History
Championship History
Thousand Oaks Little League was founded in 1968 but our records indicate that the first post season victory for TOLL did not occur until August of 1983 when Mike Zambri brought home the first District 13 championship flag. Since that hot summer day in 1983 TOLL has gone on to win over 76 post season championships making it National Little League's most successful Little League in post season play.
In the past 28 years only 6 years has Thousand Oaks Little League been without a post season championship.
Thousand Oaks Little League has an impressive 7 trips to World Series play with 6 United States Championships and 2 World Series Victories.
Our motto is a simple one:
"feared by most on the field, loved by all off the field"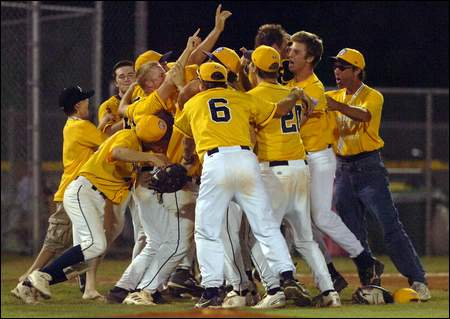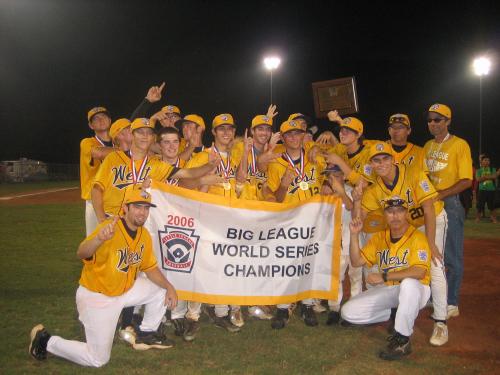 2006 Big League World Series Champions
Thousand Oaks Big League 10 - Puerto Rico 0
Easley, South Carolina August 5, 2006
Read below and enjoy the trip down "victory lane"
| | | | | |
| --- | --- | --- | --- | --- |
| YEAR | LEVEL | CHAMPIONSHIP FLAG | DIVISION | MANAGER |
| 1983 | District | California Distict 13 Champions | Little League | Mike Zambri |
| 1983 | Section | California Section 1 Champions | Little League | Mike Zambri |
| 1984 | District | California District 13 Champions | Juniors | Craig Frazier |
| 1990 | District | California Distict 13 Champions | Little League | Matt Goldfield |
| 1991 | District | California District 13 Champions | Little League | Bill Hirsh |
| 1992 | Distict | California District 13 Champions | Seniors | Bill Hirsh |
| 1992 | Section | California Section1 Champions | Seniors | Bill Hirsh |
| 1993 | District | California District 13 Champions | Seniors | Phil Riordan |
| 1993 | Section | California Section 1 Champions | Seniors | Phil Riordan |
| 1993 | District | California District 13 Champions | Little League | Tom Fiore |
| 1993 | Section | California Section 1 Champions | Little League | Tom Fiore |
| 1994 | District | California District 13 Champions | Juniors | Ed Kitchen |
| 1994 | Section | California Section 1 Champions | Juniors | Ed Kitchen |
| 1994 | Division | California Division 3 Champions | Juniors | Ed Kitchen |
| 1994 | Region | Western Region Champions | Juniors | Ed Kitchen |
| 1994 | National | United States Champions | Juniors | Ed Kitchen |
| 1994 | World | WORLD SERIES CHAMPIONS | Juniors | Ed Kitchen |
| 1994 | District | California District 13 Champions | 9-10's | Dan Catalano |
| 1994 | Section | California Section 1 Champions | 9-10's | Dan Catalano |
| 1994 | Divison | Southern California Champions | 9-10's | Dan Catalano |
| 1995 | Distict | California District 13 Champions | 9-10's | Ed Kitchen |
| 1995 | Section | California Section 1 Champions | 9-10's | Ed Kitchen |
| 1996 | District | California District 13 Champions | 9-10's | Ron Leavitt |
| 1996 | Section | California Section 1 Champions | 9-10's | Ron Leavitt |
| 1996 | District | California District 13 Champions | Seniors | Ed Kitchen |
| 1996 | Section | California Section 1 Champions | Seniors | Ed Kitchen |
| 1996 | Division | California Division 3 Champions | Seniors | Ed Kitchen |
| 1996 | Region | Western Region Champions | Seniors | Ed Kitchen |
| 1996 | National | United States Champions | Seniors | Ed Kitchen |
| 1997 | District | California Distict 13 Champions | Little League | Ed Kitchen |
| 1997 | Section | California Section 1 Champions | Little League | Ed Kitchen |
| 1998 | District | California District 13 Champions | Juniors | Ed Kitchen |
| 1998 | Section | California Section 1 Champions | Juniors | Ed Kitchen |
| 1999 | District | California District 13 Champions | Juniors | Ed Kitchen |
| 1999 | Section | California Section 1 Champions | Juniors | Ed Kitchen |
| 2000 | District | California District 13 Champions | Little League | Bob Cipriano |
| 2000 | Distict | California Distict 13 Champions | Juniors | Matt Boland |
| 2000 | Section | California Section 1 Champions | Juniors | Matt Boland |
| 2001 | District | California District 13 Champions | Juniors | Dennis Ryan |
| 2001 | District | California District 13 Champions | Seniors | Ed Kitchen |
| 2001 | Section | California Section 1 Champions | Seniors | Ed Kitchen |
| 2003 | District | California District 13 Champions | Juniors | Eric Jones |
| 2003 | Section | California Section 1 Champions | Juniors | Eric Jones |
| 2003 | District | California District 13 Champions | Big League | Ed Kitchen |
| 2003 | Section | California Section 2 Champions | Big League | Ed Kitchen |
| 2003 | Division | California Division 3 Champions | Big League | Ed Kitchen |
| 2003 | Region | Western Region Champions | Big League | Ed Kitchen |
| 2003 | National | United States Champions | Big League | Ed Kitchen |
| 2004 | District | California District 13 Champions | Big League | Ed Kitchen |
| 2004 | Section | California Section 2 Champions | Big League | Ed Kitchen |
| 2005 | District | California District 13 Champions | Big League | Ed Kitchen |
| 2005 | Section | California Section 1 Champions | Big League | Ed Kitchen |
| 2005 | Division | California Division 3 Champions | Big League | Ed Kitchen |
| 2005 | Region | Western Region Champions | Big League | Ed Kitchen |
| 2005 | National | United States Champions | Big League | Ed Kitchen |
| 2006 | District | District 13 Champions | Big League | Ed Kitchen |
| 2006 | Section | Section 2 Champions | Big League | Ed Kitchen |
| 2006 | Division | Division 3 Champions | Big League | Ed Kitchen |
| 2006 | Region | Western Region Champions | Big League | Ed Kitchen |
| 2006 | National | United States Champions | Big League | Ed Kitchen |
| 2006 | World | WORLD SERIES CHAMPIONS | Big League | Ed Kitchen |
| 2007 | District | District 13 Champions | Big League | Ed Kitchen |
| 2007 | Section | Section 2 Champions | Big League | Ed Kitchen |
| 2007 | Division | Division 3 Champions | Big League | Ed Kitchen |
| 2007 | Region | Western Region Champions | Big League | Ed Kitchen |
| 2008 | District | District 13 Champions | Little League | Bob Causey |
| 2008 | District | District 13 Champions | 9-10 | Eric Jones |
| 2008 | Section | Section 1 Champions | 9-10 | Eric Jones |
| 2009 | District | District 13 Champions | Big League | Ed Kitchen |
| 2009 | Section | Section 1 Champions | Big League | Ed Kitchen |
| 2009 | Division | Division 3 Champions | Big League | Ed Kitchen |
| 2009 | Region | Western Region Champions | Big League | Ed Kitchen |
| 2009 | National | United States Champions | Big League | Ed Kitchen |
| 2010 | District | District 13 Champions | Juniors | Jeff Simonsgaard |
| 2012 | District | District 13 Champions | 11's | Louis Skertich |
We are the champions by queen
Monday, May 20
2013 Minors Playoff Bracket