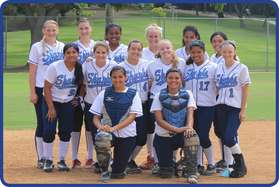 August 2012 16U Team Photo
WELCOME TO THE NEWPORT Riptide SHARKS - 18U FAST-PITCH SOFTBALL TEAM
The 2012 SHARKS 18u Softball team is made up of over a dozen student athletes. Our stated goals are player development, college exposure, having fun and winning!! To those ends, the SHARKS practice and play a lot, entering numerous tournaments and showcase events. These include ASA championship events and numerous local showcases.
---
Take Me Out to the Ball Game

Sunday, October 21


Sharks Pink Out!



Sunday, December 18


Monica Abbott speaks




Every game is a self-portrait of the "Team" that plays it... Autograph with excellence!

Tuesday, November 9


Happiest girl




Tuesday, November 24


SHARKS at Surfcity Showcase




2009 18U SHARKS

The SHARKS attracted more than their share of attention at the Surfcity Showcase where this picture was taken. College coaches from a number of schools were seen in the stands and behind the SHARKS bench, asking coaches to see this player or that. This group of SHARKS will surely make some noise this Spring when ASA Championship play begins!!!

November 2009



Tuesday, July 7


College contacts




Check out this list of schools

Start making contact

okayhttp://www.linkathletics.com/sports/viewlinks.php?sp=Softball&viewstate=CA



Saturday, June 6


SHARKS add new 16U team




Holy Selachimorpha, There are some new SHARKS in town. Check 'em out at

www.eteamz.active.com/sharksrule



Thursday, January 8


SHARKS WIN ANOTHER CHAMPIONSHIP !!!



On a star-lit nite, in the shadow of the snow capped San Jacinto Mountains, the SHARKS from Newport Beach willed themselves to victory over the highly touted and very aggressive So Cal Riot. The girls on this well-coached and talented Riot team may have been bigger, faster and mostly older than the so-called "Barbie SHARKS," but those SHARKS refused to be dominated. With their "all for one and one for all" attitude, they prevailed in this seven inning, no-time-limit contest. When the brick dust had settled, and the final out was recorded, the SHARKS scored a 4-2 win, a nice 1st place plaque, and a berth to the "Triple Crown World Series" in Park City, Utah!

---
Monday, December 15
SHARKS TAKE SECOND PLACE IN BLASTERS CHRISTMAS TOURNAMENT
On a sunny but cool December day the SHARKS from Newport Beach battled the Lady Cruisers in what can only be discribed as a "Softball War." The Cruisers, a Gold team from Whittier, had a scoring opportunity in the first with a walk and a double to right, but the lead runner was gunned down by Karina's relay throw when she tried to score from first. The SHARKS went ahead early and held that lead for most of the game. The sixth began with the SHARKS still clinging to a one run lead. The girls from Whittier then scored twice in the sixth to take a three two lead. They scored another two runs in the seventh and as the SHARKS came up for the last time, they trailed by three runs. Things looked bleak, but those SHARKS never gave up. They scored a run with a bases loaded single, to come within two, but that was as close as they got, finishing on the wrong end of a 3- 5 score. In an earlier game the SHARKS blanked the highly touted So Cal Elite by a score of 5-0. It was a great day of Softball and a great day for the SHARKS and their fins, er, fans.
---
Sunday, November 16
SHARKS GARAGE SALE
The SHARKS Garage Sale and Pizza Party was an unqualified success! A total of over one thousand dollars was collected...and the pizza was good, too! The art work on the signs showed a whole new side of these talented athletes. It was a good chance for the parents to converse and for the players to bond.
---
Tuesday, October 28
SHARKS TAKE FIRST PLACE IN BLASTERS OCTOBER-FEST !!
The short-handed SHARKS come back to beat Sensations, Synergy and the Outsiders to take First Place in this USTSA qualifying event.
October 2008
---
Friday, September 12
SHARKS FLASH LEATHER AT STATE CHAMPIONSHIPS
In withering heat and under extremely difficult circumstances, the SHARKS dominated pool play on Saturday. Thin on pitching, it was their gloves, and aggressive base running that led to victories in all three pool games! Although Sunday's loss was hard to take, over all, this tournament was a positive experience. Both Devon and Liz pitched couragesly, but there were just too many games, in too short a time and in too much heat. The SHARKS may have come up just a little short in this event, but their play was such that there can be no doubt that first place trophies are in their future!
9/28/2008
---