TGSL: Welcome
Torrance Girls Softball League (TGSL)
Sam Levy Adult Center - Softball Fields
3420 W. 229th Place
Torrance, CA, 90505
Field Status: OPEN

---
SHOP DAY EVENT
Dick's Sporting Goods Flyer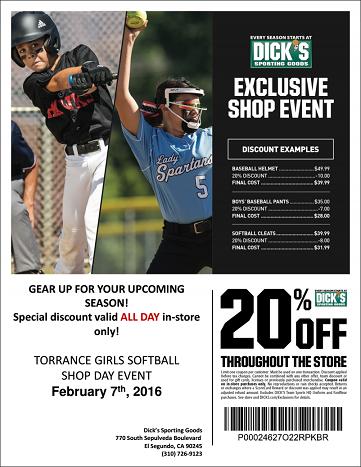 Download Flyer
---
Hello all past and present TGSL families.
Recently, the Torrance Unified School District released the following press release, in which it was announced that the District has 10 million dollars to distribute to enhance Torrance schools:
"One-Time Funds from the State of California:
How Would You Spend $10 Million Dollars?"
Torrance, CA -
Since 2007, triggered by the economic recession, the State owed TUSD money for work which was mandated for us to complete as a result of legislation. The California Budget for the 2015-16 school year includes these funds that are owed to school districts and have finally been repaid. For TUSD this translates into roughly $10 million in one-time funds.
In the spring of 2015, the Board of Education directed TUSD administration to seek input from all stakeholder groups and individuals in the community regarding the use of these funds. Recommendations from all groups will be brought to the Board in early 2016. If you would like to provide input with ideas on how the District should spend these funds, please click the link --- https://docs.google.com/forms/d/157VegySzvbGHpJ_0cU_eB8uSxxvVePExHvn247M16k4/viewform. Community members have till December 1, 2015 to provide input."
Please click on the link above and suggest that the District consider spending some of that money on the girls of TGSL, who play at the Sam Levy school site. Some of our current projects include building the new snack bar and refurbishing our batting cages. Some of our dream projects include building two additional fields and putting up lights. If you don't want to draft your own suggestion, please feel free to cut and paste the following:
The girls of the Torrance Girls Softball League would greatly appreciate being considered for some of that money. The girls attend schools within TUSD, and the site of our fields is Sam Levy. In order to continue to provide the girls with a youth sports environment that fosters sportsmanship, teamwork, and that help builds self-esteem, we need to improve the facility. We are building a new snack bar, and would like to build two new fields that have lights. The league is limited in how much money it can raise via fundraising, so an opportunity like this one would greatly improve the futures of thousands of local TUSD girls. Thank you for your consideration.
Do this quickly, since we only have until December 1st. Let's do everything we can for our girls.
The TGSL Board
---
Note: Registration prices INCLUDE fundraiser amount of $100. Fundraiser amount can be recuperated by selling four $25 Cow Plop tickets. The Cow Plop fundraiser replaces the Opening Day raffle and mid-season Hit-a-thon.

Spring 2016 Registration Flyer

---
Southern California's Premier Girls Softball League
---




---

2016 Spring Select Season

Hello TGSL families.

TGSL will be participating in the ASA Spring Select program for 2016. For those of you not familiar with the program, in short, it is intended for advanced players who desire a more competitive softball experience along with Spring Rec season. The Select season will run approximately from February 1st to March 31st, 2016. The team will limit itself to gathering just one day a week (Sunday) for either practice or games. We will likely use early February for practice and start games in late February, with at least one ASA sponsored tournament that will take place over the course of two weekends in late March. At the conclusion of the season, the team will be dissolved April 1st for the last month of the Rec season and we will reselect teams for the All-Star season (May 1st).

The TGSL Board selected Roger Hsu as the 10U manager and Ted Holloway as the 12U manager.

The Select season begins with tryouts. Select tryouts are different than the recreational league evaluations, because, unfortunately, not everyone who attends the tryout sessions will be chosen to play on the team. The final roster will be somewhere between 11 and 14 players. The process will begin with the first tryout session on January 24, 2016 at 9am at the Levy fields. Field 1 for 10U and Field 3 for 12U. If second tryout session is warranted, it will take place the following Sunday, on January 31st, 2016, also at 9am. Prospective players must attend at least one of the tryout sessions, and are encouraged to attend both. Following the second tryout session, the prospective player pool will be narrowed to no more than 15 players, but could be reduced to a smaller number at that time. If the coaching staff is unable to settle on a team at that point, all players remaining in the pool will be invited to attend Sunday Select practices during the month of February, until the final roster has been settled upon. Any player who does not make the Select team remains eligible for All Stars.

We encourage anyone and everyone who is in the 10U and 12U Divisions who wants to tryout to come do so. Should you have any questions, please email Roger Hsu (rc36ucla@gmail.com) or Ted Holloway (tholloway3@msn.com). We look forward to seeing you out there!

Regards,

TGSL Board

---


SPRING 2016 FUNDRAISER


The 2016 Spring season will only have a single, one time fundraiser. Instead of a $40 raffle ticket fee and hit-a-thon, we will be holding a "Cow Plop" drawing where top prize is $3000, second prize is $1500, and third prize is $500. Each family will purchase 4 tickets when registering (this will automatically be included in the registration fee). Each family may keep these tickets for a chance at the cash prizes, or they can resell them to recoup the $100 cost. Additional "Cow Plop" tickets may be purchased at registration checkout for $25 each if you would like more than 4 tickets. We will not be selling 40 raffle tickets this year, and there will be no hit-a-thon this season either. Here's to a great Spring season. See you on the fields!


---

SNACK BAR UPDATE

Attention TGSL Families:

As most of you are aware, TGSL is working to open a new snack bar. The new snack bar will provide revenue that will allow TGSL to continually make the improvements necessary to provide our girls with a premier recreational girls softball league. This new snack bar will have a full kitchen that will provide us with the ability to serve "hot food". Through fundraising and revenue from our existing snack bar we have acquired a building and some of the funds necessary to convert this building into an operational snack bar. Our next step is to connect utilities (water, power and sewer) to the new building.

We are reaching out to our TGSL families to ask your assistance in locating local companies that can assist our Building Contractor with the trenching and plumbing processes necessary to connect our new snack bar to the sewer system. This project involves a considerable amount of trenching. For any companies willing to assist TGSL in the process via a reduction in fees, TGSL will provide advertising opportunities onsite, on web and in our 2015 spring season memory book. We understand that this cannot be done for free, but we do hope that there may be local companies that are willing to work with us to make this project more affordable.

Please contact Lance White via email – lwhite572@ymail.com or 310-625-5572 for further information.

---


The Sports Desk
TGSL In the Spotlight

---

2015 Opening Day
Click on image to Like on Facebook.




---




Toys 4 Tots - Semi-Finalists
8U Select - Daley
Click on image to Like on Facebook.




---




Toys 4 Tots - Champions
10U Select - Holloway
Click on image to Like on Facebook.




---
---
Everything Is Awesome
Tuesday, January 27
President's Day at The Refinery
Handout:
2016 Spring Schedule