TGSL: Welcome
Torrance Girls Softball League (TGSL)
Sam Levy Adult Center - Softball Fields
3420 W. 229th Place
Torrance, CA, 90505
---
Field Status: OPEN
Torrance Tune Up live updates can be found here: http://www.tourneymachine.com/R30958

Congratulations to all of the teams for a great weekend of softball at the 2nd annual Torrance Tune Up Tournament!
8U Champions: Santa Monica Gold
8U Runner Up: Torrance Gold
10U Champions: Torrance Inferno
10U Runner Up: Torrance Silver
12U Champions: Torrance Select
12U Runner Up: Santa Monica Gold
14U Finalists in the West Valley Tournament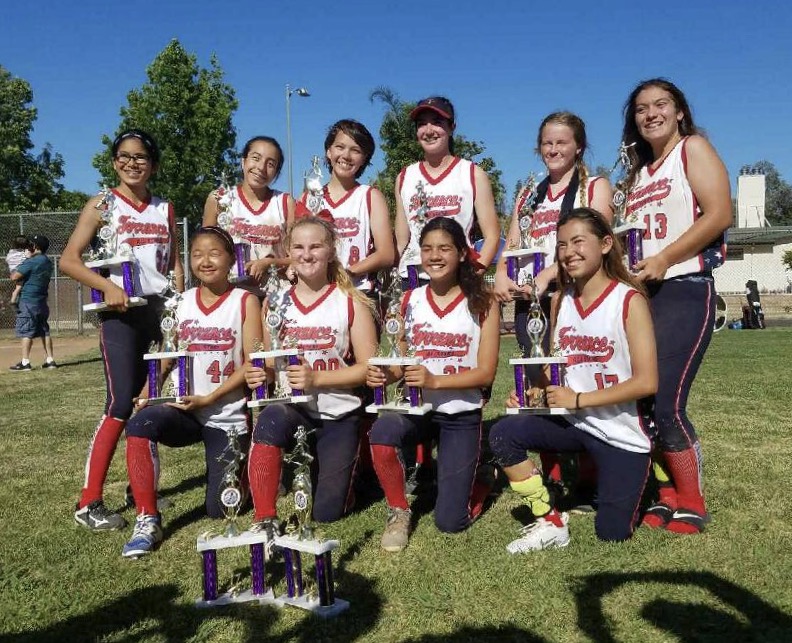 14U runner up in West Valley
12U Select Champions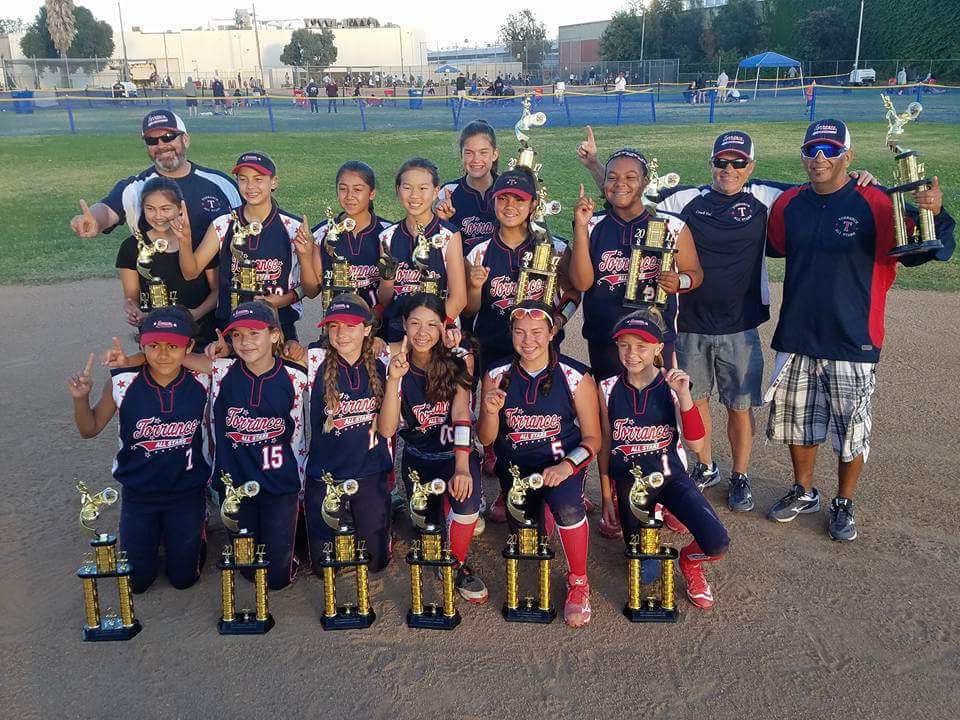 10U Gold and Silver taking home the hardware! Congrats ladies!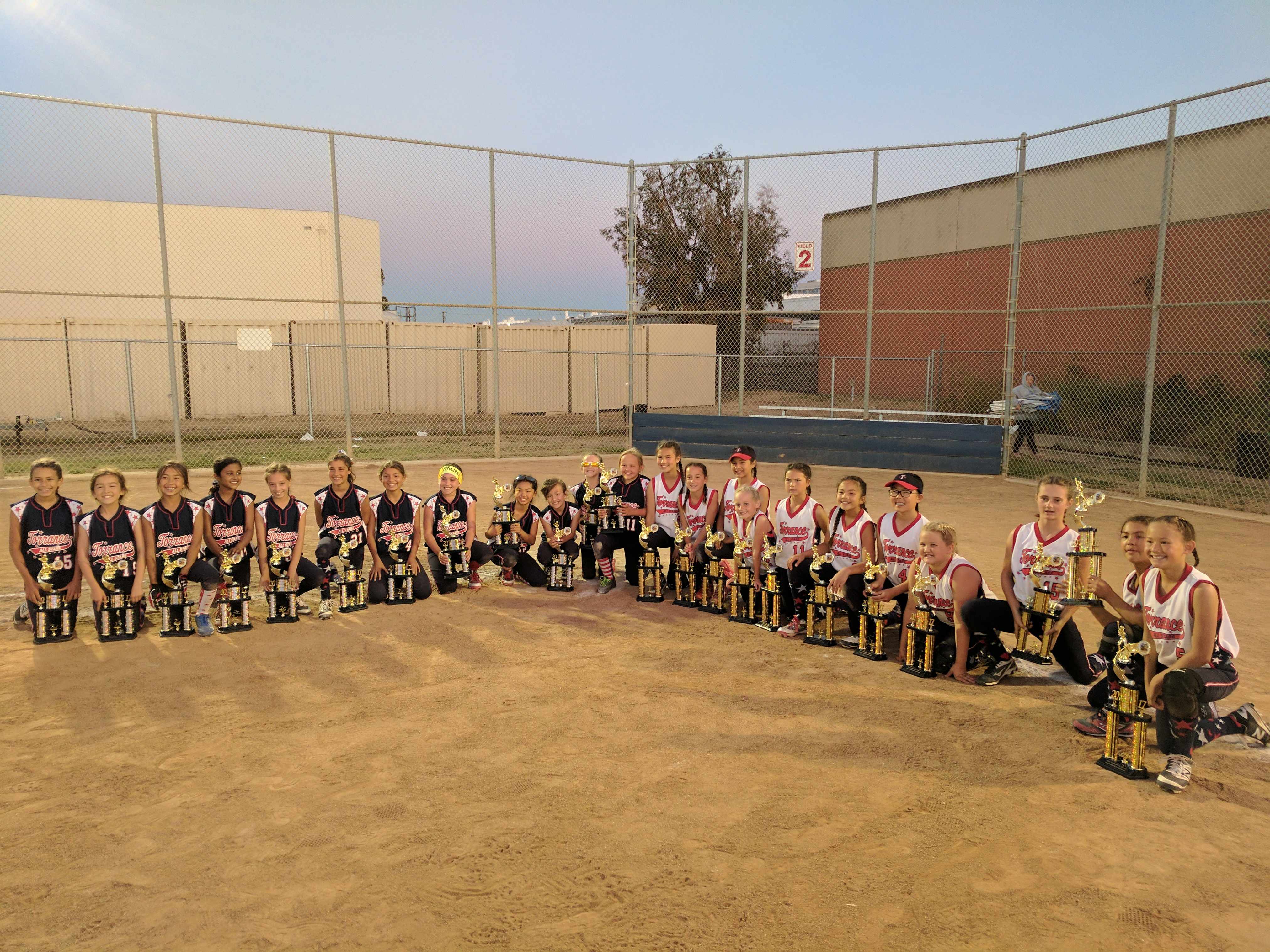 Congratulations to our TGSL divisional champions!
8U: Champion: Pixie Sticks
Runner up: Heartbreakers
10U Champion: Fast and Furious
Runner up: Thunderbolts
12U Champion: Smurf Smashers
Runner up: Rampage
14U 2nd place team for LA/Southbay: Accelerators
Here is a link to an article about one of our beloved umpires at TGSL, Spike! Most of you are familiar with his hauntingly cheerful strike call. Now you can read more about this great individual here.
Another victory for our 12U Select team. Way to go Northern District Champions!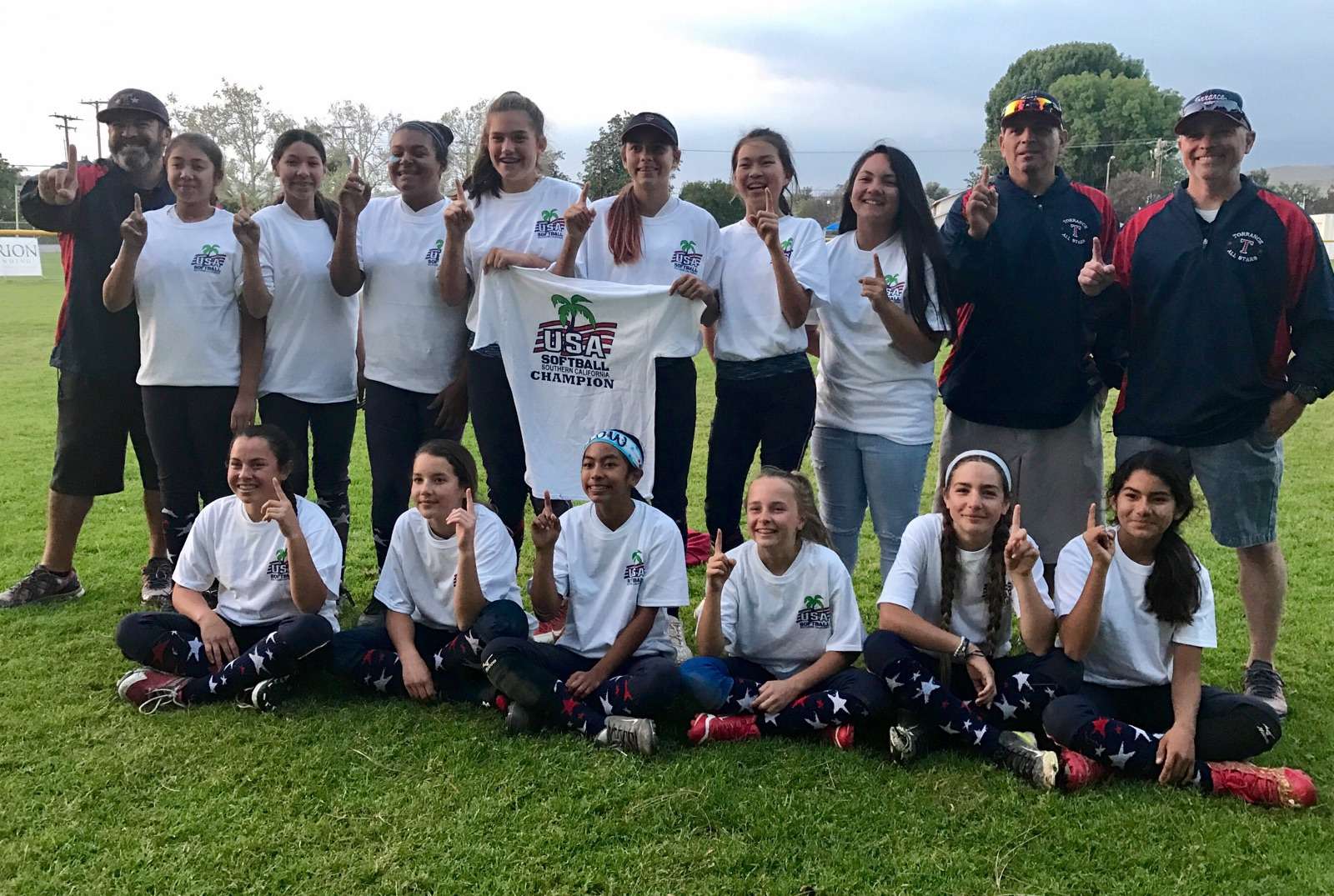 What a weekend for our select teams! Our 10U select team made it to the semi finals, and our 12U and 14U teams won the LA/Southbay Select championship. Way to go TGSL!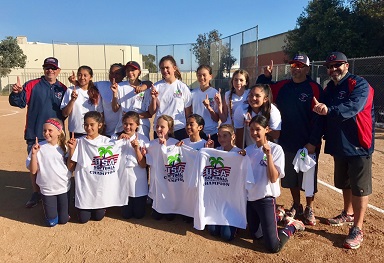 12U LA/Southbay Select champions! Congratulations ladies!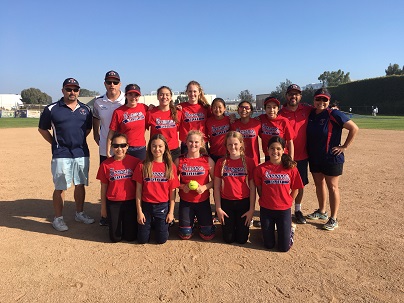 14U LA/Southbay Select champions! Congratulations ladies!
MEMORY BOOK COVER CONTEST FINALISTS
The following 4 entries were the choices of the TGSL Board as finalists for the 2017 Memory Book Cover Contest. The final winner will be determined by means of the highest number of "Likes" for the drawing from March 13 to March 18, 9 pm. Please go to the actual picture of the entry and cast your "Like." Let the voting begin. Thank you to all participants. Everyone did a great job. Like every softball season, there will always be a next year.
Torrance Citi Cable was out at Opening Day this season. Make sure to check out the video under My Site News on the bottom left, or copy the youtube link below.
https://youtu.be/X0YrZIrAOgY
2017 Cowplop
Hello TGSL families,
Our 2017 Cow Plop was a huge success with the cow doing his business in record time this year! Only took him 3 minutes (congrats to the cow)! We actually had our first tie for the 2nd place prize based on our three judge panel review. The league has been able to identify each of the winners. They are listed below and will be contacted by phone this week regarding collection of their prize money. Congratulations to the winners as the girls of TGSL greatly appreciate everyone's participation. Look for some great announcements and things to come in the near future as all the fundraising money will be put to good use benefiting the girls and families of TGSL!
1st Prize: Dora Guizar $3,000 (ticket #1034)
2nd Prize (tie): Kalehua Padilla $750 (ticket #0002) and Akker $750 (ticket #0246)
3rd Prize: Brennan Richardson $500 (ticket # 0507)
Congrats! TGSL Board
There will be additional league hats for sale in the snack shack starting February 25th. Make sure to get yours ASAP as they sould out in just minutes on opening day!
Saturday, May 6 -- Closing Day
---
---




12 U Select domination in Elsinore. 3-0 today against some tough competition. Way to go ladies!




---

---

TGSL and GBG Training Academy Partnership

Click on the imag eto like on Facebook.

Torrance Girls Softball is proud to announce a Spring 2017 partnership with GBG Training Academy (Garciaparra Baseball Group). This partnership will give our TGSL registered 8U-14U players the option to attend one 90 minute GBG training session once each week at a drastically reduced fee from February through March. This is exclusive to TGSL players only! GBG Training Academy instructors are comprised from Team USA participants and NCAA All Americans so our girls will be receiving great individual instruction. This is a tremendous value as each 90 minute training session consists of 6 players per one instructor for a very hands on experience. And of course, all our coaches are always welcome to attend and be involved in the sessions! Stay tuned as there will be more details to come...

This is just another example of Torrance Girls Softball League's continued pursuit in providing the premier training, competition, and the best softball experience for your daughter in SoCal! We hope to see you this spring!




---

2016 Summer Team

Click on the image to like on Facebook.

Meet TGSL's summer team, The Flash. Consisting of TGSL members, The Flash participates in the summer league hosted by the city of Carson.

Manager: Jose Reynoso

Coaches: Betsy Chou and Dan Meehan

Click on the image to like on Facebook.




---

THANK YOU!

TGSL appreciates MCKENNA SOUTH BAY BMW / MINI for their generous support of our 2016 season. Please click on the image to like and comment about your appreciation on Facebook.

---

SNACK BAR UPDATE

Attention TGSL Families:

As most of you are aware, TGSL is working to open a new snack bar. The new snack bar will provide revenue that will allow TGSL to continually make the improvements necessary to provide our girls with a premier recreational girls softball league. This new snack bar will have a full kitchen that will provide us with the ability to serve "hot food". Through fundraising and revenue from our existing snack bar we have acquired a building and some of the funds necessary to convert this building into an operational snack bar. Our next step is to connect utilities (water, power and sewer) to the new building.

We are reaching out to our TGSL families to ask your assistance in locating local companies that can assist our Building Contractor with the trenching and plumbing processes necessary to connect our new snack bar to the sewer system. This project involves a considerable amount of trenching. For any companies willing to assist TGSL in the process via a reduction in fees, TGSL will provide advertising opportunities onsite, on web and in our 2015 spring season memory book. We understand that this cannot be done for free, but we do hope that there may be local companies that are willing to work with us to make this project more affordable.

Please contact Lance White via email – lwhite572@ymail.com or 310-625-5572 for further information.

---

2016 Opening Day
Click on image to Like on Facebook.




---

2016 Fall Ball - Mission Viejo Tournament
Finalists
12U SELECT - BOOM SAUCE
Manager: Ted Holloway
Click on image to Like on Facebook.




---

2016 Fall Ball - Toys 4 Tots Tournament
Champions
14U Select
Manager: Valerie Ramirez
Click on image to Like on Facebook.




---

ASA State Tournament
14U Gold National Qualifier
Manager: Rob Patterson
Click on image to Like on Facebook.



---

ASA District Tournament

8U Gold Finalist

WE ARE 8U GOLD... TORRANCE!!!

Manager: Lance White

Click on image to Like on Facebook.

---

Rancho Trabuco Tournament
8U Silver Champion
8U SILVER
Manager: Katie Zelhart
Click on image to Like on Facebook.




---

ASA District Tournament
10U Gold Champion
NITRO
Manager: Adam Daley
Click on image to Like on Facebook.




---
---