Tennessee Lynx 12u: Welcome
Thursday, September 5
... to the
HOME OF THE 2004 SEAA 16U WORLD SERIES CHAMPIONS THE "TENNESSEE LYNX"
softball site. It all started 16 years ago as the "Lynx", later becoming Powell Lynx. During the 2005 - 2009 seasons we were the
TENNESSEE LYNX 18u/over "A"playing in several college exposure tournaments across the eastern part of the country.
I ENDED MY 15TH YEAR WITH A "NEW" TENNESSEE LYNX 12U TEAM. AFTER ONE COMPLETE YEAR OF 12U WE PLAYED 13 TOURNAMENTS, WON THE 2010 USSSA FALL STATE TOURNAMENT, WON THE 2011 ISA "C" REC STATE & WORLD QUALIFIER CHAMPIONSHIP, & ENDED 3RD IN THE ISA "C" REC WORLD SERIES. THIS TEAM PLAYED IN A 14U LEAGUE 2 SEASONS WINNING BOTH SEASONS WITH AN OVERALL 21-1 RECORD. We played in the Championship game of 3 tournaments to end in 2nd place. In this first year we played a total of 90 games. Overall we've had a great 1 year of 12u.
I HAVE RETIRED FROM COACHING.
"TEAMWORK!!!"

"MANY HANDS, MANY MINDS, ONE GOAL"
Thursday, September 5
16 YRS AGO!!
IN THE FALL OF '97, I GOT THE NOTION TO TRY MY HAND AT COACHING A GIRLS SOFTBALL TEAM. SO I STARTED BY ASKING ANYONE THAT WANTED TO PLAY SOME FALL BALL TO COME ON OUT. LITTLE DID I KNOW WHAT THE LYNX WOULD END UP ACCOMPLISHING. THE GIRLS HAD SO MUCH FUN, THEY ASKED IF WE COULD STAY TOGETHER & PLAY IN THE SPRING. I WAS SO GLAD TO HEAR THEM SAY THAT. AS THE YEAR WENT ALONG, I DECIDED TO ENTER THEM IN OUR FIRST TOURNAMENT. WE BECAME THE POWELL LYNX 10U. WE WENT TO BOWER FIELD & WON THE TOURNAMENT. EVERYONE WAS EXCITED. MY COMPETITIVE BLOOD STARTED BOILING AGAIN AS IT HAD WHEN I COACHED BASEBALL & BASKETBALL. THERE'S TWO OF THOSE ORIGINAL GIRLS THAT HAVE GONE ON & ARE STILL PLAYING COLLEGE BALL. ONE AT FLORIDA STATE & ONE GRADUATED AT HIWASSEE COLLEGE. OVER THE PAST 13 YEARS I'VE HAD THE PLEASURE TO COACH SEVERAL FANTASTIC & TALENTED GIRLS. AT ONE POINT, FROM THE YEAR 2000-2002, THEY HAD A LEAGUE RECORD OF 52-1. IN 2000 THEY WON THE 10U NSA STATE TOURNAMENT IN SLOW PITCH THEN STARTED FAST PITCH AND WINNING A BERTH IN THE WORLD SERIES. THEY CONTINUED THE WIN STREAK FOR ANOTHER YEAR AND A HALF BEFORE LOSING 1 LEAGUE GAME IN 2002. THEY PLACED 3RD IN THE STATE THREE TIMES. ONCE IN NSA, ASA, & ISA. THEY TIED FOR SECOND IN THE WORLD SERIES OF THE LAST YEAR OF THE SSAA ORGANIZATION. LATER THE SSAA CHANGED TO SEAA. THE LYNX WON THE 2004 16U SEAA WORLD SERIES. AFTER 2004, WE BECAME THE TENNESSEE LYNX 18U TRAVELING ALL OVER THE SOUTH DOING MOSTLY COLLEGE EXPOSURE TOURNAMENTS. WE'VE HAD SEVERAL GIRLS GO ON TO PLAY COLLEGE BALL & SEVERAL STILL PLAYING. THE SUMMER OF 2008 AT THE 2008 TIGER CLASSIC IN GEORGETOWN, KY., I TOLD THE GIRLS THIS WAS GOING TO BE MY LAST TOURNAMENT. THEY RESPONDED BY WINNING 3 STRAIGHT & PLAYING FOR THE CHAMPIONSHIP ONLY TO LOSE 2-1. WHAT A WAY TO START & END. NOT TOO MANY COACHES CAN SAY THEIR FIRST TEAM WON A CHAMPIONSHIP THEIR VERY 1ST TOURNAMENT & THEIR LAST ONE PLAYED FOR THE CHAMPIONSHIP & ENDED UP SECOND. AFTER COACHING ONE MORE YEAR IN 12U THIS YEAR, THE TEAM ENDED 3RD IN THE WORLD SERIES. THANKS LADIES FOR MANY GREAT & FUN SEASONS. I'VE COACHED MY LAST SEASON AFTER 39 YEARS OF OVERALL COACHING. I LOVE ALL YOU GUYS. THANK YOU ALL!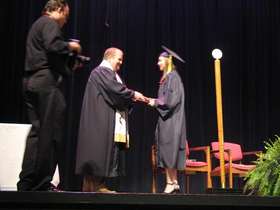 Tara graduating Hiwassee College
Thursday, September 5
WATCHING MY KIDS & GRANDSONS!
I'M ENJOYING RETIREMENT!!!
Sunday, August 1
2004 SEAA WORLD CHAMPION LYNX 16U
THE LYNX DEFEAT A STRONG LADY FLAMES TEAM OUT OF ALABAMA 1-0. THEN WAITED ON THE LOSER BRACKET WINNER, WHICH TURNED OUT TO BE THE FLAMES OF ALABAMA AGAIN. IT WAS A GREAT GAME & THE LYNX PREVAILED WITH A 3-0 VICTORY. THE LYNX PLAYED PRACTICALLY ERROR FREE THE WHOLE TOURNAMENT. WITH GREAT PITCHING & DEFENSE THE GIRLS ONLY GAVE UP 4 RUNS IN 6 GAMES. THEY SCORED 46 RUNS ON OFFENSE. THEY ENDED WITH AN UNDEFEATED 6-0 RECORD.
Thursday, September 5
FORMER LYNX PLAYERS OF AT LEAST 2 YEARS & WHERE THEY WENT TO PLAY:
AMY BLAKENEY - NORTHEAST CC / ALCORN STATE, MS.
KAYLA BRIGHT - WALTERS STATE CC
MANDY BROCKMAN - WHEATON COLLEGE, CHICAGO, ILL.
MEGAN CONATY - NOTRE DAME UNIVERSITY, IND. (track/academic)
STACI D'APICE - ETSU
SUSANNE DAVIS - TRANSYLVANIA UNIVERSITY, KY.
JESSICA DILLION - CHATTANOOGA STATE / Now coaching high school in Michigan
BRITTANY GLOYD - UNIVERSITY OF THE CUMBERLANDS, KY.
SHAUNA HAGA - HIWASSEE COLLEGE / KING COLLEGE / NCCAA 2010 World Series All-Tournament Team in Palm Beach, Fla., 2010 NCCAA 2ND TEAM ALL-AMERICAN.
JEN HALCOMB - HIWASSEE COLLEGE / Now asst. coach for middle school in Cookeville, Tn.
HEATHER HILL - INDIAN RIVER CC, FLA.
KRISTI KOOCH - KING COLLEGE
SAMANTHA KOOCH - UNIVERSITY OF THE CUMBERLANDS, KY.
LAUREN LEACH - CLEVELAND STATE
TAYLOR McGINNIS - LINCOLN MEMORIAL UNIVERSITY/ MILLIGAN COLLEGE
JESSI OGLE - EMORY & HENRY
EMILY OSBORNE - HIWASSEE COLLEGE
ERIKA SNAPP - HIWASSEE COLLEGE / KING COLLEGE (Now playing golf)
AMANDA SPAZIANI - TENNESSEE STATE
AMBER TAYLOR - VOLUNTEER STATE CC
SCARLETTE THOMAS - UNIVERSITY OF THE CUMBERLANDS, KY.
SARAH TORGENSON - UNIVERSITY OF TENN, CHATTANOOGA (Volleyball)
TARA TRUSLEY - HIWASSEE COLLEGE
LAUREN VARSALONA - INDIAN RIVER CC, FLA. / FLORIDA STATE
KELSIE WATTS - ROANE STATE CC
DANIELLE ZIMMERMAN - AGNES SCOTT COLLEGE / KING COLLEGE
Chicago Bulls Theme
PLEASE SIGN OUR GUEST BOOK
THANK YOU FOR VISITING & LET US KNOW YOU WERE HERE!!
Our Team's Fan Counter
All Right! You Are Visitor
To Our Site Since 2/23/02!!