Team Bibby Girlz: Welcome
Monday, September 7
Team Bibby Girlz
is looking for basketball players for the following grades.
7th and 8th Graders for our 2015-16 season.
If you are interesrted in coming out for a tryout
contact coach Rey or Coach Jon:
We are having practices on Tuesdays and Thursdays.
Coach Rey: rey23tala@cox.net
Caoch Jon: jon.casto@verizon.net
Sunday, April 12
Team Bibby Red
Monday, September 7
Team Bibby Gray Takes Back to School Championship
Congrats Ladies!!!!!
BACK TO SCHOOL CHAMPS!!!
August 22nd-23rd
#3-Ali Zelaya(MVP) and #13-Taylor Hopsking (All Tourney Team)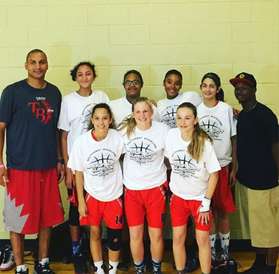 2nd place Varsity Division
Monday, September 7
Team Bibby Red Took 2nd in Labor Day
Team Bibby Red 15U took 2nd place in the Southwest Showcase Labor Day Tournament Varsity Division.
Congrats Ladies!!!!
We are proud of all of your hard work.
Thursday, October 30
Saylair Grandon commited to Idaho State University
Congratulations Saylair!!!!!!
You will do great as a Bengal.
Sunday, October 12
Quynne Huggins Committed to Utah Valley University
Congratulations Quynne. You will do great as a Wolverine.
Monday, May 4
Marissa Rincon Signed!!
Marissa Rincon #35 signed with South Mountain CC.
Congratulations Marissa we are proud of you.
Monday, May 4
Team Bibby Gray Champions
Tuesday, April 29
Arianna Sesma Signed with Phoenix College
CONGRATULATIONS!!! Arianna "AIR" Sesma
Team Bibby Girl 2012 and 2013