BWSL SOUTHSIDE BALLERS 5th GRADE TEAM: TEAM 757 TAKE ON THE NATIONS BEST!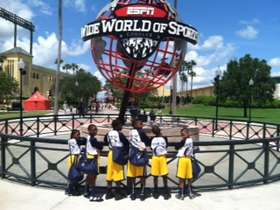 Character Commitment Communicate Complete
Thursday, August 16
TEAM 757 ELITE TAKE ON THE NATIONS BEST IN ORLANDO
Against all odds the 757 Elite took its brand down to Mickey's house in Orlando Fl. at the ESPN Wide World of Sports facilities. Some by Air; some by Land, we arrived in the Sunshine State to go against the nation's best team is prepared for the task at hand. One of only two 3rd grade teams from the state of Virginia to actually make the trip we are very proud of these young kids. Not quite with the 12 we started with but 7 of our best. The team went 2-1 in Pool play dropping one to the eventual countries #2, WPC out of Maryland. In the championship bracket we lost to the number #5 team from Puerto Rico. Our kids have gained a life time of experience this year, ending with this Disney trip. I would like to thank all of our sponsors for their efforts to make this season special for these young guys. I especially want to thank Dan, Cory & the company GYG for the generosity.