TAUNTON DYNAMITES FASTPITCH SOFTBALL: HISTORY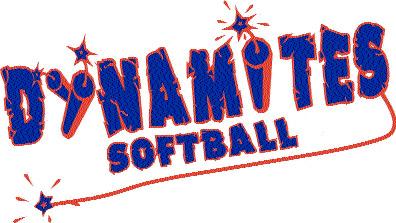 In the Beginning.........
In 2002, the Bay State Dynamites, founded by Brian Clemmey, began plans to form the Taunton Dynamites in 2003. This organization was created to give girls with the desire to play competitive softball the training and competition to prepare them for high school and college.

Mr. Clemmey opened our players from Taunton to a better level of play by using his experience and contacts to help our players gain experience by traveling throughout New England and to the PONY Nationals in Sterling, VA.

In 2002, both Taunton High School (DI) and Coyle & Cassidy (DII) won the Massachusetts State Championships
2003.......48 girls the Original Taunton Dynamites
Many experienced coaches and instructors joined our program. Bill Taylor, Michael Malloch, Brian Wade, Paul Fitzgerald, Paul Diminico, Bob Pearson and Wayne Furtado helped pave the way to providing the players with great training and the opportunity to play "Dome Ball" in the "off season". Tremendous support from coaching to fundraising to building and improving field facilities and guidance came from great unselfish coaches, like,Steve Turner and the on-going support of Malloch Construction.
The 2003 season began to produce many great future High School State Champions and College players immediately.
Jen Puccini (DRHS/University of Maine), Ashley Bernstein(Cardinal Spellman/So. New Hampshire Univ.) and Courtney Thurston (Coyle & Cassidy/Babson)were among the first Dynamite players to play in college.

Our first 12U team won the State Championship and finished in the TOP 16 out of 204 teams at the PONY Nationals that year.
2005-6....... we grow to 84 players....
By 2005, we had grown to 84 players and 7 teams across 5 age groups. We had grown in both reputation and size, accumulating State Championships, another PONY National Sweet 16 finish and highlighted by our 14U team winning the elusive and prestigious All-American tournament in Lowell, MA in 2006. Our coaching depth now added Gary Enos, Mark Lasser and Scott McCone along with recent college softball players and graduates Laura Furtado (THS/Boston University) and Heather Sargent (Merrimack College).

Our program was now attracting an increasing number of players from outside of Taunton who contributed to the growing success of area high schools like Apponequet, B-R, Bishop Stang, D-R, Middleboro and Somerset.
2007-2009........the fruits of our labor
The MIAA South Sectional finals of DI and DII for the Massachusetts State High School Championships in that period had Varsity rosters dotted with Dynamites. Over 20 Dynamites were on these rosters with many playing starring roles.

Taunton High (Jess Chaves, Kaylee Clemmey, Kirstee Clemmey, Bree Diminico, Rissa Diminico,Jess Furtado Jasmyn Mccone, Jill Mattos, Kristine Melito,Jess Moitoza Jacqui Tierney and Erin Wade),,,,,,,
Coyle & Cassidy (Jackie Enos,Jen Furtado, Kasandra Handrahan, Lauren Meunier and Alex Pearson),,,,
Bishop Stang (Alex Andrade and Alyssa Quann),,,,
Apponequet (Christa Coscia),,,,D-R (Emily Silvia)

Taunton High School won the 2007 DI State Championship by beating Gardner. Coyle & Cassidy were the DII 2007 EMASS Finalist and made it to the South Sectional Finals in 2007, 2008 and 2009, losing to State Champion Ashland in 2008 and 2009.
The Taunton Dyanmites were central figures to their teams successes.
Today.......
| | |
| --- | --- |
| | Having ELEVEN years behind us, we now proudly summarize our growing list of student/athlete alumni and ask them for there support to help us maintain the reputation of softball in the Taunton area. These student/athletes return to help in practice and training and share their college experiences with our current Dynamites. See our College Links page for details. |
TEAM ACCOMPLISHMENTS
ASA MASSACHUSETTS STATE "A" CHAMPIONS (5)
10U 2006, 2008, 2009
12U 2003
16U 2008

ASA REGIONAL ALL AMERICAN TOURNAMENT CHAMPS
2006 14U

PONY NATIONAL SWEET SIXTEEN (2)
2003 12U
2005 14U

ASA MASSACHUSETTS STATE "A" FINALIST (3)
2005 14U
2006 14U
2009 18U

NSA MASSACHUSETTS STATE "A" FINALIST (1)
2005 14U