TAUNTON DYNAMITES FASTPITCH SOFTBALL: Welcome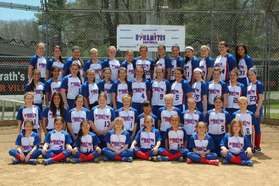 2014 DYNAMITES
Saturday, February 1
Visit us on Facebook at Taunton Dynamites Fastpitch Softball
Home of the DYNAMITES (est.2003)
We are an ALL VOLUNTEER organization structured as a 501(c)3 with an educational pedigree. Our core Coaching staff has over 100 years of experience. Starting with our first Showcase team in 2007, we have produced over 40 student athletes at more than 20 colleges throughout the Northeast. They major at some of the finest Business,Engineering and Health Science colleges and universities in the nation. Our players are State and Conference All Stars and Champions in High School and continue their high level of play in college. Check out our COLLEGE CONNECTIONS page. Now, we welcome our successful alumni back to help train the next generation........

The Originals 2003
Monday, July 21
2015 TRYOUTS & DYNAMITE CLINIC
THROUGHOUT 2014, WE WILL ALWAYS WELCOME PLAYERS BETWEEN THE AGES OF 8-13 TO our "DYNAMITE CLINIC" on Tuesday at Taunton HS and Thursday at Coyle & Cassidy HS from 6:00pm to 7:30pm. DYNAMITES are free, guests are $10/wk. The summer CLINIC sessions begin on August 5, 2014 and will run through August 21, 2014
JUST CONTACT US AT TAUNTONDYNAMITES@GMAIL.COM SO WE WILL BE ON THE LOOKOUT FOR YOU. YOU WILL ENJOY A SPIRITED, FUN WORKOUT SESSION WITH OUR COACHING STAFF AND PLAYERS. Register on our FACEBOOK page, TAUNTON DYNAMITES FASTPITCH SOFTBALL.
2015 TRYOUTS & REGISTRATION AT TAUNTON HIGH SCHOOL TRIPP VARSITY FIELD
1OU & 12U TRYOUTS
8/14 THURSDAY 10U @ 6:00PM - 7:00PM
12U @ 7:00PM - 8:00PM
8/23 SATURDAY 10U @ 9:00AM - 10:00AM
12U @ 10:00AM - 11:00AM
14U 16U & SHOWCASE TRYOUTS
8/16 SATURDAY 14U @ 9:00AM - 10:00AM
16U @ 10:00AM - 11:00AM
SHOWCASE @ 11:00AM - NOON
8/21 THURSDAY 14U @ 6:00PM - 7:00PM
16U @ 7:00PM - 8:00PM
SHOWCASE @ 8:00PM-9:00PM
For additional information, you may contact us at TAUNTONDYNAMITES@GMAIL.COM
Saturday, April 26
Dynamites Fastpitch Softball on Facebook
Upcoming Events
Date
Event
Time
Location
Fri 8/1
MAYHEM INVITATIONAL
TBA - Aug 3, 2014
EAST GREENWICH, RI
Fri 8/1
SGSL SWANSEA ASA OPEN
TBA - Aug 3, 2014
Swansea, MA
Fri 8/1
10U SWANSEA (ASA)
12:00 PM - Aug 3, 2014
Swansea, MA
Fri 8/1
14U EAST GREENWICH, RI (PONY)
12:00 PM - Aug 3, 2014
EAST GREENWICH, RI
Fri 8/8
YOMEGA
TBA - Aug 11, 2014
Somerset, MA