Tahoma Bears Volleyball: Welcome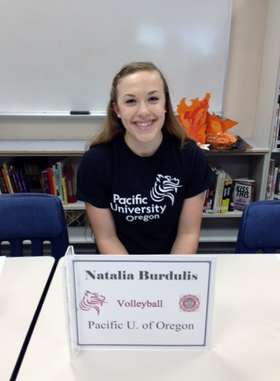 CONGRATS 2015 GRADUATING SENIORS. TEAM CAPT NATALIA BURDULIS SIGNS W/ PACIFIC U
2014 TAHOMA VOLLEYBALL
PLEASE SEE BOTTOM OF PAGE OR HANDOUTS FOR THE 2015 SUMMER CALENDAR. CHECK OUT THE SUMMER EVENTS AND INLUCDES TRYOUT DATES/TIMES.
2015 Open Gym Information
Open Gym UPDATE LAST OPEN GYM IS THURSDAY JULY 23rd, 9am-11am
2014 TAHOMA VOLLEYBALL
CLICK THE LINK FOR LOOKBACK ON 2014 https://www.youtube.com/watch?v=jtUebd_6Slc&feature=youtu.be
Congrats to the girls representing Tahoma on the 2014 All League SPSL North Team:
1st Team:
Amanda Troxel-OH SR
Ginny Mehl-MH SOPH
2nd Team
Sierra Stultz-OH SOPH
Honorable Mention
Natalia Burdulis-OH SR
Maddy Cole-Lib SR
Emma Terry-Setter SR
For the entire team copy and paste the link http://www.scribd.com/doc/247520960/4A-SPSL-North-All-League-Volleyball-2014
2014 TAHOMA LADY BEARS SET SCHOOL RECORD AND FINISH 6TH IN STATE IN 4A HIGH SCHOOL VOLLEYBALL!!!!!!
CONGRATS GIRLS!!
ACL PREVENTION- CLICK PICTURE FOR MORE INFO
Handout:
2015 SUMMER CALENDAR
Sunday, November 2
JV PICTURES FROM TAHOMA VS KENTLAKE SEPT 23
CONGRATS TO THE TAHOMA JV TEAM - UNDEFEATED 2014 SEASON!!