Tahoma Bears Volleyball: Welcome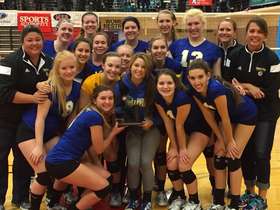 6TH IN STATE FINISH
2014 TAHOMA VOLLEYBALL
2015 Open Gym Information
Open Gym UPDATE -- Tues May 26, Mon June 1 , Mon June 8th, June 16 (3-5pm) and Thurs June 18 (10am-noon) are the open gym dates.
Open Gym is contingent upon the weather. If its raining, spring sports have first right to the gym. If spring sports practice in the gym, open gym will be cancelled. If its questionable please text coach Kim 253-709-6703.
2014 TAHOMA VOLLEYBALL
CLICK THE LINK FOR LOOKBACK ON 2014 https://www.youtube.com/watch?v=jtUebd_6Slc&feature=youtu.be
Congrats to the girls representing Tahoma on the 2014 All League SPSL North Team:
1st Team:
Amanda Troxel-OH SR
Ginny Mehl-MH SOPH
2nd Team
Sierra Stultz-OH SOPH
Honorable Mention
Natalia Burdulis-OH SR
Maddy Cole-Lib SR
Emma Terry-Setter SR
For the entire team copy and paste the link http://www.scribd.com/doc/247520960/4A-SPSL-North-All-League-Volleyball-2014
2014 TAHOMA LADY BEARS SET SCHOOL RECORD AND FINISH 6TH IN STATE IN 4A HIGH SCHOOL VOLLEYBALL!!!!!!
CONGRATS GIRLS!!
Sunday, November 2
JV PICTURES FROM TAHOMA VS KENTLAKE SEPT 23
CONGRATS TO THE TAHOMA JV TEAM - UNDEFEATED 2014 SEASON!!