WELCOME Soccer Players, fans and friends!
Welcome to Sanborn Youth Soccer Association's Website!

We are a small (about 250 players) community organization dedicated to promoting the game, fun, and sportsmanship of playing soccer.
We have both a recreational program (co-ed, ages 4-13, anyone can play) and a competitive/travel program (need to try out annually, travel to other NH towns). Our players and families come primarily from Kingston & Newton, NH but those from surrounding towns are also welcome to join.

We love soccer and play because it's FUN!

Questions/comments may be addressed to:
President, Cheryl Gannon, 642-3365 / c.gannon@comcast.net
SCROLL DOWN FOR NEWS UPDATES
**********************************************
Thursday, May 28
TRAVEL TEAM TRY-OUTS, SAT MAY 30
TRAVEL TEAM TRY-OUTS, SAT, MAY 30 5:00 PM at Sanborn Middle School in Newton.
Boys & girls aged 8-12 may try out but there is no guarantee of any teams being formed if we do not have enough interest in any specific age group.
"Travel" is a more competitive level of play where the team has more practice/training sessions and will travel to other towns in NH on Sat & Sun in the fall & spring. The cost is higher than recreational for registration and players purchase their own uniforms. For more info, please contact Michael Gannon, megannon@comcast.net
Saturday, May 16
GOALIE CLINIC OFFERED, SAT, MAY 30
GOALIE CLINIC:
The Sat, May 30 training session on the Plains in Kingston will feature a 1 hour goalie clinic in between the 2 team training sessions on the Plains, from 9:30-10:30.
Players in the Mini-Mite, Junior & Senior divisions may register for the clinic on a first-come, first-served basis. There are a limited number of spots so please email Cheryl c.gannon@comcast.net if you would like to register.
SAT, MAY 30 TRAINING SESSIONS FOR JUNIORS & SENIORS WILL BEGIN AT 10:30, RIGHT AFTER THE CLOSE OF THE GOALIE CLINIC.
Saturday, May 16
2015 SUMMER SOCCER CAMP OFFERS FULL DAY OPTION
SUMMER SOCCER CAMP by Y.E.S. (Youth Elite Soccer)
15th annual SYSA Sponsorship of co-ed youth soccer day camp
Coaches from the United Kingdom
WHEN: July 13-17
WHERE: Chase Field, Kingston
WHO: Boys and girls aged 4-12, all skill levels
Age 4 & 5 : TIME: 9:00-10:30 am COST: $50.00 ($45 by June 14)
Age 6-12: TIME: 9:00-12 noon COST: $100.00 ($90.00 by June 14)
NEW FULL DAY CAMP, Age 6-12 TIME: 9:00-3 pm COST: $160.00 ($145 by June 14)
CAMP EXTRAS: Each player will get a ball and tee shirt
EARLY REGISTRATION INCENTIVES:
10% Discount per player if you register by June 14
All early registrants will be entered in a raffle for a FREE CAMPERSHIP
- FAMILY DISCOUNT: 50% off for the 3rd and each subsequent child from the same immediate family (after June 14, 20% discount for 3rd sibling)

$50 REFUND IF YOU HOST A COACH IN YOUR HOME FOR THE WEEK!

REGISTER NOW - TOP LEFT SIDE OF THE WEBPAGE OR click the link below

http://www.active.com/event_detail.cfm?event_id=2140259

QUESTIONS: email c.gannon@comcast.net or call Cheryl at 603-642-3365.



Monday, April 6


SYSA RECREATIONAL SOCCER FAQs




Are you a new player or considering playing with SYSA?

Here are some frequently asked questions about playing recreational soccer....

Q: WHAT EQUIPMENT DO I NEED?

Shinguards are mandatory for all divisions, age 4-13

Socks that cover the shinguards OR there are some styles of shinguard that are designed with a cloth covering over the plastic so socks are not needed. For players who have never played with SYSA, you will receive a complimentary pair of socks your first season playing with us.

Comfortable shorts, sweats or nylon pants (depending on the weather)

Soccer cleats: NOT ALLOWED IN SCATTERBALL (age 4-5/kindergarten)

- NOT REQUIRED but recommended for better traction when playing soccer.

**PLEASE NOTE: Cleats must be SOCCER CLEATS, NOT baseball cleats that have a spike at the toe - These are dangerous for soccer and NOT ALLOWED

Team Shirt: SYSA provides team shirts for all players. These are on loan for the season-you take it home every week and launder it, then return it at the end of the season. This helps to to keep registration costs affordable.

Water: For keeping hydrated and ready to play on game day. Sports drinks, juice or soda are not recommended due to high sugar content.

Q: WHEN WILL MY TEAM PRACTICE?

SCATTERBALL (age 4,5/kindergarten): Practices are on game day. Approximately the first 30 minutes of the scheduled game time on Sunday afternoon is "practice". The second 30 minutes is for the game. No practices during the week.

SOCCER: In the fall of 2013, SYSA piloted a weekly training session with a professional coach and it was very successful. We did this with just the Mini-Mite & Junior divisions and expanded it to the Senior division the spring, 2014 season.

Here is how it works-All teams/coaches come to a common training session on the Plains in Kingston. The pro trainer chooses one team and demonstrates a training game/drill. Then the teams break out into their own spot on the field and practice that game for about 15 minutes. The pro-trainer circulates amongst the teams to give pointers. All teams re-convene to watch as the pro demonstrates the next game with another team and the process repeats.

MINI-MITES (Grade 1 & 2) Saturday mornings, 8:30-10:00 am.

JUNIORS & SENIORS (Grade 3 - 8) Saturday mornings, 10:15-11:45 am.

ADDITIONAL PRACTICE SESSIONS may be held during the week at the discretion of individual coaches. Any coach/team that is not able to make it to the Saturday morning session will have a practice at another time, depending on the schedule of the individual coach and consenus of players.

PLAYING TIME DURING GAMES IS NOT PREDICATED ON ATTENDING PRACTICE OR HOW MANY PRACTICE SESSIONS ANY PLAYER ATTENDS. This is recreational soccer and coaches are instructed to allow all players to play at least one half of every game. But, we certainly encourage players to attend practice as often as possible to learn & increase their skills.

Q-DO THE GAMES HAVE REFEREES?

Yes, SYSA has a team of referees who are "patched" (they have completed a licensing course with the NH Soccer Association). The refs are local middle & high school students, most of whom have played for SYSA in the past and/or play for their school or travel soccer teams.

Q-WILL I/MY CHILD NEED TO PARTICIPATE IN FUND-RAISING?

NO-NEVER!!!! SYSA is extremely proud of the fact that we DO NOT DO ANY FUNDRAISING. Using team shirts that are recycled each season, registration fees and our REFRESHMENT STAND provide the funds we need to operate. So, we ask that you patronize the refreshments stand on Sundays.

Q-I WOULD LIKE TO COACH A TEAM. WHAT DO I NEED TO DO?

Check the box in the "Volunteer" section of the registration form. If you are the primary coach of your child(ren's) team, one child will play for no cost. All coaches must complete a background check through the NH Soccer Association (info given after you sign up). Coaches are given support beginning with an orientation session 2 weeks before the season starts, weekly Saturday morning sessions with our pro-trainer, online resources as well as training booklets and videos that you may borrow. We also have a coordinator of coaching who can come out to your practice session and give you support.

If you have additional questions, please do not hesitate to contact SYSA President, Cheryl Gannon, c.gannon@comcast.net or call 642-3365



Monday, July 28


Weekly Practices with Professional Trainer




The SYSA board has received a lot of positive feedback on the training sessions with the professional coaches from NH Premier Soccer Academy in the spring & last fall and have decided to continue offering this program.

PRACTICE ON THE PLAINS IN KINGSTON across from the Fire Station/Rockrimmon Rd

MINI-MITES (Grade 1 & 2) Saturday mornings, 8:30-10:00 am.

JUNIORS & SENIORS (Grade 3 - 8) Saturday mornings, 10:15-11:45 am.

ADDITIONAL PRACTICE SESSIONS may be held during the week at the discretion of individual coaches. Any coach/team that is not able to make it to the Saturday morning session will have a practice at another time, depending on the schedule of the individual coach and consenus of players.

IF A COACH CANNOT ATTEND THE SATURDAY SESSIONS, players on his/her team may attend and can join another team to learn the games/drills.



Sunday, April 5


FOOTSKILLS CLINIC A BIG SUCCESS!






Nearly 60 kids participated in the 12th annual winter Footskills Clinic at Swasey Gym in Kingston. SYSA Director of Coaching, Michael Gannon, taught a variety of ways to control the ball to maintain possession when under pressure from the opponent.

We would like to thank high school soccer players Kelly Collins, Jillian Battye, and Stephanie Collins for helping out as Coach Gannon's footskills were a bit rusty since his hip replacement surgery!

We also extend our appreciation to Sanborn Regional School District for allowing SYSA the use of the facilities.

NOW - IT'S ON TO SPRING AND SOCCER OUTDOORS - TO USE THOSE SKILLS YOU LEARNED!



Sunday, March 22


COACHES RECEIVE US SOCCER FEDERATION CERTIFICATION




SYSA hosted a U10-12 Youth Module Certificate on Saturday, March 21.

12 coaches from the seacoast area received their license, 2 were SYSA coaches.

In 1996, US Soccers coaching programs developed a National License that was designed to specifically address the needs and developmental characteristics of players at the U-6 to U-12 ages. The ideas and methods studied in the National Youth License became the foundation of information for the state level Youth Modules. NHSA offers two Youth Modules, U6-8 level and the U10-12 level certificate course.

U6-8 Youth Module Certificate (Candidates must be at least 12 years old or older)
Cost: $45 for NHSA members and $90 non-NHSA members

U10-12 Youth Module Certificate (Candidates must be at least 14 years old or older)1212Also, 12 SYSA players participated in demonstrations of soccer games and skills with NH Soccer Association Technical Director, Eric Redder, who was the trainer for the course.

We would like to thank Sanborn Regional School District for allowing us to use the high school facilities and Vicki Parady-Guay for her help in setting it up.

It was great fun and we are happy to have 2 of our coaches CERTIFIED! CONGRATULATIONS Jeff Thomas & Chris Cantin.






Monday, June 23


SYSA on FACEBOOK




SYSA IS NOW ON FACEBOOK!

Click the link below to follow us on Facebook.

http://www.facebook.com/pages/SYSA/110210592346676

"FRIEND" US TODAY & view photos from soccer camp and get updates on SYSA events





CLICK HERE FOR SOCCER ON THE WEB!




... Check out these soccer websites:

New Hampshire Soccer Association: www.soccernh.com

New Hampshire Soccer League (competitive/travel league) www.nhsoccerleague.com

US Youth Soccer: http://www.usysa.com/ US Soccer: http://www.ussoccer.org/

Y.E.S. Soccer Camp http://www.mlscamps.com/

Men's Pro Team http://www.revolutionsoccer.net/





COACHES' CORNER


YOUR KID PLAYS FOR FREE WHEN YOU COACH HIS/HER TEAM!
As an incentive for you to coach your child's team, SYSA will waive
the registration fee for that child.
This offer is for primary coaches only, not assistants, and applies to the fee for 1 child only.

As a coach, you will also get a tee shirt & a Coach's clipboard
with wipe-off board diagram of a soccer field on the back.

Plus, as a coach YOU get to set your own practice schedule
(does not apply to Scatterball, which has no outside practices). Most teams have 1, hour-long outside practice session, which can be a week-night evening, anytime on a Saturday, or on Sunday before the game.
And - in the Fall, you'll have your picture taken with your team as a lifetime reminder for you and your child of the season when you were "MY COACH!"

If this is your first time coaching, THAT'S OKAY!
SYSA provides lots of support in the form of:

-Coaching videos on loan
-Coach's Handbook
-Coaching booklets
-Coaching coordinator will attend & critique your practice or...
Run a practice for you while you help out
-Provide internet links to coaching resources

PLEASE TAKE ADVANTAGE
of our coaching coordinator's skills -
Call him to arrange for him to come to your practice...
Michael Gannon 642-3365 or email megannon@comcast.net

Sunday, June 12


RAINOUT POLICY




SYSA POLICY: Games are rarely cancelled due to rain so please come prepared for the weather. However, decisions about cancelling games will be made by 11:00 a.m. on Sunday and will also be posted on the website. If you do not hear from your coach, then games are ON. If games are cancelled, you will be notified by your coach shortly after 11:00 am.





REMINDER ABOUT PARKING




THANK YOU FOR ABIDING BY THE PARKING RESTRICTIONS IN FRONT OF THE HOMES ON CHASE ST. Parking is available on Main St, in the Swasey Gym parking lot across from Bakie School.

BE ADVISED:The Kingston Police have notified SYSA that they intend to enforce the ordinance which prohibits on-street parking, during events held at Chase Field. Any vehicles which are not parked entirely off the street WILL BE TICKETED OR TOWED.

ALSO-PARKING IN FREMONT PIZZA/CHURCH STREET STATION PARKING LOT IS NOT ALLOWED.
We strongly suggest that you consider (convenient for Scatterball) parking at the Swasey Gym parking lot and walk through the scenic wooded path (old Sanborn High on Main St, across from Bakie School)-park by basketball courts-look for path to fields. (See parking map below)
For more information, please download this article, which appeared in the Friday, June 4, 2004 edition of The Rockingham News:


Handout: Parking Issue Article



Parking Map


Please refer to this map for parking during games:
Handout: Parking Map

Saturday, July 19


BOARD OF DIRECTORS FOR 2014-15 SOCCER SEASON




ELECTIONS FOR THE 2014-15 SYSA Board of Directors took place on Tuesday, July 8.

We would like to recognize out-going Board Members: Gerry Collins, Linda Collins, Scott Rogers, Beth Scanlon for their many years of service not only on the board but also as coaches & parents of soccer players, and generally supporting the organization. We will miss them, the lively discussion and wisdom they brought to the table and wish them all the best with all the free time they have on their hands now!! :) MUCHOS GRACIAS!

Here are the results of the 2014 elections:

EXECUTIVE BOARD (elected):

President: Cheryl Gannon

Vice President: Debbie Samoisette

Recording Secretary: Jeff Thomas

Treasurer: Eric Cornell

Activity Coordinators: (appointed)

Registrar: Ami Faria

Equipment: Bonnie Bonanno

Uniforms: Melissa Melesky

Refreshment Stand: Debbie Samoisette

Coaching Coordinator: Michael Gannon

Referee Coordinator: OPEN

Publicity: OPEN

FOR MORE INFORMATION ABOUT THESE POSITIONS OR TO PUT YOUR NAME IN FOR CONSIDERATION , PLEASE CONTACT CHERYL c.gannon@comcast.net



Friday, September 20


OUR REFEREES


SYSA is fortunate to have the services of these fine, youth referees. They have all attended NH Soccer Association referee training courses and earned their certification. Please be aware that you are a model for the behavior of the players and be sure to support our referees as they officiate our soccer games.

Saturday, July 19


SOCCER CAMP IS OVER!




WHAT A GREAT WEEK we had with Y.E.S. coaches, Captain Ben, and Sarah, Steve & Kirsty. They commented on how well-behaved SYSA campers were and how much they improved over the week. Thanks so much to them for presenting such a great program.

AS ALWAYS, "Soak the Coach" was a big hit....with the kids, that is!!!

Please check out the photos posted on our facebook page (SYSA) and "like" us

NEXT YEAR SUMMER CAMP: We have decided to try offering a full day camp for ages 6-12. It will run from 9:00-3:00. Our numbers were very low this year despite the postivie response from kids & parents so we are trying something different.

NOW THAT SOCCER CAMP IS OVER - IT IS TIME TO REGISTER FOR FALL!

The deadline is fast approaching so if you want to get the regular rate (without the late fee), sign up TODAY.

You can register online or download the form & mail it in.

ANY QUESTIONS, contact Cheryl, 498-0317, c.gannon@comcast.net



Tuesday, November 30


SYSA GIRLS U-13 ARE STATE CHAMPIONS !!!




2010 Granite State Champs-SYSA U13 Girls
CONGRATULATIONS to the SYSA girls' U-13 travel team for their hard-fought victory over the Granite FC Soccer Club to win the 2010 Granite State Soccer League Championship in Pembroke.
Down by a score of 2-0 at half-time, the girls, led by Coach Dan Mahoney, and assistant coach Bob Smith, came back to tie the game 2-2 at the end of regulation. After 2 overtimes, the teams played hard but were still tied, forcing a shoot-out of penalty kicks. As the fans watched and cheered with great anticipation, the scored remained tied after 9 shooters. The winning strike was finally delivered by Kelly Collins, finding its way into the net after deflecting off the crossbar.
We are very proud and send congratulations to all the players: Olivia Battye, Ellery Rasmussen, Michaela Streep, Sierra Swasey, Chelsea Schultz, Michelle Merritt, PJ Ross, Taylor Kurto, Maddie Mahoney, Ashlyn Forbes, Kristen Phillips, Sophie Smith, Shannon Kinsella, Sophie Bortone, Eric Kinsella, Haley Herrmann and Kelly Collins.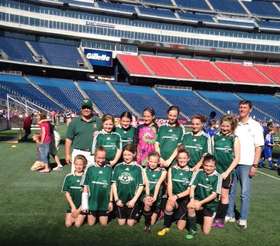 SYSA @ Gillette Stadium
Sunday, May 20
SYSA PLAYS SOCCER @ GILLETTE STADIUM
MOVE OVER SHALRIE JOSEPH AND TOM BRADY!!!
The SYSA girls' travel teams joined many other teams at NEW HAMPSHIRE DAY at Gillette Stadium and had the opportunity to play soccer on the turf of the professionals. After the games, families tailgated in the parking lot, then went back into the stadium to watch the REVS trounce the Vancouver White Caps 4-1.
Thanks to all who helped organize the food fest and for driving down to Foxboro.
YOU TOO CAN GO TO SEE THE REVS PLAY LIVE & IN PERSON AT GILLETTE....
Scroll back up to see details on SYSA's annual TRIP TO THE REVOLUTION in June.