Syracuse Challenger Baseball: Welcome
WELCOME TO THE 2016 SEASON!
ABOUT US:
The Challenger Baseball program is one of the oldest Little League programs for special needs children in the country. The program was started in the 1980's by parents in Eastwood who wanted their children to play baseball. From that time we have grown from 10 to 265 players who play under the auspices of the local District 8 Little League. We have 10 teams for children, 2 Senior teams for players who want to experience a more difficult level of play and in 2015 we are pleased to announce two adult teams for players over 15 who want to play with peers. Our children have various special needs, physical handicaps and developmental delays. The ages range from 4 until adulthood. The purpose of the program is to allow all these wonderful kids to enjoy the game of baseball in a relaxed setting that is supervised by coaches and parents. We are currently playing in fields in Mattydale but hope to have our own fields in East Syracuse by 2016.
SEASON EXTENSION:
We will be playing four additional games in Eastwood and Mattydale starting next Tuesday July 28th. Games will happen on July 28th and 30th and August 4th and 6th. Adults and Senior Mets and Yankees will be in Eastwood and the rest of the league will be in Mattydale.
BANQUET: 2PM to 4:30PM August 8th at the Spinning Wheel. Please let your coaches know if you can make it. A player can bring 2 guests free. Each player will receive a trophy or medal commemorating the 2015 season. CHALLENGER FUNDRAISER: Deliveries will happen at the Banquet on August 8th.
DIRECTIONS: Looking for the fields? Click here for directions and a field map with numbers. Here is a link to the fields in Mattydale: https://www.google.com/maps/place/Malden+Rd,+Syracuse,+NY+13211/@43.1048476,-76.1321658,17z/data=!3m1!4b1!4m2!3m1!1s0x89d9ed787ed783e1:0xe7bb03d1d06a9462
METS and YANKEES
will be playing in Eastwood at Cummings field for the rest of the season. That is located at 311 North Ave behind Walgreens in Eastwood.
https://www.google.com/maps/dir/Cummings+Field,+Edtim+Rd,+Syracuse,+NY+13206,+United+States/''/@43.0706068,-76.1518697,13z/data=!3m1!4b1!4m13!4m12!1m5!1m1!1s0x89d9f2eeb6e230e9:0x107ef6976564311f!2m2!1d-76.114962!2d43.07055!1m5!1m1!1s0x0:0x107ef6976564311f!2m2!1d-76.114962!2d43.07055
NEW WEBSITE ADDRESS:
http://www.syracusechallengerbaseball.com
2016 SEASON SIGN UP: We have closed our signups for 2015. If you would like to be on a list for 2016 please contact Sonya Miller
at
syracusechallengerbaseball@gmail.com
.
Starting age for Challenger Baseball is 4 years old and players can play as adults.
DONATIONS TO THE LEAGUE:
Please consider making a donation at our
Go Fund Me page
!
Find us here on facebook: https://www.facebook.com/pages/Syracuse-Challenger-Baseball/109505382407843M
CHALLENGER STORY ON CNY CENTRAL: Thanks to Niko Tamurian for a great piece on Challenger Baseball.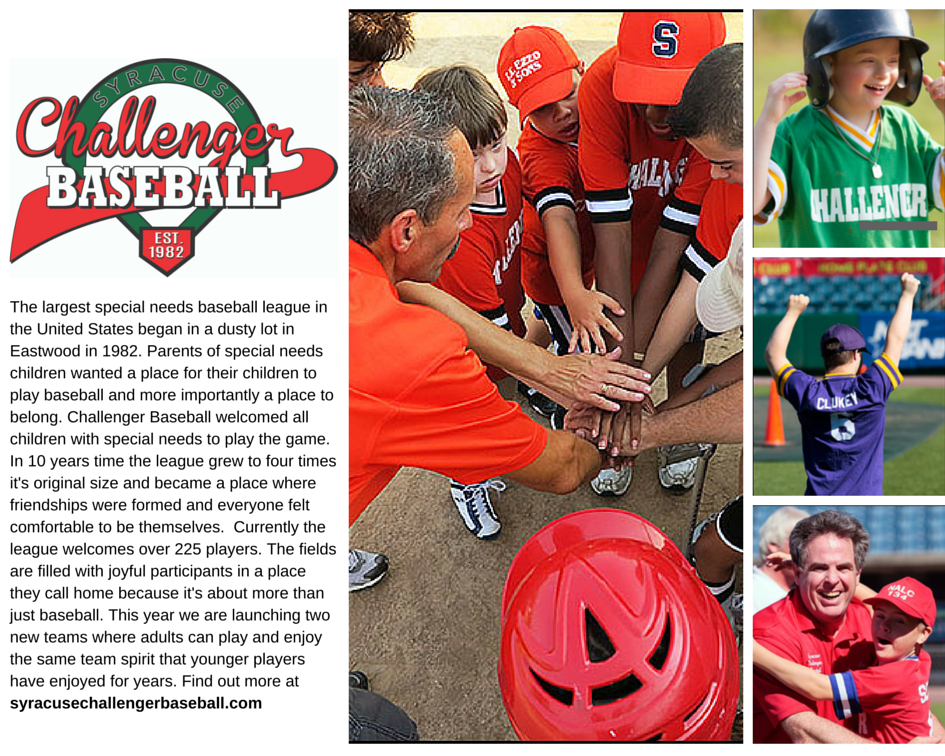 GAMES: Each Syracuse Challenger game consists of two innings. All children bat in their respective half of the inning (no score is kept nor are any strikes, walks or outs). Parents, coaches, family members, friends, all help out and are encouraged to assist the children with batting, fielding, running and throwing as necessary. The children are taught good sportsmanship and very basic fundamentals of the game. Every child hits, runs and scores!
WHAT DO YOU NEED? Each child receives a jersey and a hat with his team's colors and logo. There is plenty of equipment (bats, balls, helmets, gloves, bases, etc.) for the children to use, but the children may bring their own gloves and bats if they have them.
NO FEES, JUST FUN, FUN, FUN!!! There are no fees to enroll in Challenger baseball. All that is required is a willing children and family to come out and enjoy America's pastime sport with the child's peers in a wonderful summertime setting.
FIELD OF DREAMS: Please check out all the information on our Field of Dreams fundraising at http://www.challengerfieldofdreams.org
FACEBOOK LINK: Check us out on FACEBOOK!
SAVE YOUR HATS AND UNIFORMS: Parents, please save your child's customized uniform jersey to wear next season.
PHOTOS and SLIDESHOWS FROM PAST SEASONS
2010: Slideshow of our Player of the Year 2010 Matt Yaciuk! Photos from Eric Caballeroin his photo gallery.
2007 PHOTOS 2007 SLIDESHOW 2007 Challenger Preview Slideshow
2006 Photos. 2006 Banquet Slideshow 2006 Opening Day parade photos
2005 SLIDESHOWS: Red Orange Green Royal Blue Navy Light Blue Coaches

2004 SLIDESHOW 2004 PHOTOS
If you would like to sign up your child email our player coordinator Sonya Miller at sonya.miller71@hotmail.com.
If you have any questions or comments about the website, email me here
Thursday, November 5
Syracuse Challenger Baseball