LadyHawks: Welcome
Welcome to the Sylmar LadyHawks 18U Team Website!!!!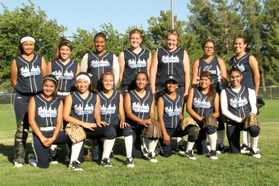 LadyHawks 2012
About the Sylmar LadyHawks 18-U
TEAM GOAL. . . .To be a competive team and participate in College Exposure Showcases, Tournaments, and Friendly's. Our main goal is to prepare these girls for College level ball.
TEAM PHILOSOPHY. . . .Sylmar LadyHawks 18-U consists of talented gilrs that come from great families who play for the love of the game and have fund while impoving their skills to become better for themselves and thier team. The Sylmar LadyHawks are committed to playing competitive softball in a positive team environment were EVERY team member contributes meaningfully to our success. The concept of TEAM FIRST is fundamental to our philosopht and these yound ladies play thier heart out for the ov the game with Dedication, Pride, Respect for the game and each other and Strive for Perfection! We focus in our philosophy to help us develop young ladies who are not only competitive softball players but also example individuals to our society!