South West United Juventus 93: Strategy Articles
Forward Responsibilities
Defense Responsibilities
Midfield Responsibilities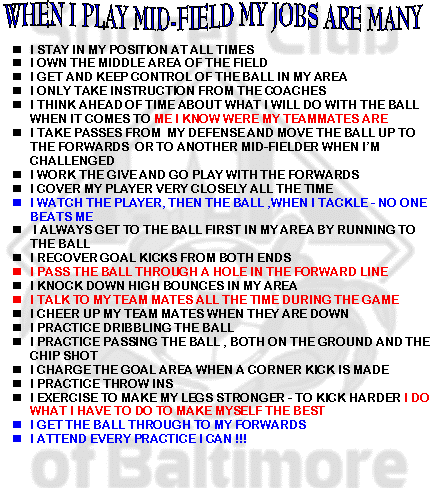 Keys to Success*
Confidence: It's been observed many times: you miss 100% of
the shots you don't take… so keep on shooting. Believe in yourself and your abilities. How? Review in your mind the better plays you have made. Revisit those plays and pinpoint precisely what you did and how you did it.
Pre-Game Set-up: Before the game, take a moment to clear your mind, collect your thoughts. Focus your thoughts to the game at hand. Make up your mind that you can get the job done…then just go out, play hard and have fun! You can do it!
Nervous? You better be! It's actually good to be a bit nervous before a game. The best players always get butterflies before they play. So if your palms are a little sweaty, your heart is beating a bit faster, and you have a hard time sitting still, these are good signs!
Don't Curse Your Mistakes – Learn From Them: Soccer, like most skill sports, is a game of adjustments. If your shots are always going over the net, adjust your shot. If you're having difficulty in marking your opponent, make the adjustment. If the player you are marking always dribbles the ball to the right, adjust your defensive play. The more… and quicker … you learn how to make adjustments, the better and more consistent your game will become.
Hustle is Free… but It Isn't Cheap: Don't ever walk off a field and admit to yourself that you didn't give it your all. And to insure that you gave your best effort, you have to hustle. The truth is, anybody can hustle – it doesn't take special talent, it takes extra effort – and that usually makes all the difference.
RUN THE FIELD LIKE YOU HAIR IS ON FIRE! You can't control how much time you get to play in the game, but you CAN control what kind of effort you make. Remember: Success is often achieved by the impression a player makes when he or she comes off the bench and gets into the game, simply because of how much effort they give when they are on the field. So when you get out on the field, be rarin' to go!
Hey, They're your Team-mates: It's very simple. It makes no difference how talented you are; one player simply cannot defeat the 11 players on the other team. It just won't happen. Learn to trust – and appreciate – your team-mates. Chances are, if you work with them, they'll work with you.
The clock is ticking: You have to make the most of every time on the field. Never put off your skill development.
Let's go to the Videotape: Want to improve your skills? Get one of your parents or coaches to videotape you when you're playing in a game. Then, sit down and do an analysis of what you do well…and more importantly, of what you need to work on. Watch yourself on TV to get a much clearer idea of how you can improve your game. Consider how many times you've watched great players on television, and how much you've learned from watching them. Just imagine how much you could learn about your game if you could see yourself perform on video as well.
* adapted from the jr. nba / jr.wnba
SKILLS EXPECTED OF A TOP DIVISION 1 COLLEGE PLAYER
(but can be scaled to comparison in your current age group)
GOOD GRADES – GOOD GRADES – GOOD GRADES – GOOD GRADES
SPEED – SPEED – SPEED – SPEED – SPEED - SPEED
- SPEED -SPEED
DEDICATION – DEDICATION – DEDICATION – DEDICATION - DEDICATION
FOCUS – FOCUS – FOCUS – FOCUS – FOCUS – FOCUS – FOCUS - FOCUS


and…………

FORWARDS


Have the physical speed to break away from strong, tenacious markers.


Are able to hold and shield the ball with the head up while teammates move into support roles.


Are confident and talented enough to take on 1,2, or 2 players en route to goal.


Are comfortable and successful with both feet while under pressure


Have a superior physical fitness level.
MIDFIELDERS/DEFENDERS


Have a superior physical fitness level.


Are physically strong enough and quick enough to avoid injury due to collision and physical play.


Have the tactical ability to read and play within the tempo of the game.


Have the technical ability to play a controlled 1 and 2 touch game.0


Can play the ball from side to side as well as back to front of the team.


Can and will defend any time the ball is lost.


Have the personality to play under pressure.
GOALKEEPERS


Have the stature and physique that brings confidence to their teammates.


Have the strength and agility to win 50/50 balls and avoid injury.


Have the technical ability to make 100% of the saves in the middle 2/3 of the goal and many of the bigger saves in the corners.


Have the leadership and social skills to get along with and lead his/her defence.


Can distribute the ball safely in their half of the field and penetrate the other team's half with long punts, throws or drop kicks.


Work harder in training than games.


Have the tactical ability to play within the flow of the game.
The South West United Juventus 93's are a Premier U14 team. We are comprised of a great group of girls from Calgary. Our goal is to learn the game of soccer while also making life long memories. Our girls are talented, young ladies who love the game.  We have a fantastic group of players and parents that understand it takes an entire TEAM to be successful, not just one player. We look forward to a super year of soccer! See you on the field! 
It's All About Commitment
TEAM'S COMMITMENT

Compete at the highest level, provide our players opportunities for growth and exposure, and create an environment that challenges and motivates players through hard work, encouragement and positive re-enforcement. In addition, a strong emphasis will be placed on the importance of good sportsmanship and positive behavior.
PLAYER'S COMMITMENT


Each player is coached to be part of the team, to have fun and enjoy the sport, to recognize the importance of teamwork, and to encourage and support each other. Our players work hard when together, and put time in on their own to improve their skills.
COACHES' COMMITMENT

Our coaches are guided by the principles that inspire and motivate individuals to perform to their potential, by building confidence, self esteem, and setting the example by demonstrating proper techniques.

WHAT IS POSSESSION OF THE BALL PHILOSOPHY?
There is no simple, or any one answer to the question, "What is, "Possession of the Ball" soccer?"
Some purists may say it is familiarity of the game, while others claim it is a God given talent. Regardless of opinions the plain and simple fact is, the Canadian soccer player (with exceptions) has major problems controlling and maintaining possession of the ball in game situations. This philosophy encompasses more than striking a 40-yard ball into a striker or passing a 15-yard ball out of the back.
It accounts for more than executing a 1-yard take-over in midfield.
Possession soccer is a combination of all three and a great deal more because it incorporates a positive attitude!
Coaches and individuals in charge must remain positive and open-minded when continuing to learn the game. They must believe in their abilities and pass their knowledge on to both players and colleagues.
"A sign of the times", Possession Soccer will be endorsed and accepted by all participants within the Coaching system across the Province. If we do not embrace this philosophy, soccer will remain fragmented and detrimental to the development of the most important aspects of the game:
"Coaching Development that leads to Player Development"
The enjoyment and learning in the game of soccer is best demonstrated through maintaining possession of the ball. The end result of being capable to maintain possession is obviously scoring a goal and the only way to do this is to keep the ball and move in a positive direction towards the opponent's goal through a combination of basic individual and team maneuvers. This requires an understanding that:
"Possessing the Ability to play is also; The Ability to play with possession!"
We as Canadians have become comfortable with playing a limited touch game. This has been, in effect; the ball played wide, the ball played long, and the ball crossed into target areas where the battle is on to score.
A former National Coach wrote, "limited touches will produce goals." Our "inability to score goals" reflects and substantiates that this philosophy is totally unacceptable.
The game itself is the best teacher of all. If we play "what is rehearsed" all the time we become predictable. Encourage players to initiate how the team plays. Let them show that their individual ability to attack is their best defense. Players must learn to possess patience, persistence, perseverance and to "play what's on."
When players have possession of the ball they can enjoy the challenges, by expressing their enjoyment by playing a composed passing game that exerts positive energy. As a result, the confidence of the player and the team grows. They must realize that:
"Possession is Energy!"
POSSESSION SOCCER
The Director of Coaching for The Ontario Soccer Association has the philosophy of "Possession of the Ball" soccer in place across Ontario.
Ontario can now identify and share a "style of play" that will be developed up through the ranks starting with the very basic grass roots programs working up to the elite and complex aspects of the game. Both Coaching Development and Player Development within our Province will benefit with a positive possession attitude.
The Coaching Department has been most successful with its implementation of the "Key Factors of Coaching." The "Key Factors" are included in the new stream, C.S.A. certification coaching manuals. Through the insistence of the clinic instructors we will be utilizing the "Key Factors" in small-sided game situations.
Ontario paves the way to lead and encourage all Provinces across Canada to join in with successful soccer nations around the world, to develop and play "Possession Soccer!"
Looking back fifteen years our concentration was focused on the so-called elite players and the so-called elite coaches that were in control at the upper end of the game in our Country.
The National program was doing the same thing that had been proven unsuccessful year in and year out, specifically anything that Charles Hughes printed was preached as the Canadian gospel.
Our problems lay at the other end of the spectrum where the youngsters play, but few noticed. Incredibly, almost a generation of school age soccer players later, in the upper echelon, concedes that radical changes are required, but they offer no philosophical support for the coaches who can make the difference.
The Ontario Soccer Association's coaching department has attempted to bridge that gap with the Club Head Coaching Program and significant signs of success are very noticeable after only four years of promotion. The 1998 Club Head Coach workshop was attended by one hundred and thirty coaches who were very eager to form a membership that would strengthen, change and of course, improve our game across Ontario and Canada from the standpoint of adopting the "Possession Soccer" mentality.
To quote one Club Head Coach who attended the workshop, "If we had this program in place and if we were working together we would have been able to support the National program, now we feel we are contributing to a National cause, "why did it take so long?