South Wall Little League: Welcome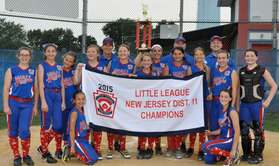 2015 District Champs
Tuesday, August 18
2015 District Champs
Kneeling left is Kaitlyn Brown Kneeling right is Cassie Betz Standing (L to R) Jamie Fardella, Margo Iradi, Mary Dorman, Emilie Carr, Coach Nick Russo, Betsy Prevosti, Brooke Bertolino, Nicole Sestito, Taylor Mikolajczyk, Coach John Fardella, Nikki Russo, Coach Eric Betz, Alex Akes, Sofia Brugnoli
________________________________________________________________________________________
FALL BALL 2015 Open Registration
Click on the registration tab to register today!
Starts Sept 12th
8 week program
Residents $75.00
Non-Residents $90.00
Team Sponsors Wanted - T-Shirt - $100.00
8 Games Starting September 12th through October
The majority of the games will be on Saturday's but there will be a few scheduled during the week.
Practice schedules are at the coaches discretion.
_______________________________________________________________________________________
Hello SWLL Families,
Baseball season is right around the corner…
While 2014 was a great year, we're working to make 2015 even better.
To start, we are partnering with Big League Talent, to enhance our Pioneer Division (ages 6 – 7). This division will now include one night per week of instructional lessons from Big League Talent at no additional cost to the players, in addition to the 1 game per week. We feel that this age group is the perfect age to learn and develop the baseball fundamentals that they will use as a foundation and build upon for the rest of their baseball careers. And who better to teach them then a former professional.
In addition, we will be setting up a Skills and Drills night open to all players ages 7-12. There will be two 90 min sessions (split by age group) also lead by Big League Talent. This program is offered only to SWLL families at a reduced rate. More info to follow!
In addition to all the progress that we've made at our facilities last year, we're looking to make even more this year. Stay tuned and keep your eyes open, you're going to like what you see! Looking forward to a great season and please remember to register! Registering sooner helps us in planning out the season.
SWLL Board Of Directors
_________________________________________________________________________________________
Pitch Hit and Run
"Congratulations to the South Wall Little League Local Pitch, Hit & Run Champions who have qualified to advance to the Sectional Competition held at Trenton Thunder (Arm & Hammer Park, 1 Thunder Rd, Trenton, NJ 08611) on Sunday, May 31st.
Girls 7/8 Champion: ERYNN RICHEY
Boys 7/8 Champions: CHARLIE CORMEY ,MAX GLASSBERG
Boys 9/10 Champion: TJ LEGERE
Boys 11/12 Champions: RYAN LASKO, MAX KAPLAN , JACK COAN
Boys 13/14 Champions: NOLAN DACEY, ALEC GLEN ,DYLAN RICHEY
Best of Luck to all South Wall Little League Local Champions competing in the Pitch, Hit & Run Sectionals at Trenton Thunder Stadium
______________________________________________________________________________________
AED DEVICES
Please be aware that SWLL has invested in three (3) Automatic External Defibrillators (AEDs) for use in case of a heart related (cardiac arrest) emergency.
AEDs are located as follows:
1) Lower Shack Bathroom near the Majors Field ( closest to Tilton Corner entrance)
2) 1 in the Junior Shed ( located at the Junior Filed closest to Atlantic Avenue entrance)
3) 1 in the Softball Shed ( behind the Softball Field closest to Atlantic Avenue entrance)
After Collapse-The Clock Starts!
Time to defibrillation is probably the single most important determinant of survival in sudden cardiac arrest. Generally, every 1-minute delay in defibrillation decreases the likelihood of survival by approximately 10%.
If you recognize that someone is in cardiac arrest, have someone call 911 immediately - but don't wait for paramedics to act! Send someone to retrieve the AED immediately. Start CPR immediately until the AED arrives. Unpack the AED and follow the simple instructions provided with the AED. Immediate action makes a huge difference in the survival rate of cardiac arrest. YOU can make the difference by acting quickly.
_________________________________________________________________________________________
SWLL will be utilizing Volunteer Spot for shack scheduling this season
Some Important notes:
1) Shack shift are Saturday Only
2) All swapping and cancelling of shifts must be done on the volunteer spot website only.
3) If you cancel your shift and no one else takes it, your bond check will be cashed. Choose wisely.
4) Shift will be added as game schedule are created.
5) Shifts will be added from March 22-July 31 and September 6-November 1, 2014.
________________________________________________________________________________________
Volunteers are vital to keeping our league strong, if you would like to volunteer as a Manager or Coach check off the volunteer box during the registration process also indicate which childs team you would like to volunteer. A volunteer form will be attached to your receipt. Please fill out the form and return it to the address listed. Next go to our Volunteer & ID Information tab and follow the instructions for obtaining a valid township id. This is required by Wall Township and strictly enforced. (Volunteer Form) or for returning volunteers (Returning Volunteer Form). If you missed the option during registration you can download and return the application to us.
Sponsors Needed! If you would like to sponsor a team or billboard please download and form fill out the form and send payment to the address listed. (Sponsor Form ).
All new players need to provide a birth certificate, you may send a copy to SWLL POB 13 Allenwood, NJ 08720 or scan and email a copy to swllinfo@verizon.net. (Please disregard if your son or daughter played last year.)
_________________________________________________________________________________________
New Zero Tolerance Policy
South Wall Little League has established a Code of Conduct for all Managers, Coaches, Umpires, Players, Parents, Spectators and Shack Employees.
The following infractions are considered ZERO INTOLERANCE events.
1) Fighting and/or Physical Contact.
2) Spectator entering the playing area WITHOUT prior approval from Manager, Coach or Umpire.
3) Sexual Harrassment and/or sexually deviant behavior.
4) Destruction of and/or stealing of Little League property or equipment.
5) Verbal threats, intimidation, and/or harrassment.
6) Possession of a firearm or other weapons during games, practices, or anywhere on complex property.
7) Knowlingly allowing a player to play while injured and/or creating an unsafe playing condition for any player.
These and any other violations or complaints brought against managers, coaches, players, spectators, umpires, or shack employees will be investigated by the SWLL Board of Directors. All complaints must be made in writing within a reasonable amount if time following incident (Complaint form).
Sanctions will be imposed at the discretion of the Board and may range from a single game suspension to a lifetime ban from South Wall Little League and its complex. The Board may take into account past infractions of any of the accused.
_________________________________________________________________________________________
Division Categories and Descriptions click here
_________________________________________________________________________________________
NEW GARBAGE POLICY - SWLL HAS ADOPTED A NEW 'CARRY IN, CARRY OUT' GARBAGE PROGRAM
The goal of the progam is twofold, fewer cans help reduce costs and fewer mosquitoes, flies, skunks, racoons and other pests. Past seasons have left our fields and dugouts littered with debris and the burden of cleanup left to board members, managers and coaches. It is unsitely and reflexs badly on our league. Please help us to keep our fields and grounds clean.
_________________________________________________________________________________________
New Ruling From Little League
FOR BASEBALL DIVISIONS ONLY In April, 2014 the International Congress approved the new league age determination amendment for Little League Baseball®. To implement the new amendment, it was decided to include a three-year waiting period to execute the change, starting in 2018. Questions from the field were raised about the impact the change would have on players that were currently league age 8 under the traditional system. Using feedback from Little League® parents through our District Administrators, the Little League International Board of Directors adjusted the April-approved implementation strategy in order to modify the impact on all of our minor and major division players. The adjustment also allows for an easier transition for players in the early years of Little League participation. As a result of this recent adjustment to the implementation strategy, effective immediately, any player born on or after January 1, 2006 who will turn the ages of 4-9 during the 2015 calendar year will be eligible to participate in a local Little League program and will use the new age determination date of December 31 for the reminder of their Little League Baseball career. Players will still be assigned to a division based on local league divisional structure.
JAN FEB MAR APR MAY JUN JUL AUG SEP OCT NOV DEC AGE
2011 2011 2011 2011 2011 2011 2011 2011 2011 2011 2011 2011 4
2010 2010 2010 2010 2010 2010 2010 2010 2010 2010 2010 2010 5
2009 2009 2009 2009 2009 2009 2009 2009 2009 2009 2009 2009 6
2008 2008 2008 2008 2008 2008 2008 2008 2008 2008 2008 2008 7
2007 2007 2007 2007 2007 2007 2007 2007 2007 2007 2007 2007 8
2006 2006 2006 2006 2006 2006 2006 2006 2006 2006 2006 2006 9
Consequently, players born prior to January 1, 2006 will continue to utilize the current age determination date of April 30 for the remainder of their Little League career.
JAN FEB MAR APR MAY JUN JUL AUG SEP OCT NOV DEC AGE
2005 2005 2005 2005 2005 2005 2005 2005 9
2005 2005 2005 2005 2004 2004 2004 2004 2004 2004 2004 2004 10
2004 2004 2004 2004 2003 2003 2003 2003 2003 2003 2003 2003 11
2003 2003 2003 2003 2002 2002 2002 2002 2002 2002 2002 2002 12
2002 2002 2002 2002 2001 2001 2001 2001 2001 2001 2001 2001 13
2001 2001 2001 2001 2000 2000 2000 2000 2000 2000 2000 2000 14
2000 2000 2000 2000 1999 1999 1999 1999 1999 1999 1999 1999 15
1999 1999 1999 1999 1998 1998 1998 1998 1998 1998 1998 1998 16
1998 1998 1998 1998 1997 1997 1997 1997 1997 1997 1997 1997 17
1997 1997 1997 1997 1996 1996 1996 1996 1996 1996 1996 1996 18
As stated, with this implementation strategy adjustment the impact on our players will be reduced, with the exception of a marginal impact on players currently participating in the very early stages of their Little League career. Furthermore, our continued focus on fun, fitness and fundamentals at the Tee Ball Division will assist local leagues as they look to provide a smooth transition to the Coach/Machine Pitch divisions of play while still developing a passion for the game as well as focusing on skill development. This change ensures that no player will lose a year of participation in the Little League Majors Division that culminates with the annual Little League Baseball World Series in South Williamsport, Pa.
__________________________________________________________________________________________
All Inquiries may be directed to: swllinfo@verizon.net or
via mail: SWLL P.O. BOX 13 ALLENWOOD, NJ 08720