Swampscott Basketball: Big Blue Basketball News
Monday, April 7
Those who made it a great Basketball Season
2014
Saturday, February 22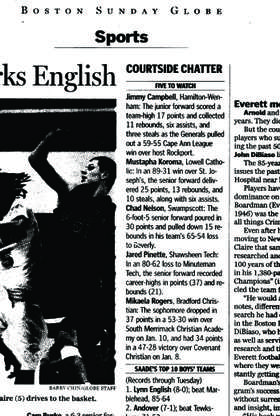 Sunday Globe - 1/19
Monday, January 20
Tuesday, January 7
January 7, 2014
AREA SCORING LEADERS
Name, School Games Points Average
1. Nick Cross, Beverly 5 106 21.2
2. Matt Costello, Bishop Fenwick 5 102 20.4
3. Cian Saunders, Marblehead 4 76 19.0
4. Matt Millett, Marblehead 4 73 18.3
5. Henry Eagar, Hamilton-Wenham 7 122 17.4
6. Trace Schaejbe, North Shore Tech 4 69 17.3
7. Ben Judson, St. John's Prep 4 68 17.0
8. Devan Harris, Danvers 6 100 16.7
9. Chad Nelson, Swampscott 5 75 15.0
10. Jamie Dominguez, Salem 3 45 15.0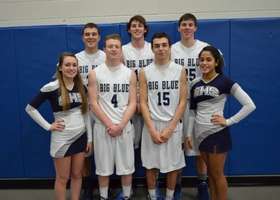 Class of 2014
Monday, January 6
Friday, December 20
Marblehead vs Swampscott 12/18/13
Ragusa - 5-2-18
Faulkner - 3-0-6
Variste - 2-0-6
Myette - 2-0-8
Nelson - 8-5-22
King - 6-0-9
Walker - 0-1-1
Wright - 1-0-2
1st - 18
2nd - 21
3rd - 26
4th - 7
Tuesday, December 10
Jamboree
Benedetto Jamboree
December 12, 2014
at
Lynn Classical High School
5:45 Lynn Tech vs. Revere
6:20 Swampscott vs Bishop Fenwick
6:55 Beverly vs. Saugus
7:30 Winthrop vs. St. Marys
8:05 Marblehead vs. Peabody
8:40 Danvers vs. English
9:15 Classical vs. Everett
Tuesday, February 22
"Swampscott Nahant Youth Basketball Tips Off Intramural Conference"
The new sounds of pounding basketballs, squeaking sneakers and nets swishing are usually the hallmark of basketball season openers, typically reserved to local high school gyms only after the last football season games are finished. Yet, late Sunday afternoon at the Swampscott High School, the newly formed Swampscott Nahant Youth Basketball program staged its first tip-off in what all agreed was an astounding success for all involved. Nearly 110 5th - 8th grade boys from Swampscott and Nahant packed the house, along with their parents, relatives and friends, to participate in the first set of games of this inaugural season for the SNYBL. Eight games were played in roughly two hours of gym time, creating an action-packed atmosphere filled with fanfare and "hoopla." The Intramural Conference is arranged by two divisions, a Grade 5-6 division and a Grade 7-8 division. The younger kids are also known as the ABA, with names associated with the teams of pre-NBA merger. Their names are the Buccaneers, Cougars, Chaparrals, Condors, Colonels, Conquistadors and Squires. The older players are playing in what might be called the NCAA, whereby Sweet 16 favorites such as the Tar Heels, Bulldogs, Bruins, Tigers, Terrapins, Boilermakers and Jayhawks comprise the division. Parity among the teams was one of the group's goals and it seemed to have worked. At halftime of all eight games, most were either tied, or had a difference of only a basket or two. Moreover, the organization's primary goals are to be inclusive to both Swampscott and Nahant communities and open to players of all levels of ability and talent, and to instill the balance of fun and competition. Most everyone could not help but notice there was a great deal of passing, teamwork and helping out each other. And everyone really seemed to enjoy the experience. Most notable was the assignment of the team's coaches, coming from within the ranks of Swampscott High School coach Justin Fucile's team. Both coaches and surely the kids seemed to really enjoy the experience. Fucile is fortunate to have young men of such high caliber willing to volunteer their time on a Sunday, even as an important Patriots game was being played. If they would have preferred to be elsewhere, nobody would have known it. They were just great toward the kids, observers said. The coaches play a significant role in all this, not measured in just their knowledge of the sport but in leadership and role modeling. "Whether he made just one good play or 10, who really knows, but all my fifth-grade son Troy could talk about afterward was hearing a big rave from the opposing coach, AJ Baker, as he took notice of one good play he made," said parent Rob Levine. "I can tell you, he was pretty psyched about that until he went to bed that night. As we introduce into the league young men as good positive role models, one cannot simply measure the immediate joy and lasting memories that simple comments and guidance like that can have on young boys, on their egos and self-esteem. It is huge." The strength of local volunteerism was visible beyond the high school coaching staff. The Intramural games were refereed by local volunteers, most equipped with the credentials to officiate at much higher levels. Even the official scorekeeping and clock were kept by volunteers that the league will continue to rely on throughout the three-month season. In its inaugural season, the SNYBL has captured the interest of all players across the community. Besides the Intramural program, the SNYBL will have boys travel entries across two fifth-grade teams, one sixth-grade team, two seventh-grade teams and two eighth-grade teams. Girl players from Swampscott and Nahant have also recently galvanized to form a sixth-grade team, a seventh-grade team and an eighth-grade team. League officials say they intended to have a Girls Intramural Conference similar to the boys next year. It had been attempted this year but the numbers were a little low in the initial stages. All players, boys and girls, Intramural and Travel, are enjoying the Monday Night Skills and Drills taking place at the Swampscott Middle School. But the SNYB had its eyes on the on the Intramural program Sunday and the success of which could be measured, in terms of fun and competitiveness, with a little less structure. "We, as an organization as defined, tend to sometimes over-organize for our kids," Levine said. "We can't help it. We want to give our kids the best possible situation that we can — including refs, uniforms, schedules, court time, the best leagues and everything else. Yet, the intramurals is quite exciting. "While there is still a great deal of organizing involved, our fundamental principle is to be all inclusive for all kids and keep it fun and let them play with less adult control. The end result will have kids playing without all of the typical involvement that they are use to from adults, and they will be brought back to the basics of playing for the sake of just having fun and competing with their friends. "So, besides bringing an awareness to the game for a kid that may not ever have the opportunity to play or who knows, develop some latent skill or interest, the outcome could very well be, after all of this, that kids will begin getting more comfortable with just getting together without any of us, without AAU this or AAU that, and just play pickup basketball. "I would find the program's measure of success to be not only how well it is run, how well we competed in travel, or how well the overall turnout was for our program, but more appropriately, observing the residual affect of just seeing kids at the park or in the gyms playing as much as they can get in by themselves and for themselves. How great would that be?"
Thursday, January 23
Salem's David Kazadi heads boys' basketball players of the week
Michael Boen, Mansfield — Boen, a junior guard/forward, scored 22 points for the No. 1 Hornets in a 75-64 win at Stoughton on Tuesday. Boen also helped lead Mansfield to a dominant 80-31 victory over North Attleborough on Friday.
David Giribaldi, Andover — The junior guard scored 24 points in the Warriors' bounce-back win over Tewksbury on Tuesday. And though he only scored 11 points in Andover's dramatic win over North Andover, Giribaldi's coast-to-coast runner and free throw with 2.1 seconds left was the winning play on Friday.
David Kazadi, Salem — Kazadi's 20 points and 15 rebounds sparked the Witches to a 61-53 win over Swampscott on Friday. The senior also had 13 points and 17 rebounds in Salem's upset of No. 4 Lynn English on Thursday.
Chad Nelson, Swampscott — The 6-5 senior forward poured in 30 points and pulled down 15 rebounds in a 65-54 loss to Beverly on Tuesday.
Aamahne Santos, Catholic Memorial — Santos hung a line of 19 points, 12 assists, and 6 rebounds in the then-No. 3 Knights' 79-65 win over then-No. 2 St. John's Prep on Tuesday. The Knights are now No. 2 in the Globe Top 20 thanks in part to his efforts.