St. Vincent College Hockey: Recruitment
Tuesday, November 10
Become part of a great tradition
Saint Vincent always seeks qualified student athletes who are interested in the academic programs that we have offer and who want to continue playing ice hockey. Although a club sport, the program receives substantial support from the college. Current dues to participate on the team are $100 per semester. This is lowest fee in the entire ACHA. The college provides helmets, game and practice uniforms, transportation, lodging and meals for away games, and complete on and off ice management.
An ACHA Division III school, the team participates in College Hockey East and plays colleges and universities within our class throughout the Mid West and Mid Atlantic Regions. Players can expect 2-3 ice slots per week (games and practices) and a 20 to 25 game schedule. Head Coach Mike Ziemianski, with more than 20 years of coaching experience, combines with Team Faculty General Manager Tom Holowaty, a tenured professor at the college, to provide student athletes with a solid base of on and off ice support.

The goal of every season is to qualify for the ACHA Div III National Tournament and compete for a National title. The team also expects to compete for a College Hockey East title every season. The majority of the players have experience at the Jr. A, Jr. B, AAA, and AA levels as well as quality High School programs if not both. Players are from both local areas as well as across the US and Canada. Ice time is not guaranteed but an effort is made for all players to participate to stay true to the club hockey experience.
If you are interested in learning more about the school or the team we encourage you to contact us, see a game, attend a practice and visit the college. The team is a non-scholarship program, however, a significant number of SVC students receive aid. Only by applying to the college can financial aid packages be discussed.
E-Mail General Manager Holowaty:
tom.holowaty@email.stvincent.edu
E-Mail Coach Ziemianski:
mjzman1@verizon.net
Saint Vincent is a small Benedictine Catholic Liberal Arts College with an outstanding academic reputation. Founded in 1847 in the foothills of the Allegheny Mountains, the spirit of the school is built upon the founding principles of the rule of Saint Benedict. Small class sizes and an environment that fosters hospitality and close interaction with faculty enhances each student's prospects for a successful academic career. Graduates of SVC have built successful careers in business, education, the sciences, law, medicine, the military, information technology, communications, and the public sector. We encourage all prospective players to diligently explore our programs and visit the campus.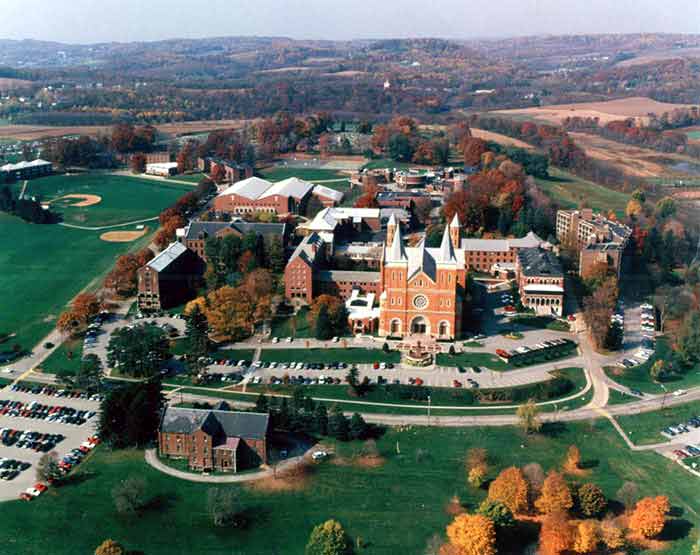 An aerial view of Saint Vincent College